Published on
October 29, 2017
Category
Features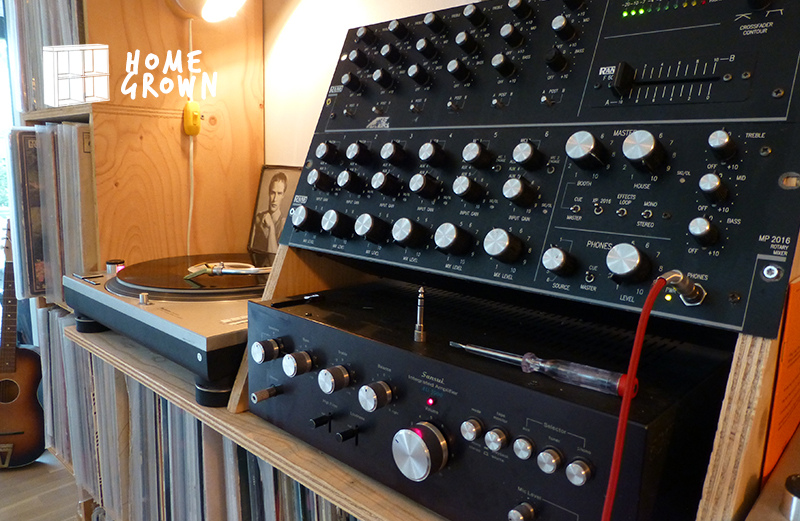 Because every record collection has a story.
Home Grown is our series profiling you lot and your excellent record collections. Taking our cue from the brilliant submissions to the #VFRecordCollections thread on Instagram, we want to share a little of your hard-earned love for vinyl with the world.
Each week, we'll be profiling a different collector from around the world and finding out what makes them tick. Want in? Send us a pic and a few words about your collection to social@thevinylfactory.com
---
Name: Christian d'Or
Instagram: @christiandorofdenmark
Location: Denmark
# of records (approx.): 3,500
How long have you been collecting for? Over 20 years
What part of your set-up are you most proud of?
I'm very thankful for my shelving system that a friend, architect Bo Benzon, cut and built for me. My old system collapsed with the records still in it – it was a horror show. So I SOS'ed Bo, and within days he had this set up for me.
It's rock solid, therefore low on resonance, perfect working height and fits well on the wall. Of course I'm happy with Technics SL-1200 MK2s that have been with me for more than half of my life, and if I have use the term 'proud', I'm a bit proud of finding the Sansui AU3900 amp at a flea market for $10.
Getting up early in the weekends pays off when digging for records (and gear), that's the oldest truth you will ever know. That and having good friends.
The Rane MP and XP 2016 were a bargain as well. A friend, cultural maestro Jonas Hartz, tipped me off that they were sitting in a closet at Vega, a club he managed in its hey-day. He bought it around 2000, from Dimitri from Paris, who wanted to play on something proper when he frequented Vega.
What record(s) are you most proud of?
The record that means the most to me is Jackson C. Frank's self-titled album. It's a landmark in folk music; so simple – a poet and a guitar – and yet, still manages to be heavy and intense.
I was (and still am of course) into Nick Drake, and discovered some of his early demos are cover versions of Frank's songs too – 'Blues Run the Game', 'Milk and Honey', 'Here Come The Blues', and Frank's version of 'Kimbie'.
What does your record collection mean to you?
The collection has been built up through my entire youth, and it built me up in many ways as well. Spending a lot of time with each record shaped my sound as a musician, refining my perception of music and understanding of how it works.
It also became my career, but I have an ambivalence toward it too, because I've often hated that something materialistic means so much to me. Now I literally make a living from my collection through DJing, recording mixtapes, and doing radio shows, so it's justified I guess.
It also means that I can show the kids that music exists outside phones.