Published on
June 25, 2017
Category
Features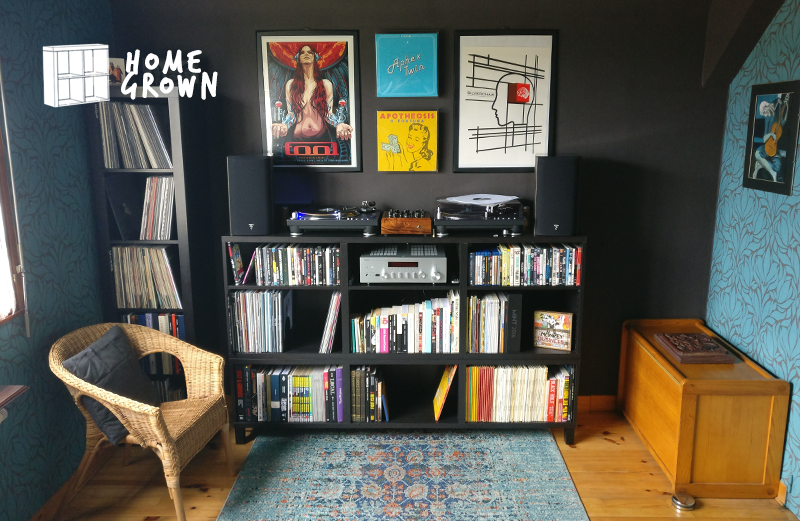 Because every record collection has a story.
Home Grown is our series profiling you lot and your excellent record collections. Taking our cue from the brilliant submissions to the #VFRecordCollections thread on Instagram, we want to share a little of your hard-earned love for vinyl with the world.
Each week, we'll be profiling a different collector from around the world and finding out what makes them tick. Want in? Send us a pic and a few words about your collection to [email protected].
---
Name: Jesus Lynch
Location: The north of France
Size of collection (approx.): Not far from a thousand
How long have you been collecting for?
As far as I can remember, the first vinyl I had was offered to me in a pizzeria at the age of 2. Like a happy meal. It's a 7″ from James Brown ('Living in America'). Afterwards, my parents bought me some cartoons vinyl – like Scrooge McDuck. Really the first record I bought was 'Sloppy Doctor' by Bleubird on Anticon. It was in 2004. Until then I mainly collected compact discs… In short, for the last five years I've had a budget dedicated to vinyl and I've had more vinyl than CDs for the last 2 years.
What part of your set-up are you most proud of?
My setup is a mixture of hifi and djing. The scalable configuration is currently composed of two Stanton ST-150 turntables – one Condesa Lucia rotary mixer – one Yamaha RN602 amplifier and Focal Aria 906 speakers. I oriented my configuration towards the DJing when a record shop allowed me to mix as part of a contest. Thereafter – when I get the money – I plan to get a Clearaudio Emotion SE for my amplifier & other speakers for my DJ setup.
I don't know what part of my setup which I'm most proud of but my ears are grateful to have adopted this Lucia. I waited 31 weeks before receiving her. Trust me the game is worth the candle. I've tried different genres – she bawled on the 'Inner City Life' remix by Burial. I tamed her on Les Amazones d'Afrique. I adopted her when the VU meters wiggled on the Belgian classic 'The First Rebirth'. Perhaps it was the interminable waiting that took me to the frontiers of madness but I think that this Lucia has a soul.
What record(s) are you most proud of?
Like many others, my records are the soundtrack to my life. Seeing that I haven't yet organized my collection in an autobiographical way like Rob Gordon it's difficult to respond. In fact, it would be like trying to find out if I have started listening to pop music because I was miserable or was I miserable because I listened to pop music… Joking aside, the rarest vinyl I have in my collection is the fifth copy of Syro by Aphex Twin. There are those I like just for their cover (like Lines by Charlie or the eponymous Mom's Apple Pie album that I discovered in Michael Ochs' book).
What does your record collection mean to you?
Life insurance – and not because a company can press your ashes into a vinyl. But above all, just a way to escape from this crazy world.