Published on
October 27, 2018
Category
Features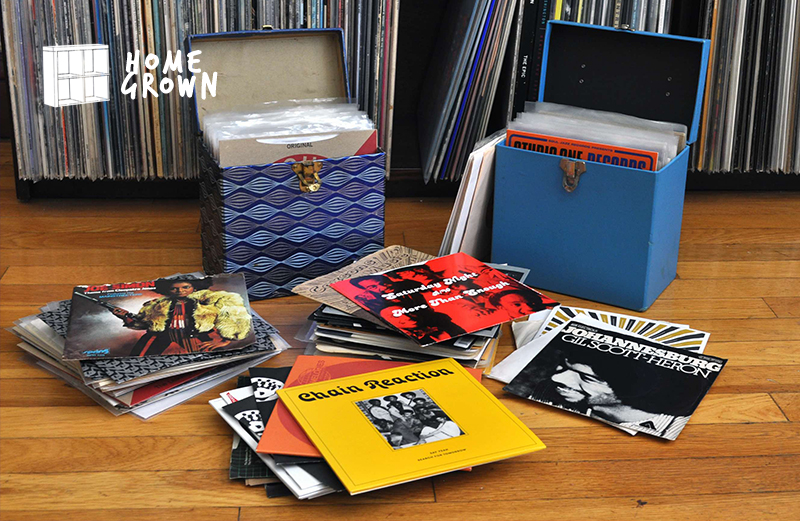 Because every record collection has a story.
Home Grown is our series profiling you lot and your excellent record collections. Taking our cue from the brilliant submissions to the #VFRecordCollections thread on Instagram, we want to share a little of your hard-earned love for vinyl with the world.
Each week, we'll be profiling a different collector from around the world and finding out what makes them tick. Want in? Send us a photo and a few words about your collection to social@thevinylfactory.com
---
Name: TJ Gorton
Location: Berkeley, Califoria
Instagram: @tjgorton
# of records (approx.): 3,600 LPs and 400 45s
How long have you been collecting for?
I've been collecting music in one form or another since I was 10 years old, however I've been collecting vinyl for about 15 years.
What part of your set-up are you most proud of?
Definitely my two Technics SL-1200s that I bought back in 2005. They have held up through many moves and parties without needing any maintenance. It's a classic turntable for a reason.
What record(s) are you most proud of?
One of them has to be Johnny "Hammond" Smith's Gears.
Another is an original copy of Arthur Russell's 1986 avant-garde masterpiece World of Echoes. He is one of my all-time favourite artists and I own many of his records, but it's exciting to have an original copy. On top of that, this was an album my girlfriend and I listened to a lot when we first started dating over five years ago.
Finally, I recently picked up an original copy of Terry Callier's 1972 jazz-soul-folk classic What Colour Is Love at Groove Merchant in SF. Another all-time favourite that I had been seeking out for years. I'm happy that I held out and didn't buy it online. Buying records in person is much more satisfying.
What does your record collection mean to you?
In a lot of ways, my record collection helps tell the story of my life. From the music I've explored and discovered throughout the years, to the experiences that have been associated with each record and find, they all have their own story that can be traced back to different periods and moments in my life. I often find that when I play a record for someone, I get just as caught up in sharing how I came across the record as the music itself. It's like they are a collection of events in time, with their own unique story and soundtrack.