Published on
September 17, 2017
Category
Features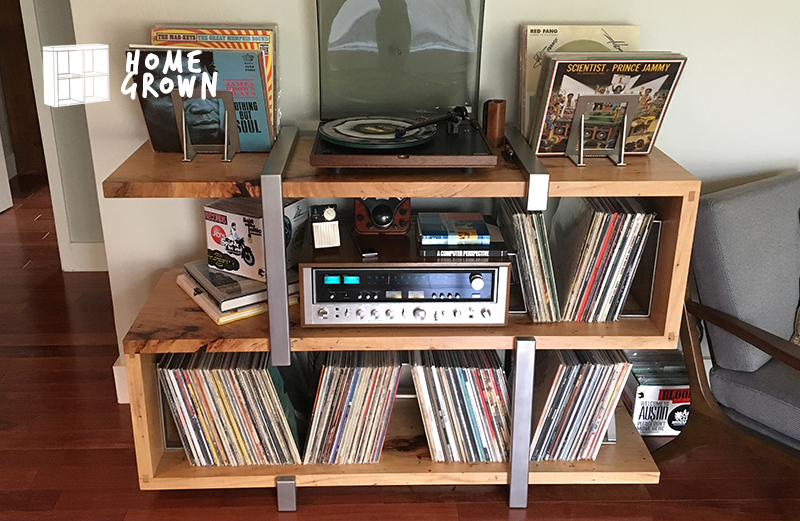 Because every record collection has a story.
Home Grown is our series profiling you lot and your excellent record collections. Taking our cue from the brilliant submissions to the #VFRecordCollections thread on Instagram, we want to share a little of your hard-earned love for vinyl with the world.
Each week, we'll be profiling a different collector from around the world and finding out what makes them tick. Want in? Send us a pic and a few words about your collection to social@thevinylfactory.com
---
Name: Aaron Buck
Location: Austin, Texas
# of records (approx.): 
I usually keep my collection floating around 500-600 LPs. When it starts getting bigger than that, I'll sell some of them.  The 7″s stay at around the 250 mark, and there's a stray pile of 10″s that's mostly interesting blues stuff.
That said, I've had well over 5,000 albums pass in and out of my hands at one point or another. I used to worked in a music store, and have been an avid collector basically always.  Once I bought out an entire barn full of albums that was behind this little antique store.
How long have you been collecting for? 
I started when I was about 12 years old. Growing up in rural Texas before the Internet meant I didn't have a lot of media outlets. There was a single used bookstore in town I spent a lot of time in, and they had some stacks of old vinyl I used to pull Zeppelin and Beatles LPs out of. One day I found an obscure Hendrix album, my eyes got wide, and I was immediately hooked for life.
What part of your set-up are you most proud of? 
At the moment, it's the custom shelving setup I recently built. I milled and finished the wood from a huge pecan tree that was hit by lightning in our front yard and had to be taken down.
Each shelf is a solid slab almost 2 inches thick. The metal base and all the brackets are stainless steel I welded and sandblasted. It was quite a long process, but I'm happy with the results. Of course, my fully restored Sansui 9090 and vintage Rega turntable would be heartbroken if I didn't at least mention them.
What record(s) are you most proud of? 
A promo copy of Talkin Karate Blues/Waitin Around to Die by Townes Van Zandt on the Poppy label, Salt Lick/Miller's Farm by ZZ Top on Scat Records, and Red Temple Prayer (Two Headed Dog)/Starry Eyes by Roky Ericson on Mars Records all come to mind.
Austin's been good to me, and I've always loved seeing live shows. Over the years I've hoarded concert tickets and the like, and stuffed them into albums by artists I saw perform. Those may be the most personal, and the most fun to show people.
At last count I had over 60 records with one or more ticket stub, show flyer, or backstage pass jammed in with it, plus another 30 or so autographed by various bands. Ian and Guy from Fugazi, Hank III, Slug and Ant from Atmosphere, and several members of Old and In The Way are probably some of the funnier stories.
Aside from turning my collection into an autobiography, I've been listening to a lot of late '70s reggae and dub lately.  Natty Cultural Dread by Big Youth and Dub Landing by Scientist have been on the table quite a bit.
What does your record collection mean to you? 
I've always been in it for the hunt. I love discovering new things, and then trying to understand how it fits into the bigger music landscape. I'm not into sports, but when I hear guys talk about all the details of a player's career I can relate.  My closer friends and I discuss Bob Dylan's discography or musicians who played with Miles Davis in much the same way.
I discover a lot of new music digitally, but I'm still a hard core flea market guy at heart and never miss a chance to dig.  The Austin Record Convention is a well I've been drawing from for over a decade, and something I always look forward to. These days I'm a little bit stricter on condition, and I do prefer as original a press as is economically feasible.
Part of me likes to think of each record as an artefact from its own critical moment in culture, and I want to somehow get as close to that creative moment as I can.  I love cleaning the dust off an old Fred McDowell album, and imaging I'm there with Alan Lomax and his tape recorder, listening to a Staple Singers track and thinking about what it would be like to be at Wattstax, or projecting myself into CBGB the moment 'Judy is a Punk' was belted out for the first time.
All that said, and to roll back the snobbiness just a little, I do love a nice Light in the Attic repress and my Music on Vinyl reissue of Headhunters by Herbie Hancock even enticed me to give away my original copy to a friend who didn't have one.
The recent resurgence in vinyl as a medium is something I'm excited about. Whether it's a personal, solitary thing like listening to an improvisational Ennio Morricone soundtrack at night, or dropping the needle at a house party on some early Kanye West, my record collection is a part of me.