Published on
August 13, 2017
Category
Features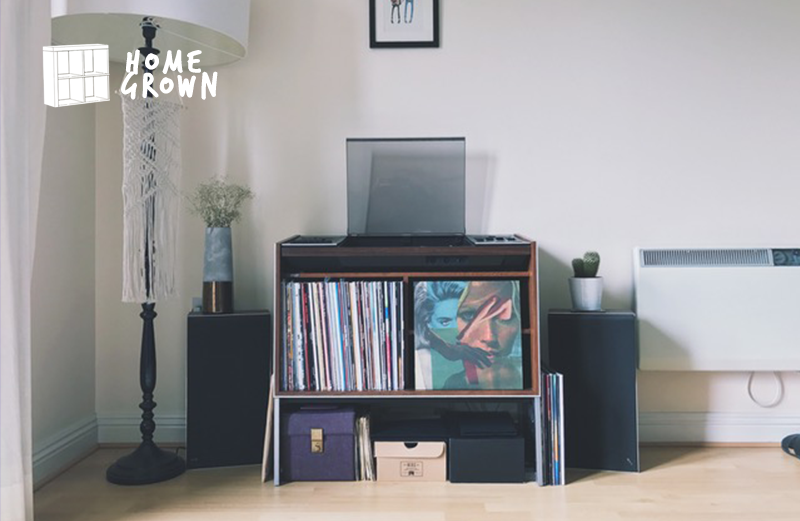 Because every record collection has a story.
Home Grown is our series profiling you lot and your excellent record collections. Taking our cue from the brilliant submissions to the #VFRecordCollections thread on Instagram, we want to share a little of your hard-earned love for vinyl with the world.
Each week, we'll be profiling a different collector from around the world and finding out what makes them tick. Want in? Send us a pic and a few words about your collection to [email protected]
---
Name: Ben Cavanagh
Instagram: @oddsound
Location: Bristol, UK
# of records (approx.): Just under 400.
How long have you been collecting for?
Roughly 2-3 years now. I always enjoyed looking through my parents' record collection and rummaging through CD's in music stores as a kid, then I think MP3's kind of killed that for me as I grew up. Seeing the vinyl industry boom over the last few years made me realise how much I missed browsing through a physical format. I was talking to my Dad about getting a record player and he offered me his that he bought years ago. Still works like a dream.
What part of your set-up are you most proud of?
I guess the whole thing as it's kind of one unit anyway. It's a Bang & Olufsen Beocenter 2000 with Beovox S30 Speakers which my Dad seems to think he bought in 1979/1980. It's got a lot of sentimental value and it's just so easy on the eyes.
What record(s) are you most proud of?
I inherited an old Eurythmics picture disc which is pretty cool. Probably the first original pressing I bought myself was Elephant by The White Stripes. It's banged up but it looks and feels great. The reason I got it was because I loved this album as a teenager but I never owned it. My neighbour's parents used to drive us home from school and when I got in the car one day they had this album on. It was my first introduction to The White Stripes and I absolutely loved it. They let me borrow it and I had it for months, like nearly an entire year. Of course they eventually asked if they could have it back and I never bought it. So when I saw it at my local store it reminded me of that and I decided to finally buy it.
What does your record collection mean to you?
More and more it feels like it's becoming a kind of legacy of memories. I think there's always a song or album which takes you back to a certain place and time. Every aspect of adding to the existing collection is a very satisfying thing. Each trip to the record store feels more like ritual than routine.