Published on
June 17, 2016
Category
Features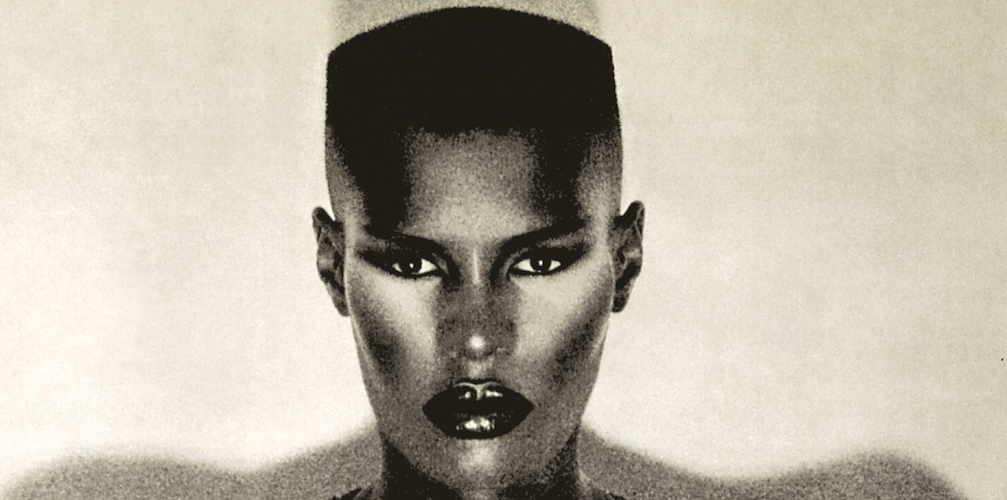 Compass Point and the making of Grace Jones' Warm Leatherette.
Released in 1980, Warm Leatherette was the first of Grace Jones' "Compass Point trilogy", a collection of covers recorded at Richard Blackwell's famous studio in the Bahamas with one of the last great rhythm sections, the Compass Point All-Stars. Jones "picked songs by the best writers in rock and worked them over good," the press release read. "Pushing them hard, singing them tough, whipping them into great shape."
Making the transition from '70s disco diva to '80s icon, Warm Leatherette was the record where Grace Jones found her voice – "low and proud and gutsy" – full of patois attitude and a new-found self-confidence.
Taken from the liner notes of the new box set reissue of the album, Daryl Easlea returns to Compass Point to chart the making of Warm Leatherette.
---
Words: Daryl Easlea
---
The hamlet of Compass Point is situated on the northwestern coast of the isle of New Providence in the Bahamas; the island is often named in shorthand after its capital city, Nassau, which lies around 10 miles east of the village. Situated next to the St. Peter's Native Baptist Church (est. 1856) and opposite a shack selling the local delicacy, conch fritters, is Compass Point Studios. Founded by Chris Blackwell, Compass Point Studios opened as a recording facility in 1978. Blackwell was later to suggest, "Nassau has no character. That's useful for a studio because you can make a record for anywhere your head imagines. If you're recording in London or Kingston, the environment is bound to influence you. Nassau's like a blank canvas . . . there's a high ratio of original records made there." There is, indeed, little to distract you. And it was here that the new Grace Jones emerged.
Blackwell assembled the remarkable band for what was to become Warm Leatherette. In came this strange ensemble cast, all with something incredible to bring to the table. Inspired by the sounds of recent Island signing Black Uhuru, and impressed by their legendary rhythm section of Lowell 'Sly' Dunbar and Robbie Shakespeare, Blackwell wanted to develop a reggae sound that had an interesting midrange. "I was after a mix of the very Jamaican, a very organic groove with something technologically brand-new." According to The Face in 1980, Jones was aware that Sly and Robbie had "a very good reputation" but was "surprised to hear how vital a role they occupy in Jamaican music."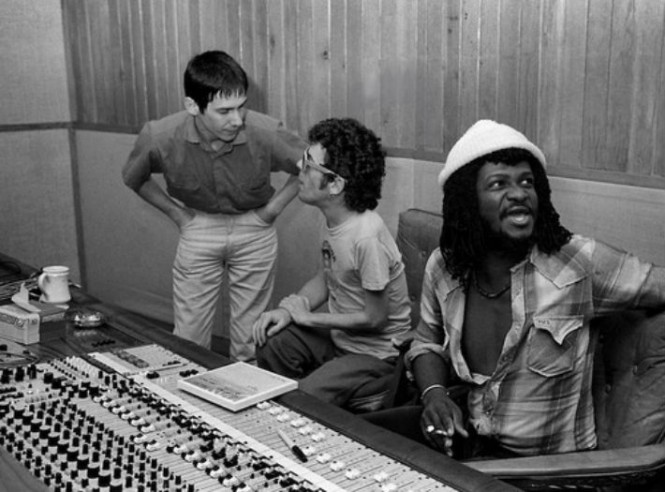 Sly Dunbar at Compass Point
It was their astonishing playing that provided the bedrock for the sessions, and it came from years of experience. "It's never hard," Shakespeare told The L.A. Times in 1982. "We used to play Top 10 music where you have some disco, some funk, reggae and soul all the time on the bandstand in Jamaica. From the moment you hear a singer start singing, you kind of know automatically what kind of feel is right."
And so, the Compass Point All-Stars came together. Complimenting the duo were keyboard player Wally Badarou, guitarists Mikey 'Mao' Chung and Barry 'White' Reynolds, percussionist Uziah 'Sticky' Thompson. It was, as Jones was to say in 1981, "the united nations in the studio". These players can be seen as arguably the final great rhythm section after the Funk Brothers, Muscle Shoals, Phil Spector's Wrecking Crew and the Chic Organization Ltd.
It was, as Jones said to Creem Magazine in 1983, "The first time they had ever played together – and they've been playing together ever since – it was such a success. Magic, inspiration. The combination was perfect for me, I got so much from all of them. I don't think they can make magic for everybody, it depends on the personalities."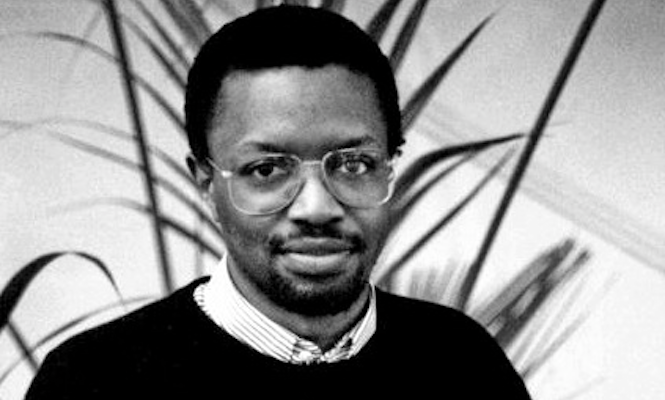 Wally Badarou
Badarou was key to this mix, effectively the All-Stars MD. He was a Parisian-African, and as a child in west Africa, he had absorbed all musical styles and was as conversant in James Brown as salsa, Santana and samba. Blackwell noted, "he'd played on a few anonymous disco records, which he saw as funk for the masses. He didn't look down on them." Badarou added in the variety to the mix, which was further complimented by guitarist Reynolds, a veteran of English blues bands and who had provided such striking, jarring guitar to Marianne Faithfull's Broken English album. Blackwell was understandably delighted and could see the boundless possibilities of this cauldron. "There were different histories and styles – the reggae rhythm, the rock energy and the new electronic element coming from someone with an African background and yet a European touch."
Portfolio it was not. As Jones said in 1987, "That was totally different from the way I'd been working before, where all the tracks would already be done and I would just go in and put the vocal down. So when it clicked, there'd be these incredible highs in the studio from doing it like that." It was the mixture of strange fellow travellers that created this music that did not belong anywhere. It was almost like a musical Esperanto that was cross-border. Was it funk, was it rock, was it new wave, was it reggae?
It was all of these and none of these.
It was Jones herself who added the personality and therefore the magic to these sessions. Her decision to dispense with her previous, more conventional approach to singing was probably THE key factor in the album's success. Realising that a conventional soul vocal would not work, Jones added her voice as if another instrument to the sound – like her gently plaintive calling for her baby four-and-a-half minutes into 'Breakdown.' She was to say this style was "somewhere between half-speaking and half-singing, between expressing emotion and not expressing anything, between telling a story and remembering a dream. It would be better for me to have a voice that suited my appearance, and once Chris had put together these musicians, I found my place." Anita Baker's singing with Chapter 8 was a key influence in enabling Jones to "go low and proud and gutsy too."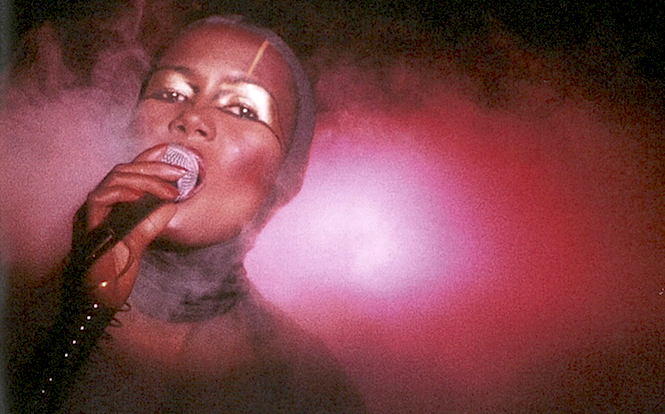 It was simply unique: "What I like about my voice is that it really cannot be duplicated," Jones told NME in 1981. "It is what it is. I couldn't change it in any other way. Which is good in this business." Her voice carried the experiences of her life to date: "I think I was just coming more into myself," she said in 1987. "I found that singing in patois and singing reggae just brought me closer to my roots. Since I'd come from Jamaica in the first place, the style seemed to even fit my voice better. So I used a combination of that with Paris, that sort of urban life feel, fused together."
This voice that changed everything. As writer Sean O' Hagen was to say it was a "mixture of the deadpan and the defiant, with a trace of aristocratic hauteur thrown in for good measure – lent this already heady sound a darker, almost Germanic edge."
"Grace Jones is unmistakable," guitarist Barry Reynolds told Brian Chin. "The qualities Grace brought were for one, her incredible voice. She has a wonderful voice, a very unusual voice. Grace brought everything – Grace brought Grace to a song. No one else could do a song like Grace Jones, the way no one else could do a song like Billie Holiday."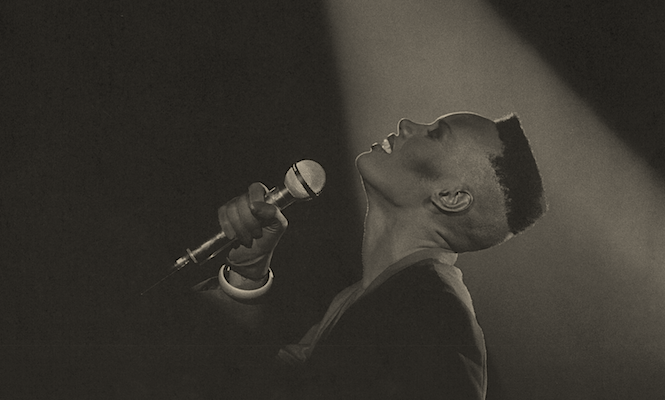 Recording began in November 1979, shortly after Jones had given birth to her and Goude's son, Paulo, who was a constant presence in the studio, being breast-fed by Jones during the recordings. The production partnership of Chris Blackwell and Alex Sadkin, put the classic ideas man pushing the sound along into new shapes with the archetypal desk producer who could capture the moment, mixing as he went along knowing something truly special was being recorded. This strange otherworldly, never-quite-to-be recaptured alchemy happened, the space around the groove, the clarity, the precision, are all there to hear. They were assisted by engineers Kendall Stubbs (who would later briefly be in the band Set The Tone) and Harold Dorsett.
Most of the album was recorded live in the studio, with Jones very much part of the group. This was the absolute beginning – they had not played together before, and they were forming around her. As Blackwell was to note, "there was a tension between each faction in the group that gave the music both its tightness and its looseness."
---
Grace Jones' Warm Leatherette has been reissued as a luxury 4xLP box set and is out now on Universal. Click here to order your copy.
You can hear the full album on an audiophile sound system in London at Classic Album Sundays on Tuesday 21st June. Click here for more details.