Published on
September 23, 2016
Category
Features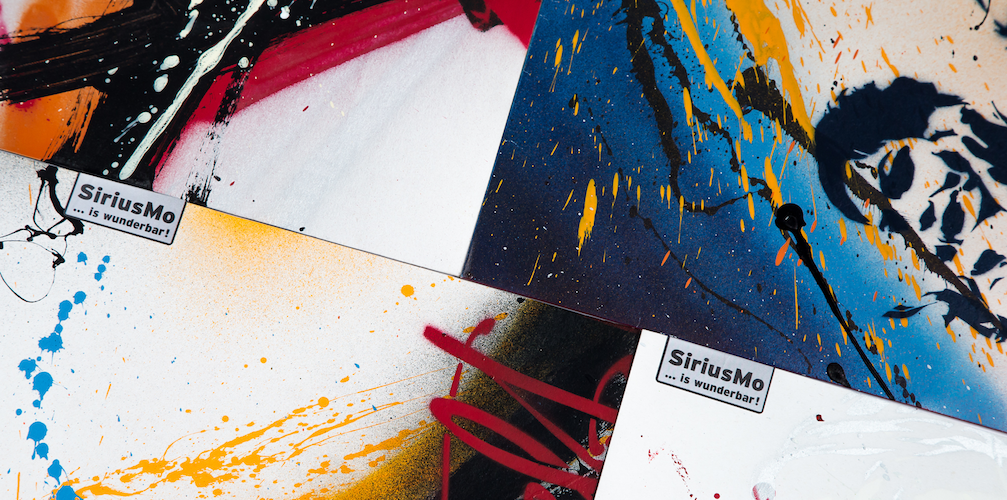 Exploring the hand drawn, painted, stickered or stamped record sleeves that are one-off pieces of art in their own right.
"My criteria is… when you look at a record and go 'WTF?'" A collector's collector, if anyone's got an eye for the unusual it's DJ Food. Keeper of one of the country's most eclectic record collections, he's spent the last two decades supplementing his vast archive of beats and breaks with forgotten relics from vinyl's more obscure niches.
A graphic designer with a passion for comic book culture and visual ephemera, his attention to record sleeves and packaging is second nature. Having let us into his peerless collection of flexi-discs we were blown away by the variety of weird and wonderful records that remained largely undocumented in his impeccably organised shelves.
To remedy this, we've invited Food to hold down a monthly column exploring the stranger corners of his collection, from mini-records to postcard novelties. Following from his eye-popping look at 3D covers, optical-art record sleeves, odd-sized records and holographic vinyl, Food go back to basics and the the fine art of hand-made record sleeves.
---
Words: Strictly Kev / Photography: Strictly Kev & Michael Wilkin
---
This month we delve into the shelves to find genuine one-off pieces of art, hand drawn, painted, stickered or stamped sleeves that are unique examples of the DIY ideals that artists often debut with. Rough 'n' ready, usually created by the same hands that made the music they envelope, they offer a connection between the artist and fan that the mass-produced, 4-colour printed sleeve never can. They are also ridiculously collectable.
Usually offered in limited runs or as promos given out to a handful of people, the hand-decorated sleeve has been a staple of artists or labels who are just starting out, have limited funds and want to make an impression with the first fruits of their labour. I'm going to concentrate of the more graffiti-led side of things in this article, which naturally lends itself to hip hop and beat-related music, but many indie and avant garde releases early on in groups' careers are littered with such handmade covers.
DJ Shadow – always one to keep things inventive and test the mettle of any hardened collector of his catalogue – has a number of handmade releases in his discography. The first release to surface for the follow-up album to Endtroducing…, The Private Press, had no indication that it was by him. A white card sleeve adorned with a B&W sticker proclaiming 'What You Gone Do Now?' and the label stamped 'Monosylabik' was all you got.
One of nine dorky kids accompanied the speech bubble, the images taken from the back cover of The Guitar Ensemble's You-N-You LP (a '70s private press Christian folk/rock/psych LP). The sleeve came in ten versions – a single, random face and speech bubble or, if you were lucky, all nine. Being that it was the first release from his deal with MCA it was limited, but to 1000 copies which, by todays standards, is more than some official release runs. Some were sent to DJs in the UK (with a promo sheet giving the game away) and the rest to US stores. Not impossible to find although the versions with all nine faces tend to go for more than a single sticker version.
Promo 12″s of 'Enuff' / 'This Time' remixes from his third album, The Outsider, were individually hand stencilled and sprayed by cover designer Paul Insect in an edition of 50 copies. Before the release of his fourth album, The Less You Know The Better, a hundred dark blue, two track 12″s appeared with sleeves decorated by Shadow and his family. Some were given to DJs, given away at shows or placed randomly in record shop racks in the UK.
MC, DJ and producer Edan also got into customising his own releases when he dropped the vinyl and DVD versions of his Echo Party mix for Traffic Entertainment. Each LP and DVD came hand-stamped by the man himself in a multitude of different combinations and colours, made with a handful of rubber stamps. West Coast radio station and label, Dublab made sure they squeezed everything they could out of the thrift stores they plundered for samples for their 'Secondhand Sureshots' project in 2009.
After sending J Rocc, Daedelus, Ras G and Nobody into the used record bins to find samples for the songs they also reclaimed old gatefold sleeves which Hit+Run then screen printed over, inside and out. Being that each sleeve was different, the underlying graphics make each copy unique, my personal copy was Dan Fogelberg's The Innocent Age album. You can see images of just some of the thousand copies on the release's Discogs entry.
DJ Vadim's long-defunct Jazz Fudge imprint also went down the hand-painted promo route for some of their earliest releases. Legend has it that Vadim had a quantity of extra sleeves left over for Mark B's first outing for the label 'Any More Questions?'. For the subsequent releases he would recycle them, painting around 20 of these covers himself in which to sleeve the test pressings which he would then give out to select DJs. He used thick house paint which took ages to dry and sometimes dripped it, Jackson Pollock-style, across them before applying a Jazz Fudge sticker. For the Swollen Members' Balance album that he licensed for a European edition he was so taken with one of the painted promos that he used it on his edition instead of their art, unknown to the band who weren't best pleased when they first saw it.
Back when Wall of Sound first started in the mid '90s they hit upon a novel idea to produce their first promo 12″ covers. Each sleeve would be a part of a much larger piece, usually made up of 100 covers forming a large scale canvas where graffiti artists, painters and collagists could make their mark. Richard Sen, Theo 'Touche' Keating and more contributed, signing and numbering the pieces on the reverse. Crude photocopies of some of the full pieces were also inserted inside sleeves. The Wiseguys, Mekon, Akasha, Zoot Woman, Rootless and Artery all got the handmade treatment and you can still find some of these out in the wild.
More UK graffiti artists dipping their toes in the water of music-making were Req 1 and She One on the Skint and Other Records labels. Req's earliest promos were sent out in hand sprayed sleeves and he would sometimes customise them live if you bought one at a merch stall. Howie B also got in on it with his self-titled EP, painting vertical blocks of colour onto unbleached card sleeves. The real prize though is the hand stencilled promo 12″s that Banksy made for the first release on John Stapleton's Blowpop Records label, Capoeira Twins' '4×3', in 1999. Copies have sold for four figure sums in the past (no, I don't have one unfortunately).
Not quite to the same standard is my own effort, 75 copies of DJ Food's 'A Dub Plate of Food' from 1995, all stencilled in blue, green or red by my own hand. If you have a red one you have one of only two copies and there are Ninjas holding both records and swords. Some expert stencilling and graffiti skills went into the 700 copies of Siriusmo's second 12″ '…Is Wunderbar!' on Bungalow that he painted himself.
The results are some of the best I've ever seen, I now own six different copies of this and they are all beautiful pieces of art. In an age where you can buy picture frames to display your favourite LP sleeves it's no longer strange to hang that 12″x12″ piece of card on the wall next to a print, poster or photograph. But to me, these are the real deal, these one-offs using the vinyl sleeve as a canvas, are infinitely more precious than a mass-produced release, however limited.