Published on
June 15, 2016
Category
Features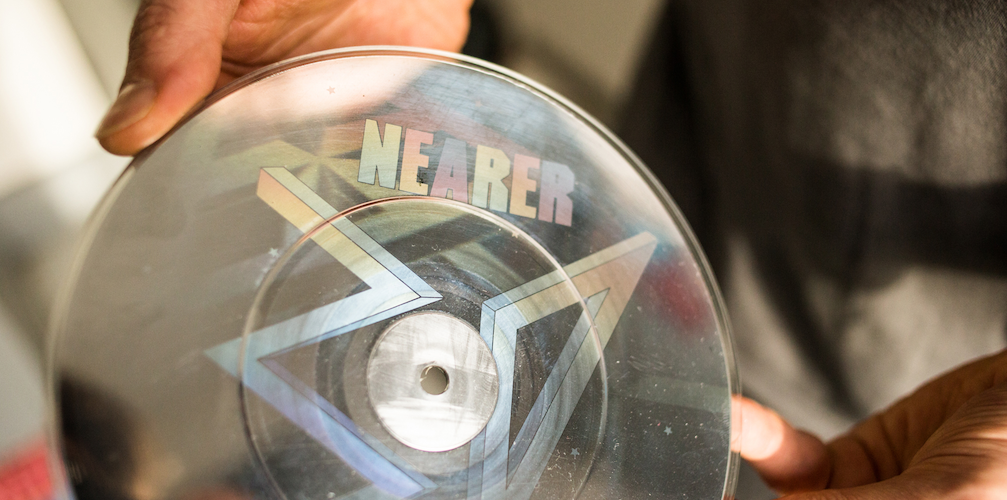 With the new Star Wars soundtrack beaming a hologram to vinyl this week, we take a look at some of the most shimmering releases of all time.
"My criteria is… when you look at a record and go 'WTF?'" A collector's collector, if anyone's got an eye for the unusual it's DJ Food. Keeper of one of the country's most eclectic record collections, he's spent the last two decades supplementing his vast archive of beats and breaks with forgotten relics from vinyl's more obscure niches.
A graphic designer with a passion for comic book culture and visual ephemera, his attention to record sleeves and packaging is second nature. Having let us into his peerless collection of flexi-discs we were blown away by the variety of weird and wonderful records that remained largely undocumented in his impeccably organised shelves.
To remedy this, we've invited Food to hold down a monthly column exploring the stranger corners of his collection, from mini-records to postcard novelties. Following from his eye-popping look at 3D covers, optical-art record sleeves and odd-sized records, Food holds his records to the light to reveal some of the most shimmering holographic vinyl around.
---
Words: DJ Food / Photography: DJ Food & Michael Wilkin
---
Holograms: the photographic recording of a light field which then displays a three dimensional image of the subject, usually a model, without the need for those tricky blue and red glasses. A direct light source is needed – the sun is ideal – to diffract the light into a reproduction of the original light field, including the original depth and textures and viewable from several angles. Lasers were needed to light the subject matter in original holography but they can now be completely computer-generated, omitting the need to make models. Holograms shouldn't be confused with lenticular displays (for instance, The Rolling Stones' Their Satanic Majesties Request original cover) which work on a different principle of dividing images up into thin strips which show alternate views from different angles.
Several ways have been found to include holograms on different formats over the years and the process of making them is not that unlike the production of vinyl, involving the copying of embossed surface relief patterns onto another material, usually a silver foil, with a heated press. They can then be stuck onto a sleeve, usually only covering a small portion due to the prohibitive cost of making a 12″x12″ hologram.
The first band to apply this method commercially were UB40 of all people, when they slapped one onto the cover of their 1982 LP, UB44. According to Discogs, "Hot-stamped into the solid black cover is an embossed, rainbow-coloured hologram on foil, showing the letters UB, made of rock, sitting on a rock ledge; depending on the angle of light, one can also see the smaller numbers 44 floating in front of the B." A couple of years later, Factory band Ad Infinitum, (which numbered Peter Hook amongst its members) covered Joe Meek's 'Telstar', using a rocket in space hologram on their sleeve and is regularly (mistakenly) credited as being the first to do so.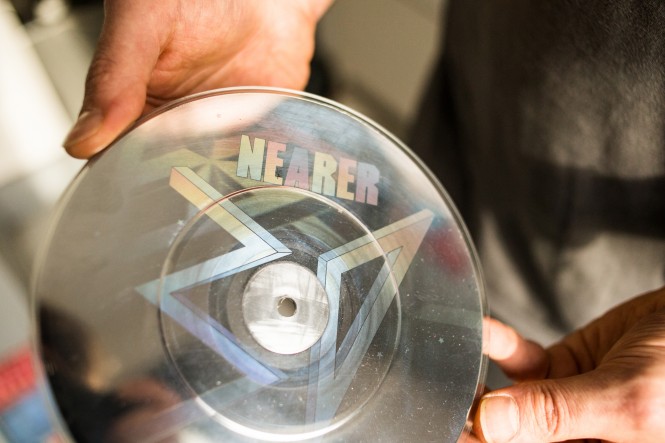 That same year, the hologram made the jump from the front cover onto the vinyl when a band named 3D released their second single, 'Nearer' – available in regular and holographic editions with a sticker proclaiming; 'This is the world's first holographic single'. The one-sided silver 7″ had an intricate M.C. Escher-esque design on the smooth, non-playing side which actually has some real depth and colour to it if you can find a good angle to light it from.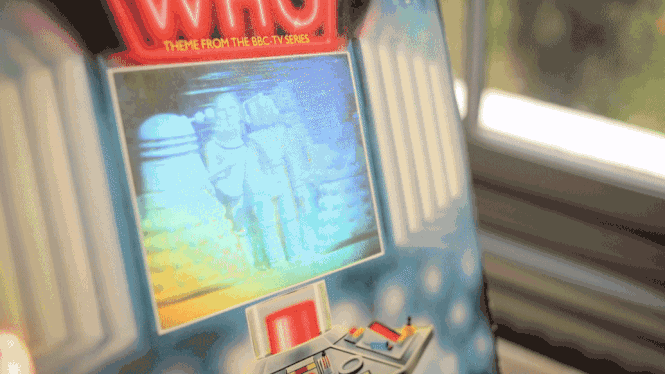 In 1986, BBC Records issued a 12″ containing three versions of the Dr Who theme; Dominic Glynn's rework, Delia Derbyshire's original and the Cosmic remix by Mankind. Ill-advised disco-styled re-workings aside, more interestingly there was a hologram of Davros, a Cyberman, a Sontaran, a Zygon, and a Dalek affixed to the front dashboard of the Tardis on the front cover. Made by a company called Light Fantastic with models by Fine Art Castings, it was enough for me to pick up the record when I found it despite having several different versions already.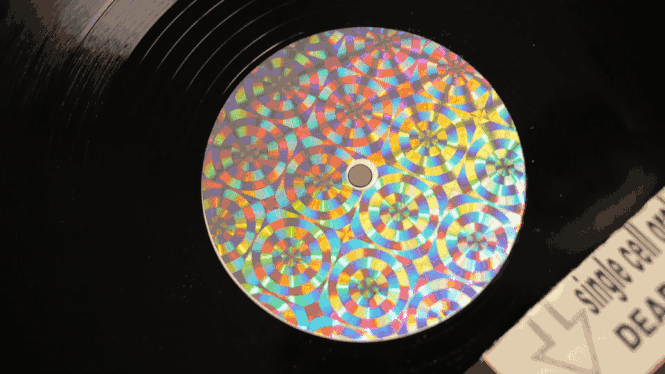 In 1991, Prince got in on the act with first editions of the cassette and CD of his Diamonds and Pearls album in Europe and Japan, featuring the Purple One and two female associates on the cover.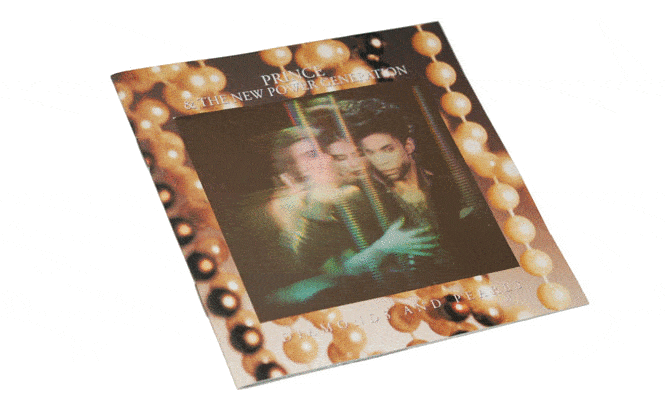 Since the advent of CDs, the smaller cover size has been a perfect home for the hologram with artists such as Kylie Minogue, The Fall, Slayer, Ministry, TLC, The Irresistible Force, Laurent Garnier, Merzbow, Pink Floyd and The Cult all adorning their covers with them. They seem especially beloved by the heavy metal, rock and electronic scenes and San Francisco's Reflective Records used holographic foil paper on labels and covers on many of their releases during the 90s.
Several theatrical soundtracks like Time and Star Wars featured holographic editions which brings us to a new application of the hologram – this time etched into the vinyl again – featured on a new double vinyl edition of the Star Wars: The Force Awakens soundtrack, released on June 17th by Disney / Universal. Pioneered by Tristan Duke, this method involves mathematically breaking down images into dots which are then etched onto the blank run out groove area of the vinyl at different points so that, when the disc spins and is hit by light, these points create a revolving and seemingly floating 3D object, seen from any angle.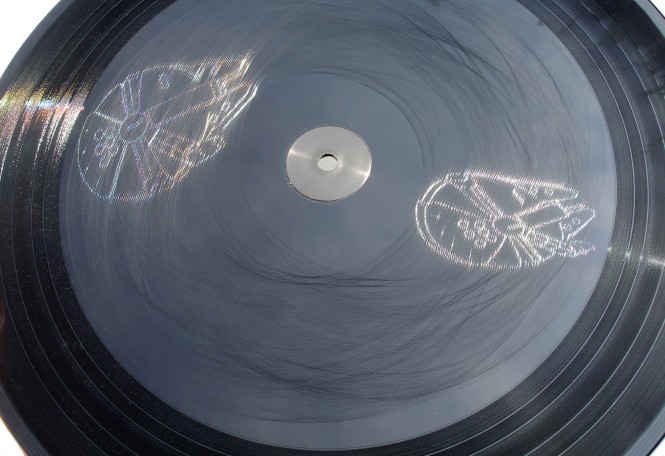 He first demonstrated this method on Jack White's Lazaretto LP in 2014 with a simple spinning angel but has far outdone himself with the John Williams score, creating dual Tie Fighters and Millennium Falcons which simply have to be seen to be believed.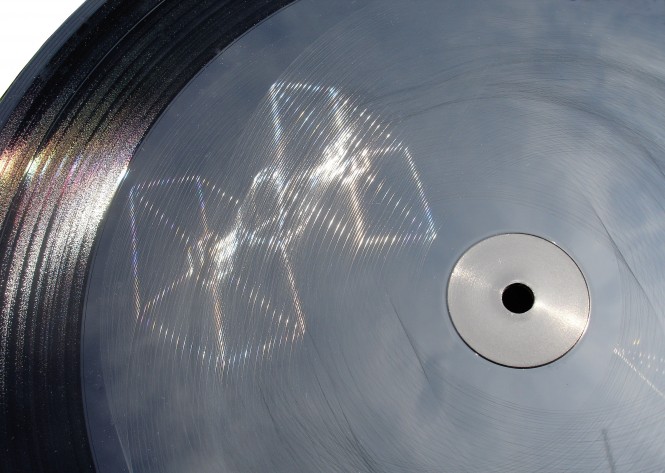 ---
Follow more of DJ Food's vinyl adventures on his blog.
Big thanks to Rob Puricelli (Prince) and Adesh Deosaran (Ad Infinitum) for additional photography.