Published on
September 7, 2023
Category
Features
VF returns from four days of musical bliss in Dorset's Larmer Tree Gardens with King Gizzard & The Lizard Wizard, Angel Olsen, Arooj Aftab and more.
Tucked away in the serenity of Dorset's Larmer Tree Gardens, End Of The Road is a festival like no other. Peacocks nonchalantly wander while catching an act or two, a post team scour the crowds to give letters to unsuspecting recipients, and some of the world's greatest acts deliver the best sets of their lives (as many proudly declare). This year's edition was no exception.
From the line-up toppers to the upcoming names, the magic in End Of The Road lies in the excitement for all billed. Whether it's discovering your new favourite artist via their handy decision tree–we got Congolese electronic-percussion collective KOKOKO!–or seeking them out yourself, the festival is a melting pot of musical and artistic richness.
It's not just about new music discovery either, stretching to genre exploration, with alt-folk tenderness siding with arthouse electronica and playful pokes of Aussie psych with complete ease. This embracing of all while compiling a packed, top-tier billing is what sets End Of The Road apart. It's a true powerhouse at the peak of music then, now, and what's soon to be.  
Read on for our daily highlights.
Thursday
Itching to get summer's final blowout started and not deterred by the day's earlier downpour, Chicago alt-rock royalty Wilco are the first to close out the mighty Woods stage. Their career-spanning set, featuring hits "Jesus, Etc." and "Impossible Germany", is a gentle beginning for what's in store over the weekend, while still making time for some krautrock blowouts.
Treating the earlier arrivals, London's The Last Dinner Party live up to the hype with their baroque-pop headiness, while over on The Folly, fellow Chicagoans Brigitte Calls Me Baby round off their first-ever UK trip with shimmering indie-rock throwbacks.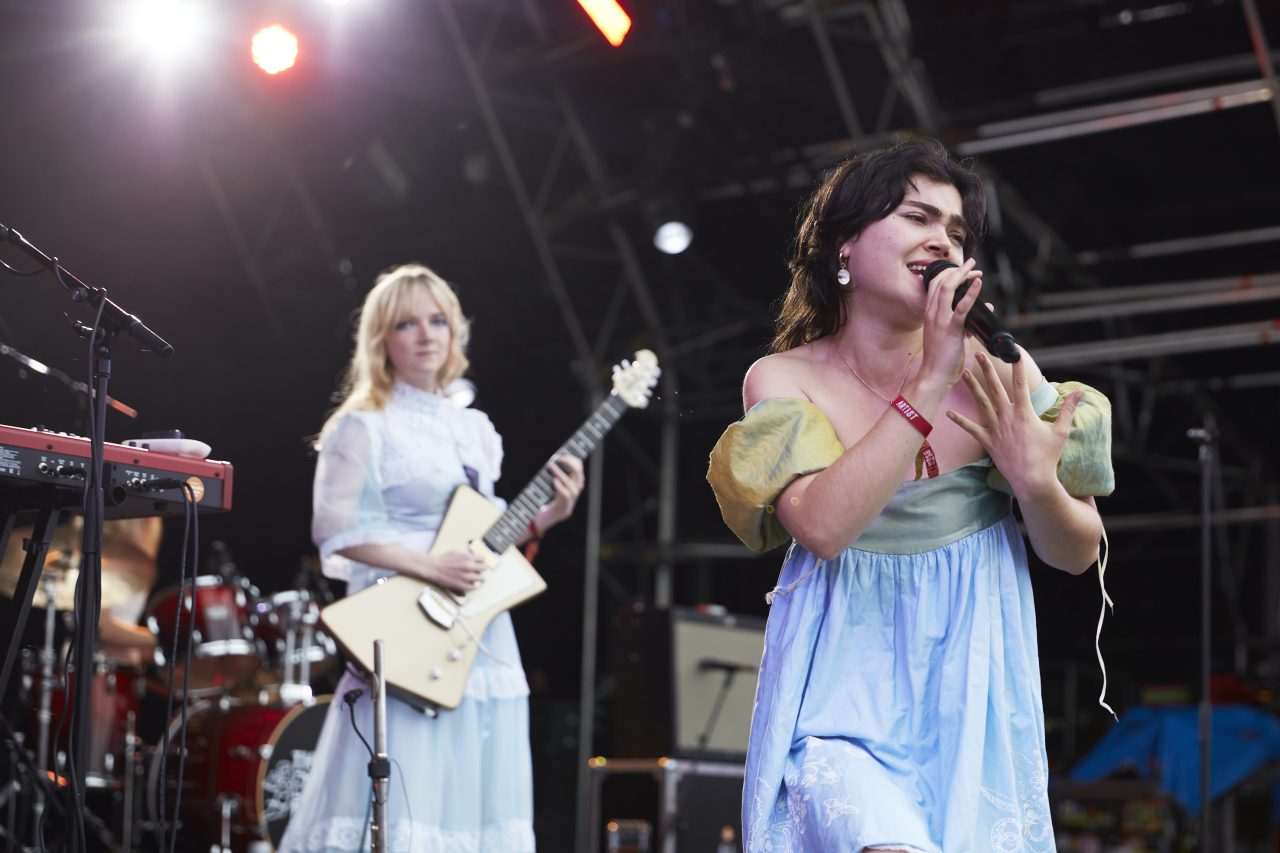 Friday
With an appetite for the heavier offerings of the day following an early morning walk around the art-filled woods, it's a rush to catch Canadian post-punks Deliluh. Though their angular synth jabs are a complete contrast to the circus-themed Big Top and better suited to sweatbox basement venues, their slippy concoction of industrial-meets-ambience soon adjusts.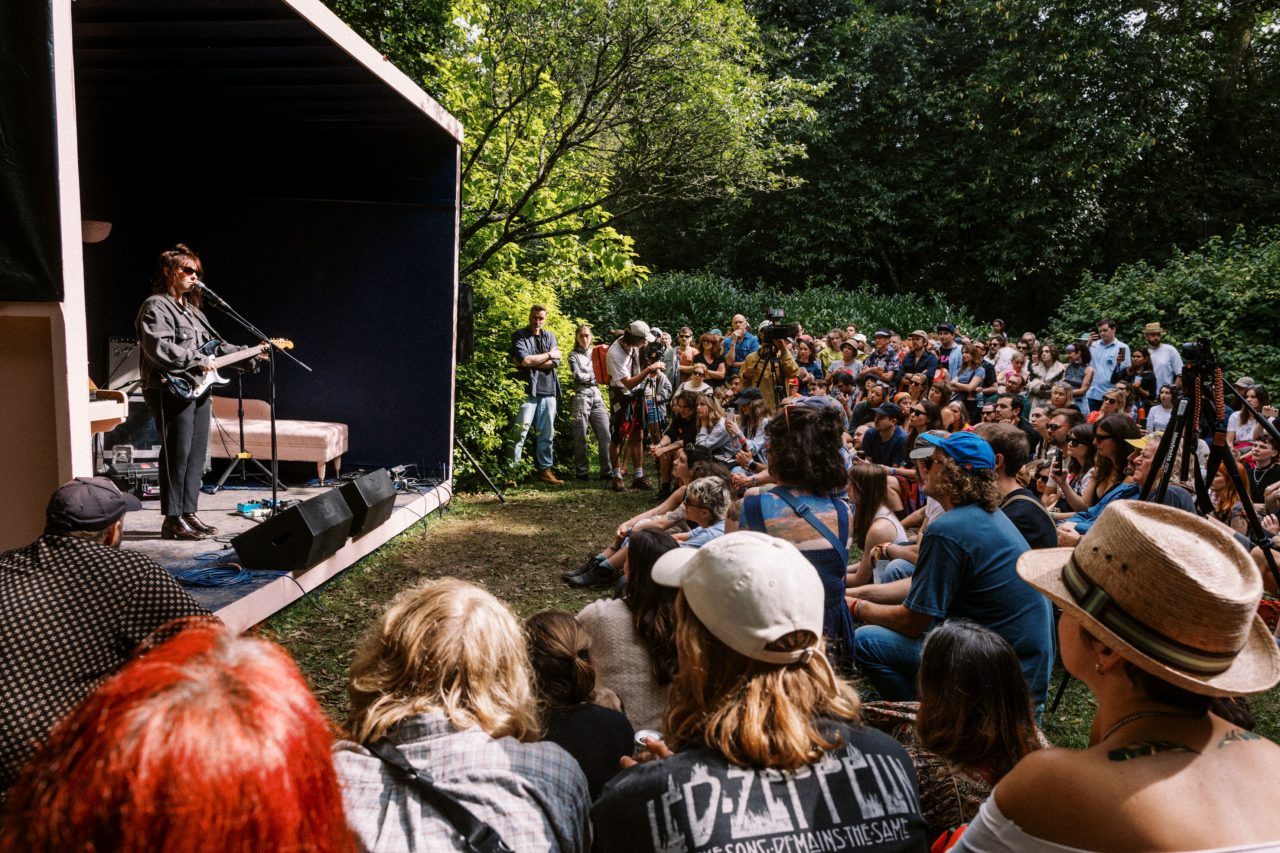 One of many surprise Piano Stage performances, Angel Olsen treats those in the know to a short but sweet teaser of her evening set. "It's eight minutes long, you'll hear it later," she laughs off playing "Sister" after asking for fan suggestions and rejecting all. A stunning rendition of Tucker Zimmerman's "Slowin' Down Love" makes up for all, and is only a warm-up for the magic of later on. 
Horse Lords and The Mary Wallopers leave all tenderness for Olsen's official appearance on The Garden Stage, with the former opting for erratic but intricate experimentation. Standouts The Mary Wallopers pull crowds from afar with their tongue-in-cheek take on Irish trad, gifting as much stick to the English crowd as possible. It's laughs throughout, but "The Blarney Stone" is the release needed. In celebration of its official release, flags are flying, poor Irish dancing is rife and those relishing the anti-English taunts have the best time of their lives.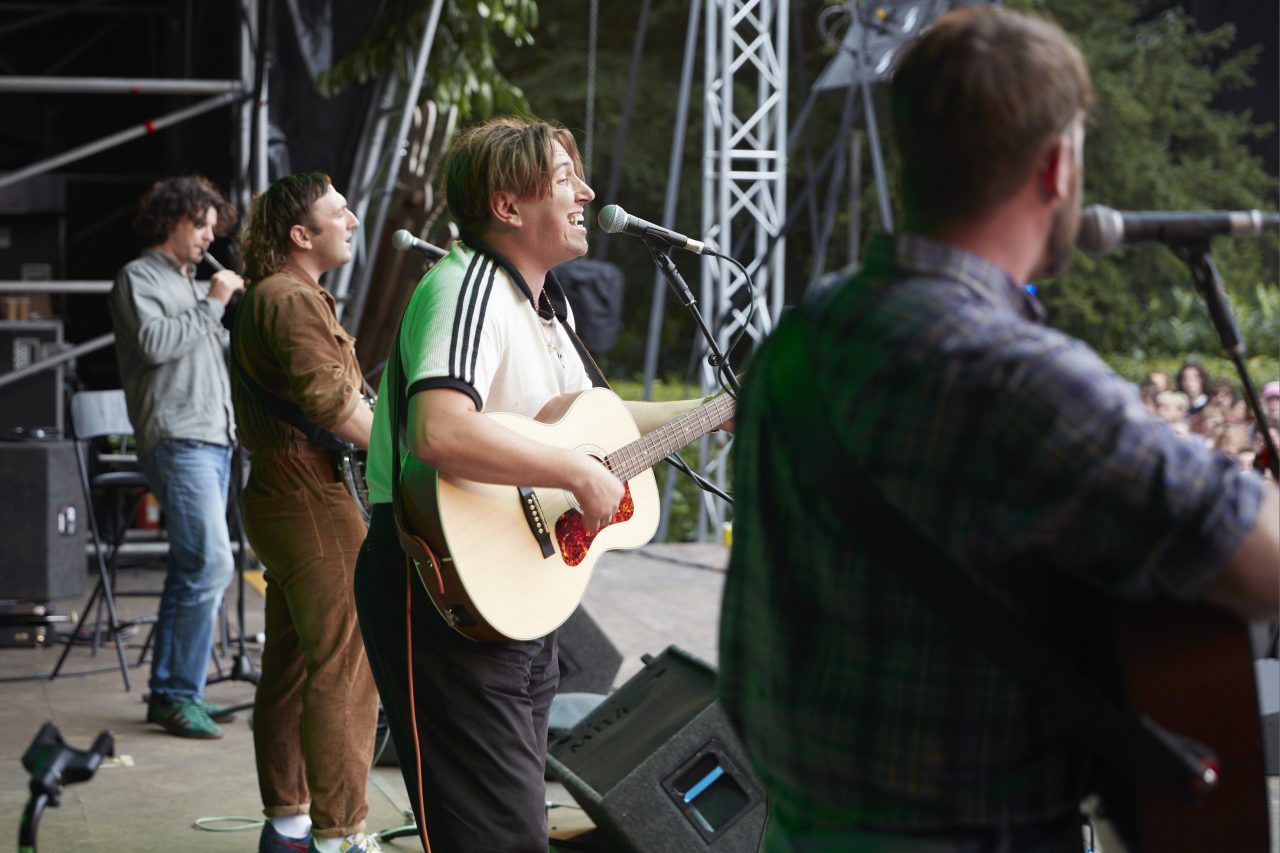 As the mood mellows, Angel Olsen's return is as enchanting as expected. It's smiles all around with her band now in tow, with those scrambling for a spot to see the singer-songwriter fighting back the tears. Closer "Without You", a cover of the touching Harry Nilsson track, rounds off her emotional set, pushing Olsen to the top of the day's standings.
Saturday
After two days of genre-switching, Saturday leaves more room for tranquillity with the delightful opening sounds of Three Spoons. With time for a quick sidestep away from their traditional folk singalongs, Welsh psych-rockers CVC blast through sexed-up glam-rock grooves over on the Woods stage.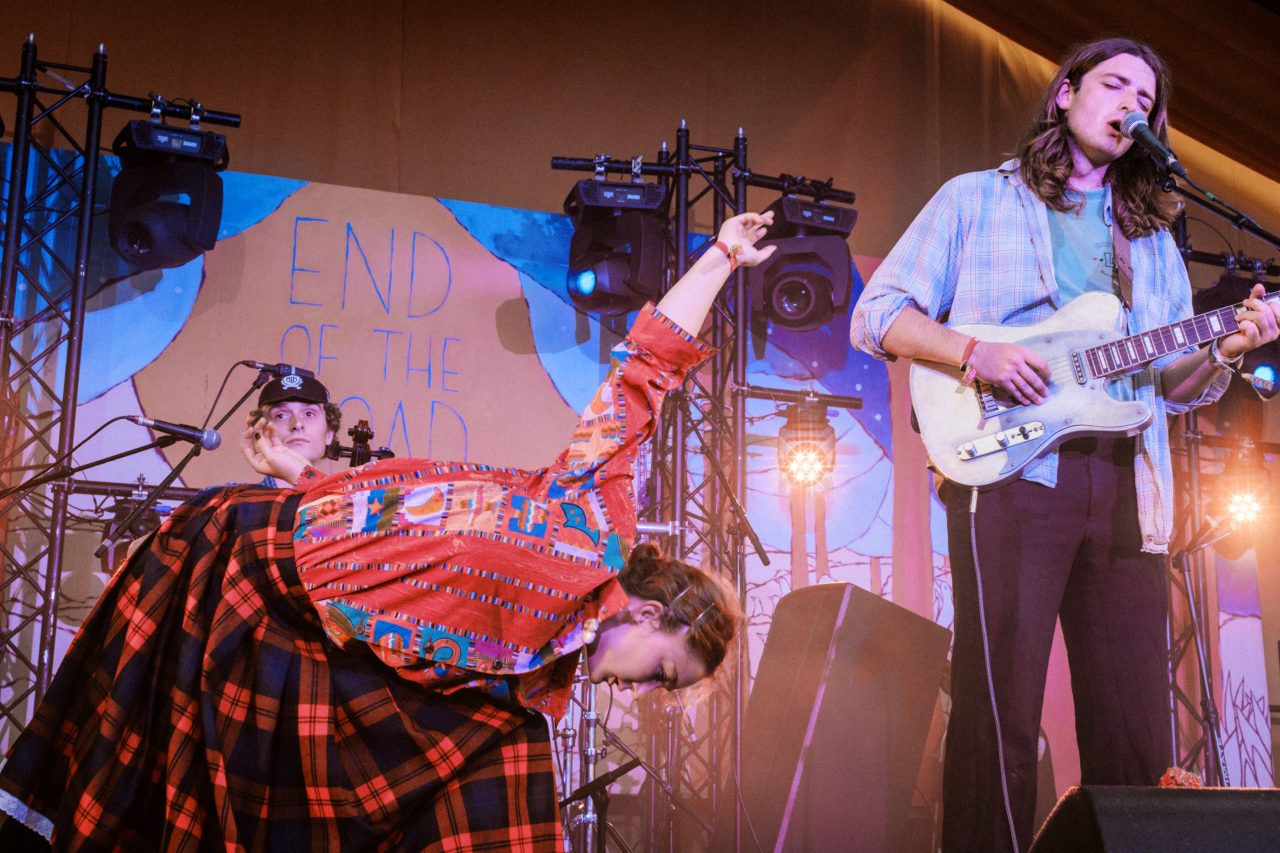 But before long, it's time for Heavenly Recordings newbies Tapir! who pack out the baking hot Folly for their folk-tinged dreaminess. As stunning sonically as it is visually with the movement of dancer Sophie Chinner complimenting Ike Gray's vocal cries, their set is a necessary celebration for their latest EP Act 2 (Their God). New single "Gymnopédie" soars beside live favourites "On A Grassy Knoll (We Bow Together)" and "My God", and the late addition of a friend-filled choir for a teaser of the London sextet's next instalment tops off one of the most impressive sets of the weekend.
Still in awe, most of the crowd has the same idea and makes their way to Caroline. It's tricky to get a good spot despite a long soundcheck pausing proceedings, but their haunting orchestral improvisation is beautiful regardless. Later on, fellow Heavenly signee H. Hawkline blows away the Talking Heads stage. "This is the best set I've ever done", he proclaims with the crowd nodding in agreement with haunting cuts from his latest album Milk For Flowers working perfectly with the amphitheatre stage layout.
Opting for the minimalist gentle stylings of Arooj Aftab for headliner, it's yet another phenomenal performance to end the day. "I'm not sure whether I'm sounding better or the wine's hitting," she jokes of her own skill after complimenting her harpist and bassist, but with a perfect set start to finish, her poetic ambient jazz proves itself as headliner material.
Sunday
King Gizzard And The Lizard Wizard t-shirts line the tables of the Rough Trade shop and a snaking line of psych fans greets those trying to get into the Talking Heads stage. It can only mean one thing–the Aussie psych-rockers have arrived. 
An opening Q&A primes fans for tonight's proceedings with questions discovering where their "drip" is from, setlist decisions and their favourite live tracks. A touching plea from a young boy asking for "Gila Monster" from their most recent studio album PetroDragonic Apocolypse promises a metal set, but little other enlightenment for the closing performance is given.
Continuing the Aussie takeover, Gizzard members Ambrose Kenny-Smith and Cook Craig join their Murlocs bandmates for a country garage-rock foray in the Big Top. Kenny-Smith with his harmonica in full-toe doesn't look best pleased with their set ("How's your Sunday? I've had better…"), but it goes amiss with those in attendance happy to finally hear their latest album Calm Ya Farm in person. Continuing the day of psych goodness, Allah-Las give a taste of their forthcoming release Zuma 85 alongside crowdpleasers with a glittering Cali groove. An idyllic Sunday evening listen.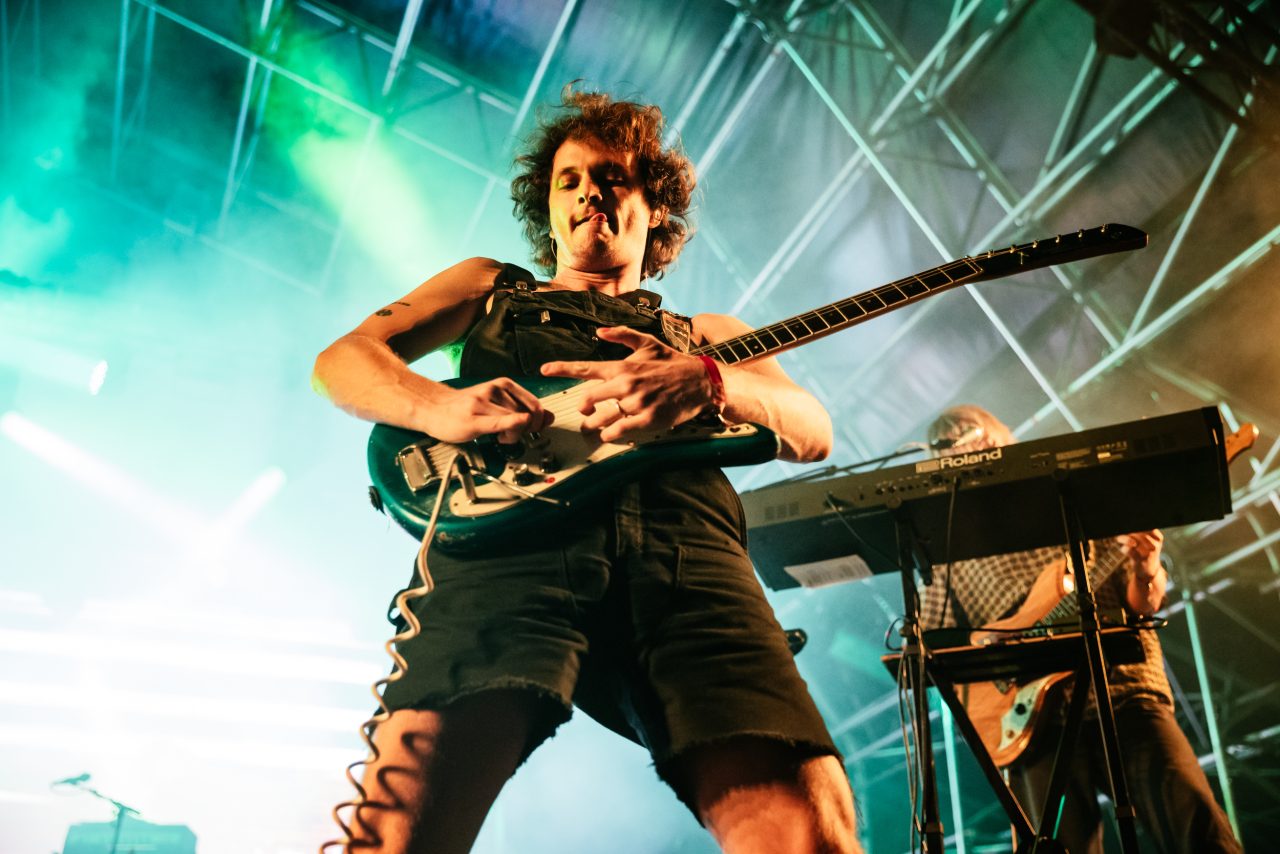 And the group of the moment. King Gizzard And The Lizard are the final band to take to the Woods stage in the closing night of their European tour. Revealing Kenny-Smith's earlier woes are due to a lost voice meaning "no Bon Iver covers" for tonight, they head into a staunching psych-metal set Black Sabbath would be envious of. Guitar duels aplenty, it's a finale to be proud of. It might be a short one for them, only stretching to 10 tracks and timing out at 90 minutes, but is high octane to the final beats. Where "This Thing" and "Magenta Mountain" swagger around synths, the chanting of "Gaia" battles an ultimate thrash showdown. Calls for more go amiss but it's yet another impressive show from the Aussie band.