Published on
June 1, 2018
Category
Features
"Having new tracks before other DJs became addictive…"
A former member of the Roll Deep crew with members including Wiley, Scratchy and Flowdan, DJ Target has been involved with the grime scene from day dot.
In his new book, Grime Kids: The Inside Story of the Global Grime Takeover, Target gives an intimate view – from its early beginnings as a UK subculture to an international scene, as well as the social aspects which shaped it along the way.
Here, Target shares an excerpt explaining how people hustled to get their music heard long before the days of the internet.
---
Words: DJ Target
DUBPLATE CULTURE
Long before the birth of the internet and the seemingly endless access to music that we have today, the sharing process for musicians was very different. As electronic music exploded around Europe and the UK, more and more DJs were playing brand-new unreleased tracks in their radio and club sets. Today, if a producer or artist makes a track and wants to share it with DJs ahead of its release, it's a simple case of uploading a WAV or MP3 file and pressing send. The whole process can take just a matter of seconds. But jungle DJs in the nineties had a whole different way of accessing new music.
CDs weren't even being used yet. Everything that DJs were playing was on vinyl or, in the case of dubplates, acetate. In Jamaican sound system culture, the dubplate was used as a lethal weapon in sound clashes. A sound would have a customised version of a particular track, often with their name built into the lyrics and sometimes dissing an opponent in the clash. As this was always a one-off 'special', instead of it being mass produced and pressed onto regular vinyl, it would be specially cut onto an acetate plate that resembled the size and shape of a ten-inch vinyl record. The more dubplates a DJ or sound system had usually signified how ready they were for an upcoming sound clash, as each of these were exclusive to them only.
In the jungle scene, dubplates were originally used to test brand-new tracks in the clubs. Instead of pressing up 500 copies of vinyl, producers cut one dubplate of the track, which was in itself expensive at £30 but still a much cheaper way of finding out what reaction a tune would get. Dubplates soon became a way of sharing a track with DJs before its official release, but these pressings only went to the big boys.
DJs like Brockie, Andy C and Jumping Jack Frost would have bags full of dubplates, playing tracks every week that I would hear and then head to the record shops to try and find, only to be told, 'That won't be out for six months mate.' It was something you had to earn. It was a respect thing. There was a hierarchy, and only those at the top would have dubplates of tracks by the likes of Shy FX, DJ Zinc and Roni Size. The rest of us had to wait until the track had been played enough in the clubs to create the right demand for the mass release.
Then there would be 'test presses'. Usually twenty to fifty of these test-run vinyls would be given out as promo copies to the second tier of DJs. In some cases, tunes were only on dubplate for up to a year, which was torture for someone like me. I had to get a bigger name for myself if I wanted to get into the dubplate conversation. All of my idols played brand-new tracks week in week out, which is what separated them from the pack. They were ahead of everyone else. What's more, I wanted to be able to give people the feeling that I felt every time I heard a track I hadn't heard before.
In London, there were only a couple of places where you could get your dubplates cut. Music House was situated in what looked like a makeshift studio, made from a shed, at the back of Holloway Road tube station. It was definitely nothing fancy, with two cramped rooms containing a few chairs and the necessary equipment to do the job. DJs would arrive, and sit in the tiny waiting area until engineer Chris, Paul or Leon called them through when it was their turn. They would take your DAT (digital audio tape) of the track and play it out loud to make sure everything sounded right on the huge speakers in the studio. Once you were happy, they'd line up the diamond cutter onto the blank acetate plate and run the track from start to finish. As the track played, the grooves were cut into the acetate like a vinyl presser would, forming the dubplate. Nearly all the DJs on the circuit who cut dubplates used Music House. It became a staple of the jungle community, with Friday and Saturday afternoons becoming almost like a social club, where the top DJs would meet and exchange exclusive tracks as well as hearing all the latest bangers ahead of the general public. It wouldn't be very long until I would also make the trip to Holloway to hang out at Music House.
I'll never forget cutting my first ever dubplate. I had been managing to get hold of test presses of certain tracks from a few record shops. Me and Wiley had been travelling to Reading, bunking the thirty-minute train ride by hiding in the toilets to avoid the ticket inspectors. There was a company called Vinyl Distribution that delivered records to various shops in the south-east of the UK. They had the vinyls up to two weeks before they were due to be delivered around the country, which meant if we travelled to them directly we could jump the queue.
Having new tracks before other DJs became addictive though, and I wanted them even earlier. DJ Sharkee (who would later become A-Plus, founder of Practice Hours) was a good friend of mine, and had been doing his DJ thing a bit longer than I had. Being from Hackney he also had relationships with a lot of the jungle DJs and labels who were also based there. This meant he had access to cutting certain tracks on dubplate. He had played a set on the radio and played a tune by DJ Dextrous with a classical piano sample in it. I had been trying to get hold of this track for literally months. I suddenly had a plan. I asked Sharkee to burn the full track from start to finish onto a high-quality cassette tape. When he did, I asked another friend of mine who you'll hear more about later, DJ Trend, to burn the regular cassette onto a DAT tape so that I could take it to Music House and cut a dubplate. This was risky. Even though I had only been DJing a short time, I knew that dubplates were sacred and nobody should have a track without the producer's permission. Still I went with it. I told myself 'What's the worst that could happen?'…
---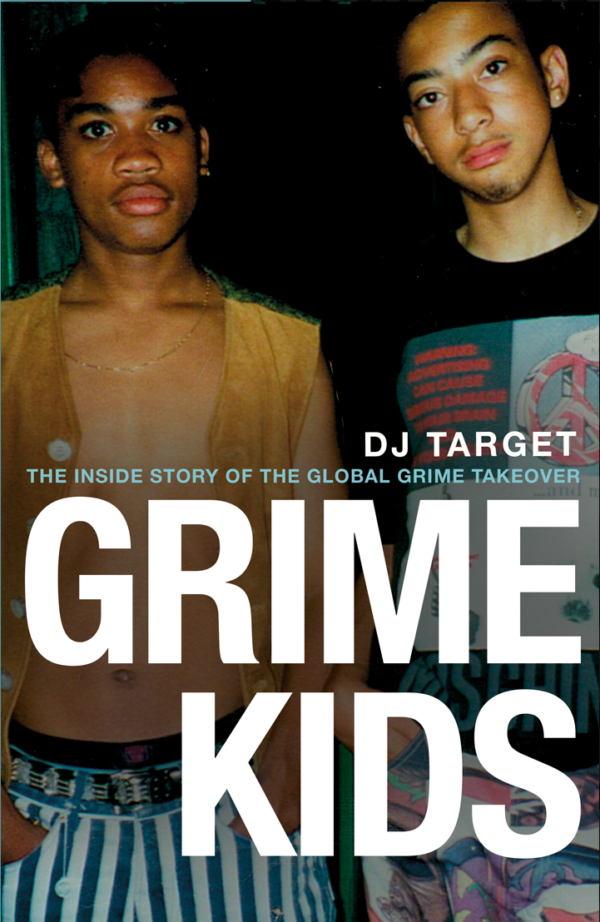 Grime Kids: The Inside Story of the Global Grime Takeover is published 14th June on Trapeze; head here for more info.