Published on
November 24, 2016
Category
Features
It's a Drum Thing.
It's about time someone gave the drummer some. The butt of a million jokes – there's a whole website, if you're bored – drummer's have, for reasons that can only be described as jealousy, been given a tough run of it over the years.
Looking to set this straight, photographer Deirdre O'Callaghan has profiled close to 100 of the world's most influential drummers for new book The Drum Thing. From those who have a made a name for themselves in their own right (think Questlove, Jack White, Travis Barker) to others who've preferred to keep time anonymously for music's most celebrated artists (Bowie, Miles Davis, The Clash), the book captures drummers in their most intimate spaces – accompanied by anecdotes and a few words of wisdom – for what is a unique look into the engine room.
We're excited to bring you a taster of O'Callaghan's portraits and quotes from the book below.
---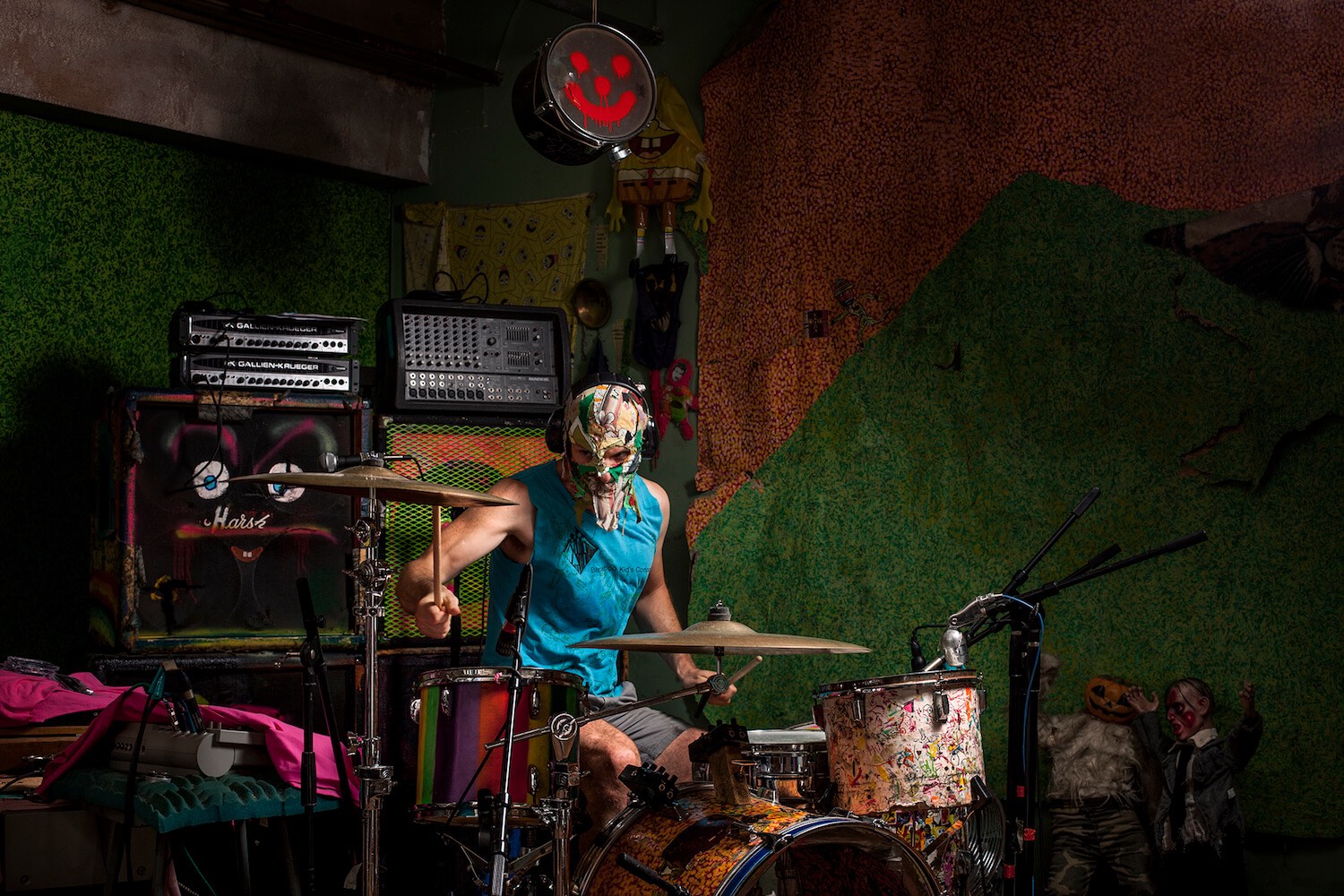 Brian Chippendale
Has played for: Lightning Bolt / Black Pus
It feels like all the shows I've ever played are so crazy. Even if they're not, even if nothing's happening, in my mind they're so crazy because I'm trying to play to the edge of my ability all the time. So they're all just like blinking your eyes really fast for an hour. They all seem really intense. Some have been more intense, like playing during the summer in July in New Orleans in a storefront with no air conditioning. Or another one in Louisiana – I remember the outlet caught on fire. I think it was because it was so hot, as we were running all this gear, this fire started in the corner. I thought it would be funny to tape my mask to my head. I was like, it's so goddamn hot in here, I'm not going to take it off – and then ended up almost passing out.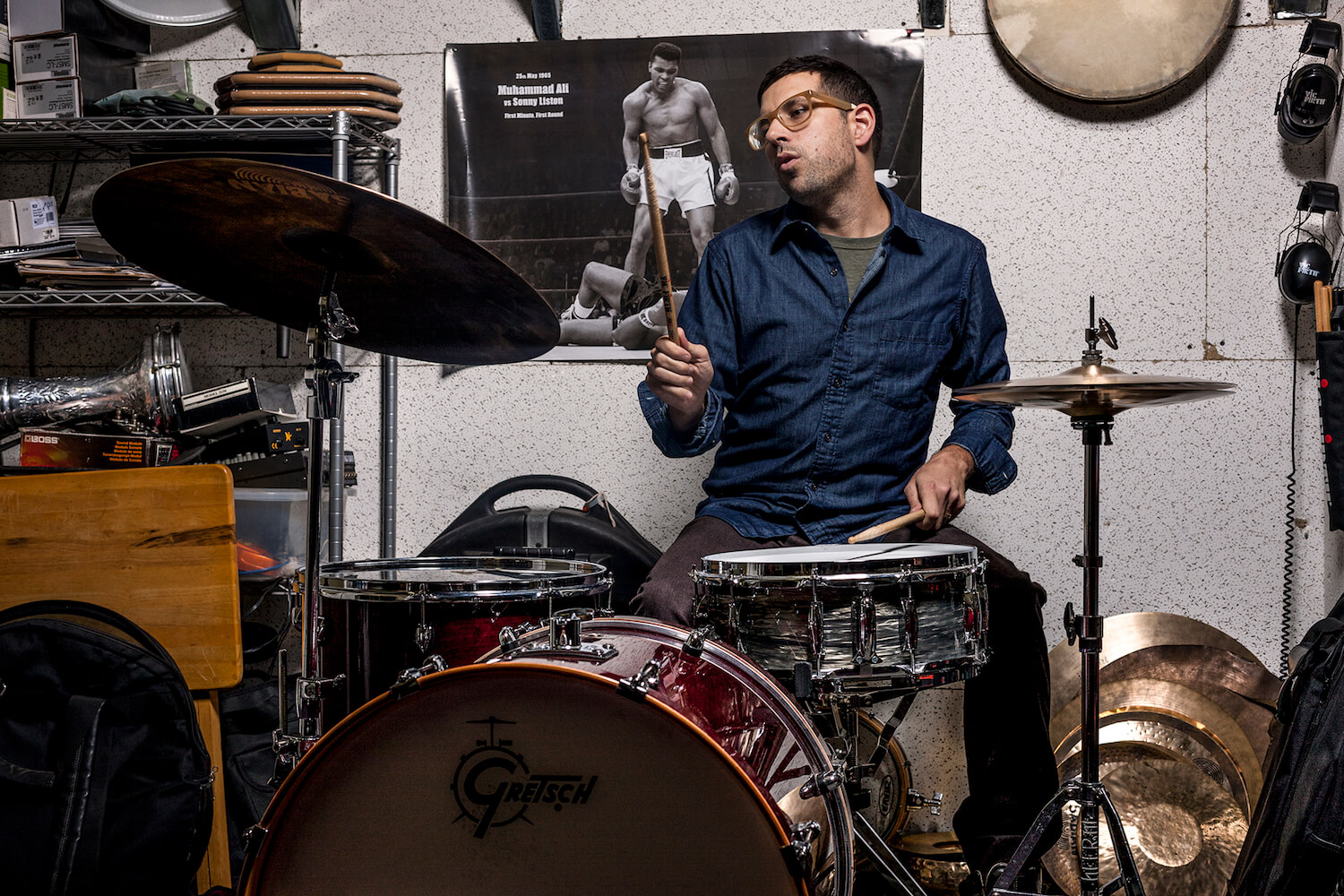 Mark Guiliana
Has played for: Beat Music / David Bowie / Mark Guiliana Jazz Quartet / Mehliana
We drummers are oftentimes responsible for keeping things organized. I think the music comes first and it would be unfair to the music to make decisions that get in the way of your responsibilities. Maybe everyone is relying on us for that. But it's those magic moments, especially when you're playing with people you trust – if the moment allows for those chances, then I think they should be taken. Even if you fail, being in the place where you can take those risks, you're opening yourself up to the possibility of the music reaching incredible heights. That's the drug for me, that's what keeps me coming back: improvising and taking those chances. And that's when the dopamine kicks in – because of that risk. It's like why people jump out of planes. I think my favourite musicians have all their tools really refined and sharpened but they are still taking chances right in front of you. That's why live music for me … a guy like Jim Black, or Dan Weiss.
---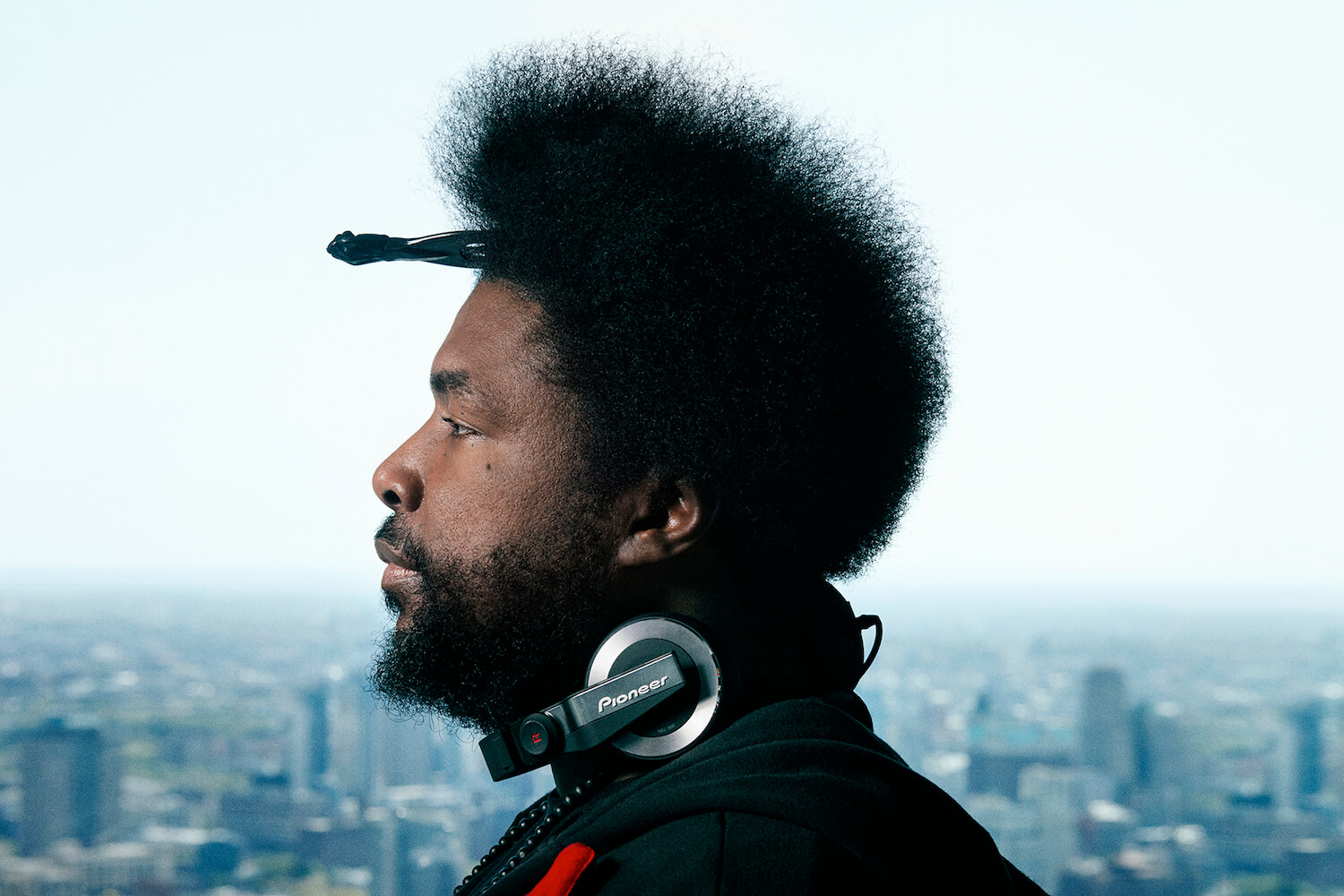 Questlove
Has played for: The Roots / D'Angelo / Elvis Costello / Al Green / Jay Z / The Tonight Show starring Jimmy Fallon
I got introduced to jazz as a punishment. I had deceived my older cousin into buying me a 45 of a song that my parents wouldn't allow me to have. I asked them for it, and they said, 'No, we don't like that song, that song is dirty, you're not getting it.' And after about three weeks of plotting and scheming, always missing the song when it was on the radio, trying to record it … It was a song called 'Juicy Fruit' by James Mtume, who was the percussionist for Miles Davis. It seems harmless by today's standards … All of Miles Davis's musicians were heavy jazz cats but in the mid-'80s they all wanted to get paid, so they all did regular pop music. This was one of his breakthrough singles and Notorious B.I.G. sampled it for his first single, 'Juicy'. But I was twelve at the time and I didn't understand double entendres. I really thought, maybe it's about a stick of gum, Juicy Fruit. Stupid me! I thought it was about candy. I didn't know it was a metaphor for sex.
---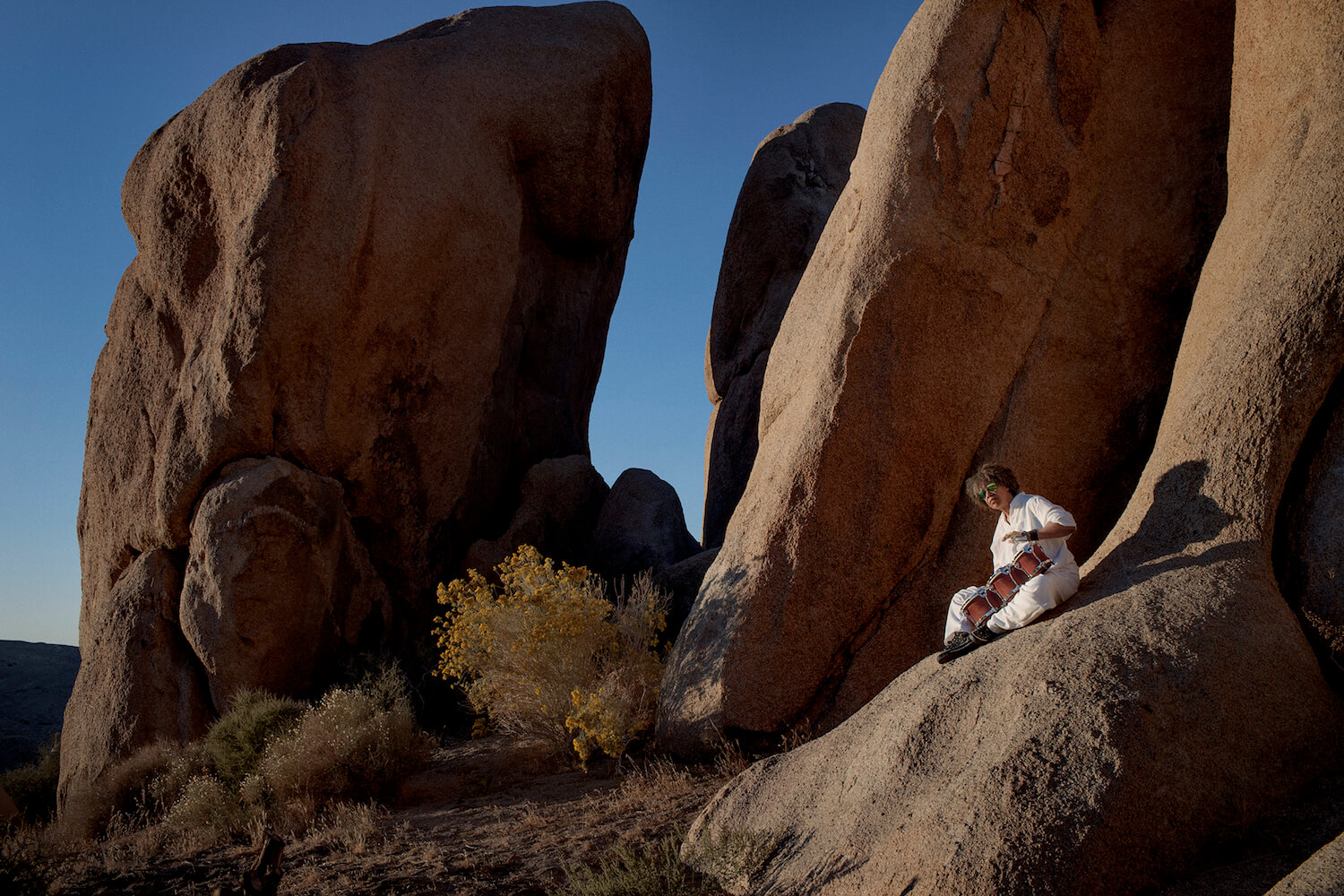 Bobbye Hall
Has played for: Bob Dylan / Marvin Gaye / Stevie Wonder / Stevie Nicks / Carole King / Bruce Springsteen
I was so new to California. I came out to Hollywood in 1970, on 15th January. I had a thirty day ticket. Either I make it or I'm gone. And I'm still here. I was a baby in Hollywood. I stayed at a place called the Hollywood Studio Club when I first came out here. I was the only chocolate thing in there. It was a residence for women in the industry in Hollywood.
---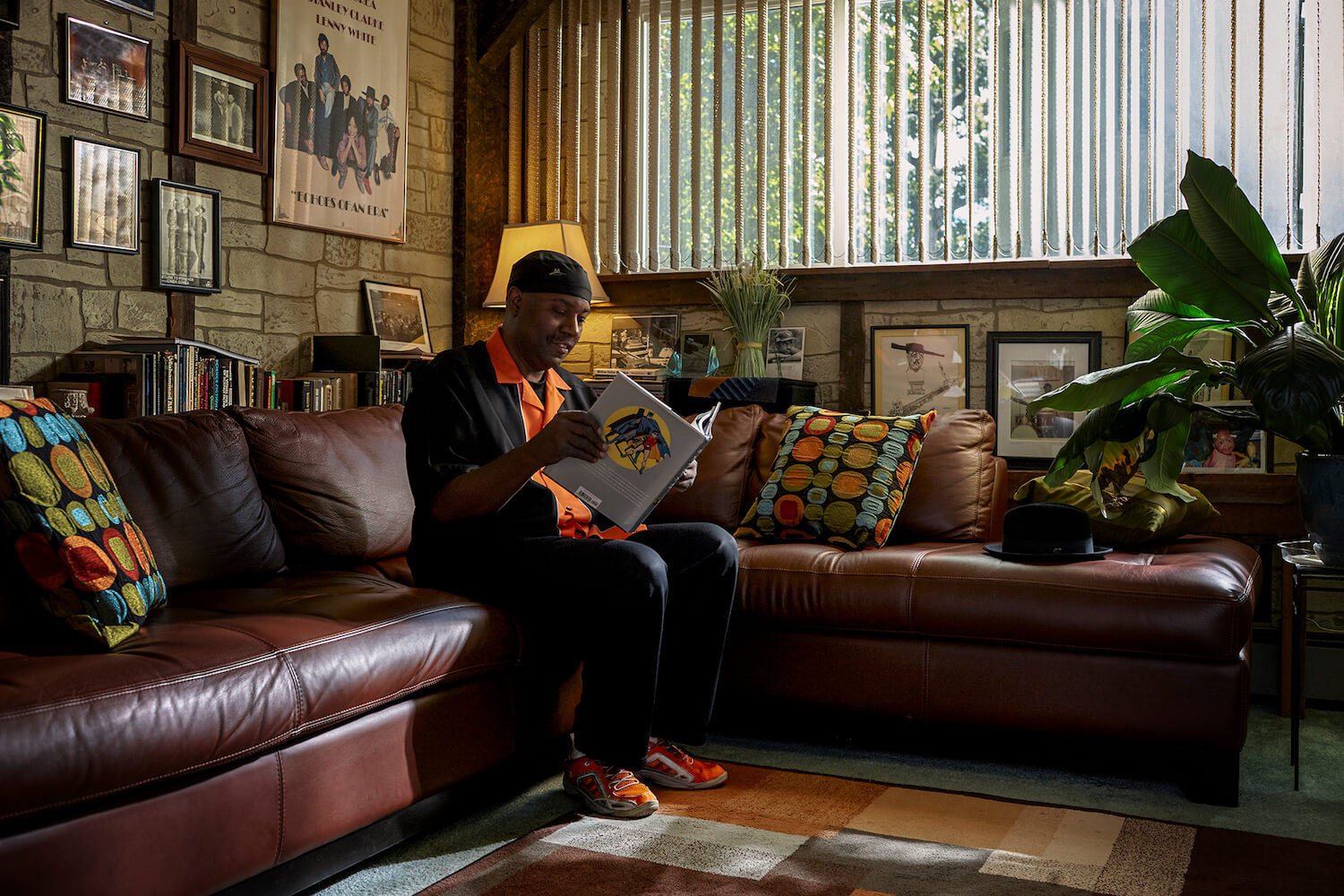 Lenny White
Has played for: Miles Davis / Freddie Hubbard / Return to Forever / Gato Barbieri / Jaco Pastorius
I probably learned more from Miles Davis than anybody else. We were recording a tune called 'Miles Runs the Voodoo Down' and Miles wanted it to have a really funky beat. Tony Williams, who played with Miles, was a hero of mine, so I figured: I'm going to play like Tony and Jack DeJohnette. And I'm playing … I thought it sounded really good. Miles came up to me, he said, 'Nah, nah, nah man, you're not getting the chicken.' That was an expression to say you're not funky. So Don Alias – great person, great drummer, great percussionist – he said, 'Miles, I got a beat that we could play.' He played this real simple beat and I thought, you got to be kidding me. I knew I could have done that. I wanted to impress Miles – I never asked what he wanted. I just went out and played what I thought he wanted and it was totally the opposite of what he wanted. I wound up playing percussion on it rather than playing drums. And so when the session was over, I was pretty despondent. I was sitting over in the corner with my head in my hands. He came over and asked what was wrong. I said, 'Man, I really … I thought that …'. He said, 'Don't even worry about it, come back tomorrow, it's another day.' That's the mark of a true professional: to be able to go into a situation, ask what's wanted and do what is asked. That's the biggest thing that I learned that day. The next day I was right back into it.
---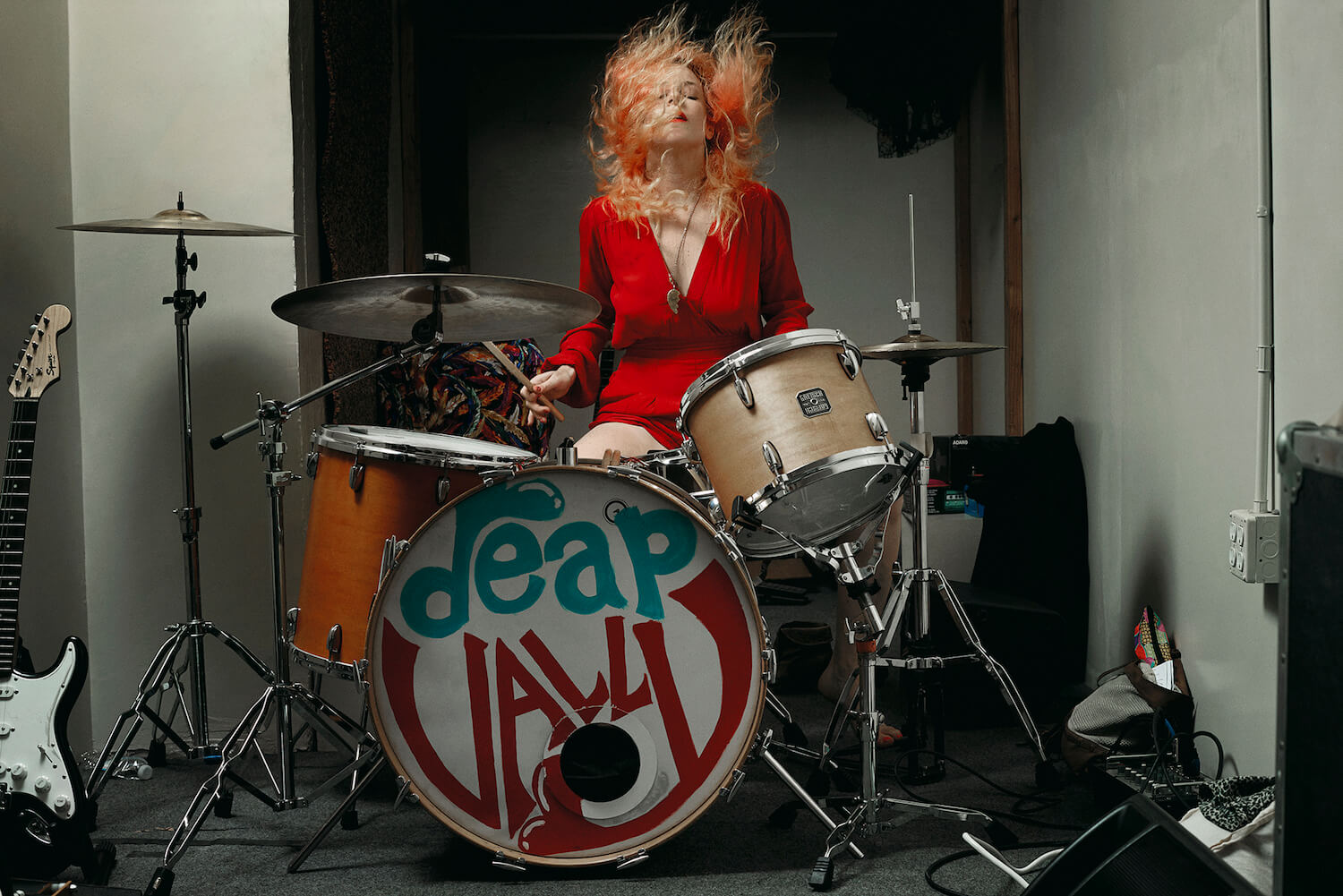 Julie Edwards
Has played for: Deap Vally
I like playing that's ridiculously heavy. Someone who stays behind and makes everything so pimp – like John Bonham.
---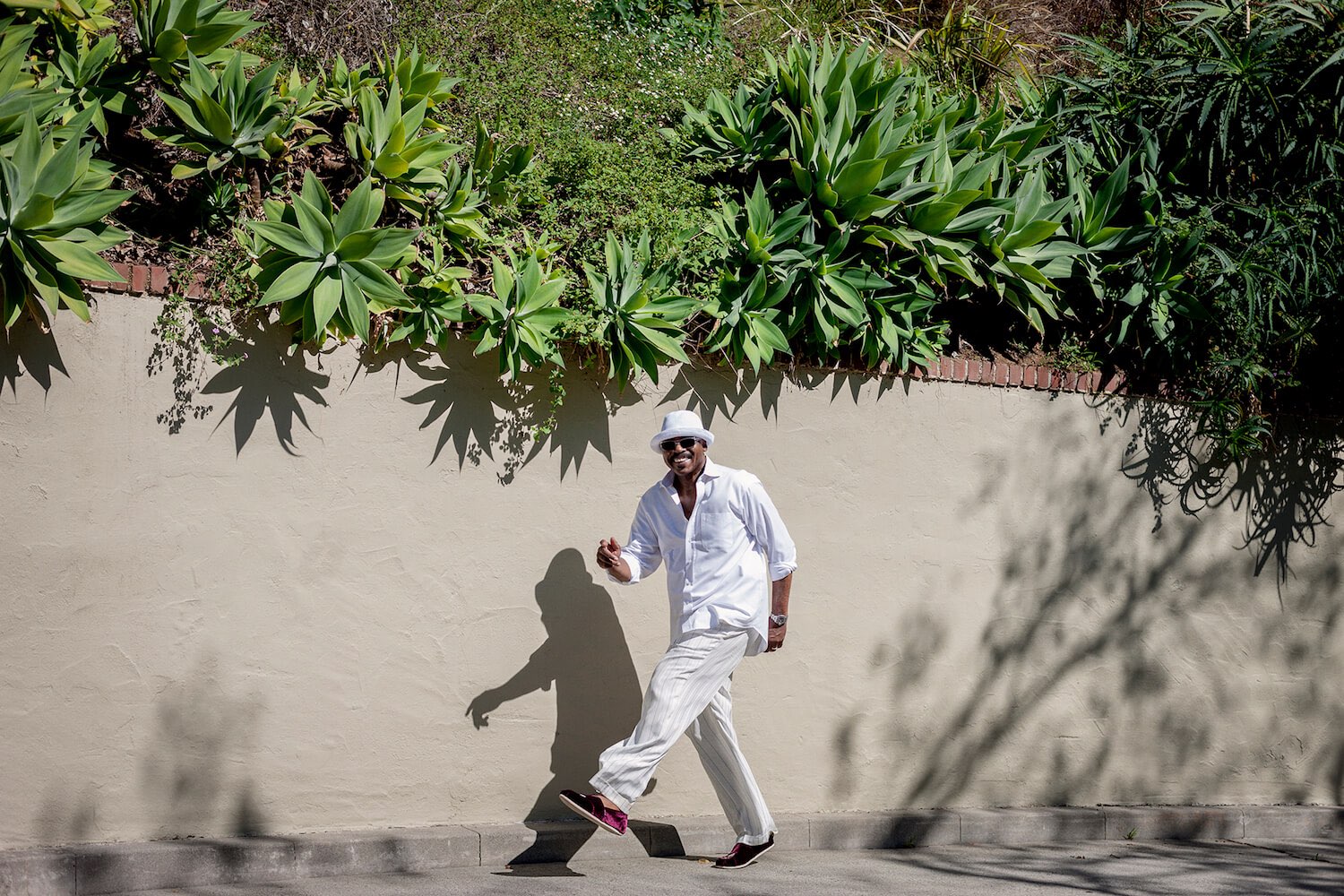 Harvey Mason
Has played for: Quincy Jones / Herbie Hancock / John Williams / John Legend / Fourplay
I became interested in piano. The church organ¬ist was teaching me and then she encouraged me to play for the choir. It was a stodgy kind of church, a Baptist church. Not like today's church with the drums. You couldn't have drums in there. I was in high school, playing in talent shows and listening to other stuff, so I was trying to play hipper chords than the chords with the hymns. The old ladies would say, 'Oh no, he's jazzing the music up.' It was kind of sacrilegious but the organist dug it. She under-stood, so she was always encouraging me to play. And my mother was saying, 'Ah! You're listening to that bumpy-bump music,' which was her word for popular music.
---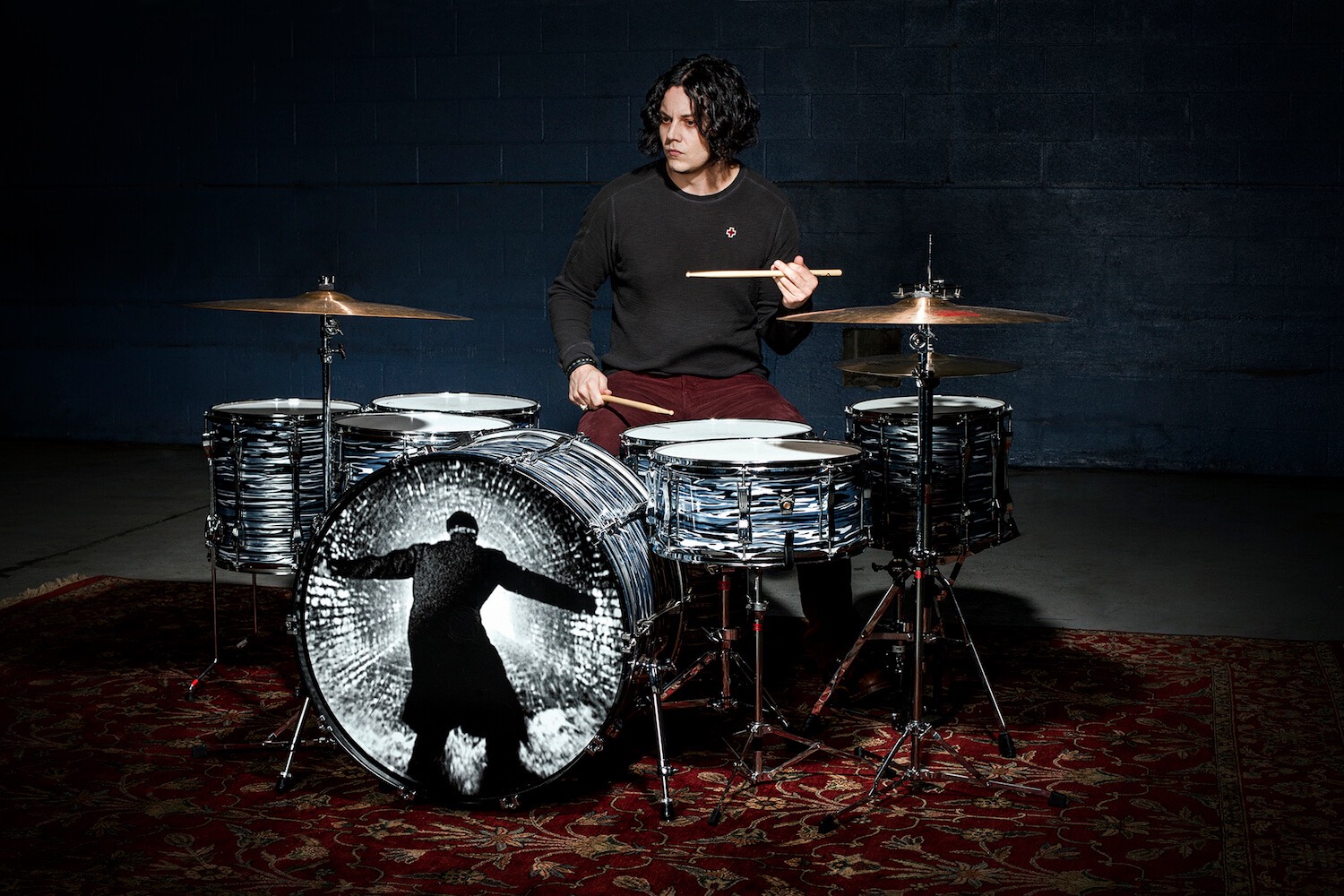 Jack White
Has played for: The Dead Weather
Somebody told me early on, when you go onstage you have to act like you own the joint; and I always say that to younger performers when I'm working with them. And when we put on live shows here, they say, 'Easy for you to say, Jack, you do own the place!' If you see a performer onstage and there's any sign of nervousness or second-guessing or insecurity, as a viewer you lose respect for that person. Even if the music's no good or your performing's not that good, if you act as if you own the place, it sort of sells it.
---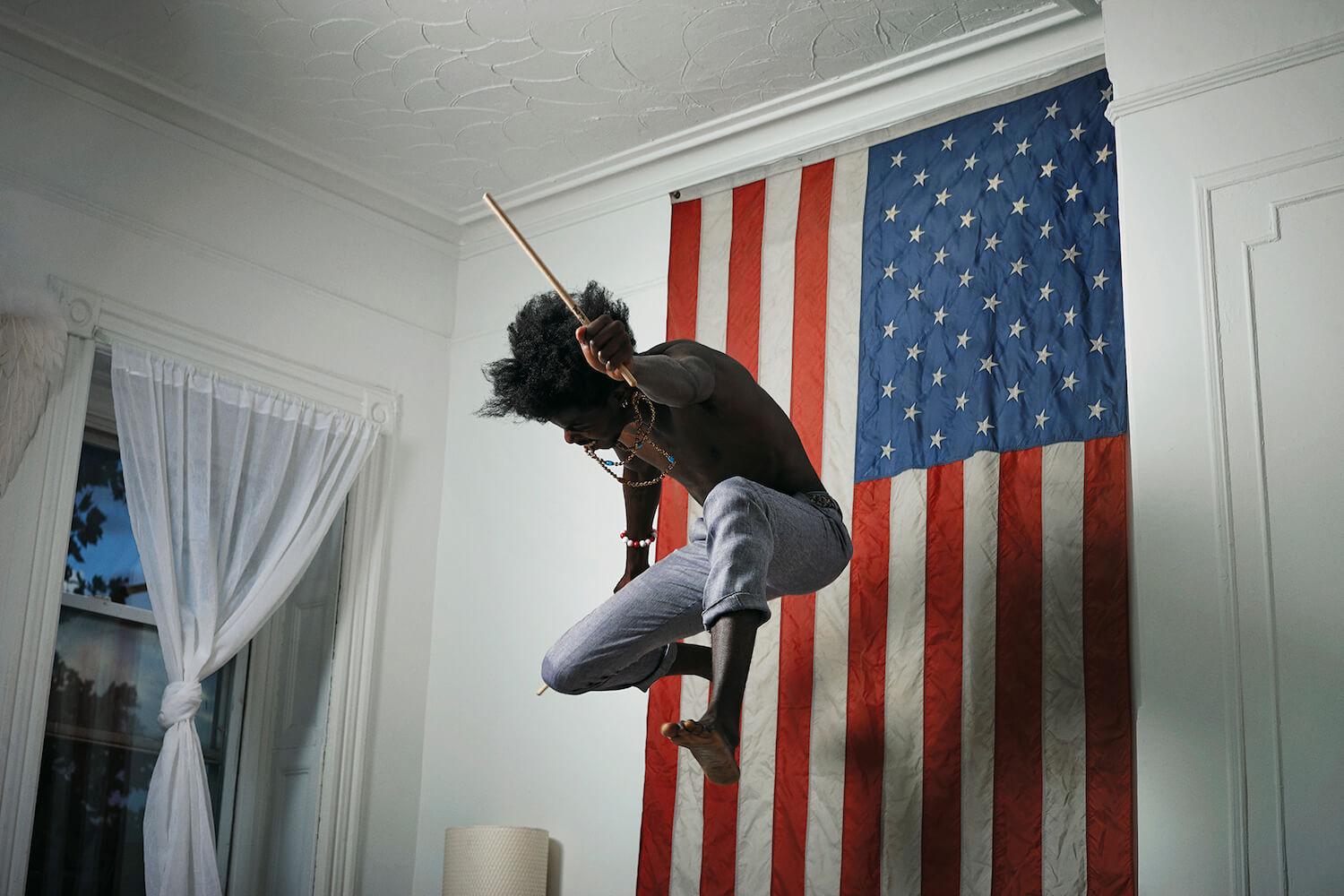 Pauli The PSM
Has played for: Gorillaz / Damon Albarn
The drum machine's got a spirit in the same way that a human drummer has. The traditional thing to say would be like, you know, a human drummer has energy and it's alive and will bring its personality and its touch and its flavour. No, the drum machine is exactly the same: it's an instrument, and you're programming the drum machine in the same way that you programme your body to play the drum kit. When I play a drum machine, I really go to town on the fact that it's an instrument that needs to be pushed to its limits in the same way a clarinet or a drum kit or whatever should be played. I think drum machines are amazing. Look at Jam and Lewis – those guys made patterns that drummers cannot play. Look at what Skrillex is doing now with dance music. You can't keep up with that stuff. Questlove, he replicates drum machines. Look at what J Dilla did with the drum machine. That is more than what any drummer can do. Except Quest or Chris Dave.
---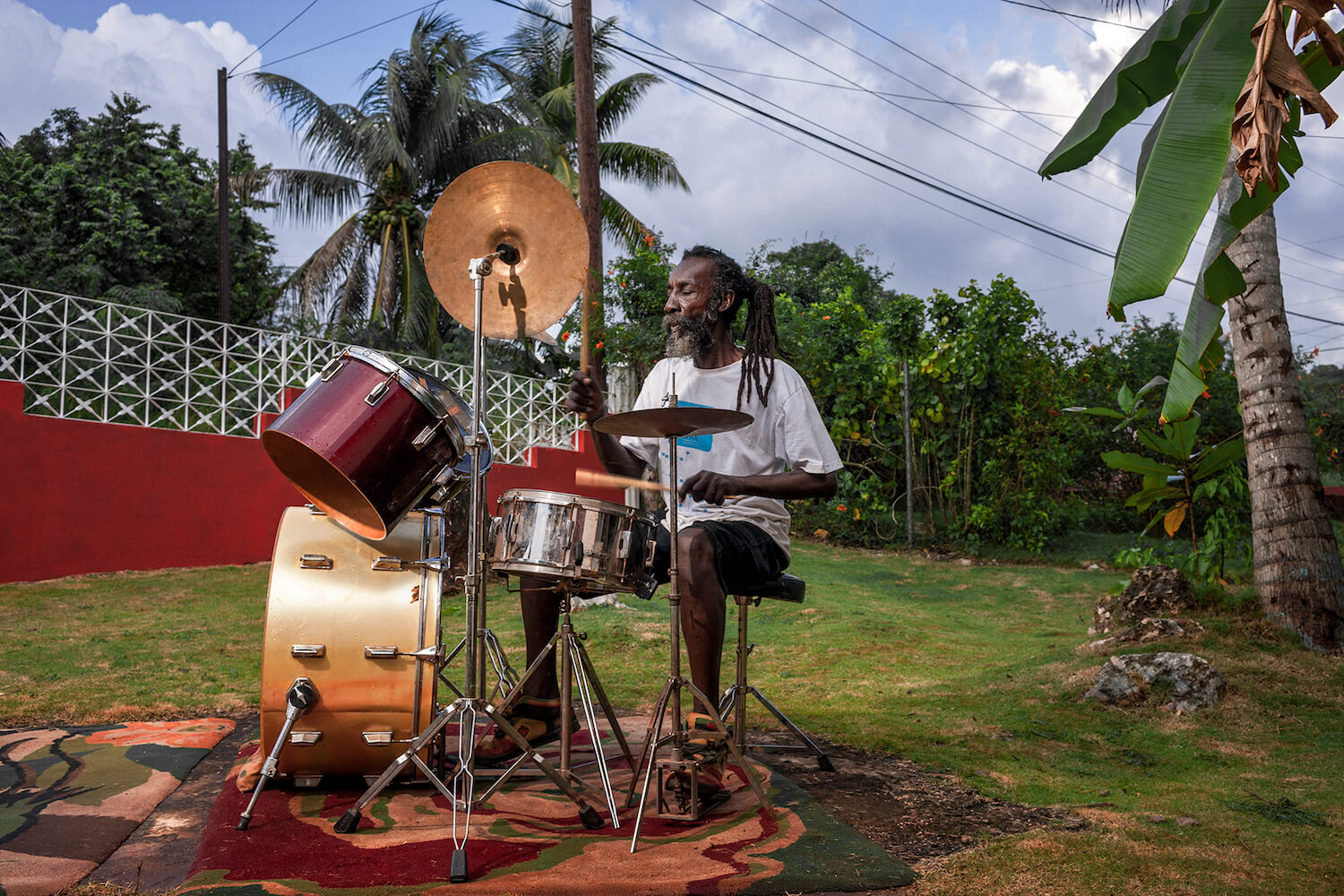 Horsemouth
Has played for: Burning Spear / Dennis Brown / Bob Marley / Peter Tosh / Gregory Isaacs / Studio One session drummer
Reggae, it represent a lot of things, not just one beat. It's several beats in one. It's hip hop, Tchaikovsky … when I was a kid I used to play all the records and then I find out there's one jump in all of them … I don't care about how slow it go. And in everything you play, there's a reggae beat in it. Every music, there's a one-drop beat in it. It's all calculation, it's there. And if you play your music and say, 'Horsemouth, find a one drop in this beat,' don't care how funny the beat is going, I will find the one drop there for you.
---
Zack Hill
Has played for: Death Grips / Hella
I have a hard time talking about music because I play music. It's my whole language and I play to express things that I can't verbalize. I'm slightly a masochist by nature in a lot of ways. Playing, I want it to be biting me, grating on me while I'm doing it. It's like I'm concentrating so hard that I'm not concentrating at all. I want to be overtaken when I'm playing and then that's the time in my day not to think about other things and let something else in, let my body host a different type of energy through playing the drums.
---
Greg Fox
Has played for: Guardian Alien, Liturgy, Teeth Mountain
---
Published by Prestel, you can order your copy of The Drum Thing here.