Published on
March 10, 2021
Category
Features
A previously unreleased radio interview with the pioneering trumpeter.
During the early 1970s, jazz maestro Don and interdisciplinary artist Moki Cherry unveiled their Organic Music Theatre project – a technicolour collaboration that encompassed Don's music, Moki's art, and elements from their family life.
Combining Don's improvisational sonic spirit with Moki's visually-oriented inspirations, they made their Organic Music Theatre project debut at The Festival de jazz de Chateauvallon in 1972, which took place in the south of France.
Performing with Don Cherry's New Researches — a group that included Christer Bothén, Gérard "Doudou" Gouirand, and Naná Vasconcelo alongside Don and Moki, the band were joined onstage by audience members and a puppet troupe, while Moki's carpets and handmade tapestries adorned the set-up.
Ahead of the publication of Blank Forms' new book Organic Music Societies, which focuses on the Cherrys' lives and artistic practices, as well as an exhibition of the same name, we share an excerpt from the publication, featuring a previously unreleased interview with Don.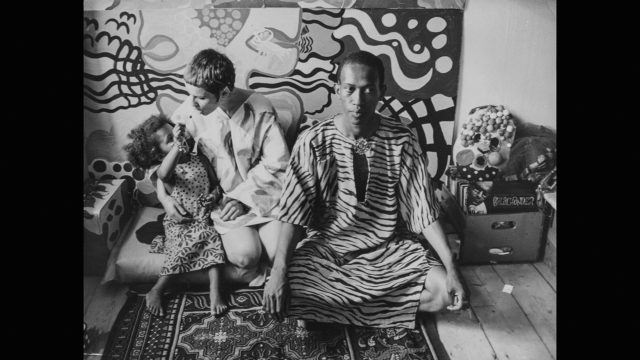 ---
"This radio interview between Don Cherry and Christopher R. Brewster aired on March 12, 1970, in advance of Cherry's 'Elephantasy' concert at Dartmouth University's Spaulding Auditorium at the Hopkins Center for the Arts in Hanover, New Hampshire.
"The conversation was originally broadcast on WDCR, Dartmouth's free-form community radio station, during Cherry's tenure as an artist-in-residence at the school. In it, Cherry sheds light on his travels, pedagogy, and collaborations, and demonstrates the use of several instruments. This transcription has been edited for clarity and length. Advertisements and other radio announcements have been removed, and phrases in brackets have been inserted by the editors for ease of reading."
---
Christopher R. Brewster:
Good afternoon everyone, and welcome to The Noon Hour for this Thursday afternoon. I'm Chris Brewster and I'm very pleased to have as my guest today one of my favorite people, Don Cherry, who is a jazz musician, and who at this time is teaching a music course at Dartmouth College. And Don's here to talk today about his upcoming concert, which will be this Saturday, entitled Elephantasy. Don, I thought we might begin by asking where you got the name of Elephantasy for the concert.
Don Cherry:
Well, you know, this thing 'fantasy' is something that has been a very rare thing. We know of it when we're very young. And being connected with children as I have in my life, I feel that it's important to keep this alive, this fantasy. There's so many other things that deal with the other things, but also I can imagine the fantasy that would be living in a forest and a certain nature and environment. To me, that's a certain reality that is fantasy. I mean, the fantasy that is reality. What is reality? What is fantasy? But 'Elephantasy' is something which is huge — a huge fantasy that's of an elephant. And as you can see on this poster, which I have brought in today, there's elephants on the poster. And we just worked from there.
It opens up for a lot of surprises to happen, you know, through the fantasy and through the mysticism of sound. It's important for us to have these surprises, you know, some surprises can be supreme. A supreme surprise is great. It would be a nice name for a fair: 'A Supreme Surprise.'
CB:
One thing I wanted to ask you about the concert that's coming up this Saturday is how it compares with concerts that you've done in the past.
DC:
That's a difficult question. Maybe it's better if I tell you about some of the past concerts.
We started out as Movement Incorporated. This is the period of my life when I decided I didn't want to play nightclubs, [I'd] rather play under the environment which I felt was in tune with the type of music I was connected with. It started in Stockholm and this artist-designer, who is the same person — Moki — that made the poster, which you can see around the campus here and also in Norwich at the Dan and Whit's store. At that period, the first concert, which was in Stockholm, she would make a black-and-white poster, and then she would also sew a poster. The first concert is where I had been there and used most of the musicians, which hadn't been exposed, some of the best musicians of the local scene there. The concert was successful because we used certain techniques, we used slides on this particular occasion — and all this is a part of the programme as a form in the programme. Whether we use slides, or sometimes films, this is all going while the music does and it evolves into a suite—suite, not s-w-e-e-t — which we constantly use. What do we call that first one now? 'Welcome', it was called. And so I played the 'Brotherhood Suite'. These things were all a part of what happened within it.
That first particular concert was made up, mostly, of a musical ensemble. The room was made with decor which Moki had made, and we used carpets with it. People would not be sitting in chairs. It happened in this room, which was very large, in Stockholm, with carpets. So we learned from that one and travelled on to Denmark.
The second concert was at the Art Institute there. Kunsthal Charlottenborg is the name of it, it's right on Nyhavn in the middle of Copenhagen, Denmark. I had been in Copenhagen and lived there on different occasions.
Within this concert, we had some of the best musicians in some of the pop groups I had known about, such as Burnin' Red Ivanhoe and then John Tchicai, who is black, African-Danish parents, who lives there, and he has a group. We incorporated his group with some of the pop groups, and we had some film directors there that showed part of an experimental film, which we incorporated into the piece. This Charlottenborg, it's an old type, European Gothic, and it has a castle with a courtyard in it. This friend of mine that makes fireworks, he's been doing this for years, he does it as a hobby, but he's very good. He made a special fireworks exhibit, which we had at the intermission. At that concert we advertised for everyone to bring their own carpet, and it was a wonderful feeling because it was a very large room with marble and pillars and all these people in groups, each had a carpet with friends, like a room. So it's this large room of little rooms with no walls. It was a successful concert.
In Paris, we gave our third concert. We did a colour television show, more or less. We went there for a concert and we couldn't find a place and didn't have time to stay in Paris long enough to do that, but we did a colour television show under the title of 'Movement'. The decor was all done by Moki and I used a trio at that time. The guitar player, Pedro Urbina, a classical guitar player who improvises also, and the drummer, who is also in electronic music, Jacques Thollot. And then, let me see now. 'Movement', for certain reasons, didn't work again until we began again. This time we started in Stockholm and Copenhagen again. This time we went all the way down to Turkey, giving concerts along the way.
We shouldn't dwell on that too long, you know, but we really would like everyone to come to this concert. We welcome them and ask them to please come out because there's certain things that we know everyone hasn't been exposed to. I could use the words 'mixed media', but we're trying to mix and incorporate all these things and bring the exposure, in different forms of music, such as some of the folk songs which I've been studying. You know, I've studied music from Turkey, and I've learned many songs from the Black Sea and songs from India, and also some of the very recent contemporary pieces written by Ornette Coleman. And we should play a John Coltrane piece and some surprises, some Brazilian songs.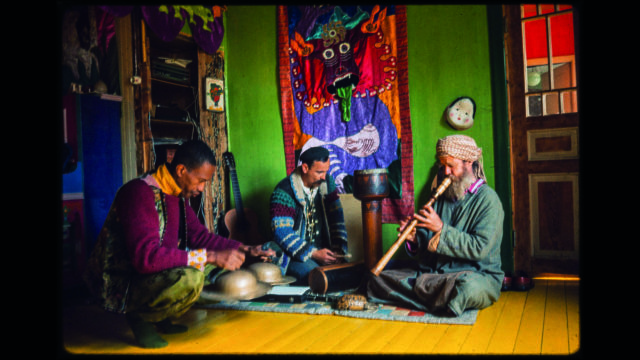 When I was in Paris, when I started the first international group which stayed together for two years, we even came to America and gave a concert at Town Hall. It was very difficult the first time I went to Paris because contemporary jazz had not reached Paris yet. Now it's settled there, but at that time it was a very difficult period. But I stuck with it because of my will. As centre of all of Europe, Paris is a very good centre. It has good impressions from some of the architecture there. I incorporated with the group, which had a saxophone player from South America, Gato Barbieri, a bass player that was studying at Versailles by the name of Jean- François Jenny-Clark, a vibraphone pianist from Heidelberg by the name of Dr. Karl Hans Berger, and the drummer at that time was Aldo Romano, who was from Italy. So it was completely an international group.
At that meeting, which is about three or four years ago, only one person could actually really speak English. Some people would speak two languages. So we would have to contact each other through me, maybe asking the bass player to speak, he spoke Italian and French, and the drummer, Aldo, he could speak Italian or French and would communicate with the bass player, the same way with Dr. Karl Hans Berger, he could speak all the languages. And Gato, he spoke no English then. Now they all speak English and they all are well known in their rankings as jazz musicians — fantastic musicians — and from me being connected with the musicians in Europe, and the jazz scene in Europe for these last few years. That's one of the reasons I'm sending for two musicians to come from Europe. Johnny Dyani and Okay Temiz were having visa trouble, but we hope to iron that out. And if there is any difficulty with them getting in the country, we will have to send to New York for Charlie Haden and Edward Blackwell, but we still have our fingers crossed. I think it's going to work out.
---
Pre-order Organic Music Societies here, and find out more about the forthcoming reissues on Blank Forms here.