Published on
October 5, 2016
Category
Features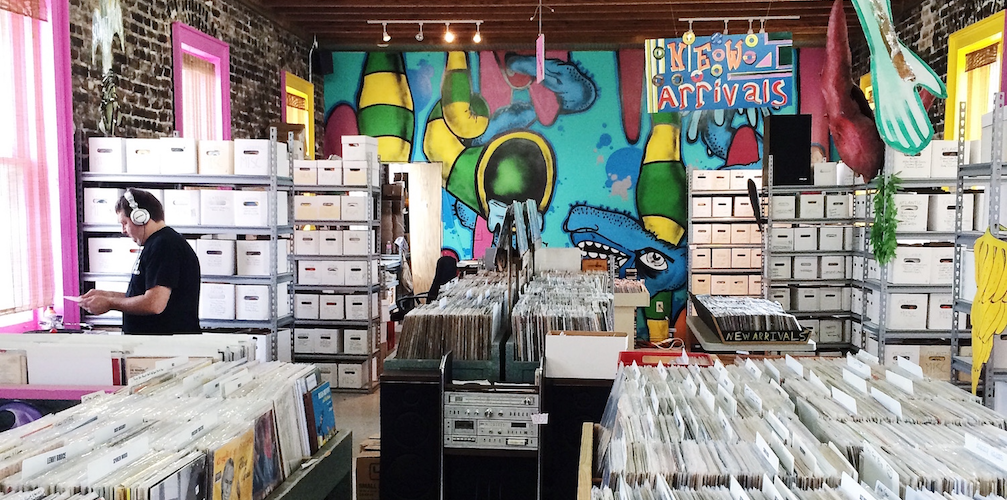 Crate digging in the Crescent City.
---
Words & photography: Óscar Sánchez – @ohmsweetohm
---
Located on the banks of the Mississippi River, New Orleans is the grand old lady of American music. The birthplace of jazz, born from the influence of the Cajuns, Creoles and African-Americans who settled in and around the town, it's a city so rich and diverse as to count the Spanish, English, Irish, African, Latin American and Caribbean people as integral to its ancestry.
While the 500 and 600 blocks of Frenchmen Street are still the heart of the local music life scene, it is also worth venturing further a field to seek out the thriving local record store scene.
We visited 8 of the city's most important outlets, which you can explore below. What better way to burn off the accumulation of Beignets, Po' Boys and Chargrilled Oysters?
---
Louisiana Music Factory
Location: 421 Frenchmen St, New Orleans, LA 70116
Go for: All types of records, music from the region and live concerts.
What's the story? The award-wining Louisiana Music Factory was established in 1992 in New Orleans by owner Barry Smith and then-partner Jerry Brock. Smith has been sole owner since 2000.
Louisiana Music Factory continues to be a local hangout for lovers of New Orleans' music. The store sells all types of music in various formats but a specialty has always been music from the Crescent City and the surrounding region. Local and regional musicians of all genres are welcome to sell their music there and give record-release concerts from their permanent stage inside the shop.
Their clients range widely; they have local DJs scouring their racks of vinyl for shows at clubs around town and they also have sophisticated jazz enthusiasts who visit for new and used jazz on CDs and vinyl.
As Analisa Cisneros from Louisiana Music factory says "we also get tour groups from all over the world who have been sent here by tour guides and concierges and some individuals wander in here and are just blown away to see a real, live record store and they tell us they don't have anywhere they live. It really varies as you can see!"
Clearly classified stuff, high quality references and fair prices. A remarkable crate digger experience.
---
Euclid Records
Location: 3301 Chartres St, New Orleans, LA 70117
Go for: New Orleans jazz, rare vinyl and quality titles of all genres, 45s, CD's and any other music collectables.
What's the story? Euclid Records was founded in 1983 in the Central West End of St. Louis. Joe Schwab bought it from the ashes of Wuxtry records that still exists as a store in Athens, GA. Schwab has owned it since then and they're still kicking in St. Louis all these years later.
The sister store, Euclid Nola, was opened in 2010 thanks to the persuasive initiation from James Weber (who Schwab knew from St. Louis) and Brian Bromberg. Schwab supplied the name, the stock and fixtures and Weber and Bromberg supplied the vibe to create something that was new, yet seemed to be there forever.
As Schwab says: "In our 32 years in business, we've seen people's need for record stores go up and down. It's up to us to create an atmosphere of comfort and build a trust with the customer base, so they know that the records we turn them on to don't suck". According to his own words the philosophy is simple: "You want it to feel like an old shoe, but you don't want it to smell like an old shoe".
The total area of the store located in the Bywater neighbourhood is developed on two levels packed with all kind of genres (soul, jazz, easy listening, new age, world music, rock, rap/hip hop, reggae, gospel, country bluegrass, folk, classical, etc.). The selection is impressive and very well organized which makes it extremely easy to browse. An essential place to visit.
---
The Mushroom
Location: 1037 Broadway St, New Orleans, LA 70118
Go for: Vintage records, classic horror and sci-fi movies, DVDs, posters, stickers and smoking accessories.
What's the story? The Mushroom was created in 1969 by a group on Tulane University's campus called The Student Liberation Front. It was spawned out of a protest against the over-priced book stores on campus. The group was given its own space on campus to set up a book exchange and records were soon introduced to the mix. From that The Mushroom was born.
Around 1972 it moved to its current location, and has changed ownership a few times. The current owner Christopher Hummel bought it from his father in 2013 (who bought it before in 1989).
When asking Hummel about the concept of the store his answer is clear: "To sell good music to people who care! I also enjoy selling gift items and other miscellaneous stuff. I really like knick knacks". The regular customers who shops at the store are all types and kinds, Hummel says, "and thats the best part of the place."
Located one flight up in a building in the Uptown neighbourhood, The Mushroom is like an ugly but charming kingdom with piles of uncategorized records that for sure will delight all those who love searching and possibly finding a treasure amidst of chaos.
---
NOLA Mix Records
Location: 1522 Magazine St, New Orleans, LA 70130
Go for: New and used vinyl, DJ gear and production equipment.
What's the story? Originally founded in 2011 as a youth-based music production and DJ program called NOLA Mix by Ben Epstein and Jerald White, NOLA Mix Records opened its doors as a record store in September of 2015.
The owner Epstein explains that in addition to selling records "we also provide free music production and DJ lessons to youth, promote local musicians with in-store events and the selling of their merchandise and provide a space for music lovers to unite".
Reggae, hip hop, jazz and soul records among others coexist in a relaxed and pleasant atmosphere. There are listening stations where you can assess your vinyl choices before buying. A highly recommended visit.
---
Skully'z Recordz
Location: 907 Bourbon St, New Orleans, LA 70116
Go for: Limited new releases, indie, electronic and deep catalog titles.
What's the story? Skully'z Recordz has been open since 2007 by owner Scott Wells, and once you enter it is like a wellness spa-oasis in the middle of Bourbon Street hand-grenade-cocktail craziness.
Don't be confused by the modest space. Each and every corner is fully exploited and even though its small size, it is a solid shop with quite an amazing stock. Wells says, "We are extremely pleased to offer a wide variety of local artists in a various degree of genres from Jazz, Zydeco, Black Metal, Sludge Metal, Electronic and Experimental. I wanted to open a shop that focuses on hard to find vinyl, CDs and DVDs."
While it is true that its used vinyl offer is relatively limited in comparison with other shops – they are smaller and cannot carry as much as some of the larger stores – it is a great place to catch limited releases, quality reissues (all past Record Store Day items on sale) and a perfect destination for all those fans of deep catalog titles on artists and new releases that more than likely won't be found in the major chains.
---
Peaches Records
Location: 4318 Magazine St, New Orleans, LA 70115
Go for: Old-time traditional Louisiana music, rap, vintage and new pressed records and music/band shirts.
What's the story? This 15,000 square feet shop has recently moved to Uptown after leaving their previous French Quarter location (where they held the space of the old Tower Records).
With more than 40 years behind them – they opened their first store in 1975 – Peaches Records is owned and operated together by Shirani Rea and her children, Lee and Lillie. They are a homegrown Nola family business, and it is common to see three generations at the store together on any given day.
In addition to selling records their mission has always been to launch the careers of local musicians – they are famous for being a place that first introduced many local rappers to hip hop – painters, authors and anyone with creative talent. They are also working to make their new space on Magazine Street a family-friendly community centre where people feel comfortable and want to hang out.
Their clients profile are "music lovers across the spectrum," Lillie says. "We cater to everyone from elementary school kids buying their first record player, to deep collector's searching out that rare gem. We try to have something for everyone and if you don't see what you're looking for, we'll do our absolute best to find it for you."
Their offer includes different music styles such as local and traditional jazz, gospel, Latin or hip hop. The collection is large. A must stop if you are in the Crescent City.
---
Domino Sound Record Shack
Location: 2557 Bayou Road, New Orleans, LA, 70119
Go for: Reggae and world music
What's the story? Not the largest shop on this list by any stretch of the imagination but one which boasts a reputation to envy, Domino Sound Records is approaching its tenth anniversary with style.
Opened by Seattle-born Matt Knowles in the wake of Hurricane Katrina, Domino Sound Record Shack is something of a homage (in name at least) to Prince Buster's old spot on Orange Street in Kingston, and thus describes itself as having "the largest selection of reggae 45's and LP's in the South."
While reggae should be your first port of call, with such reasonable prices, it's worth getting stuck into their superb selection of punk, funk, rock, jazz and blues to see what you might find. As they say: "We're a shop, not a museum, and the records are priced with the idea that we might sell them."
The shop also runs a small label of the same name that you might come across at Honest Jon's in the UK, focussed on reissuing vernacular musics from across the US and around the world, from palm wine hit-maker S.E. Rogie to coastal Colombian cumbia.
Oh and they also stock dominoes. An essential stop off.
---
Disko Obscura
Location: 1113 St Mary St, New Orleans, LA 70130
Go for: Underground synth-based records, psychedelic and afro-beat collectibles.
What's the story? Disko Obscura originally started as a DJ night in 2009, turned into a record label in 2012, and then became a record store in February of 2015. The DJ and record label portion was originally founded by Joey Buttons and his bandmate Mike Mayfield. Buttons mainly collects six different genres of music – disco, funk, minimal synth, house, goth/industrial/EBM, and soundtracks – most of it being very rare and on the darker side of the spectrum. Hence the name Disko Obscura. His obsession with finding as much of this music as possible is the main motivating factor that runs underneath his DJing, the record label, and the record shop.
Located in the Lower Garden District neighbourhood, Disko Obscura shop shares a dreamy little space with three different local brands: the record shop itself, Tchoup Industries (handmade bags) and DVRA (tropically inspired bags).
As Buttons says, "There are a number of records (e.g. Black Devil Disco Club, Martin Dupont's Hot Paradox, Rah Band Going Up) I've come across over the years that are just phenomenal records way ahead of their time and completely overlooked for whatever reasons. I always get this overwhelming feeling of injustice when I think about it. So this is the main concept and driving force behind the record store: to promote the overlooked artists of the past and present".
The breakdown of the clientele shows that the customers are mainly DJs and collectors, a lot of them out of town visitors. Buttons adds: "Records aren't cheap and they are not the most convenient format, however nothing comes close to the actual musical experience of vinyl, so to me and many other people that is everything. Generally this tends to be the type of people we attract."
Disko Obscura is a charming place where you can find a curated and lovingly chosen selection of disco, minimal synth, italo, post-punk, gothic/industrial/EBM, funk, soul, electro, soundtracks, psychedelic and afro beat records from many smaller underground labels that release new music and/or reissue older rare and out of print records.
---
All text & photography by Óscar Sánchez except Domino Sound Record Shack.