Published on
July 11, 2017
Category
Features
Inside the record shops keeping the Napoli sound alive.
Found at the foot of Mount Vesuvius lies Napoli, the second-largest municipality in Italy and capital of the Italian region of Campania. Every romanticised view you have of Italy is found in abundance here; from the narrow winding streets of Via dei Tribunali to the speeding mopeds that swerve past you by inches as you cross the street. While the city is most famed for its pizza – a source of fierce local pride amongst its natives – crate diggers in search of a different kind of 12″ won't be disappointed.
All but three or four years ago Napoli was an altogether different entity than it is today, but thanks to heightened tourism and a rapidly expanding multi-arts creative community the city is thriving. Three record stores have opened there within the past year with more undoubtedly to come, and labels like Periodica Records and Early Sounds Recordings are bringing new sounds from Napoli into the world.
Musically, the city owes its heritage to names like Tony Esposito, James Senese, Agostino Marangolo and Ernesto Vitolo who fused elements of jazz, prog-rock, folk and latin influences with a distinct, yet indescribable flavour that you can only find in the Mediterranean. To this day vinyl treasure troves from those early days of Neapolitan funk can be unearthed throughout the city's many flea markets and record stores (and always for a fraction of the price you'll find on Discogs). If you're lucky, the bric-a-brac market stalls that surround Dante station can produce a rare gem every so often, but by the time you've finished your afternoon Panzerotto these will have been cooking in the 28-degree heat for a good 5 or 6 hours.
For the best finds head out of the centre and to the morning markets, easily worth the early rise after possibly three too many negronis the night before. If your time allows catch a Sunday morning train from Dante to Bagnoli and take a stroll to via Raffaele Ruggiero 1 (around an hour in total) to spend a few hours bartering with the local collectors. Poggioreale Market found at via Pasquale del Pezzo is another Napoli staple over 20 years old, and is where you'll find everything from punk and reggae to funk and soul at wallet friendly prices.
For those who prefer the lie in don't fret, the city's record stores can be easily navigated in a day with enough time to spare for intermittent pizza and Peroni breaks as required. Keep in mind though that between 1pm to 4/5pm many stores are closed. Don't make the same mistakes we did.
---
Futuribile
Location: Via Vincenzo Bellini 44A, 80138 Napoli
Go for: Cold beers, comfy sofas and the Napoli sound.
What's the story?
Found a five minute walk away from the central Dante station on a bustling side-street is one of Napoli's newest, but rapidly becoming its most beloved record stores in Futuribile. Opened just six months ago by Dario Di Pace (of the Neapolitan band The Mystic Jungle Tribe) and Cristiano Cesarano Futuribile is the unofficial headquarters of Napoli label Periodica Records, servicing a growing community of DJs, producers, promoters and music heads keeping 'the Napoli sound' alive in 2017. It's also home to a vast collection of records that you could only ever get your hands on in Napoli.
While you'll find a handful of new releases and reissues from labels like Antinote and Music From Memory with a killer house section of Chicago and Detroit favourites, the greatest finds are the records you've probably never heard of. Italian boogie from Mike Francis, '80s pop with Iva Zanicchi and Mono Band's gloriously cheesy disco rarities all take pride of place on the stores racks. Their regular Sunday Disco Markets are a pretty ideal to spend an evening too, and Di Pace and Cesarano are always keen to point you in the right direction so for under the counter obscurities make sure to introduce yourself when you pay them a visit.
---
Riot Laundry Bar
Location: Via Kerbaker 19, 80128 Napoli, Italy
Go for: Records, premium clobber and classic Neapolitan coffee.
What's the story?
A short five stop ride from the Dante metro station towards Piscinola takes you to Vanvitelli, a suburb of the city where you'll easily burn off the classic Neapolitan fried foods with a walk through the steep hills and steps that weave through the area. And at the heart of Vanvitelli you'll find the Riot Laundry Bar.
Opened just six months ago as a coffee house, cocktail bar and casual restaurant with a killer clothing store to boot Riot is quite literally everything you need for a decent night out in one place; but past the tropical shirts and tailored garms in the store's basement lies the Electronix Network partnered Flash Forward Record Store (itself having opened just one month ago). As you walk down the stairs you'll likely be greeted by its owner Carlo Ilic and a hefty back wall of hot off the press house and techno, new releases from Razor-N-Tape, Kompakt, The Trilogy Tapes and the like and stacked high crates of dub and reggae, italo, old school electro and hip-hop.
---
Oblomova
Location: Via San Sebastiano 20 – 1º Piano, 80134 Napoli
Go for: Sprawling record crates, Neu! and turntable appreciation.
What's the story?
Spread over two large rooms you can lose several hours in Oblomova and leave thinking that you've barely scratched the surface. While there's more than enough to please your everyday Pink Floyd, Björk, Radiohead or Ramones fan dig a little deeper and you'll find psych compilations from Morocco (Kassidat – Raw 45s from Morocco), Ethiopian jazz reissues (Tsege Mariam Gebru – Spielt Eigene Komposition) and experimental spoken word (Lady June's – Linguistic Leprosy).
Oblomova's wall of fame is a collection of signed records from Devo, Ralf Hütter of Kraftwerk, Echo And The Bunnymen and several other framed industrial pop momentos. While you may need to adopt some amateur gymnastics to reach the hidden boxes of Krautrock and '60s psych they're easily worth a quick dig, and to listen to your new wares you could do worse than the beautiful Marantz Model 1200 amplifier they have at your disposal.
---
Fonoteca
Location: via Raffaele Morghen 31 c/f, 80127 Napoli
Go for: Late-night drinking, early morning coffee and welcomed downtime.
What's the story?
In one location or another Fonoteca and its owner Roberto De Rosa have been catering to Neapolitan diggers for over 20 years; a beacon for "vinyl collectors and lovers of music" as he describes it. First opened in 1991 the store has changed locations more than a few times but since 2014 Fonoteca can be found down a shady leafy side street in Vanvitelli (around a five minutes walk from Riot). If you look out for the al fresco espresso drinkers then it's unmissable.
You'll be forgiven for thinking the store has an air of 2001: A Space Odyssey to it. A spotless, almost Art Deco-like counter doubles as a listening station and late-night drinking spot, and glowing cabinets house collectors box sets from Down Beat Special and the Italian label Irma CasaDiPrimordine. While Fonoteca stock everything from Max Richter and Fleetwood Mac to Wu Tang and Analog Africa their self-described speciality is in local music. Scour through the dedicated Italian sections and you'll find hits from Napoli Centrale – one of the city's most famous supergroups – Bruno Nicolai and records from the golden age of Italian film by Ennio Morricone and Stelvio Cipriani. The used vinyl spot is where the best finds lie, spanning italo disco, Mediterranean new wave, decades old yacht-rock and downtempo Italian synth pop.
---
Tattoo Records
Location: Piazzetta Nilo, 15, Napoli
Go for: Global jazz, a breather and great conversation.
What's the story?
As you battle through the tourist traps and crowds of amateur photographers in Napoli's city centre you'll find a safe haven in Tattoo Records; one of, if not the oldest record shop in the city. Opening its doors in 1982 as a vinyl-only specialist Tattoo has diversified itself over the years to sell CDs and DVDs, but in 2017 those who know still come here for the jazz, blues, prog-rock, Italian specialties and former Neapolitan anthems.
A good few hours can be well spent digging through the expansive racks and discovering classics from Pino Daniele, Rino Gaetano or politically charged Italian folk from Fabrizio de Andre. The outdoor bargain basket holds some beauties too, just make sure to visit in the morning before the sunlight gets to them first. Under the close watch of avid crate digger and owner Vincenzo Pone Tattoo Records has become a firm favourite for locals who don't mind getting their fingertips dirty. For tourists, Pone will happily give you some vital tips when searching for that perfect Napoli pizza too.
---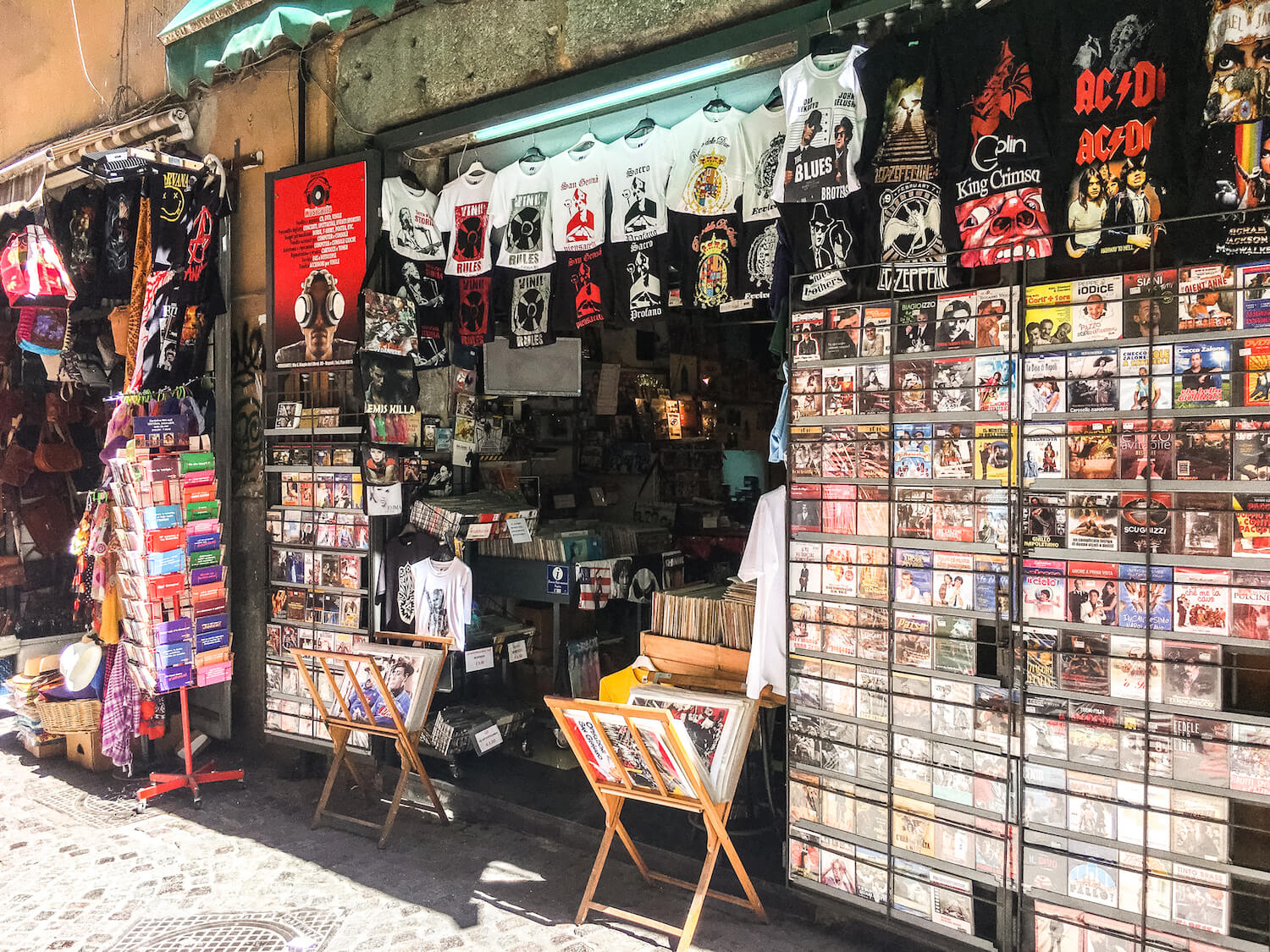 Souvenir and Record Store
Location: Via San Biagio Dei Librai 90/91, 80138, Napoli
Go for: A quick peruse and a cheesy t-shirt.
What's the story?
Found next door to Caffé Ciorfito is a tiny record shop (of sorts) with no name. Far from a dedicated vinyl seller, catering more to deep pocketed tourists with 'I <3 Napoli' t-shirts, it's still possible to pick up a few goodies. If you look past the racks of AC/DC and Sting the specialist Italian and Neapolitan sections offer LPs from Italian greats Edoardo Bennato, Eugenio Bennato, Eduardo De Crescenzo and Tony Esposito for cheap. Plus, you can pick up a souvenir for that distant family member you don't know how to buy for.