Published on
January 8, 2017
Category
Features
Martin Aston reflects on the incredible zigs and zags that Bowie's music took over the 50 years-plus he was recording.
Since David Bowie's death on January 10th 2016, two days after his 69th birthday and the release of his 26th album Blackstar, my Facebook avatar has been a photograph of him, taken in 1970, standing alongside his then protégé, costume designer and rock-star wannabe Freddie Burretti. A year on, I still haven't got around, or had the heart, to change it, as if I was finally over it: the shock has subsided but not the Bowie-shaped hole in my life, or in culture.
The photo in question was on the cover of a 1970 edition of Curious, 'The sex education magazine for men and women' as the banner read, in a time even before Gay Lib had got underway in the UK. Bowie called Burretti "the leader of the whole gay scene… the next Mick Jagger" – Bowie had decided his chum – re-christened Rudi Valentino – would front a new band project, Arnold Corns (in tribute to Pink Floyd's cross-dressing anti-hero Arnold Layne), singing Bowie's songs.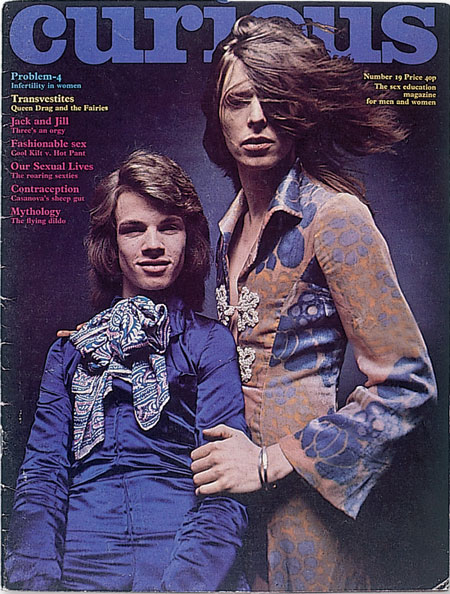 The problem was, 'Rudi' couldn't sing, and in any case, Bowie became too occupied by his own launch as the next Jagger, namely Ziggy Stardust, just as Arnold Corns made way for The Spiders From Mars. In the photo, Bowie looked imperious (far more so than Burretti, clearly a star in his own mind even though he'd only had the one hit (Top Ten single 'Space Oddity' in 1969), and he'd lost that particular record deal (already his second).
But he'd secured another, and set off on another musical course, the latest of his ch-ch-ch-changes (as the chorus of his 1971 single 'Changes' would have it). And while he was at it, he was publicly courting the nascent gay market, before any other artist, musical or otherwise. Risk-taking and restlessness became dominant parts of his DNA. 46 years on, it's partly why he occupies an unparalleled position in contemporary culture; that, and his astonishing, compelling, rich command of sound and vision.
Even after the overwhelming newsprint that documented Bowie's death, and in the end-of-2016 reports that again eulogised Bowie, documenting the shock of discovering his ailment and demise, the focus was on Blackstar, but not the full extent of the incredible zigs and zags that Bowie's music and lyrics took over the 50 years-plus he was recording. So on the occasion of his birthday, it seems timely to review many of them – though ten records only seems like scratching the surface; just as his most obvious milestones neglects the lesser-decorated achievements that demand equal attention.
In reality, Bowie in Ten Records is an impossibility; almost an oxymoron. And apologies too for concentrating on the first half of his career: but that's where the real gold lies.
---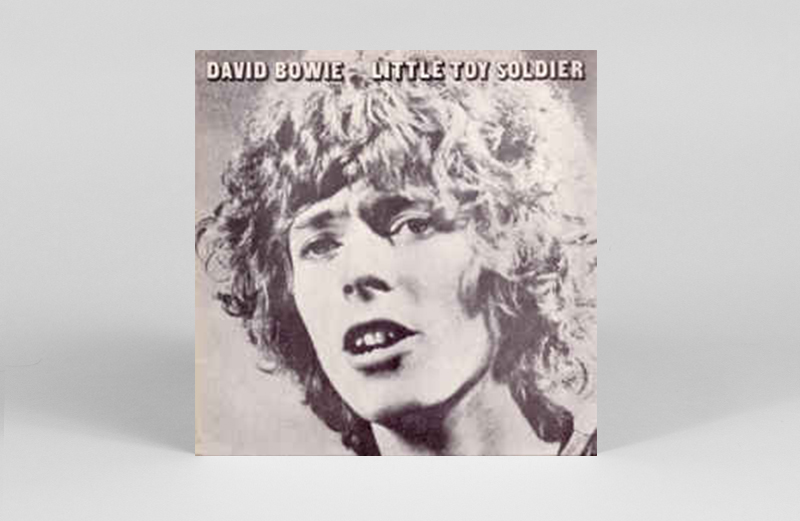 David Bowie
'Little Toy Solider' from Little Toy Soldier
(Unofficial Release)
By 1966, the man born David Jones had already sped through uninspiring R&B and mod-pop phases, and chosen a new sound for his newly adopted surname – a pop hybrid influenced by early British psychedelia, but also more old-fashioned British musicals, from theatrical vignettes to actor/singer Antony Newley, who (like the emerging Syd Barrett of Pink Floyd) sang in a distinct British accent instead of aping the Yanks.
That said, Bowie was also smitten enough by an early acetate of The Velvet Underground & Nico album that his manager Ken Pitt had brought back from New York) to steal lyrics (taste the whip in love not given lightly) from that record's daring S&M anthem 'Venus In Furs' for his own 'Little Toy Soldier', another tale of everyday whipping. The verses emulated Newley, the choruses Velvets frontman Lou Reed. Still unreleased (officially at least) 'Little Boy Soldier' is an early example of Bowie's unusual blend of influences, styles, outrageous magpie tendencies and, in the end process, something truly memorable and original.
---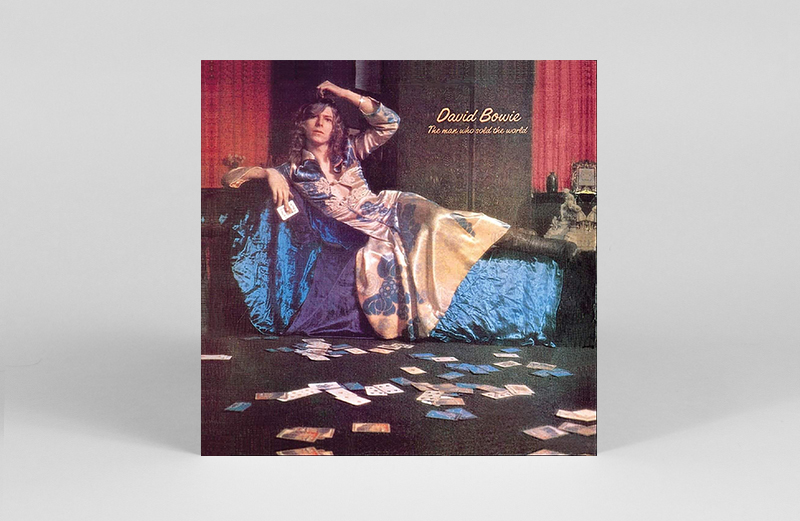 David Bowie
'All The Madmen' from The Man Who Sold The World
(Mercury, 1970)
Entering his curly-haired Dylan-esque folk rocker phase, Bowie's theatrical narratives hit a new high with 'Space Oddity'. But he quickly grew his hair, and donned what he called "a man's dress", both for the cover of Jeremy magazine and his next album, influenced most by then hard, heavy rock – an adult twist on psychedelia – as practised by his new guitarist, Mick Ronson.
But this being Bowie, The Man Who Sold The World was a seriously strange, spooky and inventive brand of heaviness, imbued with themes of the occult, madness, sci-fi dystopia and German philosopher Friedrich Nietzsche's vision of the 'homo superior' – mankind's imagined future. Musically too, these weren't routine hard rockers by any stretch of the imagination, such as 'All The Madmen', inspired by Bowie's unstable (and sometimes institutionalised) half-brother Terry. Among the undulating power chords, there's Mellotron, parping recorders, a child's voice, and a fantastic chorus that finally leads into the chanted coda: ouvre le chien – "open the dog". Suddenly, Bowie was in a field of one.
---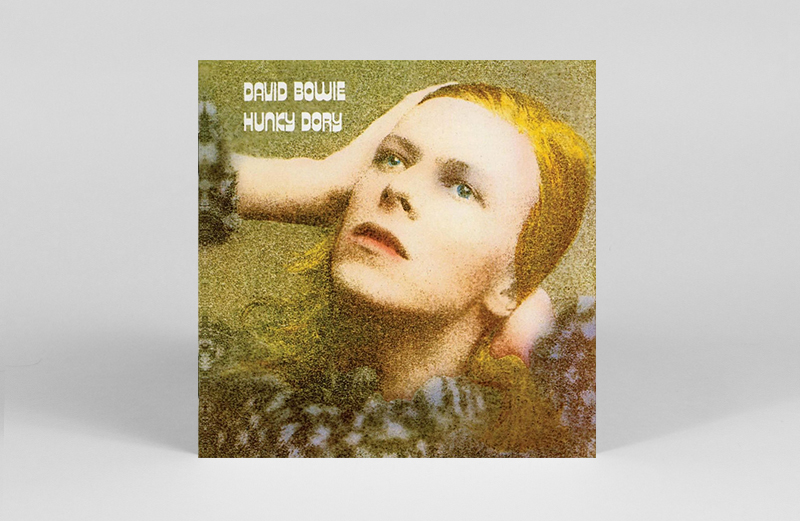 David Bowie
'Quicksand' from Hunky Dory
(RCA Victor, 1971)
While trying out prototype-Ziggy pop songs under the guise of Arnold Corns (Bowie took the bulk of the lead vocals), Bowie took up songwriting at the piano, heading toward his next phase, Hunky Dory, a phrase denoting that 'everything's good'. So it was, from the album's gorging on melody, ambition and a subtler, rounded sound.
If 'Life On Mars' is typically voted Bowie's best ever song – and quite rightly so, for its epic chord changes, mini-play narrative and outrageous drama – 'Quicksand' remains my Hunky Dory fave, a slower, dreamier and more tortured epic than 'Life On Mars'. Bowie swimming in echo against thick 12-string guitar and fabulous piano peals and trills, with lyrics that blew my then 14-year-old mind; what to make of Crowley, the Golden Dawn, Himmler, Garbo, Homo Sapien and the chorus pay-off, Knowledge comes with death's release? With no Wikipedia on tap, information had to be sought elsewhere, in books, magazines and interviews… Bowie was as much a literary influence as a musical one.
---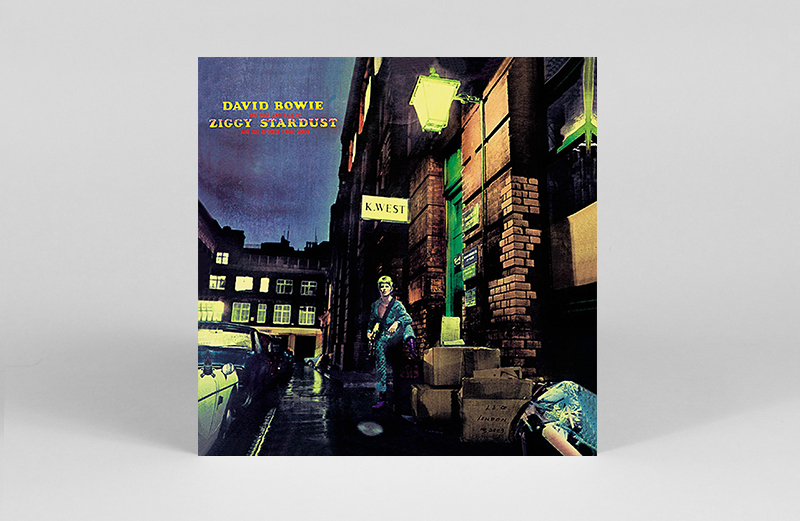 David Bowie
'Moonage Daydream' from The Rise And Fall Of Ziggy Stardust And The Spiders From Mars
(RCA Victor, 1972)
Nobody before Bowie had attempted this kind of concept album, more metaphysical and metaphorical than straightforward narrative, nor called on sci-fi and alien life to breathe substance and style into a traditional classic 'A Star Is Born' saga – except that this was one rock star that didn't get out alive (see Hendrix, Morrison, Joplin).
As much as the album's lead single 'Starman' remains my singular Desert Island Disc, 'Moonage Daydream' better nails the Ziggy archetype: mesmerising, outrageous, playful, sexual, and yet still unfathomable. The preceding Arnold Corns version was a clunky demo next to the real thing, with a slam-dunk intro, a lift-off chorus, Ronson's rippling – and eventually, screaming – guitar solo and a slow dissolve that. For me, paints the image of a spaceship moving off into the distance: proof that Bowie (with help from Ronson, for sure) had become a maestro of sound as well as song and word.
---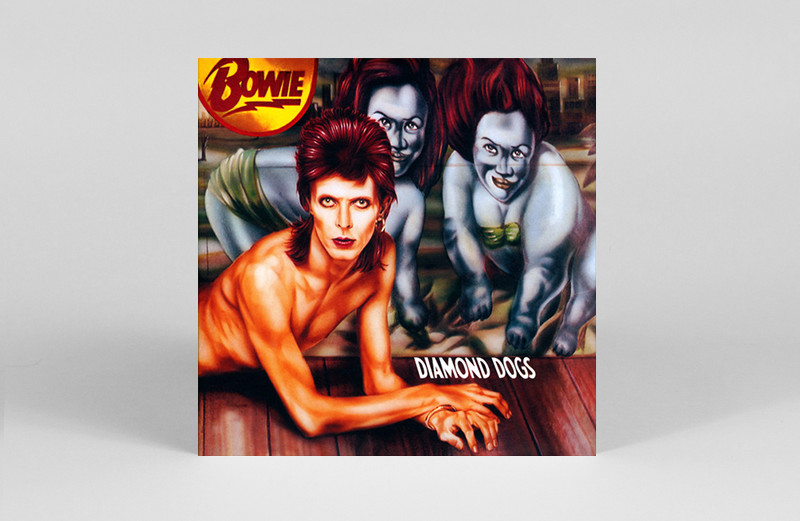 David Bowie
'Sweet Thing' from Diamond Dogs
(RCA Victor, 1974)
Some (even, at one time, Bowie) believe Ziggy's successor, Aladdin Sane, was the better album, but they're utterly wrong (though I'll grant you the title track's elegant mystery, vamping beauty and lunatic Weimar Cabaret piano solo). The following album of covers, Pin-Ups, though fun, is surely no one's idea of a great Bowie record. But next up was one of his most underrated, made without Ronson, but with Bowie in accelerating mode, as his cocaine habit and workaholic tendencies escalating, to the detriment of his physical and mental health.
People generally think Diamond Dogs = the lead single 'Rebel Rebel', a slight Stonesy rocker next to the towering 'Sweet Thing , a full nine minutes when joined to 'Candidate' and 'Sweet Thing (Reprise)', a brilliantly cinematic, seedy, labyrinthian anthem inspired by novelist William Burroughs' homosexual spin on dystopia, The Wild Boys. The way Bowie sings It's safe in the city to love in a doorway/Wrangle some screams from the dawn in a new lower register (that's coke, ciggies and overwork for you) is a deliciously shivery sensation, new in Bowie's canon, and proved he didn't need sidemen or producers to realise his unique vision(s).
---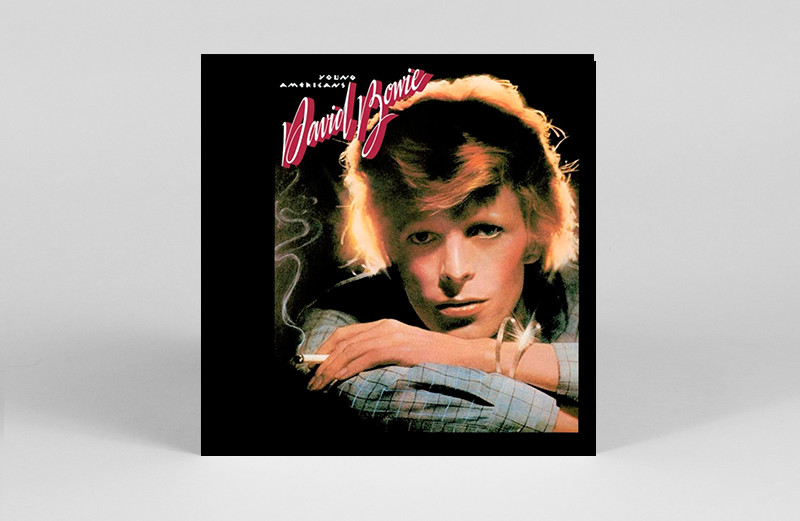 David Bowie
'Win' from Young Americans
(RCA Victor, 1975)
Bowie's future lay in Diamond Dogs' unexpected disco-funk-soul turn '1984', with its rhythm guitar tapping Isaac Hayes' 'Theme From Shaft', topped by swirling strings, as his focus turned to America, where the real decadence was going down. The next album, Young Americans, was as startling and risky a manoeuvre as the dress and "I'm gay!" quote to Melody Maker in 1972.
Typical of disco, Bowie's take was sometimes more groove than accomplished song, and rooted in others' (Luther Vandross, James Brown, The Flairs) concepts of rhythm. 'Fame' is the most distinct, and memorable, of the dance tracks, but I'm a total sucker for 'Win', the album's darkest horse, a luxurious, sensual and yet wired ballad comprehensively undeserving of the epithet 'plastic soul' that Bowie attached to his record. It was Bowie's first real recorded instance of admitting he was losing control (alongside the epic, though unreleased – until the CD reissue of Young Americans – 'Who Can I Be Now?'). Bowie's vocal, rich and resilient and breaking into well-worn falsetto, had totally replaced all previous models.
---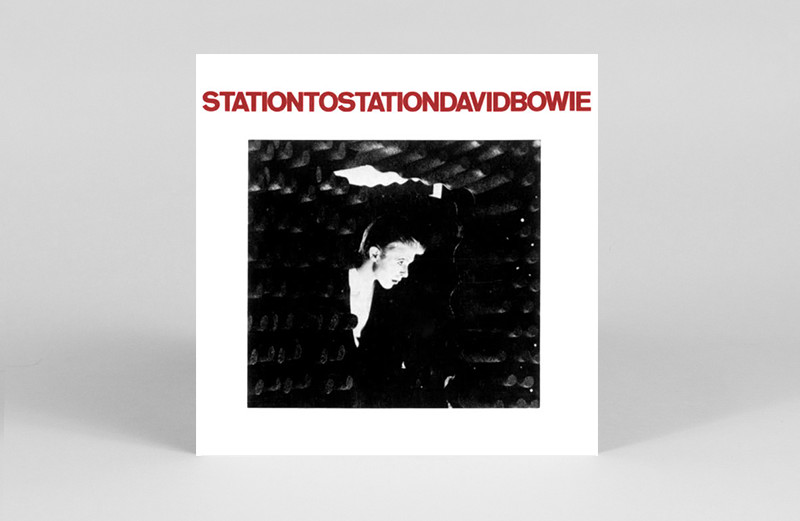 David Bowie
'Station To Station' from Station To Station
(RCA Victor, 1976)
The full extent of Bowie's excesses was laid bare: he once said that he couldn't remember making his next album, Station To Station. But his artistic quest was unquenched; in fact, the album is one of his most ambitious, successful and imaginative. The title track was a new first for him too, blending black America with white Europe, specifically the motorik Krautrock sound of Neu! and Kraftwerk that would soon draw him to Berlin. An exhilarating instrumental opening lasted three minutes, building the tension, before Bowie's decadent Thin White Duke persona makes his grand entrance, in the manner of a Hollywood matinee idol (Rudi Valentino, come on down!). After ten wrenching, exhausting minutes, we've exited on another extended instrumental run, as the metaphorical train hinted at by the music (but not the words) is running away, or running on empty.
The film that Bowie made at this time, The Man Who Fell To Earth (more sci-fi dystopia; a still was used for Station To Station's cover image), was his first, and still best, acting role, because he hardly acted; much of what followed was hammy. (It's a mystery how Bowie was unable to add acting to his remarkable skill set, despite an innate understanding of drama, which he expertly conveyed through his music.)
---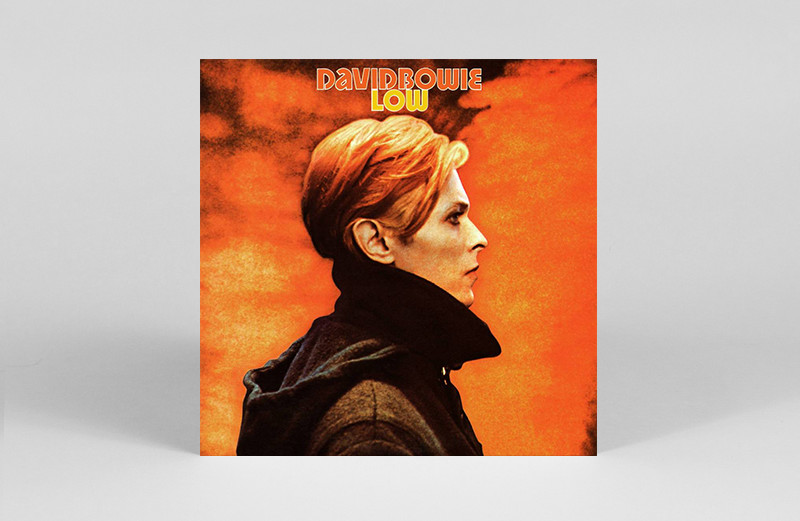 David Bowie
'Sound And Vision' from Low
(RCA Victor, 1977)
Even when Bowie retreated to Berlin, to live a 'normal' life and pull down the blinds on his past fame and misdemeanours, he's ladling on the drama, even when there are no lyrics (and sometimes no vocals), through side two of the first record in his so-called 'Berlin Trilogy'. But it's a different shade of emotional release, misty tones of grey stained with remorse, but the pop-song magic was still at his command, producing something weirdly comforting.
Low's most recognizably singalong episode, 'Sound And Vision' was perfectly assembled, bobbing on an elastic bass line and clipped guitar, and yet totally at odds with anything else that Top Of The Pops would have presented: the intro lasts 74 seconds before the female doo-de-doo vocals came in, and 88 seconds before Bowie's own vocal: initially subdued, predominantly simmering and gently crooning. And yet it's so beautiful, and simple; just where did he find such lasting melodies? The same goes for much of the second 'Berlin' album, Heroes, especially the title track, which of course should have a place in Bowie's Top Ten for its anthemic, heroic, pleading dynamic: but we're fast running out of space here.
---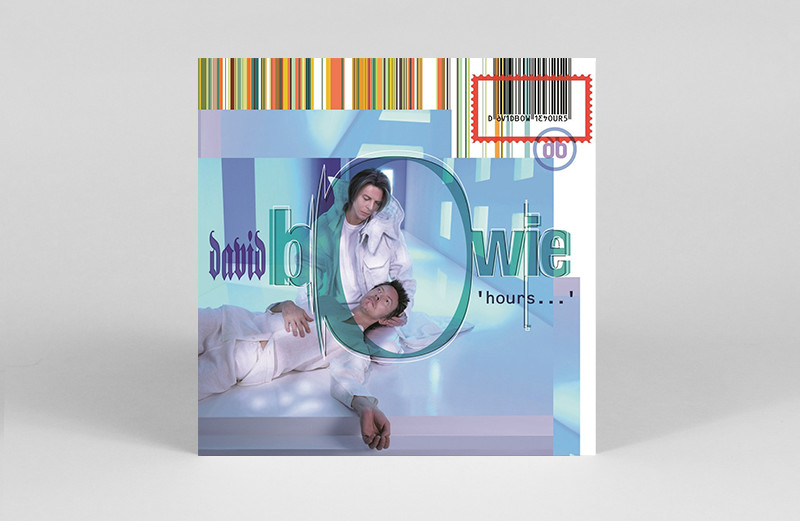 David Bowie
'Something In The Air' from hours…
(Virgin, 1999)
Lodger, the third 'Berlin' album is a comparatively lesser work, but 1980's Scary Monsters And Super Creeps was, for a long time, Bowie's last best album (despite the game-changing dancefloor rebrand that was the 1983 single 'Let's Dance' from the album of the same name), and if I had more than ten records to eulogise, its lead single 'Ashes To Ashes' would be in there, being quintessential Bowie: lush, dramatic, perfect, equally illuminating and enigmatic.
But after Bowie's 1980s nadir, the failed 'rock band' turn of Tin Machine and his admirable, but forgettable where-is-my-muse spin through avant-rock and drum & bass through the 1990s, the last year of the century suggested he'd located it at last. Or maybe it's just 'Something In the Air' was Bowie as I liked him most – melodic, urgent, intoxicating. Something was in the air. Was it a sign of a new age of Bowie?
---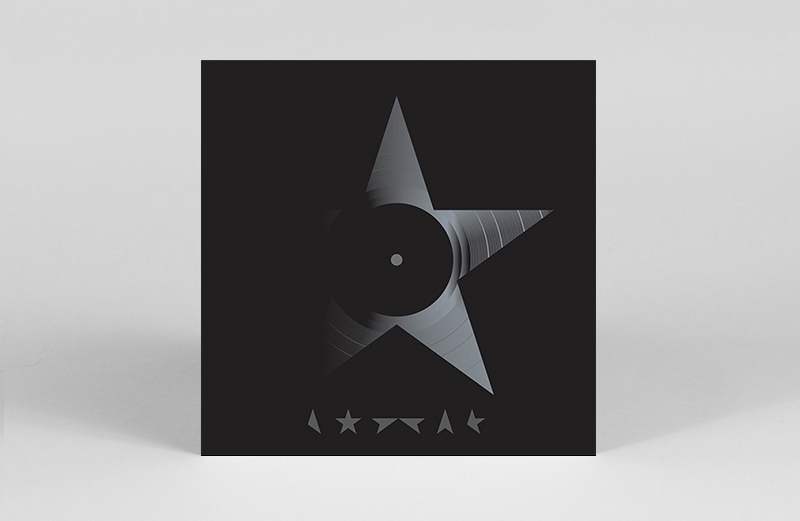 David Bowie
'Dollar Days' from Blackstar
(ISO Records, 2016)
If hours… and the subsequent albums Heathen and Reality fitfully sparked into life, I never felt Bowie was truly 'back': happiness (newly married, and a father again in the 1990s: he even gave up smoking after a health scare) is often not the best conduit for great art. Not even a rare seven-year gap until 2010's surprise comeback The Next Day gave us the goods, beside the title track and the enervating ballad 'Where Are We Now?'
The proof that suffering is the key to Bowie's best was underlined by Blackstar, created under the shadow of his cancer diagnosis, pushed as far out of his comfort zone as it was possible to be, and for me not just the album of 2016 but one of Bowie's best records: fearless and inventive, made with a bunch of equally fearless young jazz musicians, but because it was Bowie, it wasn't jazz, but some freaky, unique amalgam.
I still find it hard to listen to 'Dollar Days', an exquisite mid-tempo ballad where Bowie considers his departure with heart-in-mouth candour, especially the line If I never see the English evergreens I'm running to / It's nothing to me – yeah, right. After all the journeying, Bowie was back to where he came from, and fixated on leaving his mark: who else could exit, stage left, with such a brilliantly staged, and wholly believable manoeuvre? It's tragic that it took death to bring him back to full life, but there you go: the rise, and the fall, or the fall, and the rise, of David Bowie.