Published on
July 6, 2015
Category
Features
Fraser Muggeridge has relocated to the Barbican for a two week record design challenge. Each day, his team must create unique album artwork for records by Cold Cave, Sun Araw, LoneLady, amongst others, and reproduce it 300 times. We dropped by his studio to learn about designing sleeves against the clock.
The Barbican's brutalist frame has awakened. Artists from the world of contemporary art, music, dance, graphic design and film are infiltrating its concrete ramparts to participate in an untamed, "living" exhibition of residencies, performances, talks and screenings. The month-long project, named Station to Station, is Doug Aitken's vision in spontaneous creativity. 
Up on the third floor, in the Art Gallery area, Fraser Muggeridge and a team of five or six are designing record sleeves. Now halfway into his two week residency, Muggeridge has been charged with designing the visual lanugage for music recorded during Station to Station. With only one day allocated to creating each artwork and producing 300 sleeves per record, there's a natural sense of urgency. But at the same time, the studio is alive with eccentricity and excitement. "It's like a TV show, a gone-crazy Art Attack," laughs Muggeridge.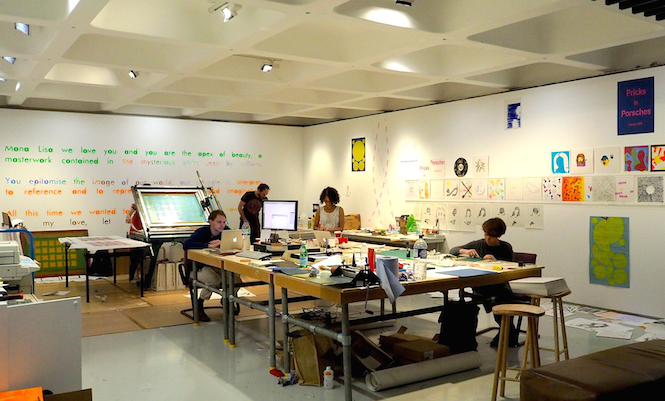 Metres below Fraser's studio, musicians drop into The Vinyl Factory Recording Studio to record music that will be eventually be pressed to vinyl, in situ, by The VF Press. The last stop in the on-site production process is Muggeridge's studio, which, like everything else, is open for the public to witness.
With time a constraining factor, Fraser has set a theme to streamline creativity. Printed on the studio wall in sparkling colours, the team manifesto reads:
Mona Lisa we love you and you are the apex of beauty, a masterwork contained in the mysterious smile seen by millions. You epitomise the image of our world, our struggle to interpret, to reference and to represent such wonder and imagination. All this time we wanted to hear you sing. This is now reality. Sing, my love, let the needle touch your groove…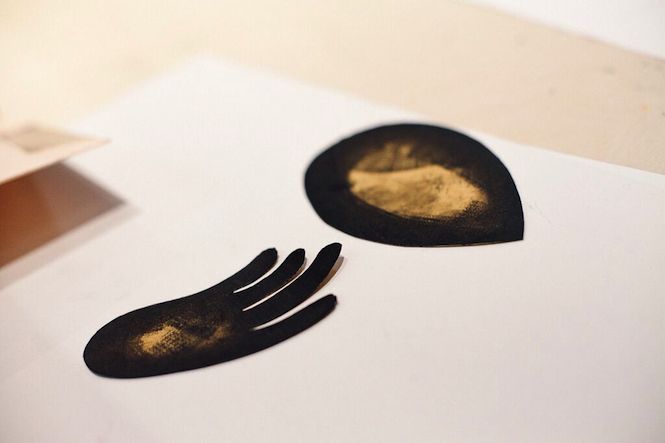 Whether its colour, something anatomical or an abstract reference, every sleeve design must connect to the Mona Lisa.
Why the Mona Lisa? "It's just a hook to hang it all off", says Fraser. "It could be anything. You could say 'lump of cheese'."
It's a completely different process to designing records ordinarily. There's little, if any, dialogue with the musician or the label, which, he believes is incredibly liberating. "Instead of the artist saying 'I like this one; I don't like this one', we just make the cover and then that's it." 
Last week's design for a Lucky Dragons record developed into something quite aggressive, unlike the music within, but not having to present to a client is a freedom that Fraser feels allows his team to focus on an idea and not have it curtailed. As he points out, "That's never the case in the normal world".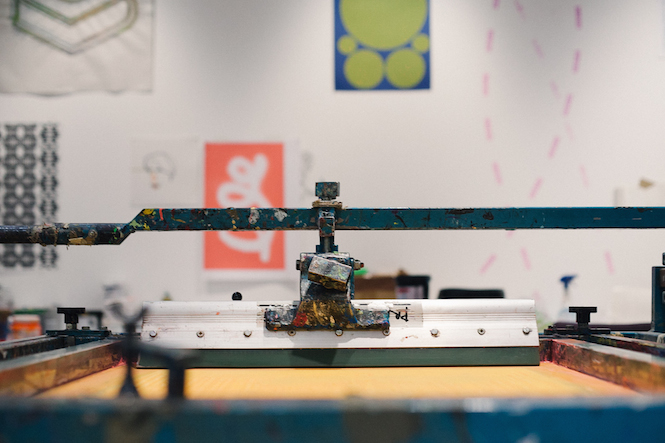 That said, the world of Station to Station presents its own challenges. "Usually if I design a book, I don't print it. That's the big difference here: we actually have to produce everything." And without a colour printer, or even a Mac for that matter, every sleeve must be created individually. A limited run of 300 suddenly begins to feel less limited.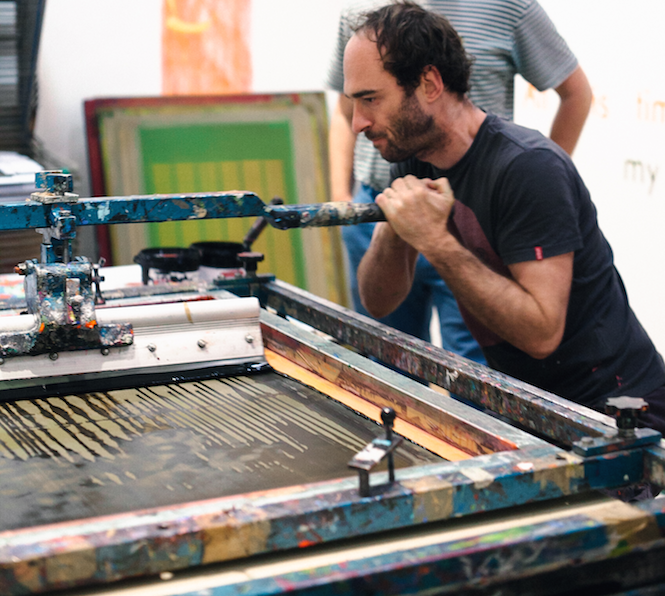 But for the most part, back-to-basics is a joy. "We can't print a four colour image so there's no photography, which is quite nice because the world is full of photography." And stripping away computers, brings a refreshing sense of imperfection. "The thing about a computer is that you're always searching for perfection. These artworks don't exist digitally, they're just here." 
Working by hand might mean mistakes are made but it also produces designs that would never come together on a computer. Things happen unexpectedly. "We're trying to use lots of different processes," he explains whilst holding a hair dryer, "we're doing experiments with computer printing, stamping, screen printing, rolling, stippling, linocutting, stickering, and then we'll try to think of more. We have to think on our feet." In that sense, the task is an invitation to explore.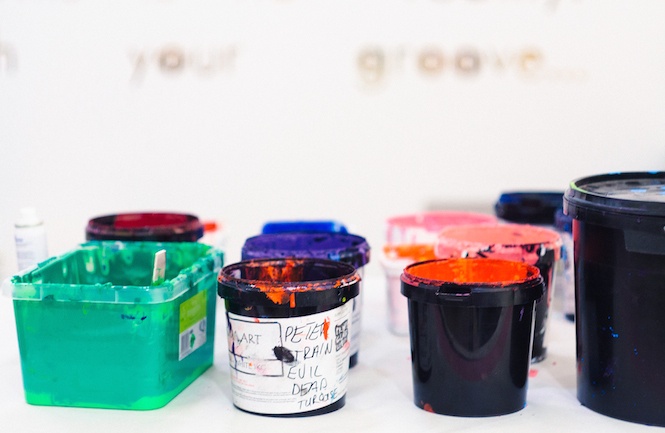 For Fraser it's important to experiment for experimentation's sake. Unconnected to the record sleeves, the team have been feeding data files from old Barbican posters into an '80s computer drawing machine, linocutting bits from the studio portfolio and using a watercolour bot to turn recreate old designs; activities that perfectly capture the spirit of Station to Station.
Designers Åbäke will take over from Fraser Muggeridge's residency from next week, with the same task and Mona Lisa manifesto to work with. 
Check out the records that have already been created here and visit the Barbican this month to watch vinyl records being made from start to finish.
---
Photography by Nick Morris