The hardest working man in music, Stuart Leath unpacks the 15,000-strong record collection behind the trailblazing Emotional Rescue, and his five (!) other labels.
Stuart Leath – Chuggy to his friends – is rightly known as one of the most-prolific one-man operations in underground music. Celebrating just five years in the business in 2017, he's on the verge of another bumper year, with twenty records already lined-up and ready to hit the shelves in 2018.
A fiend for rare post-punk, disco, house (and more), who cut his teeth raving in the late '80s and early '90s, Leath talks of himself as something of an elder when it comes to the reissues game, from digging in obscure locations, basements and via record dealers, to being an early adopter of the Internet and all its record buying possibilities.
But while contemporaries now mine YouTube algorithms for the next Midori Takada, Chuggy just keeps on doing his own thing in the background, living up to a nickname he received at those free party sound systems for his motorik stamina on the dance floor.
With a beautiful room stacked floor to ceiling (and cupboards deep) dedicated to records, he invited us into his London home for an insight into one of the most eclectic collections in the capital.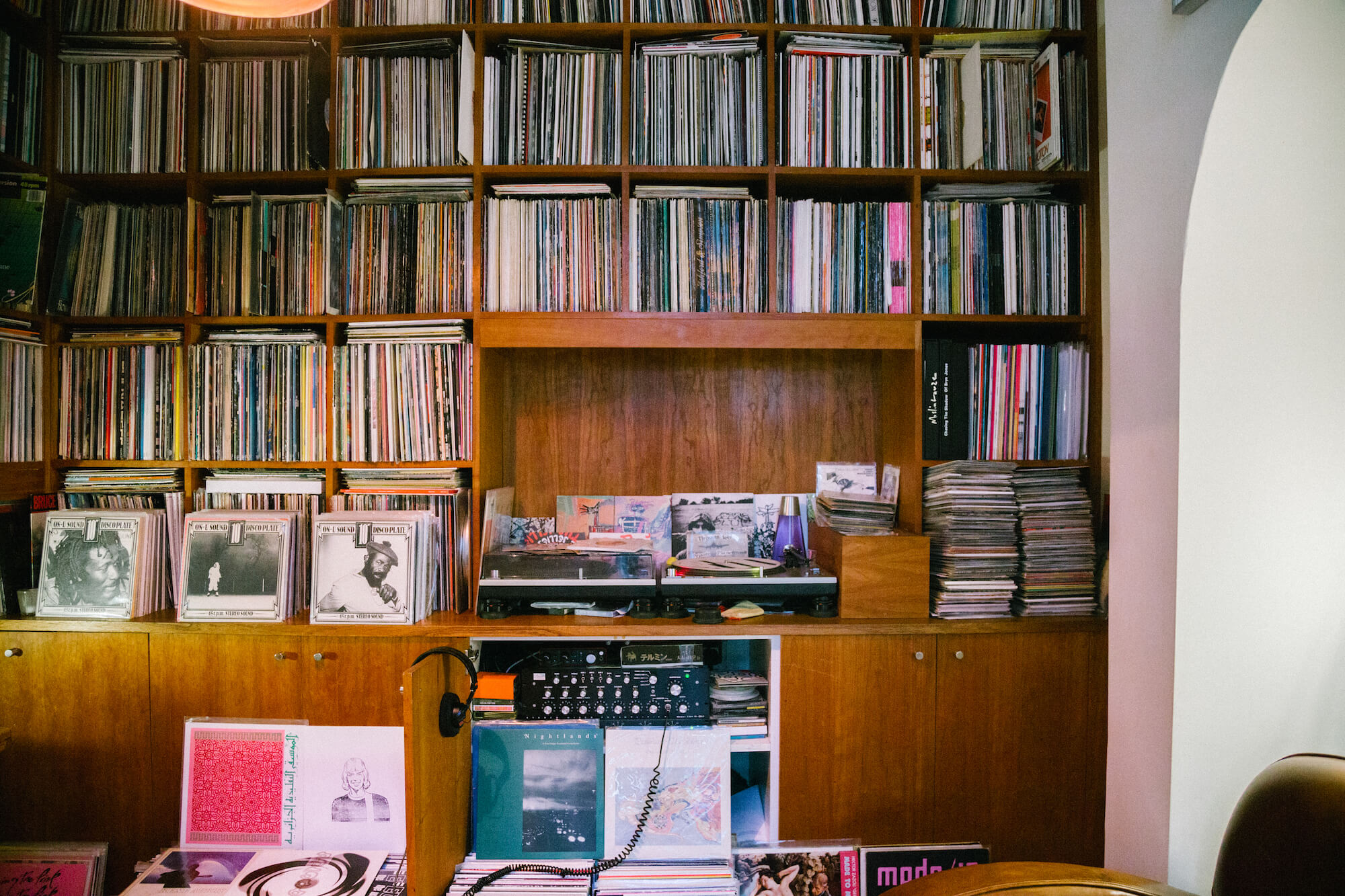 ---
It's safe to say you've got a prolific reputation on the reissue circuit. But something we've spoken about before is the increasingly competitive nature of that industry. Is it a case of friends or friendly rivalry between the reissue labels?
I'll be really honest, 90% of people are good friends but since reissues have become more popular in the last few years, some of those friendships can become strained. It can feel like a small pool and people think you're taking things that were theirs or they think they discovered. I hope that at the end of the day, the music is the most important thing, and not our fallible egos. Friendships and sharing (times) should be bigger than that.
There can be an obsessive sense of ownership around rare reissues, can't there?
Totally, and I can be as guilty as anyone. However, the sense of ownership was far greater before the Internet – people would hide things and not tell you. For record dealers, their power was information and they wouldn't tell you anything, because if they did, you'd go and find it somewhere else for less. The Internet was a real leveller in that sense, but it just made it more of a 'bun' fight. You've got all these young guys coming through who stay up until two, three in the morning doing YouTube algorithm searches. It's amazing the knowledge you can get, but I've got little chance against that as I'm asleep!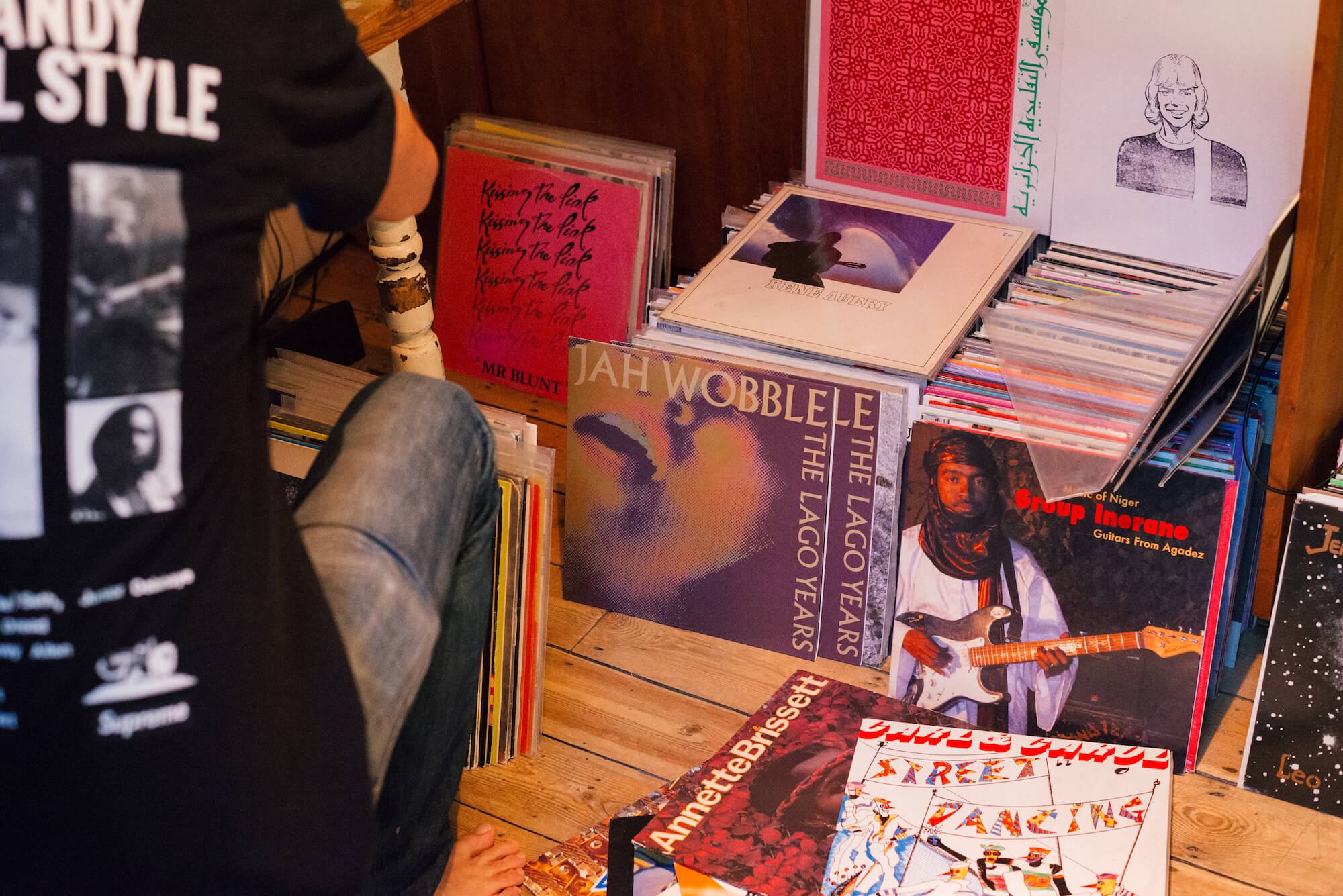 So if you don't use the YouTube method, how do you go about finding your reissues?
A bit of digging in stores and markets on my travels, some online stuff for sure, but for me, it is a lot about friends talking and sharing things. I don't go to record shops and dig like I used to, I've not got that time with having kids. But I sort of know roughly what I'm looking for as it's a sound, a vibe. This is my reissue pile, the ones that I'm either reissuing or want to reissue [pointing to a stack almost a metre long].
All the way to the radiator?
Yeah, because I am often contacting people and then forgetting about it or losing touch. Some happen, some other labels get to, some don't happen, and some of them I don't want to tell you about! I usually find out who plays on each record and then go from there.
Joining up the dots…
Yeah and I really remember Gilles Peterson saying that years ago for the first time. I was a big house music record collector, and I had already been into big post-punk and new wave before, but when I first started digging for disco I ended up joining the dots. Learning that songs like 'Magnificent Dance' by The Clash was a disco hit made me go off and look at those records in a different way.
I used to hang around people who worked in record shops and they would pull out, say, Yusef Lateef's Earthly Delights and that sends you off on a jazz journey. When I listened to Sun Ra for the first time and liked it I was so relieved because it felt like I'd passed the test. I guess you can't lie to yourself.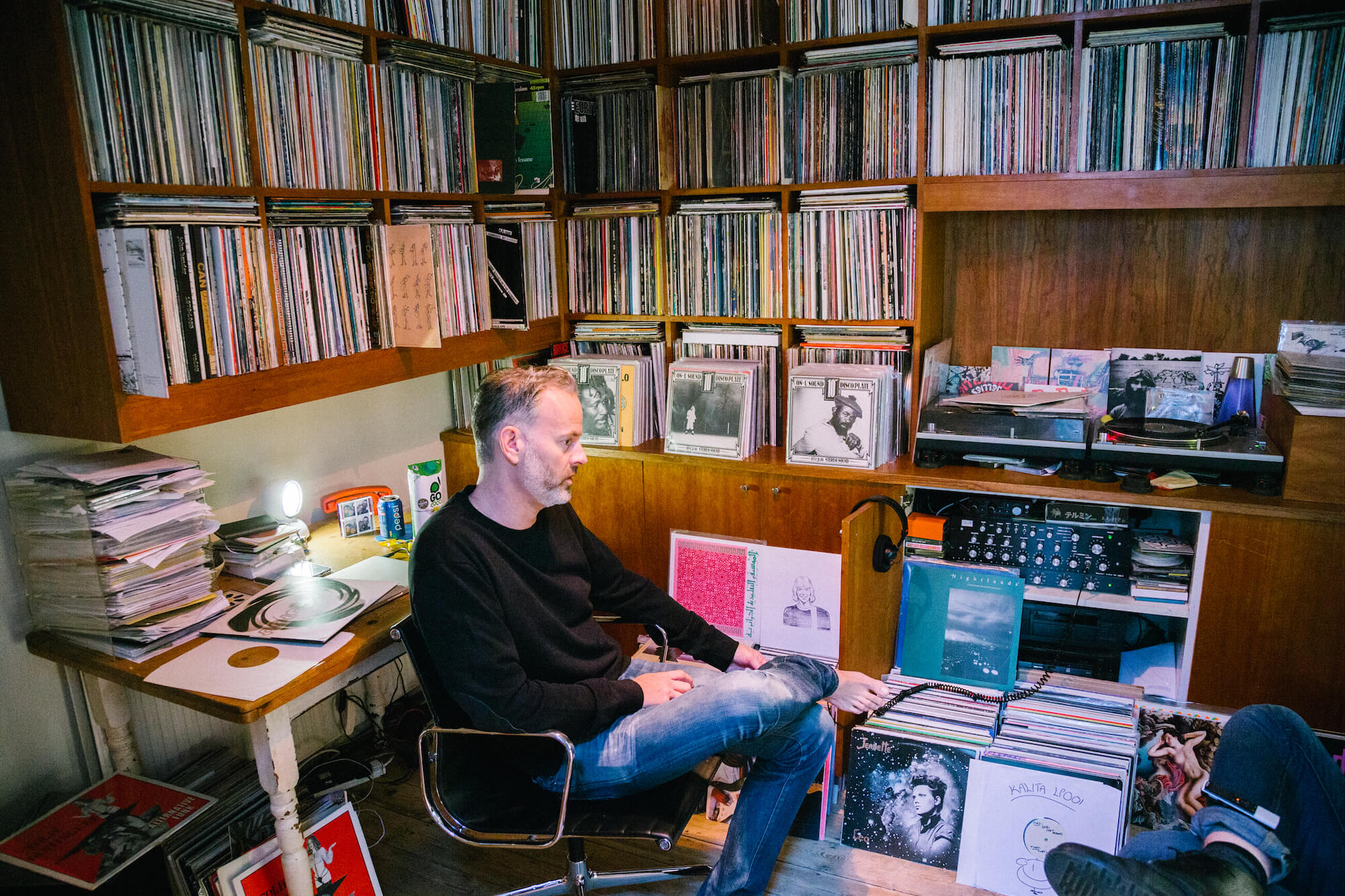 Just cycling back a little bit… I'm guessing you weren't always into the weirder fringes of new age, free jazz or industrial music. Where did it all begin for you?
My brother and sister are older and I grew up in the United States for the first part of my life. My sister was into pop and disco and my brother was into rock, so I sort of fell between the two. And I would sit with my brother and sister who were quite hip for where we came from, and I would follow what they liked. But then I was obviously finding my own way, and 1981, when I was 11, was the year the electronic pop stuff like Depeche Mode and Human League broke through and it was from then really that I started collecting, with my pocket money, buying 7″s in local shops back in Sussex.
What was the first 7″?
It was Pink Floyd's 'Another brick In The Wall', which was Christmas number one in 1979, it was a huge hit. I think I thought I was being a punk rebel as they sang "teacher, leave those kids alone." I was 9!
My mum used to have a pottery in our garage and I used to help her. She would listen to John Peel while working late. So we listened to John Peel from '82 to '86 and I would pick up on artists he played and jot them down.
For example, you may think ambient and new age wasn't on the radar then, but from those notes I used to go to Chichester library around '86 or '87, when CDs first appeared, and take out all the Eno albums. In fact I started with Laraaji – I bought that one when I was 17, just by chance really. All those Jon Hassell albums, I was collecting them. You could follow this David Toop path, even in the late '80s. And when house music came along, all the chill out stuff was referencing it. The Orb and others would all talk about Jon Hassell, so it's really interesting and great to see his reissues appear now, because they were, and should be, sought after. So even I wasn't really into ambient and what you could now say is 'esoteric' music, it would all go into the melting pot of discovery.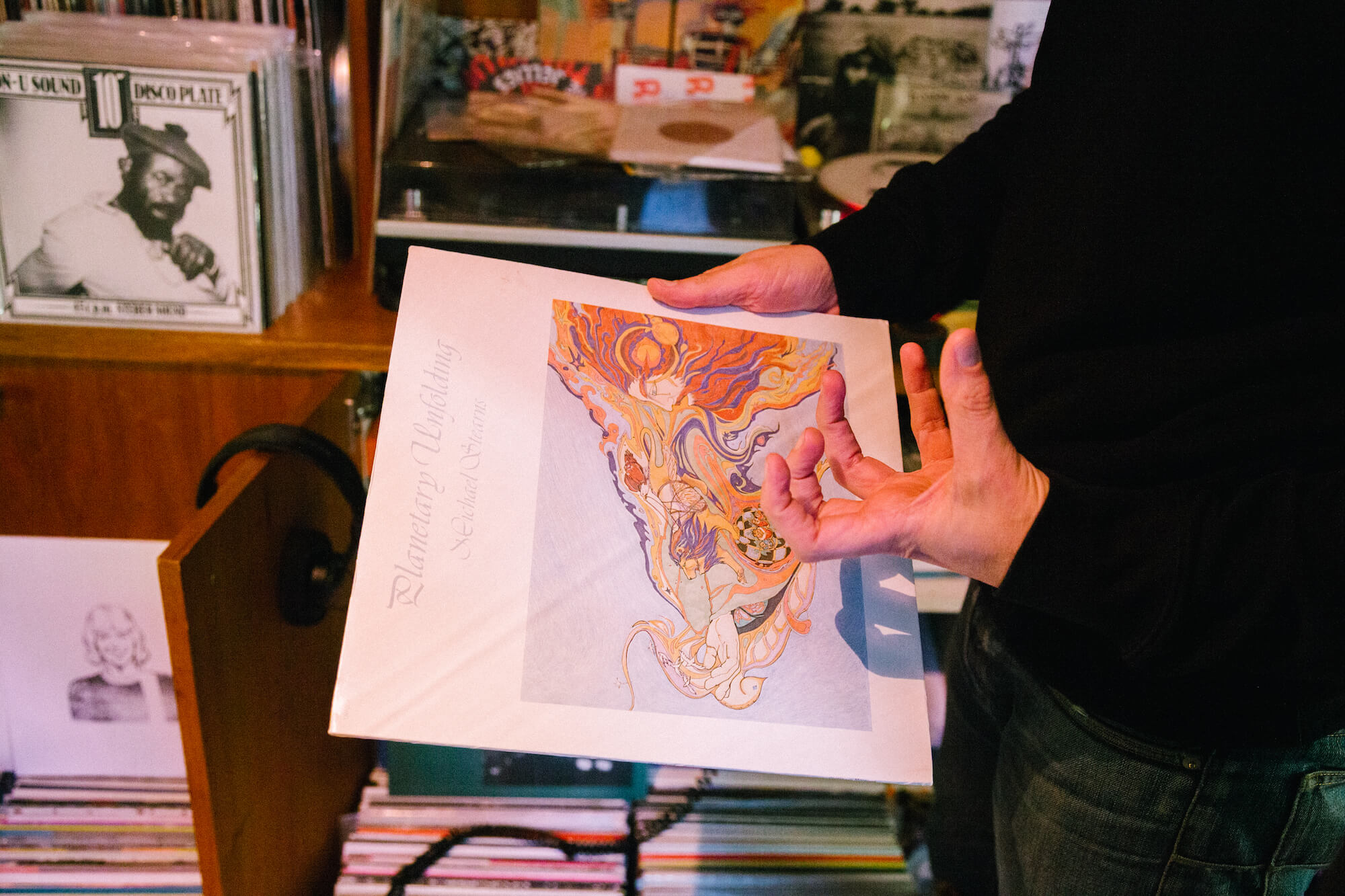 You mentioned that you also got very deep into house…
Well I was 18 in 1988 and I can remember sitting in an A-Level class and a friend of mine turned around and passed me a flyer for a Thursday night in Brighton. So we spent '88, early '89 going to nights in the Zap Club, and then when I went to university in the north I was going to parties most weekends, and then started following free party sound systems. I liked how the systems were very inclusive and open, anti-corporate without being forced into club spaces and the money side that was creeping in. It culminated in Castlemorton in 1992 when 80,000 people spent a week partying and the Tory government panicked into legislation.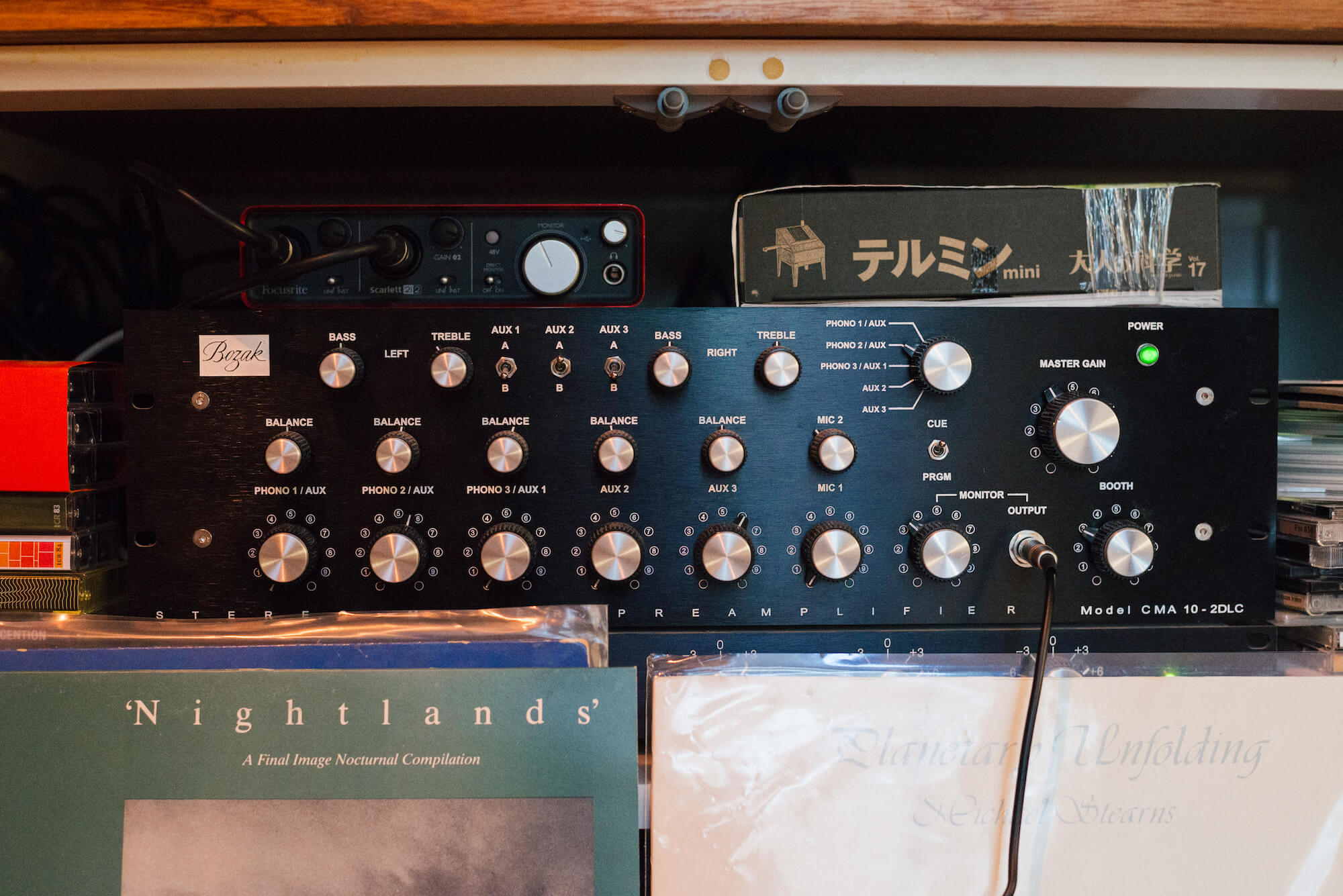 I imagine you were voraciously buying this stuff too?
I wasn't actually. I just got into going partying and letting my friends be the DJs. I wasn't interested in being a DJ and in fact I'm still not in many elements. But these house records were full of disco samples and you wanted to know where those disco records came from. Now the knowledge is so huge but you don't realise that back in 1992 there wasn't much information on things like Salsoul or Prelude records.
I started going to second hands shops, and record fairs and there would be record dealers, and I'd really pay attention to what they had and try and find it myself. So the disco sections here are what I built in the late '90s as I moved away from wanting to play house. Arthur Russell is almost a household name now, which is quite weird and wonderful too, as then you would hear people whisper – "this guy is the king of kings" – and then you'd try and find those records. It's lovely to see him become famous years after he sadly passed.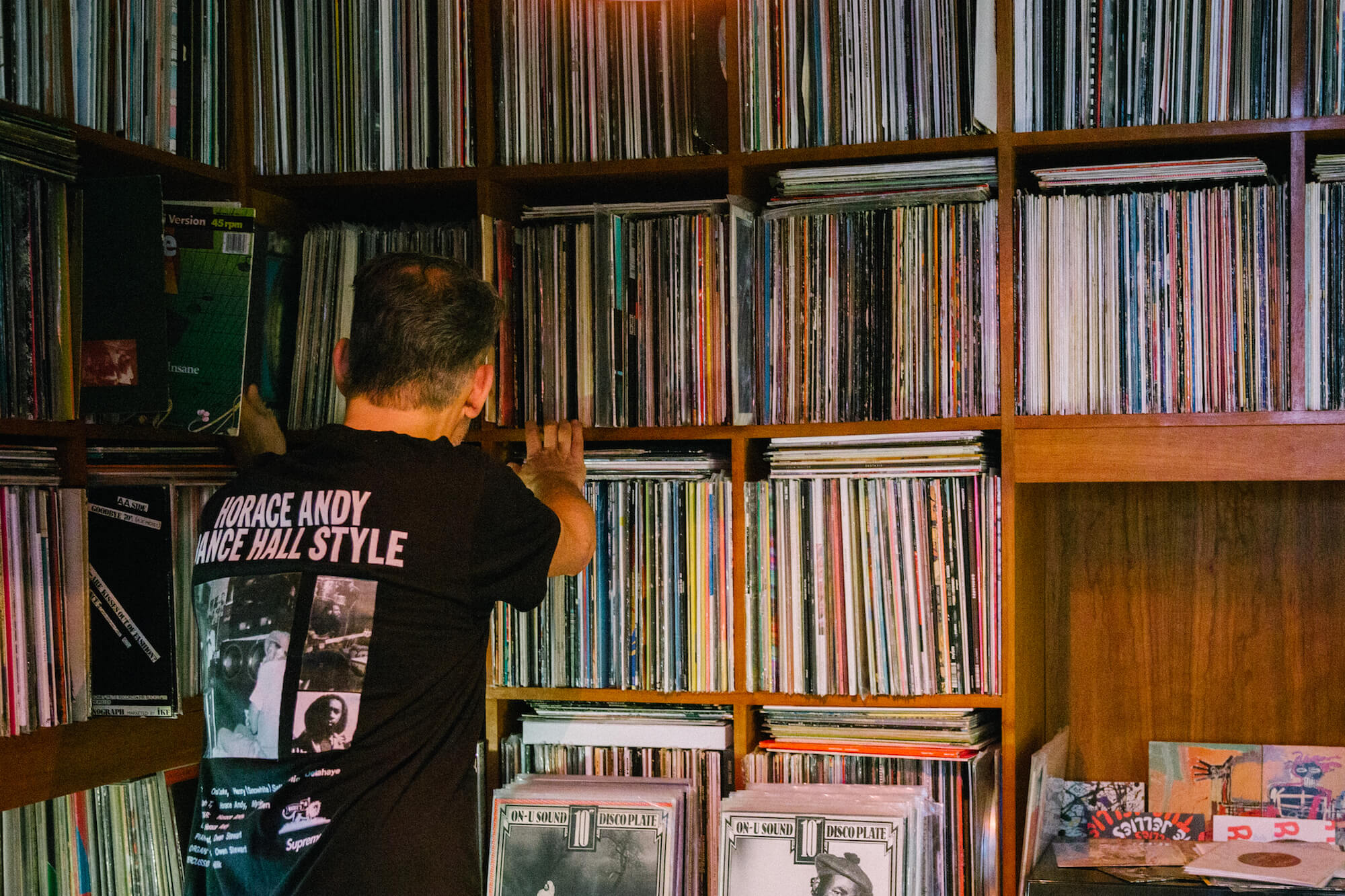 Are there any here which resonate particularly?
Rather than one particular Arthur Russell record, I think the most important is discovering the range and breadth of his music, as one piece almost. Todd Terry's hit, using 'Go Bang' really resonated and as an 18, 19 year old, you didn't know where this music came from, but somehow you could relate to it through that mix of disco, electro, new wave, dub that you grew up hearing, all thrown in.
It was pretty confusing for a white guy growing up in the countryside. I liked soul and was getting into funk, but rare groove was killed instantly by house music coming along. But there's something about him [Arthur Russell] – his off-kilter way of making music and his voice… To me there's a link between him and others like Nick Drake, despite their background and place in music being really different.
You say you were buying lots of folk as well…
Definitely, it was the start of becoming a "collector" in the broadest sense I guess. Not everyone I hung out with was into dance music, and I literally walked into a second-hand record shop where these friends of mine worked and I said, "name me the two best British folk albums there are". And this girl said Solid Air [John Martyn] and Bryter Layter [Nick Drake].
So I found them and would sit smoking weed and listening to Solid Air and Bryter Layter, and this influx of music changed my life. This is the most amazing music, and that was it I was off, buying loads of folk records.
It sounds like you were quite systematic about it.
Maybe. Where I worked at the time, we got the Internet really quickly, and I was really interested in it because my dad was an electrical engineer and he worked for IBM. He used to talk about the Internet from the early '80s so I knew what was coming! So when it came I really leapt on it quickly and realised I could buy a lot of records there that I'd previously spent forever searching for.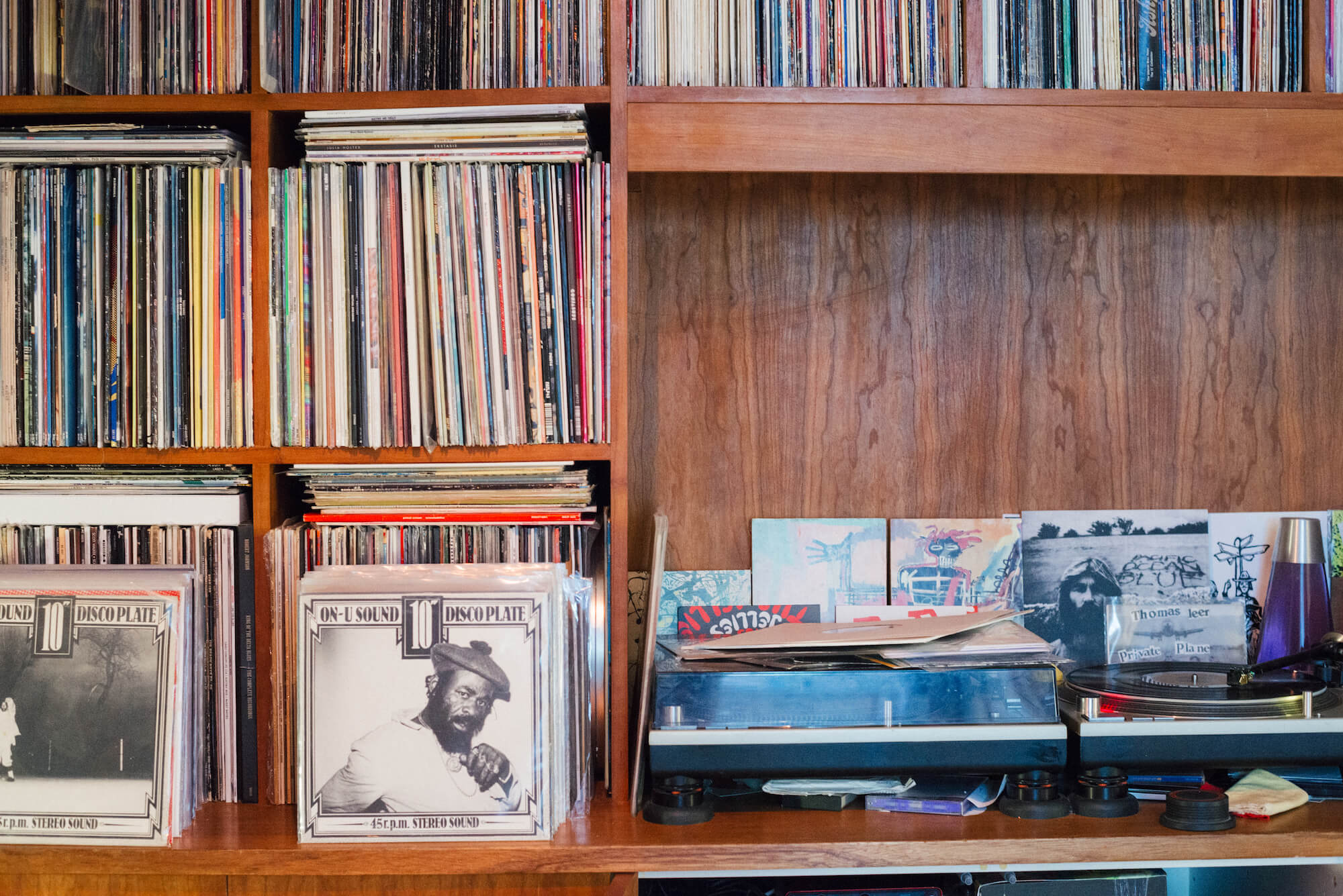 You could have started Discogs!
I could have, ha ha. But as you probably know it started as just a database, and then one day they turned on the marketplace, and it was like "fucking geniuses!" It killed the other marketplaces in one go, sites like GEMM where record shops could send an excel file and you could search for records. Those early years felt a bit like the Wild West.
My friends would have these killer records because they worked in second hand shops and I'd be full of envy, I'd try not to hate them for it as they wouldn't tell me anything if they could help it! So when those sites appeared in the mid to late '90s, I didn't tell them that I had access to the net and would literally like an early Internet digger.
In a way I suppose it's fed your sharing now…
Yeah, that's what made my record collection go from a nice one to a ginormous one.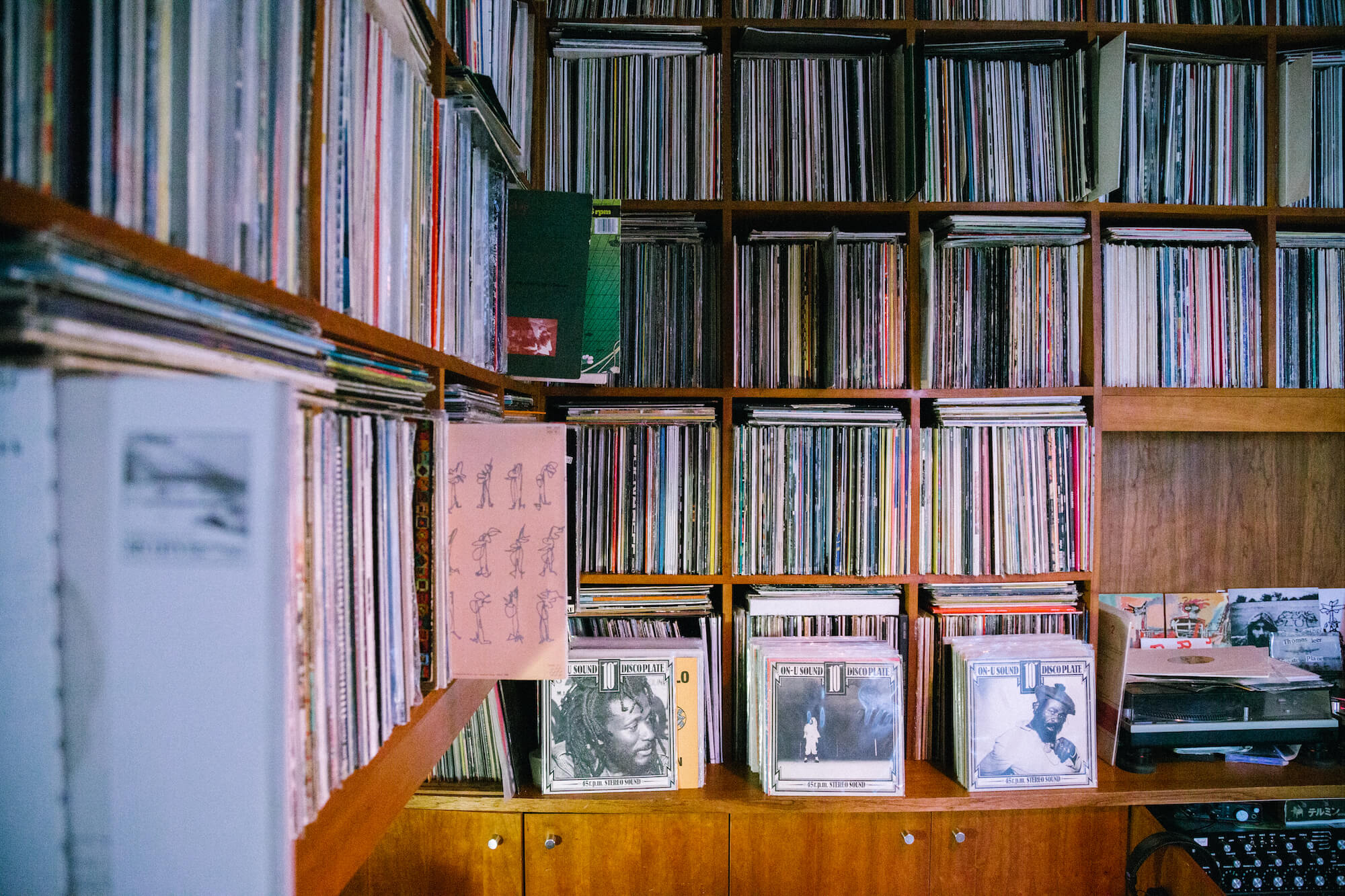 It looks like you were also collecting by label to an extent?
A bit. For house and disco yes. House is all the top shelf, but then there's loads in the attic. I've got thousands of records in the attic, it's ridiculous. So for example, that white patch there is one label that I really like. There's a big New York section, there's a big Chicago section, a Moodymann section etc. Slowly but surely it just grew.
Were you always professionally involved in music?
Not at all. I'd always wanted to do music, but the structure then was very prohibitive. What could you do? Go work for Virgin records, which I did for a while when I moved to London and I hated it. And any dealings I've had with majors even today have been pretty shit. In a way, digital coming along and causing the collapse of vinyl and the old structures of the record industry in the early 2000s allowed me to start a label. I feel like the collapse of the music industry has allowed for the democracy of the industry to happen.
It's interesting because I actually run six labels, but Emotional Rescue is ginormous compared to the others.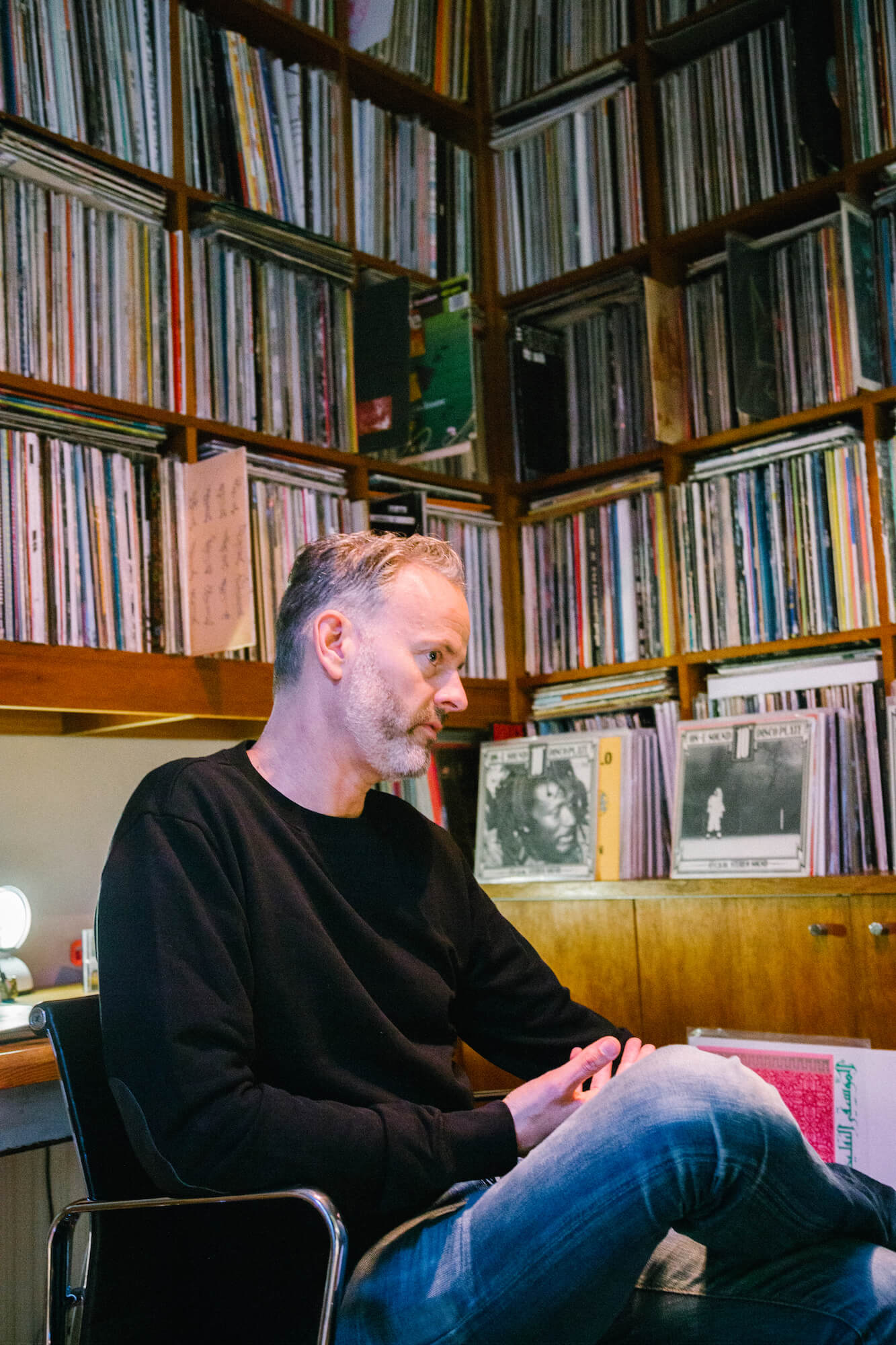 Let's go through them…
Well I can't say all the labels' I am involved in officially, but there's Emotional Rescue, which is reissues, Emotional Response, which is new music and electronic home-listening, Especial, which is like the sub-label of Response but club music. I did 26 releases in three years with Especial but I've sort of run out of steam, so had a short break. Let's see if I continue. I have a theory that labels only have a finite amount of time in existence.
So there are those three… And then I recently started Mysticisms with Piers Harrison from the Soft Rocks crew. That is a mixture of the roots of how I got here, so house, garage, even some break beats, rave vibe but in a newer context. Then finally is Sacred Summits that I kind of run with Lindsay from Firecracker Records. It is the most "out there" label we both do and it's sporadic. Nothing has come out for 2 years, which wasn't planned but feels right, however we have a few things coming in the next year.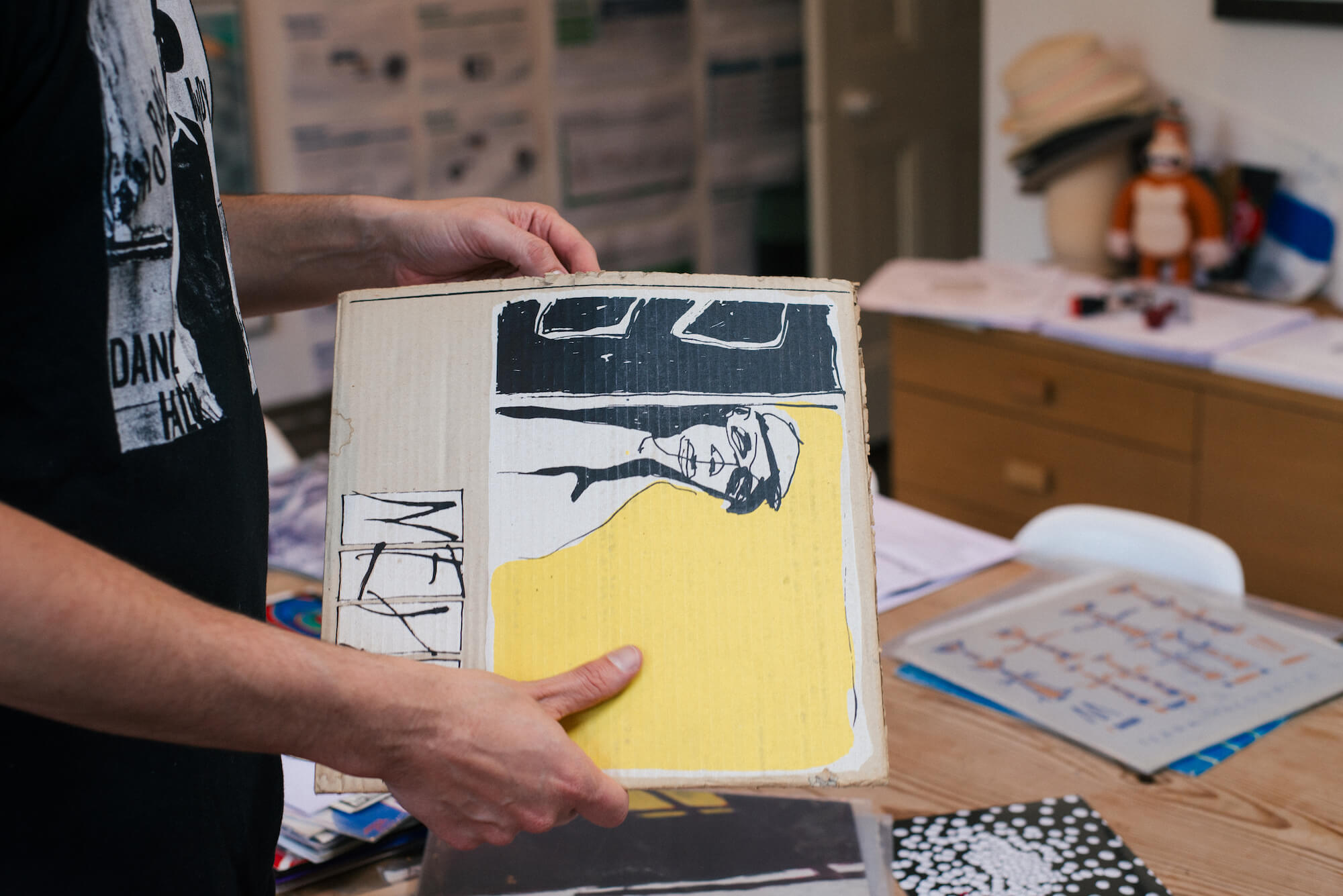 Beyond the disco and house we've spoken about, what else forms the backbone of this room?
A lot of post-punk and British industrial, cold wave, new wavey '80s music. There's Italo, German and French 7"s and 12″s, lots of weird stuff, new age, jazz, minimilist, afro and lots of esoteric oddness. Really in the last decade, I've gone right back to where I started with post-punk. And I've actually got a really close affiliation with reggae for some strange reason. A past of weed and heavy bass maybe, and living around the Brixton area for the last 25 years.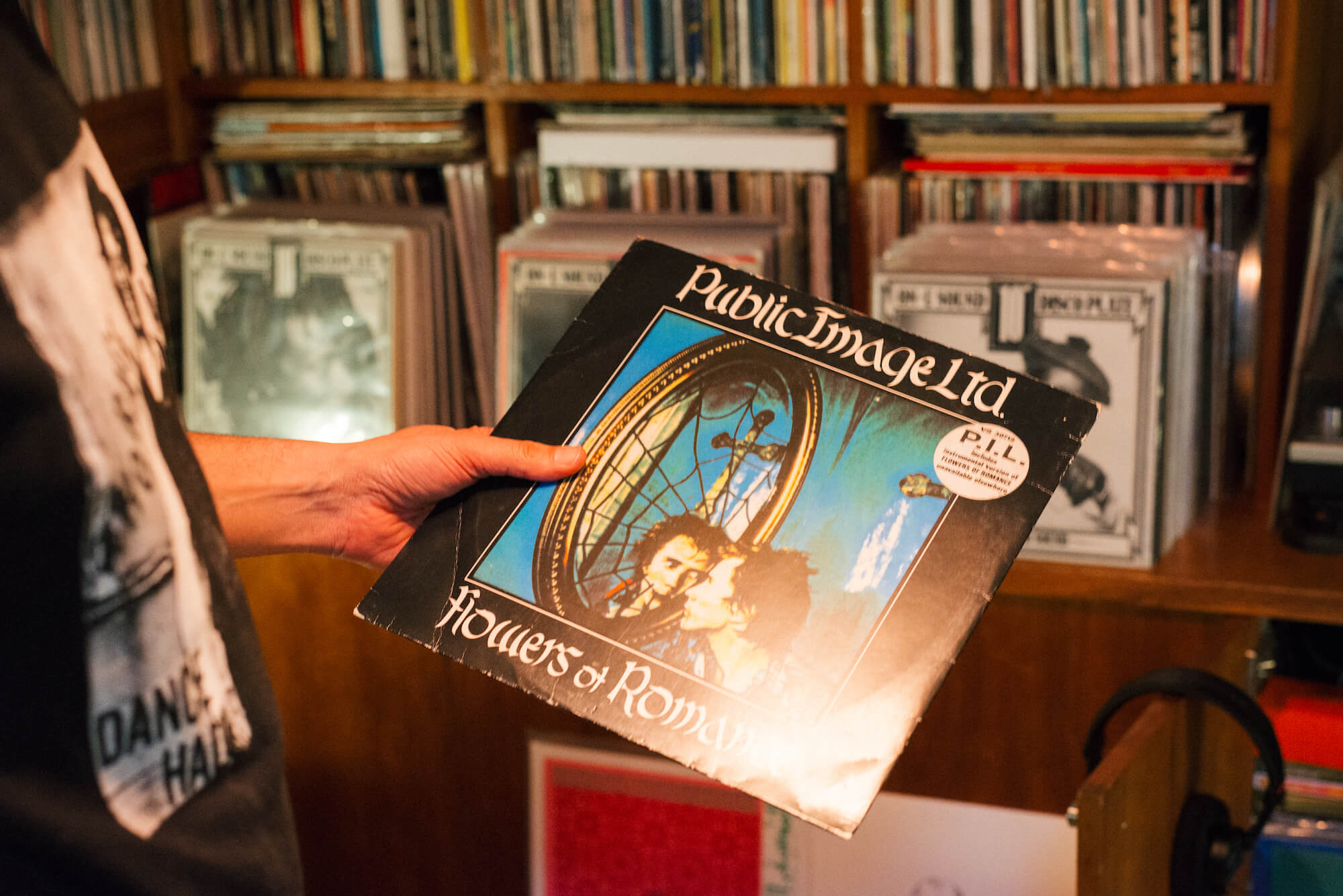 And perhaps also given your love of post-punk.
I just love that really ground-breaking period after punk where the doors were thrown open, especially with its connection t dub reggae. There's a Public Image Ltd. 12″ in here somewhere that I adore and has a really interesting story behind it, called Flowers of Romance. It wasn't their biggest period, but the story for this is that they loved the sound of Phil Collins' drumming on his early '80s albums, although of course they'd never admit that. So they went and recorded it in the same studio and they asked the engineer to "set it up like Phil did it".
It was after Jah Wobble had left and Jeannette Lee was involved, who now co-runs the Rough Trade label. She did visuals for Public Image Ltd. And the front cover of the album is her. She didn't play anything on it, but she was involved with it, and got them to play behind a screen in New York which infamously caused a mini-riot. They were playing behind it and put projections up which was pretty groundbreaking in 1983, but people basically burned the screen down.
Anyway, this album has killer drums that sound like Phil Collins and they did it in their post-punk style. And while they were recording the album Phil Collins comes in to start prepping for his next album, and he says to the engineer, "can you make my drums sound like them?" That's the story, I don't know if it's true, but I think it' a brilliant story.
Photos by Michael Wilkin.