Published on
March 3, 2017
Category
Features
Her CV includes Stones Throw, Boiler Room and rummaging Russian basements with DJ Premier.
Born in Palo Alto, California, Sofie was raised on Iranian cassettes, classical records and The Electric Light Orchestra. She moved around the States a lot in her childhood years before relocating to Vienna to study at a music conservatory in her teens.
After cold mailing Peanut Butter Wolf, she landed an internship at Stones Throw and quickly became one of family. She's also a Boiler Room original, a relationship which kicked off with their first West Coast broadcast which lined up Dam-Funk, J Rocc, Wolf and Sofie herself.
Sofie's record collection is concise and personal, with sections for gifts and releases from friends, as well as shelves for classics, 12″s, soundtracks and Eastern European pysch. Sitting in her newly configured apartment, she spoke to us about her new Stones Throw compilation, record stores in Vienna and digging for Cyrillic vinyl with Primo.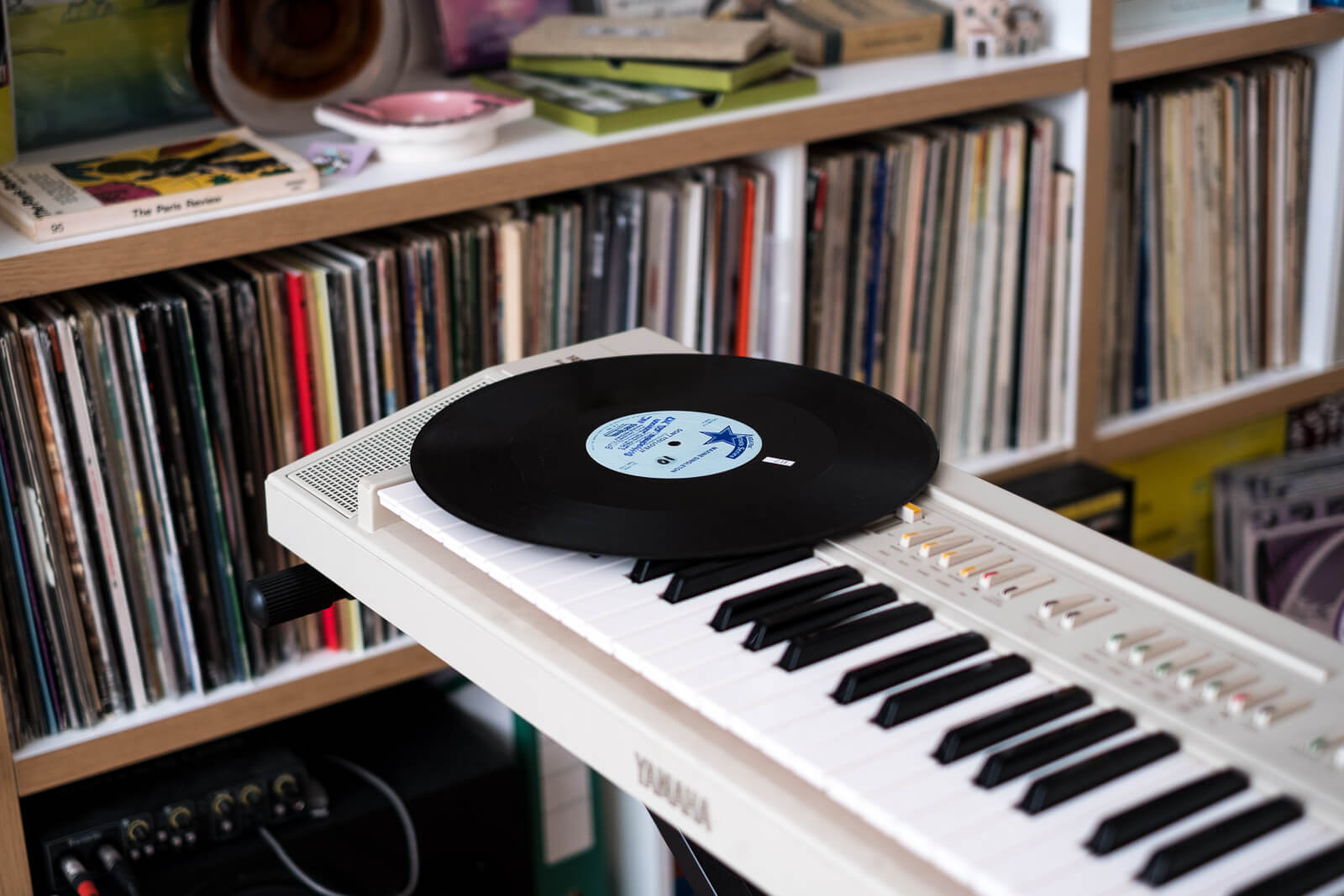 You've just quite recently moved to Vienna, how is it being back there?
I was living in Los Angeles previously when my mother was diagnosed with cancer in March last year. I put my jobs on hold and came over to spend time with her and given the whole situation I decided to move back. I haven't lived in Austria since I was a teenager but I really enjoy living here again. I also started university last year in October.
Are you studying something music-related or totally different?
I'm doing psychology, philosophy and English as a teaching degree. I don't know if jaded is the right word but as someone who makes music and art, I think trying to marry that with working in the music industry too isn't always the cleverest decision. I think I ended up expending a lot of my creative resources on tasks that were really taxing on me.
I hear you, when your passion becomes a job, perhaps you lose something. Speaking of passions, is all of your record collection here with you in Vienna?
Some of my older records are at my parents house outside Vienna but the bulk are here in this apartment. They all arrived from Los Angeles in December. It was such a long process because I wasn't really down to spend like two or three grand on a really quick move. So I was like, well here's the cheapest option or whatever, which was a shared container and it took around five months. But everything arrived unharmed, so what's a few months?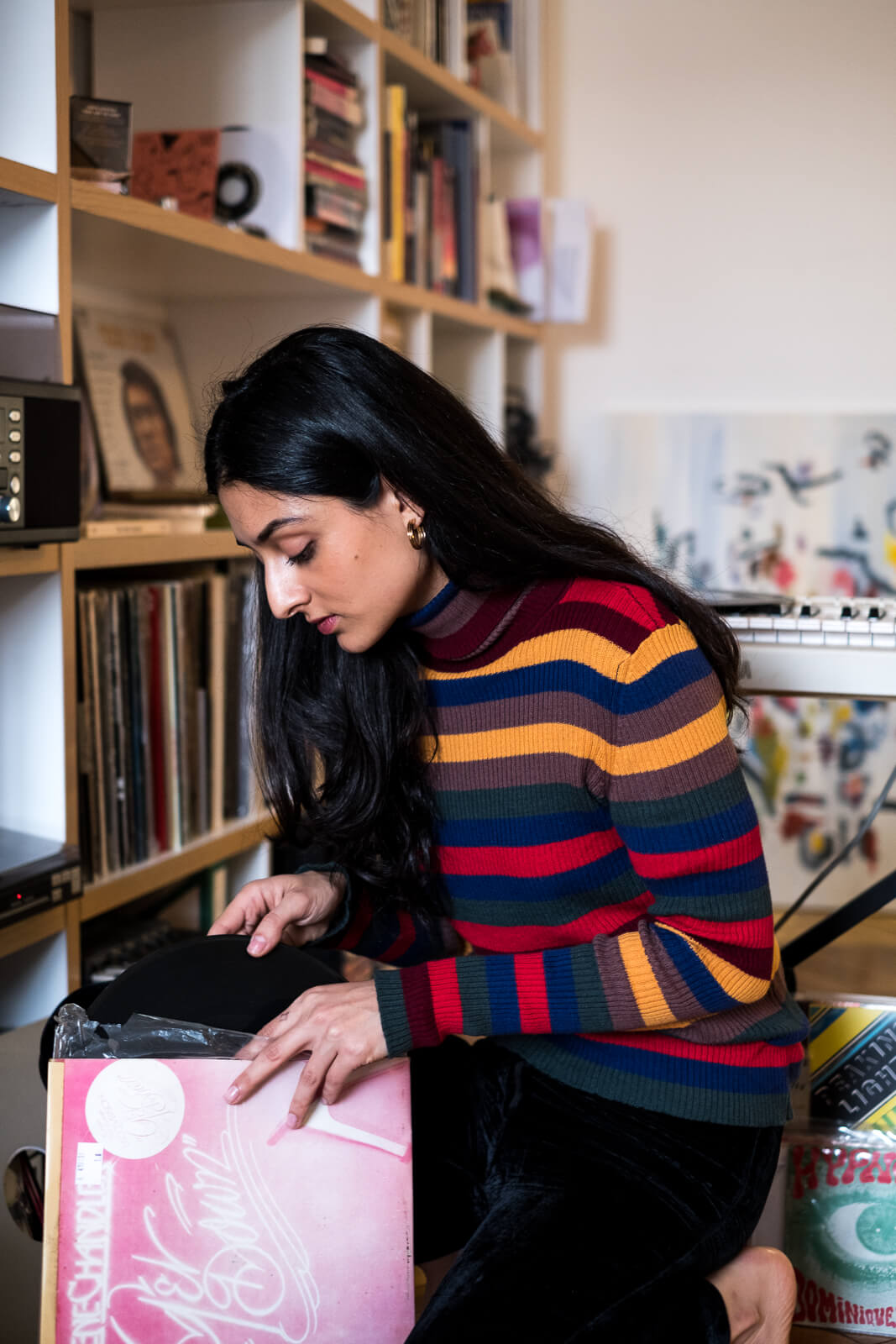 How many are we talking?
I don't have a huge record collection but it's around five or six hundred.
It's quite a lot when you pack it up.
Exactly. It's not a crazy amount if it's on shelves but when you're carrying boxes it's a lot. The people from the moving company were like, 'What is in here?!' 'Records.' They were like, 'Really? People still listen to records?'
'And you want to ship them across the Atlantic?'
And the really ironic thing about this whole thing is that I had just moved back to Los Angeles from London, so my records had spent a significant amount of time being transported from London to LA, only to have me come back to Europe again. So I'm done moving. I've said this to myself: I don't want to move for the next five years. I did say this when I moved to LA as well but now I feel like this is it.
You're a classically trained musician but how did you get looped into Stones Throw and that whole scene?
I studied at the conservatory of music in Vienna and then, when I was nineteen, I applied for an internship at Stones Throw but it was really a shot in the dark. I wasn't banking on it or anything. I was visiting LA and saw that they were offering an internship, so I decided to apply. I guess half a year later they saw my email and wrote back. When I first started interning there I kept asking the general manager, 'So are you guys trying to hire?' and he was like 'No, we're really not. There are no positions.' Then at the end of my internship they were like 'Please stay! Here's a job.' It was really nice. They're like family, it's a super small company and everybody that works there is really great.
You just released this compilation, Sofie's SOS Tape, on Stones Throw, which is a look at the contemporary hip-hop and soul scene in the States and also not in the States, right?
And not all of it is hip-hop and soul. There's one artist from Iceland on there that does music that I can only really describe as an homage to Italian soundtrack music of the '60s and '70s.
Do you have a track on the compilation that is particularly special to you?
It would be very difficult to single one out. All of them have some kind of funny story attached to them, like the Jonwayne track. It was super unexpected for him that that release saw the light of day. He was staying at my place in London, maybe two years ago, and he was showing me all the beats he was making and he dumped all off them from his SD card into my laptop, so I had this huge library of just amazing Jonwayne beats. I was like 'This is really great Jon, the world needs to hear it.' God that sounds so cheesy…
Most of them actually just got released right now on Street Corner Music, it's called Here You Go. They gave me a little credit on the back. It's stuff like that… there's such personal connections to a lot of the tracks.
The cover art is done by Gustavo Eandi, an Argentina-based artist, who has designed various Stones Throw sleeves, correct?
Yeah he did a bunch of the Madlib Medicine Show covers and J.Rocc's Some Cold Rock Stuf, which is still one of my ultimate favourites on Stones Throw and a really big inspiration for this compilation.
My next question was going to be what your favourite Stones Throw release is, would you say it's that then?
Yeah I feel like J.Rocc's Some Cold Rock Stuf is really high on the list. It's a really difficult question. One of the newer releases that I really like is Frankie Reyes' Boleros Valses y Mas. Also 92 & 93, the vintage tracks from Peanut Butter Wolf and Dam-Funk on limited 45, is one of my favourite releases. And I like the James Pants, Vex Ruffin release as Krista – 'Space Tom Test' especially.
I always try to tune into your monthly NTS show which is definitely an exciting listen.
It's super fun. Recently the way I've been doing my radio show has changed because, as I'm no longer based in London or LA where there's an NTS studio, I have to record these at home where I don't have a two turntable mixer setup. So I rely on one turntable or recording stuff off tape or CDs or MP3s, which lets me experiment a lot more because I"m no longer trying to make it this one cohesive mix. I end up playing a lot of music that's like library music or soundtracks or weird pop songs from the '80s. It's really cool, I get to go all over the place which I don't really get to do in anything else so often.
You're half-Austrian, half-Iranian –
Yes exactly, my mother is Austrian, my father is Iranian.
Growing up were you giving a mixed musical upbringing then?
It was definitely a weird musical upbringing. Both of my parents have a really good selection of Iranian cassettes because they used to live there before the revolution happened. Also my parents listened to a lot of classical music but I think they mostly did that for my benefit and started me playing violin at an early age.
My dad is a really big fan of Electric Light Orchestra so there was a lot of that growing up. There's a bunch of Madlib beats that sample the string bits of ELO songs and it's funny to hear those because for me a lot of those songs were so engrained into my childhood memory.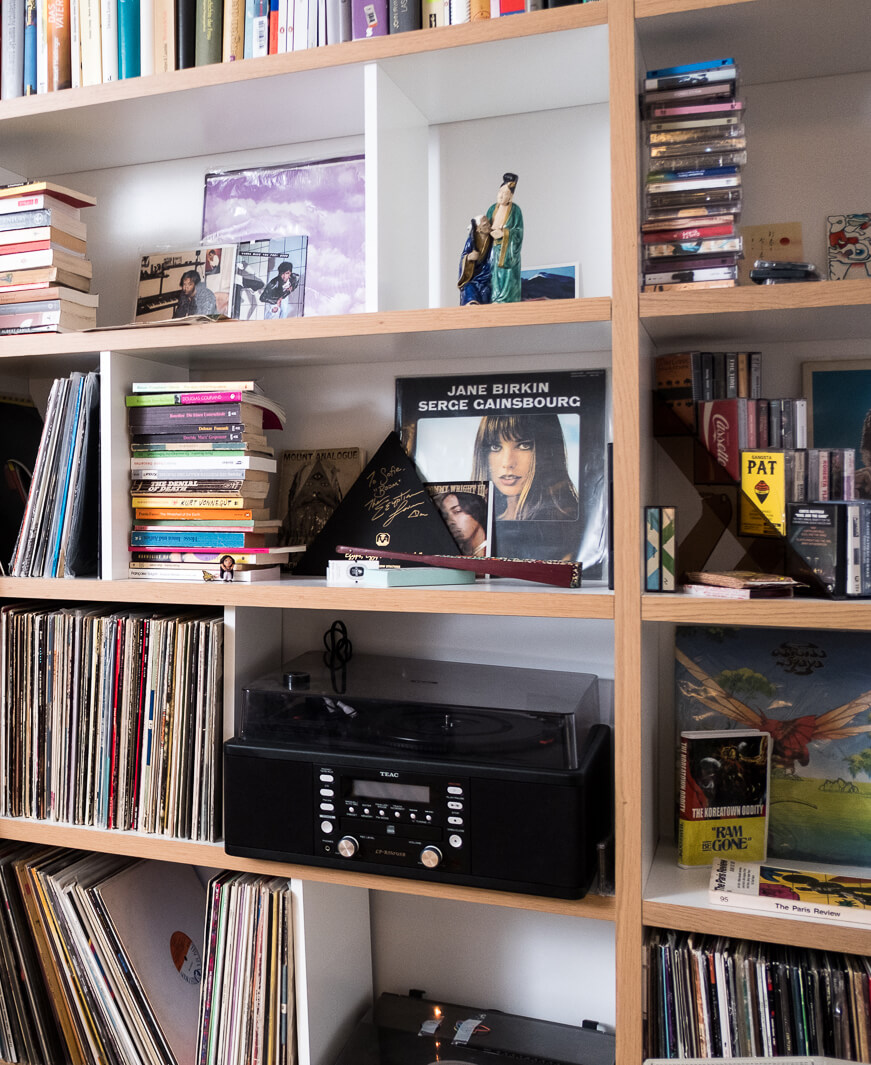 Is there a record that stands out in your memory as something particularly influential?
I would have to say Pink Floyd. My dad listened to a lot of Pink Floyd so if there was anything that sticks out to me as formative, it would be Dark Side of The Moon.
What was the first record you went out to a shop and bought yourself?
The first vinyl record? I was a lot older when I started listening to actual records. When I was young, like 12, I was all about cassettes. I would have my Sony Walkman. I think the first thing I bought on CD was something by 10cc, I don't remember what and they still have a really soft spot in my heart for that reason. But in terms of records… it would be hard to say… maybe the first one I picked up was a random seven inch, probably some kind of '80s dance record that I picked up in Vienna.
Do you remember what unlocked the door to vinyl?
Yes I do. I always liked the tangible format and the artwork. There were movies where I used to see artists DJ'ing with records and I used to think, 'Wow that's so cool.' Then when I was fifteen or sixteen I was doing photography for this hip-hop magazine in Austria and they had a show on a local radio station here called Superfly. A friend of mine he also used to DJ on there and he let me get on the decks once in a while as well. It really inspired me to really make it a thing and actively want to collect these records. It's not a ridiculously exciting story but for me it was really the tangible aspect that drew me in the most.
These days do you shop online or do you have record shops that you like to go to?
There's a record shop in Vienna that I really like called Teuchtler. I usually go in there if I'm just trying to get surprised by a selection. It's second hand and they have a really good selection of 45s. In terms of new records, the only stuff I really collect are things my friends are making so I get them anyway or I'll buy them to support. And for stuff I'm actively looking for I use Discogs, which is both great and also my downfall.
How is the record store scene in Vienna?
Teuchtler is undoubtedly my favourite but there's a few record stores. There's one called Moses-Records that I haven't been to in a very long time so I wouldn't really be able to tell you what it's like now but a lot of people manage to find good stuff there. Then there's some newer ones that I guess sell more recent releases. There's one called Substance, which mainly does dance and techno and electronic music.
Do you have an organisation system for your records? What's your collection comprised of?
I just recently organised it but it's not alphabetical or anything. One shelf is classics like Gladys Knight or The Shaft soundtrack. Then I have two shelves that are stuff that are on rotation – that's super mixed, that's like anything from Alberto Baldan Bembo, or I don't know, I've recently been super into Ullanda McCullough, who did a cover of 'Watching You Watching Me.'
I have one little slither that's dedicated to Jugoton and Eastern European rock and psychedelic music, bands like Indexi or Drugi način. Then I have a bunch of stuff like Sounds of Los Angeles Records and Ram's Horn Music, 12″ classics. I have a friends section, which is records that my friends have been putting out, those are most of the only new releases I have. I have soundtracks. I have a dance type area which is anything from house to italo disco. Then I also have a very small section which is things that have been given to me, which includes a Specials record that Wolf gave to me or a test pressing of Paternoster, this Austrian psychedelic rock band that I helped Egon and Now-Again to reissue.
It seems like a very personal organisation system which is really cool. Of all of those records is there one you would save in a house fire or some other emergency?
Can I do like, if I can save four?
No, just one please.
Oh man, that's so hard. If I could only save one it would be Steve Elliott's Completion Of A Miracle, which is my ultimate record of all time.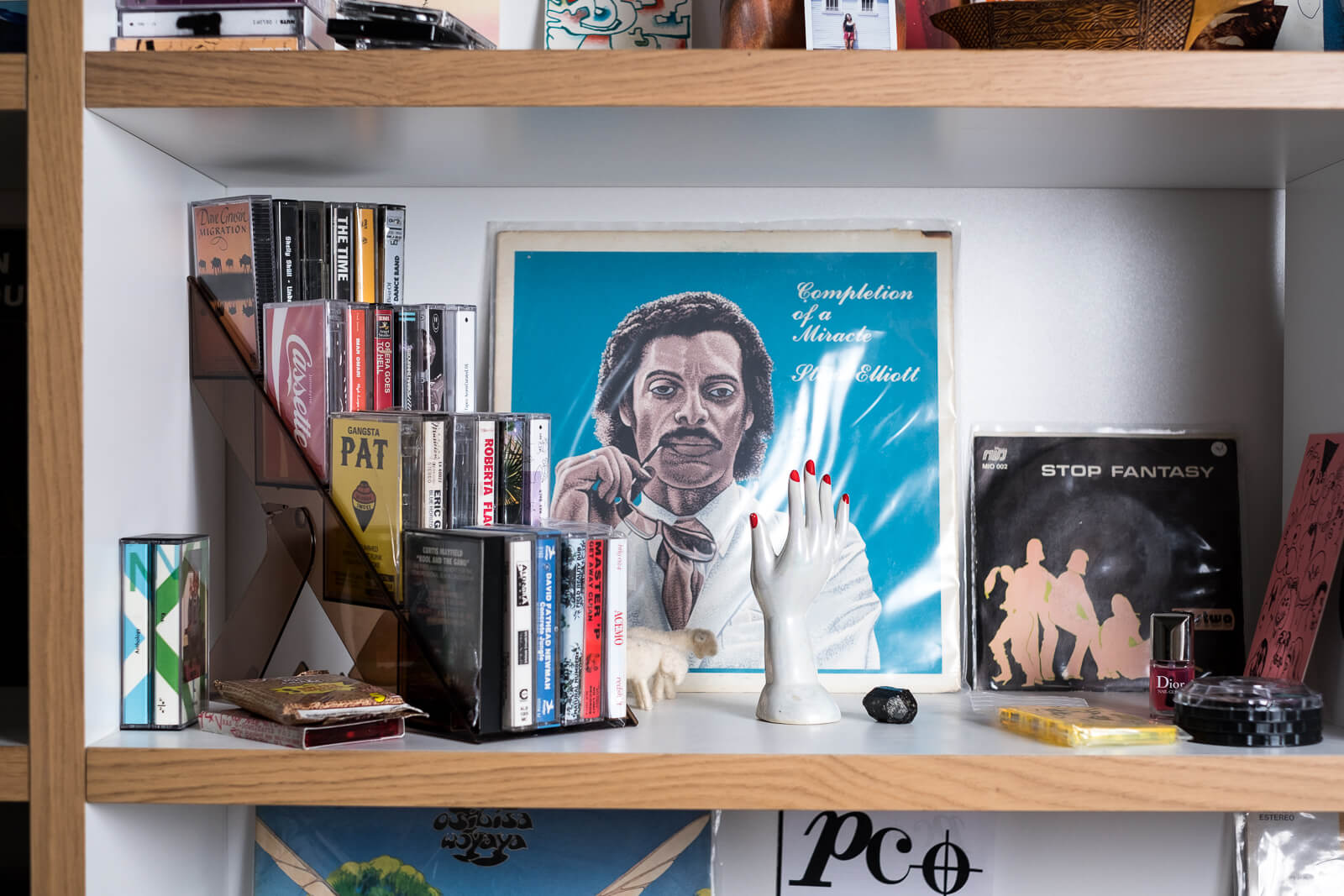 Have you had any strange experiences when out digging?
The funniest was when I was in Moscow, I was with DJ Premier and Samiyam and we went to this super weird record basement. Egon from Now-Again had told me a few weeks ago 'Oh you're going to Russia, this guy called Baz always hooks it up with the rarities like rock and weird psychedelic stuff,' and this is stuff he'd put Madlib on for Rock Konducta, for example. So anyway there was this guy that I had heard about, who we were trying to meet. And so we were at this record store and who do we bump into? We bump into Baz. But I think he had kind of heard that Primo was in town so had maybe strategically placed himself there.
Everything in the shop is Cyrillic so you have no idea what anything is, not that this basement was particularly organised, and so Baz was asking if we need help with anything. He was really trying to show Primo where the best gems are and Primo was like 'No man, I'm not having none of that, I don't want to be sampling the same stuff that Madlib sampled.' So he kind of went off and did his own thing. Sam and I we were both really into Soft Machine and Baz did hook it up with a bunch of really cool records. I forget how this was funny. I guess the scenario of being in the basement. I'm a really bad story teller by the way!
It does sound like a funny setting! So you came away with some good finds?
I did, the group that is kind of like Soft Machine, the Russian equivalent, they're called Zodiac. A lot of these releases came through the state owned record label Melodiya so they're pretty readily available to find because it was a monopolist label so I guess they did a lot more pressings.
Final question, what are you looking forward to release-wise this year?
Ill Camille has an album, Heirloom, that's set to come out which I'm really excited about and one the tracks that's gonna be on there was on the compilation so I hope that was a good teaser for everybody. Jonwayne's Rap Album Two sounds amazing, I play strings on two of the tracks on there, 'Out of Sight', and my favorite 'Human Condition'. Plus, The Koreatown Oddity just released a new album Stones Throw, too, produced by Vex Ruffin.
---
Photography by Max Kropitz