Published on
May 3, 2017
Category
Features
Through the keyhole with the woman behind cult Berlin club night African Acid Is The Future.
"Because Africa is mother of beat, and beat is tempo. May your hearts beat on our tempo and steps groove with our flow. On an acid trip around Afro rhythms, travelling from Nigeria, Ethiopia, Congo to Ghana, cruising on electronic sounds, cosmic rhythmics and psychedelic vibrations." If those words don't pique your interest, then African Acid probably is not for you.
Casually set up a few years ago by Maryama Luccioni aka Maryisonacid in a smokey Neukölln bar, the night has since racked up a dedicated following in a city dominated by techno. The music policy is broad, running from deep Ethio-jazz and Congolese wedding anthems to synthesizer pop, ska, reggae, rocksteady and more. African Acid now takes place at Loftus Hall, occasionally drops into Berlin Community Radio, and this month will take over the iconic former GDR broadcasting centre with a festival of artists.
Surrounded by plants and flowers, we sat down with Maryama ahead of her set at The Vinyl Factory's British Pavilion launch party at the Venice Biennale, to talk Hailu Mergia, reissue culture, and digging amongst the dead in Corsica.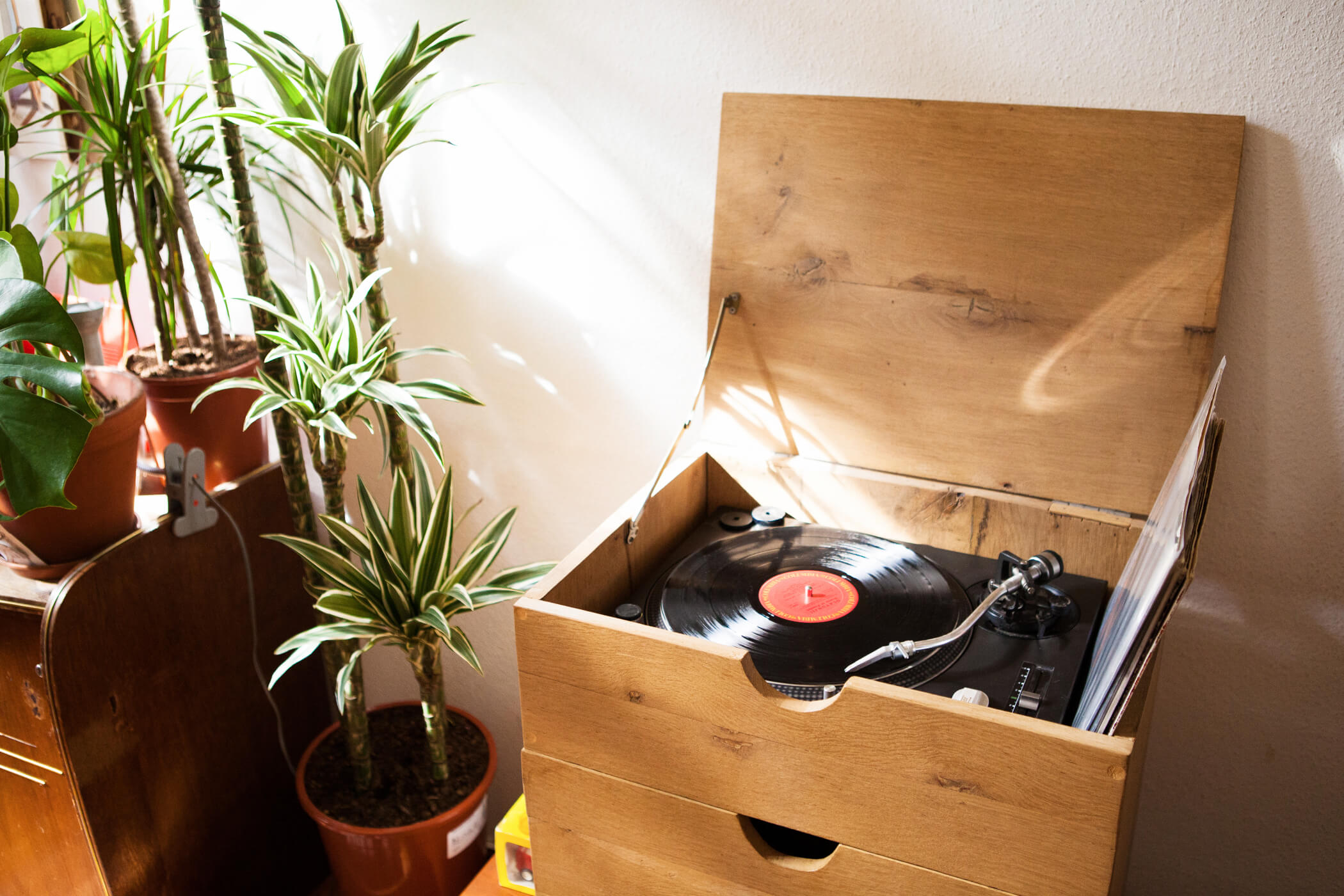 ---
Your club night, African Acid Is The Future, has gained a bit of a cult following in Berlin. When and where did it all begin?
I started it on my own three years ago in a bar in Neukölln called Herz, which has closed now unfortunately. It was the bar of good friends of mine, they also have a band called La Chatte which is a post-punk Zouk electronic band, very very exceptional. I've heard nothing like this, if I may say.
My friends said, "can you come down to the bar? It's a bit empty I need something to happen there." It was a really nice configuration with a little dancefloor. After a few additions I ask my friend and now partner Romain Azzaro, who is Rouge Mécanique and has his own label, to join me and do it together because I was playing from ten in the evening 'til ten in the morning. We went from 50 people to 150 in the bar. My friend suggested maybe we should move to a club and then we moved it to Loftus Hall. I always loved the place, even though it's a sweatbox, but it's so intimate and I like the vibe there.
For me, coming from London where's there's a big Caribbean influence on music (not to mention language, food and culture), one thing that strikes really hard in Berlin is the lack of sounds from Africa and its diaspora.
I think the visibility is very different here. The culture has not spread to the same layers of people. I too come from Paris – where reggae and African music is everywhere. Here it's completely different, it's just a little community of people interested in it. Where as if you're coming from London the mix of people is already there, so you grew up with this, it's in the streets, in the shops, it's everywhere.
Later this month you're doing an event at Funkhaus, the old broadcast headquarters for the GDR's state radio and one of Berlin's best live venues, with a really exciting lineup including Hailu Mergia. It must be exciting to bring African Acid to life with live musicians.
Actually, we've had live acts before. We had Amadou & Mariam, who are maybe the most famous singers from Mali. They existed in the late '70s but they had big hit in maybe, 2000, 'Je Pense A Toi' which was everywhere. We have had a few other performances in the party but we just can't have certain types of lives, including bigger bands, like Hailu's.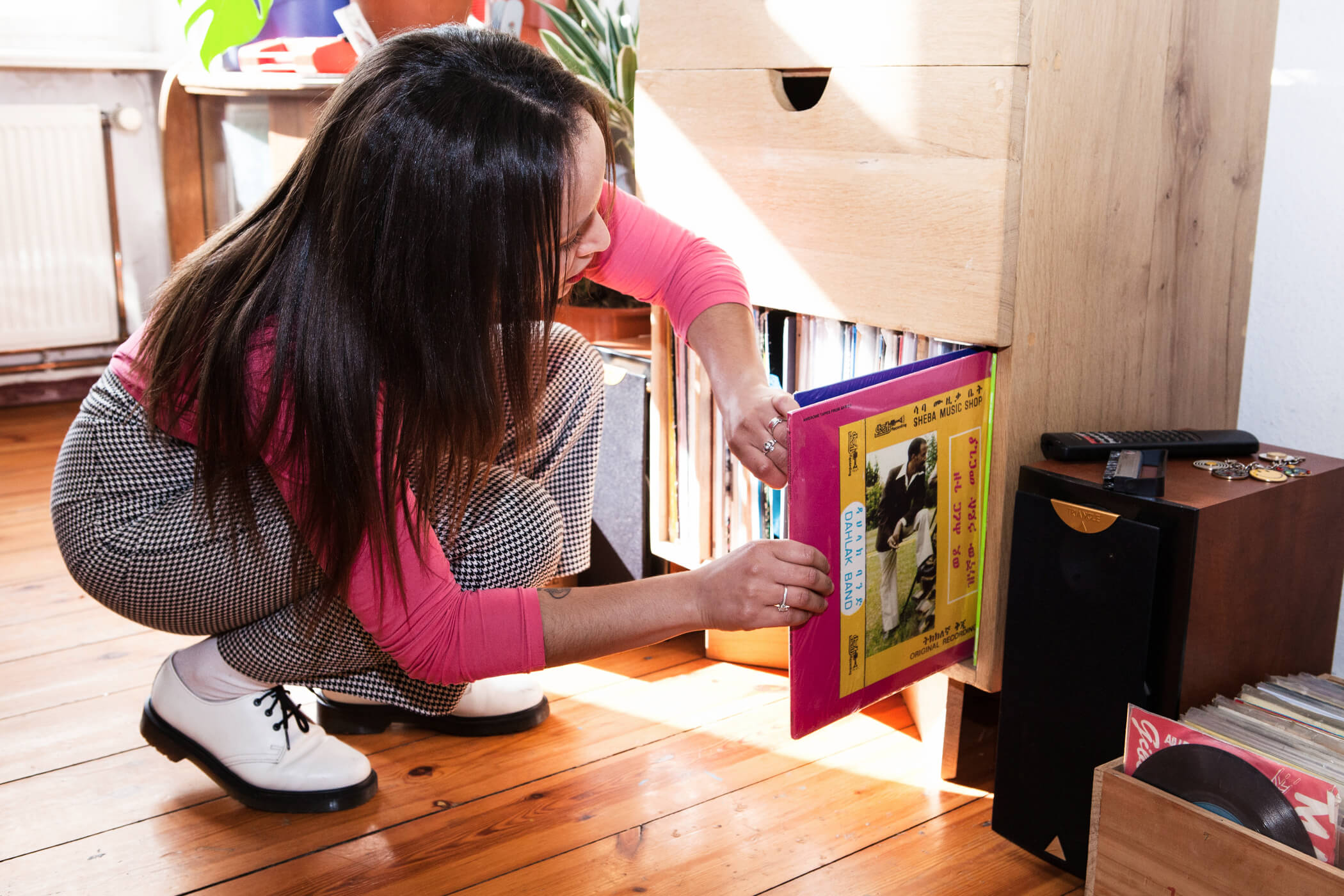 Hailu Mergia was brilliant when I saw him play at Field Day in London a few years ago.
I`m a bit surprised, he's a bit less highlighted than Mulatu for instance.
He wasn't really "discovered" until quite recently, I suppose.
Awesome Tapes did a lot to bring him back. His sound is very different, much more mysterious in my opinion, there's something really dark and obscure about his form of Ethopian jazz. And I like him, I like his character. You know he's still a taxi driver?
In Washington right? He has such an interesting back story. In the '70s, he was in the Walias, who started out as the house band for a Hilton in Addis Ababa. Because of the curfew, which meant no one could leave after 11pm, they would end up playing sets until six or seven in the morning.
Exactly, in many countries in Africa, there was a ban. Orchestre Poly Rythmo de Cotonou and all these type of bands they just would play big resorts. People would come to the bar and leave but the band keeps on playing all night. That's probably good training!
Right! The Walias actually became the first modern Ethiopian band to travel to the States, where they decided to stay to avoid the dictatorship at home. Mergia became a taxi driver, practicing between customers and releasing tapes, which Brian of Awesome Tapes eventually stumbled across.
For us it's very important to have an artist like Haliu playing. It took us two years to bring him to African Acid, we couldn't until now. He's the kind of person we really respect, he's a very humble and kind person. He told me it's one of the best venues he's played in his whole career.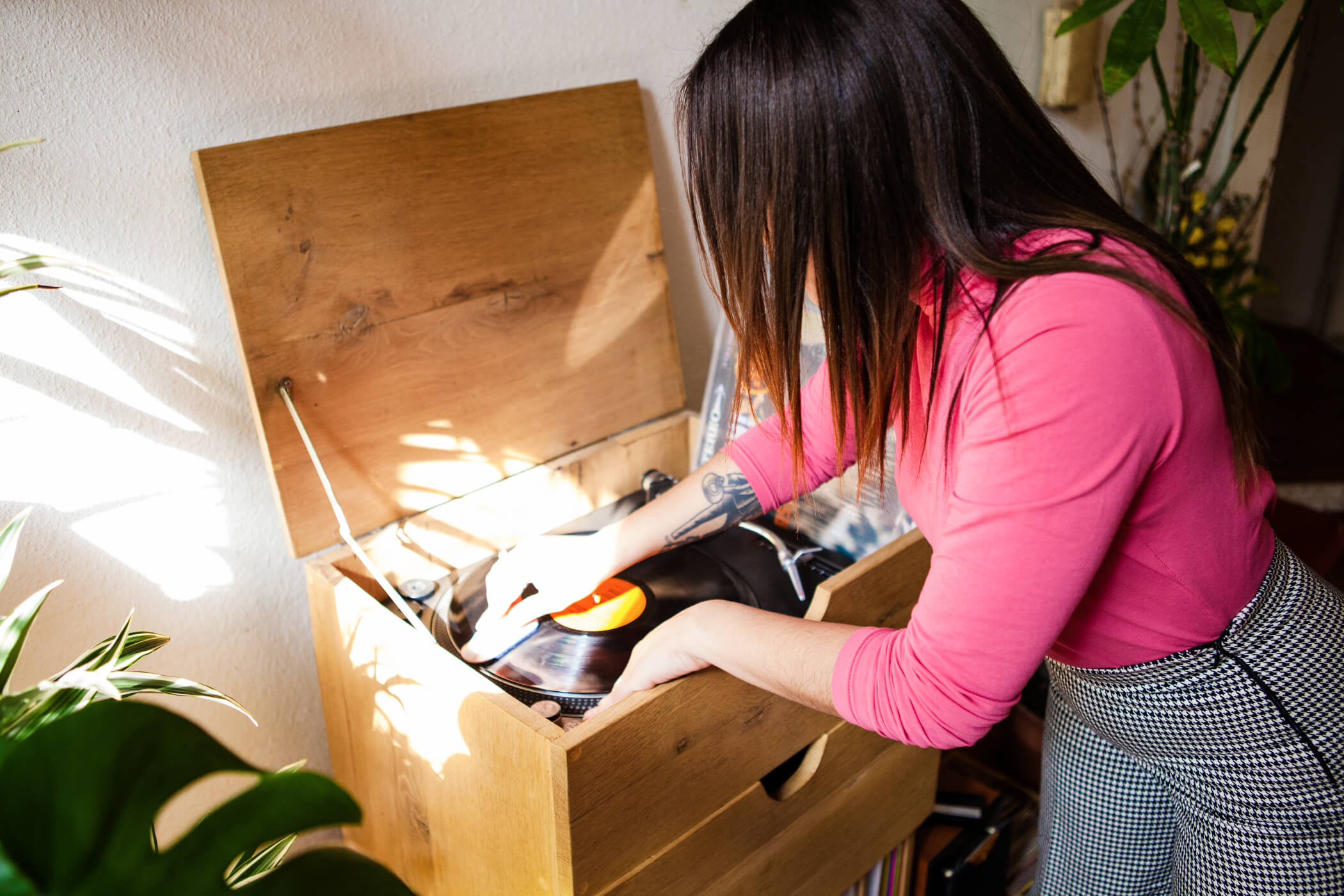 There's been a big boom in reissues of African music, which is good for bringing a whole generation of people into those sounds. But do you see any problems?
I don't know where to begin with that. It can be a problem if people feel like they have some kind of political message and this isn't treated seriously, that might be a thing. I also see people listening to whatever African music, the idea that all of it is good, which isn't true. It's like any other music. I can feel that sometimes in some podcasts I listen to. I have this feeling a bit.
It's interesting how we wouldn't call European music 'Euro' but we call almost anything that came out of African, 'Afro'. An entire continent of sounds reduced to one word.
It's so not precise. The music from West Africa, South African music are so different, same for East African music and North African music. I can make you listen to something Ethiopian that's going to sound like some Thailand's music for instance. It's the cross of instruments that are the same, but it's not Afro music.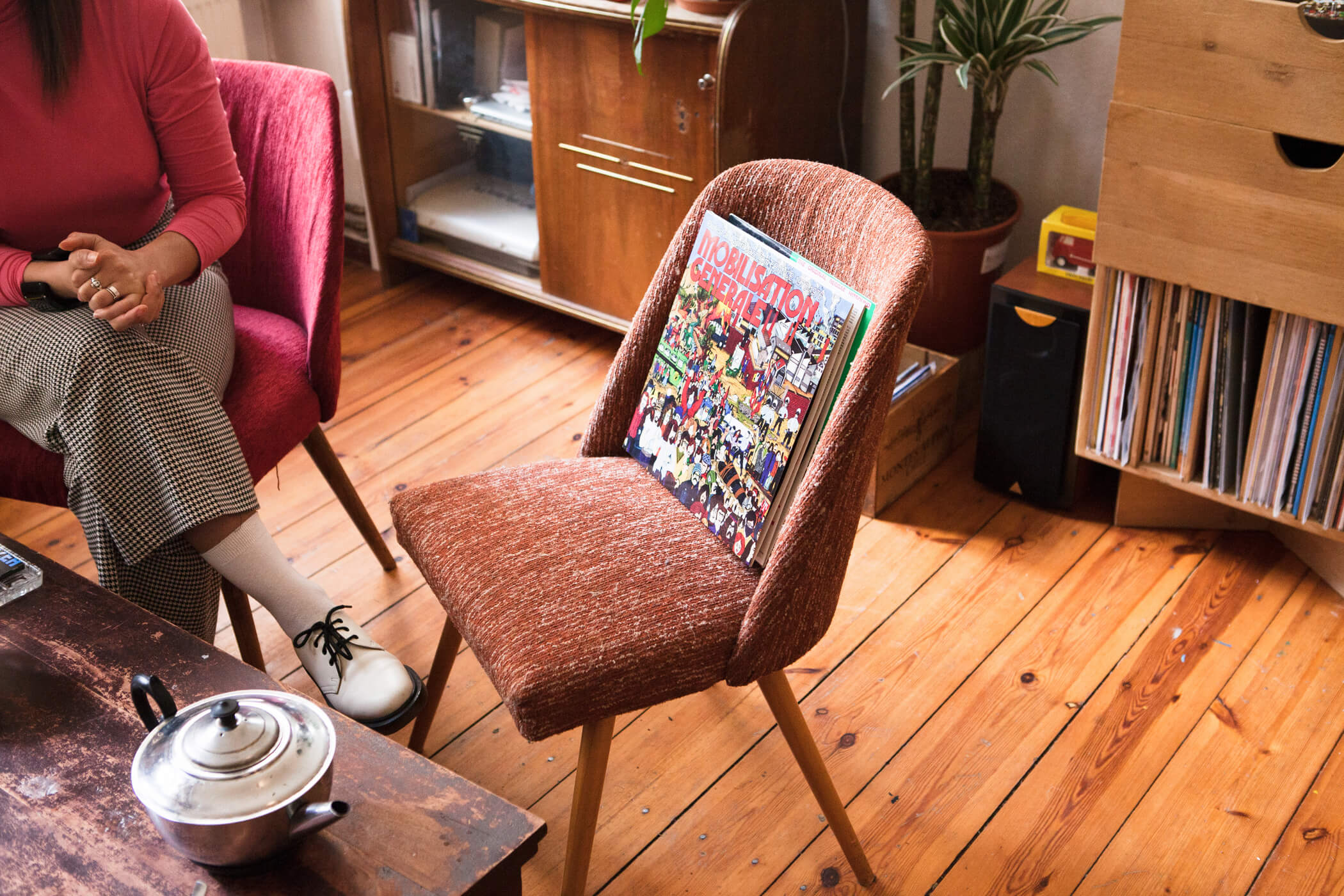 Let's rewind to the beginning of you – so you grew up in Paris?
I was born in Paris in the '80s close to Barbes and Montmarte which is a very multicultural area of Paris. I moved to Corsica until I was seventeen when I moved back to Paris. My mother is Corscian, my father is Congolese.
What sort of records would be playing in the house?
Let me just find a record that my dad would play. It's hiding from me. It's like psychedelic, progressive African jazz music. It's on the Born Bad and Digger's Digest compilation Protest and Spirit Jazz from France: Mobilisation Générale. There's a track on it called 'Je Suis Un Sauvageby' by a guy called Alfred Panou and the Art Ensemble of Chicago, which is probably the most significant song for me growing up. My dad was into jazz and French singers like Léo Ferré and Serge Gainsbourg. My mum was more into new wave, cold wave [laughs], stuff like this but also reggae. She moved to London when she was 17, she ran away. My parents met in London, they were pretty young and bohemian and they had me.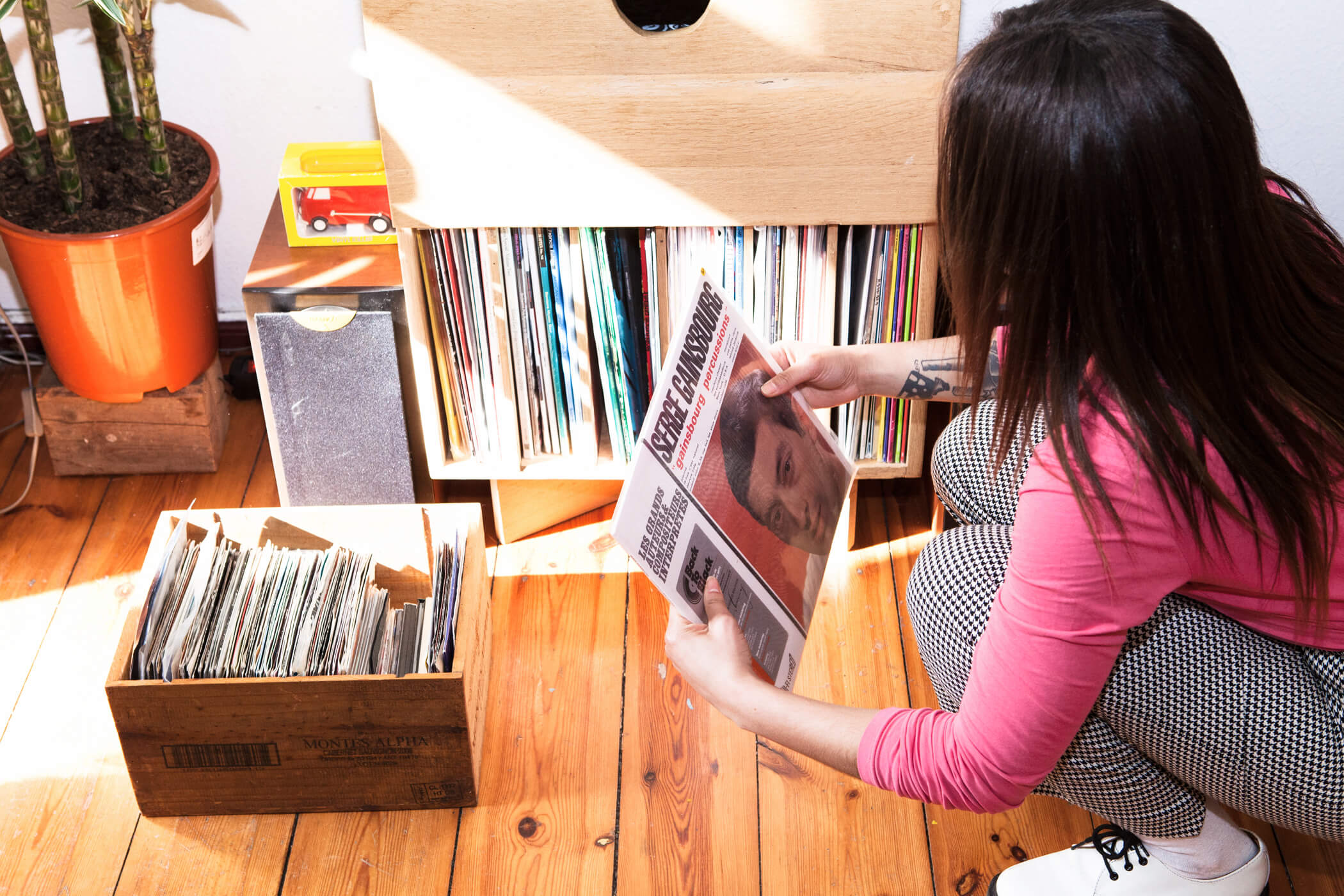 Sounds like you were raised on a great diet of music.
I had no TV at home. I was more interested in drawings. My father was a stylist, a designer. So he'd put me on his desk and give me a record cover and I would draw the cover whilst I'd listen to the music. I don't know if I really understood the music at the time, only what I liked and didn't like. He handed me a record by Grace Jones and her face scared me when I was little. I was like, 'I don't want to draw a monster!' It was very visual for me, music at first. I had vinyl and tapes.
Did you have a Walkman?
Yes! I recorded so many tapes. I don't have access to those. I have part of my collection is still in Corsica, in the old house of my grandmother. Vinyl and tapes and a lot of classical music because I was at a classical dance school. I was at the conservatory from six to seventeen.
Do you remember the first vinyl record you went out and bought yourself?
I remember the first time I went with my father buying records and we bought Miles Davis for me, I think it was Ascenseur Pour L'Échafaud, which is from the soundtrack with the movie with Jeanne Moreau. That was in Paris. My father had many shops he would go to but also many flea markets. In Paris, it's a goldmine.
I imagine that there are a lot of great records from Africa in Paris because of its colonial history.
Definitely. My father owns a very good collection himself. He still doesn't want to give it to me [laughs]. When I go I can listen but he's really precious about it. I understand and I'm happy he has it, for me it's super interesting.
What about you, how many records do you own?
Five or six hundred maybe and then some back in Corsica.
Where do you like to shop in Berlin?
I'm lucky because I think I'm in the central point to go shopping here. I go to Hard Wax, they have an excellent world section, they also have 7″s of dub and reggae. I can buy on internet sometimes or listen but it's not the same feeling, I like to go and see the record. I like OYE too, it's 2 minutes from here.
I love how broad your collection is, spanning everything from disco and spiritual jazz to Blaxploitation soundtracks and hip-hop to prog and power-pop and punk. Is there an artist that has had a particularly big influence on you.
My big fetish is Stevie Wonder. I like that he is the only one that is very cheesy and he makes it the right way. I like his voice, I like his genius, I like his life. I think it's the only artist I have a fetish for. Stevie, when it's playing, something is happening! And lyrics wise it's just perfect to me.
Favourite song?
I'd say 'Too High' on Innervisions but it's hard to pick for me!
I can see Alice Coltrane's Journey in Satchidananda poking out there. It's one of my favourite albums of all time, I think.
This is one of the fetishes of African Acid, we always plays this. It's also one of the favourite records of my dad as well. There's something very touching. You get it or you don't get it. So at the party to play it, it's very strange but often when it gets really high or heavy, I like to play it through, just to get everything down again and refresh the vibe.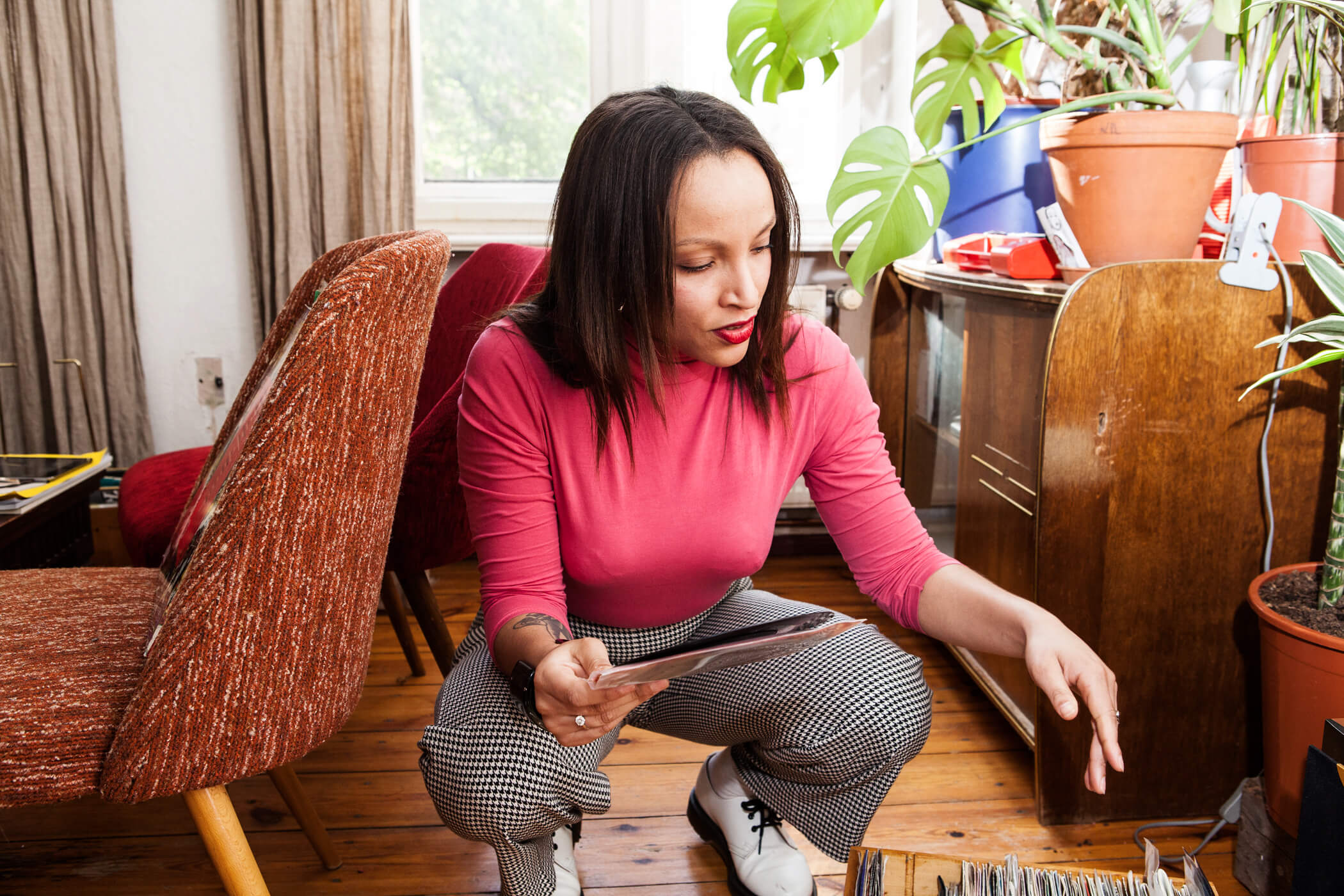 Show us something special from your box of 7″s.
This was brought to me by a friend travelled to Addis Ababa, it's '60s Ethiopian music, called Lezelalem Nuree. I played it for the first time at The Festival International de Jazz de Montreux. It's quite expensive in Addis Ababa now because they know! Foreigners go there to buy records and dig. It used to be really good but… Anyway, she handed me this record like this with no sleeve, nothing. Of all the African music, this kind of sound is what I prefer the most, it's very mellow, between swing and jazz,. It's always the voice for me that is the most beautiful instrument.
I always quite like listening to music where I don't understand the language.
Definitely. Although I am a bit sad I don't understand my own dialect from Africa: Wolof and Lingala. My father is from the Lingala tribe but Wolof is more common in the Congo. I don't speak either.
Do you have many Congolese records?
I have the best one! You hear it at Congolese weddings, it's very sensual and slow. I found it in Los Angeles in one of the most amazing record shops I've seen but the guy was horrible, an old grumpy jazz man, I can't remember what the place is called. I almost didn't buy it because the guy was really horrendous. He had an assistant, who opened up the basement of 200 square metres of records, just world music. My boyfriend and I freaked out.
The first record I found was by M'Billa Bel. She was one of most important congolese divas and it's called 'Faux Pas'. It's talking about a lady who is in love with her best friend and she doesn't know how to tell him but she goes for it and he rejects her. So it's sad but people play it at their weddings because it's a nice song to dance to.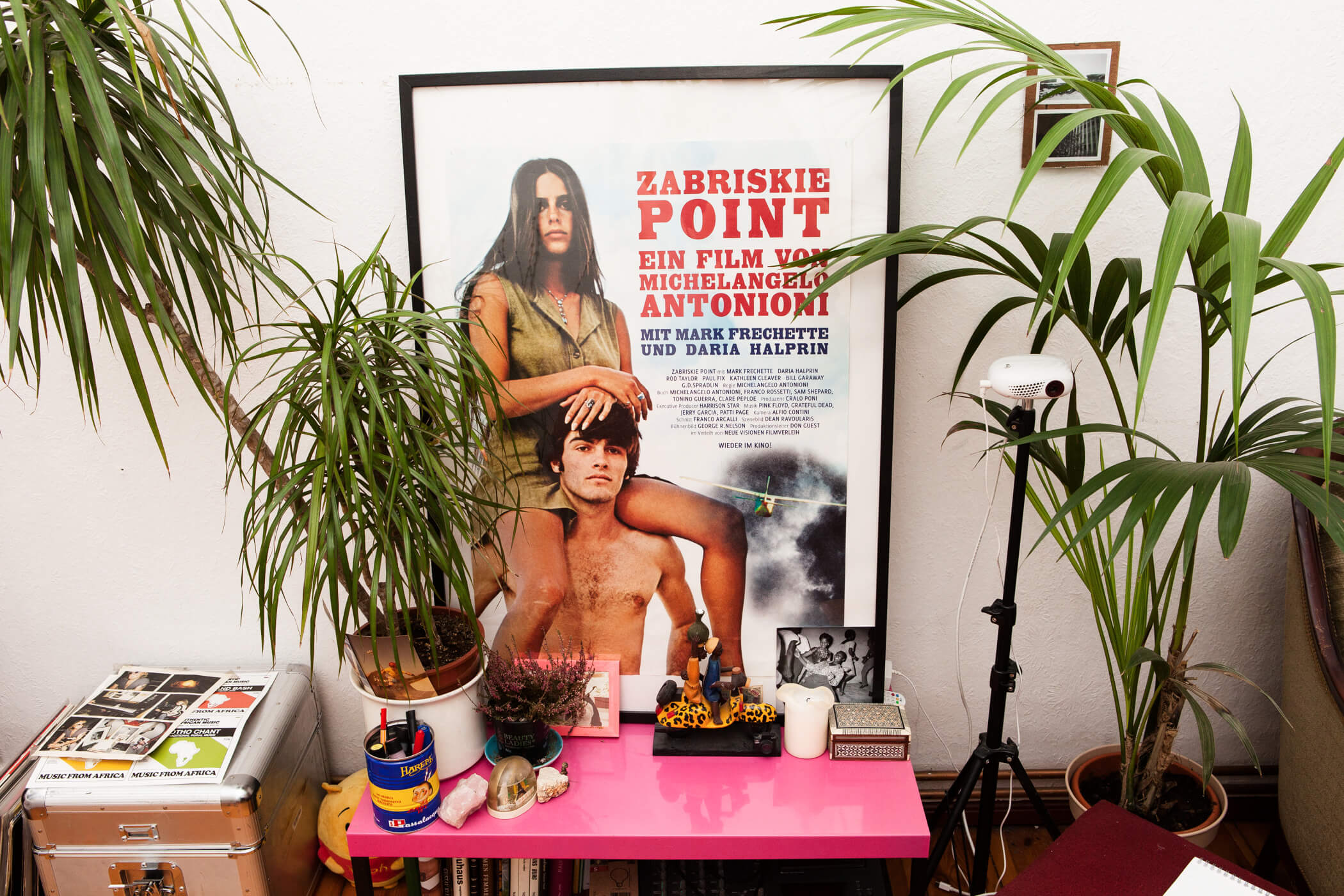 If you could only save one record from your collection what would it have to be?
Weirdly it wouldn't be a Stevie Wonder. I have the soundtrack to Zabriskie Point, it's the most wonderful thing I've ever heard. The movie is about the student revolution happens in LA in the Sixties, it's about being young in modern society and it still fits our time. It's also a road movie and a love movie. The music by the Stones, The Grateful Dead, Pink Floyd is very dreamy, psychedelic but at same time is very violent. I've never heard anything like it, so I think it would be this.
Have you had any strange or funny experiences when out digging for records?
I was in Corsica, and not so familiar with digging at the time, but a good friend of mine was. I was digging vintage because I had a vintage clothes shop Paris. I was going to Corsica back and forth because there people are less into vintage, more into new and fancy clothes. There is amazing stuff. If you go to a flea-market there you will find Chanel for €20.
So was doing this, but my friend said to me the best is to look at the obituary for that day and you can go to houses and people want to get rid of stuff and it's magic there. So I was like, OK I have to do it one day. We went in a very deep village in Corsica and we arrived and it was records everywhere. I think it was one of my first real digging experiences. My friend showed me how to look at the label and when it was pressed and blah, blah. So he taught me how to dig this way.
Finally, what does your collection mean to you?
I think, it's like a friend. Sometimes I want to see it, some times i don't want to see it. Sometimes it's bringing back memories and most of the time it's building new memories.
---
Maryisonacid is DJing at the launch of the British Pavilion at the Venice Biennale on Tuesday 9th May. The party is being hosted by Hauser & Wirth for British artist Phylida Barlow with food & drink by The Store Kitchen.
Photos by Kristin Krause.