Published on
February 2, 2017
Category
Features
A rare visit to the free jazz giant's two and a half tonne vinyl cave.
Self-taught free jazz heavyweight and self-confessed Discaholic Mats Gustafsson has one of the most fabled record collections in Europe.
From his 'vinyl cave' in rural Austria, the saxophonist runs a global trade ring through his Discaholic website, trading four-digit rarities with the likes of Thurston Moore and Sunn O)))'s Stephen O'Malley.
And when he can't find someone to trade with, Gustafsson has been know to travel across the continent to play solo concerts in exchange for rare records.
Buying free jazz since he was 12, Gustafsson was schooled in punk and retains a DIY attitude to this day. A saxophonist known for his ferocious style, he's one of the most important free improvisors of his generation, playing with the likes of Barry Guy, Evan Parker, Jim O'Rourke and Sonic Youth or fronting his own projects like The Thing, whose 2012 collaboration with Neneh Cherry spanned an extraordinary wealth of influence.
Late last year, Gustafsson stretched his lungs once more for a new 12″ with Christian Marclay, recorded live at Café Oto. To mark the release we were given unprecedented access to the vinyl cave for a look around.
---
We're very lucky to be allowed access to your collection. I've heard you refer to it as a 'vinyl cave'…
I have my working space, my archive and all the vinyl in the basement of our house, so I look at is as a bit of a vinyl cave.
We have two kids so it's not everyday that you can come down and meditate with your records, but when you're busy with composing or practising it's great to take a little break and position yourself in the listening armchair and spend a bit of quality time with your vinyl.
Has it always been like this?
I'm from Sweden but we moved to Austria four years ago and we built a house here near the border with Hungary. It was pretty amazing to be able to plan a house from the perspective of being a musician, to have space enough to practice, to have a studio, and to have a good situation for the records, which is of course what I prioritised in the beginning. This is the first time in my life that I'm really happy with it. And for a Discaholic it's not a good thing to have records in storage. I think we need to have access to the records, we need to be able to talk with them as much as we can.
How many records are we talking about here?
Two and a half tonnes.
What does that equate to in numbers?
Forty-seven metres. I refuse to guess the number, only amateurs do that. It was pretty funny, when we moved from Sweden to Austria, I moved the record collection and the book collection and the instruments, and we left all the furniture and shit, so I know the weight pretty exactly.
You're now a connoisseur of free jazz, but what was your first musical obsession?
I got really deeply hooked to Little Richard when I was about seven. All my guy friends were listening to AC/DC and all the girls were listening to ABBA, not to generalise. But I found Little Richard and thought it was fantastic. I remember being very obsessed with the idea of getting all his records, and I was obviously not aware of how many there were, but I ruined a couple of family vacations because we had to get to certain record stores. So I think the sickness was there pretty early on.
And I think the connection to Little Richard is pretty interesting to look back to now because he was using a lot of jazz musicians and saxophones, and I think that might have triggered something for me.
I can see that…
I love all those early recordings and all that wild saxophone honking. Most free jazz compositions have a very simple structure – one or two chords – and it's quite easy to transport it over to rock n roll or garage rock. So I see a lot of similarities, especially with his honking, screaming and wailing, it's not so far away…
The raw energy of the playing is similar too.
The energy really attracted me. I was about 15 when the whole punk rock thing exploded in Sweden and it was extremely active. So I played in punk bands where it was all about the energy. Then when I found free jazz stuff on record, I went there because it sounded like the same thing. It's all do-it-yourself, and that's what I still feel I am in a way, with this non-mainstream music that we're doing you still have to basically do everything yourself.
I started to buy free jazz records right away when I was about 12…
You were buying free jazz records when you were 12?!
Yeah, and I thought it was the normal thing. Me and my best friend, who is now a painter were just doing that. We were still playing punk rock all the time but there was a very local scene.
It's interesting that you came to free jazz via punk, rather than the more traditional route through straight-ahead jazz.
I'm very happy I did it this way, also not attending any conservatories or schools or anything. I decided early that I'd rather work in a gas station or in the record store, and then just play the music that I really wanted to play, without compromise. The whole school educational thing was not for me and I'm very happy I took that decision very early.
Were you able to buy records as well as just support yourself in those early years?
Yeah I was collecting from scratch. I remember doing a register, years before computers, so that I had everything on paper, and I could find every record recorded in a specific year or on a specific label. All this took ages to do! I look back and really every cent I had left over after eating, everything went to records.
Would you say your collection is pretty focussed on that DIY scene, in whatever form that took?
It branched out but I'm still particularly interested in those DIY, tiny editions. I still buy a lot of punk, hardcore, garage stuff. But the main focus I have is free jazz and improvised music. As a musician and an artist there's so much music you can get so inspired by, you can take bits and pieces from many different areas.
I feel like my vinyl archive is extremely important for me, as important for me as my saxophone for developing new ideas and inspiration.
Just as an example, I have a pretty good collection of world music and Korean percussion music is perhaps the kind of music that inspired my saxophone playing the most, in terms of phrasing and the use of unpredictable measures.
Anything else unusual in your collection that's had an impact?
There's Armenian music, which has a tradition of double reed instruments. Djivan Gasparyan might be the most famous because Brian Eno produced a couple of records by him, and it's a very drone-based music. Very, very slow. The perfect hangover music. It moves very slowly and is very beautiful and goes on forever and I was deeply inspired by this and try to find out how to do circular breathing on the saxophone.
Are you quite completist when it comes to buying records?
In general I am a completist and that is a bit of a problem. But I think unconsciously I took a decision to not try to be a completist for certain genres. When it comes to jazz and free jazz I look at my collection as an archive, I want my favourite artists, my favourite labels, my favourite periods in the music to be as complete as they can be. But when it comes to psychedelia or Brazilian music, it's impossible, there's not enough hours in the day!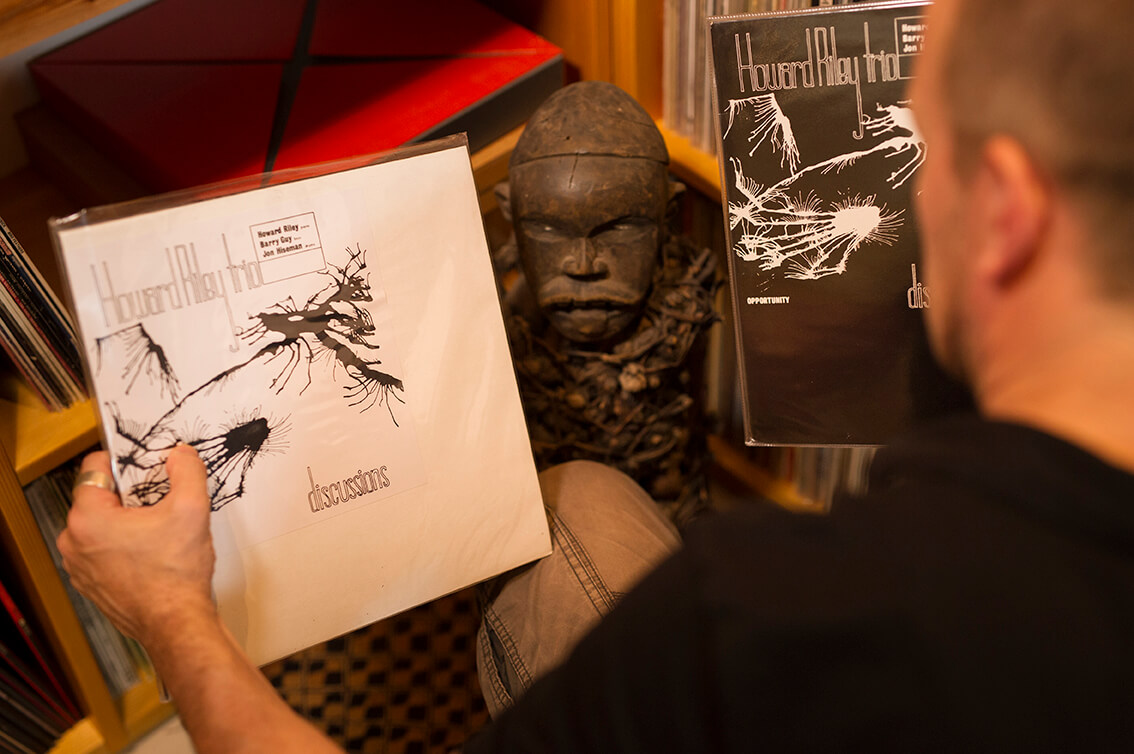 Have you got any wild tales tracking down records?
I found a record on eBay years ago, a British record by Howard Riley with Barry Guy called Discussions. This record was made in only 99 copies because of a tax thing in England and it's a bit of a holy grail in UK free jazz history. This guy in Lithuania had a copy on eBay and I got in touch with him outside of eBay so that I could talk to him directly. And he said to put an extremely high bid in and then I would get it and then we could talk about how to do it.
He knew who I was, and this is one great advantage of being a musician: some people maybe even like or at least know about you. So what we agreed was that I would come up and play a solo concert in Lithuania and the fee would be this record. So we made a deal, I went up there, played a solo concert and got the record and was very happy. It was a very happy moment in my life.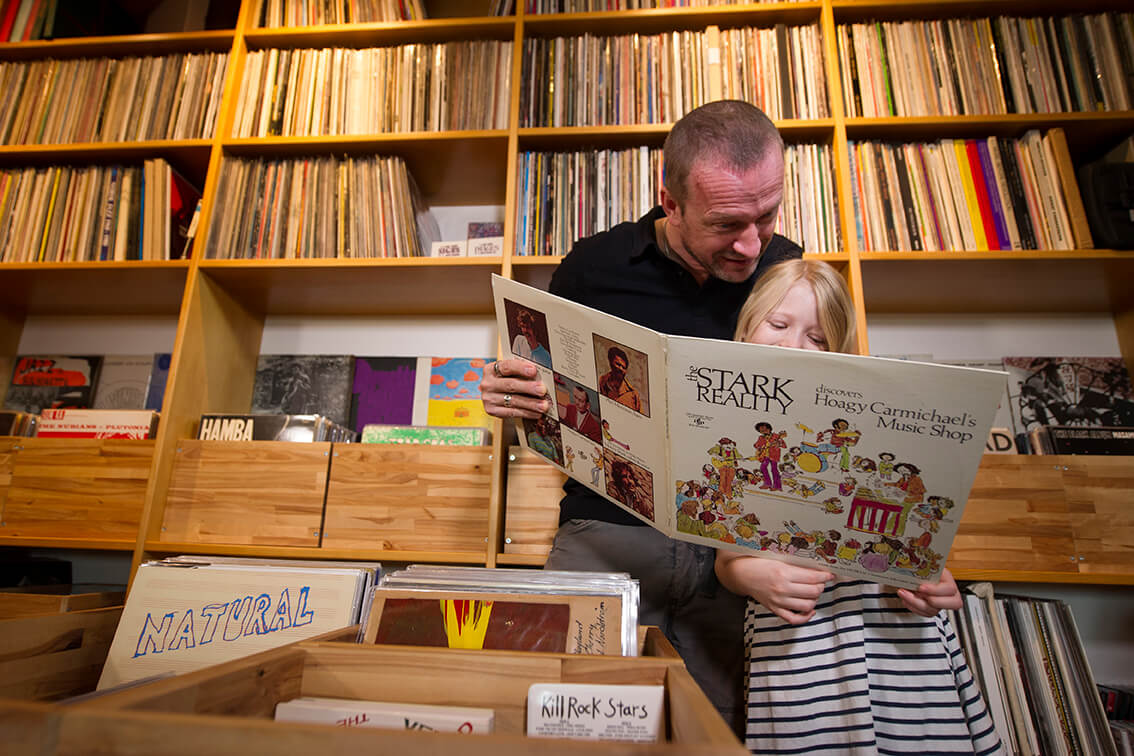 It's nice in so far as it changes the transaction from an economic one to an artistic one.
Yeah, it's perfect! Another time, I was in Gothenberg in Sweden and I found this record that I'd never heard about by Stark Reality, playing the music of Hogey Carmichael. It's one of those records that if you saw it you wouldn't care because it's got an ugly cover, but they played this record in the shop and I flipped out. It's so weird, it's like a psychedelic jazz, playing his compositions really weirdly and so distorted that it sounded more like Miles Davis. Again, this was like a 4-digit record, and I was like "I don't have the money, but I can't leave this behind, how can we do this?" So now I'm doing a record with them, they also have a label. I took the Stark Reality record home and now they can publish a record with my music.
Like Picasso who is said to have paid for taxis with sketches…
Yes! Things like this keep on happening. The problem when you have a large collection and a specific taste is that to be completist of everything is suicide. I started early so I already had a big collection, but for example, if I find a Sun Ra record that I don't have, it's a problem because they're so expensive. So you have to find other way of getting the record.
The website I do with trading is very useful, and I've been trading shit-loads in the last ten years. That works for everyone! We have a bit of a network of maybe 20 people where we communicate and ask for specific things. It's interesting because whenever I'm out with Thurston Moore or Stephen O'Malley or someone, it's never competitive. You would think that when you're a Discaholic, you're greedy and you'd do anything to get a record, but it's not like that at all. I don't know if I'm too much of a romantic but we really help each other. In the long run, it always pays off.
Generosity is not a sentiment much associated with collecting records…
Of course you get into situations… For instance I was with Thurston shopping Tokyo some years ago and we come into a shop and both know exactly where to go. And he found a record that both of us had been looking for for years – a Japanese free jazz guy – brutal, completely crazy shit. I didn't know what to say, I didn't know what to do, I wanted it so bad… but fine, he took it. Half a year later I found my own copy, but that was a situation where you have to decide between records or friendship… We're all humans!
You call yourself a Discaholic as if it a sickness… Could collecting not be a positive thing?
It's more of an excuse I would say.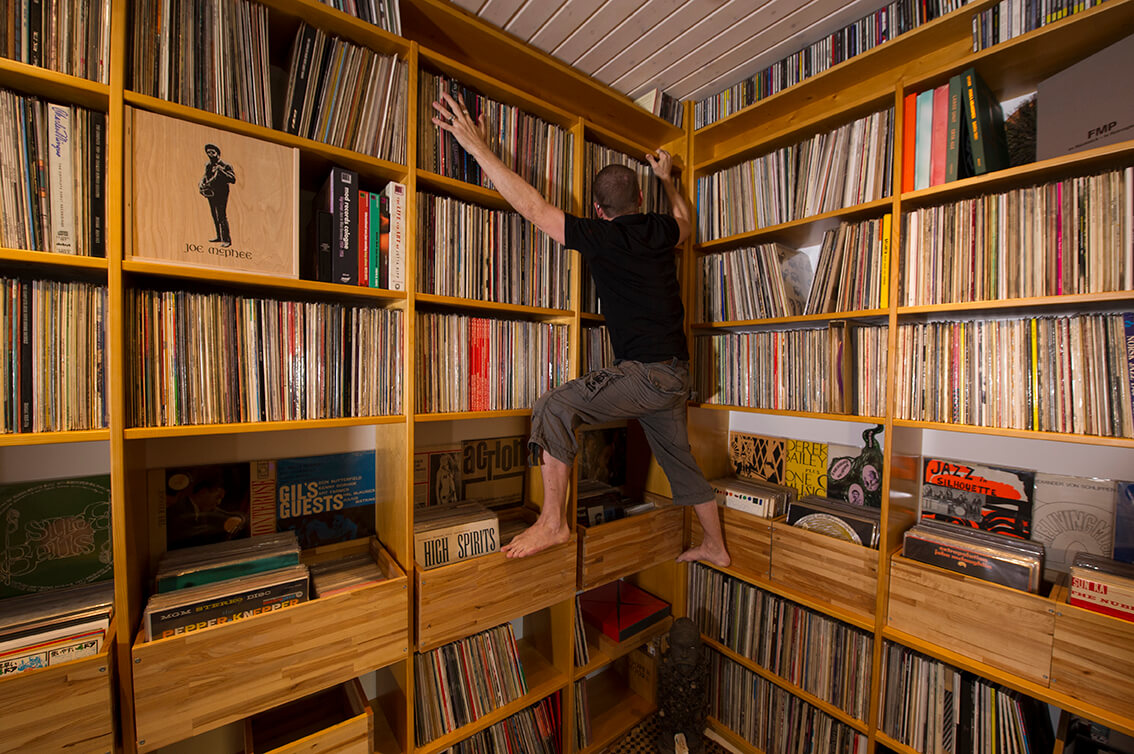 If, heaven forbid, something were to happen to the cave, are there one or two records you'd save first?
That's an awful question! For a collector it's a nightmare of a question. It's really funny because it comes up a lot, and I always refuse to answer it, but I will make an exception. I have an actual archive of records and of metal masters of this saxophone player Bengt Nordström who was active in the '60s. He produced Albert Ayler's first record and played with Don Cherry, he made free improvised music on solo saxophone as early as 1962.
He has a very tragic story, about how he grew up, but this guy inherited money from his aunt and he took all the money and invested it in a really good portable tape machine and started to record other people's music and his own in his kitchen basically. It's wild, it's unbelievable. And this guy was extremely important for me in terms of what you could do and what you couldn't do and in what context. A very interesting character.
Anyway, he would record with his tape machine and then go to the local pressing plant, which was called Europafilm – a film company but they actually had a small record plant – and he made test pressings. And he hand-stamped them, they had hand-written labels – it's a collector's dream… or nightmare depending on how you look at it.
Depending on whether you have it or not…
Exactly! And I have everything except one record, but by best friend in Stockholm has this one, so you can say that I have the complete archive of all his recorded material, because the tapes are gone. I have the metal masters and all the vinyl.
These are for sure the records that are most valuable for me emotionally. And now the prices are going sky-high because some of the records were only made in 5 copies. He made a duo recording with Don Cherry, and I know of three copies. It's crazy stuff. I would grab that whole bunch, maybe like 35 LPs and 15 7″s. And they all combine in different ways, so some sides are combined with other B-sides, it's a big chaos!
Is it possible for you to sum up what the collection means to you in a more general sense?
I look at it as an archive. For me it's highly inspirational to keep on finding new things in my own collection, for my music and also for me as a human being. It makes me feel good. That's a very important thing!
There's a couple of records, like one by Han Bennink, the Dutch drummer who was a pioneer of European free jazz and also a visual artist. He made a record in 1967 and this record is a fantastic record, it's one of the best ever in this field of music, but all the covers were hand-made. Drawings, collages, feathers or whatever he wanted to attach on the cover, he did. It's an adventure. And I think I have 11 copies now of this record. And if I want to feel really good, I take all 11 out and I put them on the floor and I just stand there and look at them and I smile.
---
Photos by Ziga Koritnik