Published on
August 17, 2016
Category
Features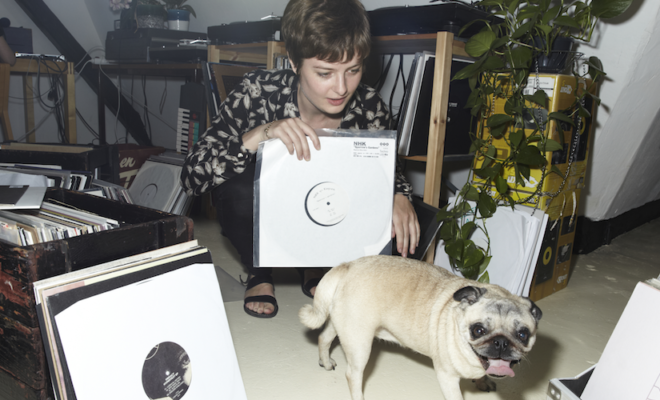 Our Crate Diggers series profiles record collectors around the world. Next up, we meet rising Danish techno star Courtesy.
As Courtesy, Najaaraq Nicoline Kleist Vestbirk takes a dark and sci-fi approach to the dancefloor. Born in a small town in Greenland, she's now based in Copenhagen, where she says, the vinyl scene is rapidly evolving.
After spending the past decade or so interning at record labels and pushing miscellaneous jobs, from selling vacuum cleaners to kids shoes, Vestbirk graduated from Red Bull Music Academy Tokyo in 2014 and today is one of the most exciting selectors on the scene. She also works as a music journalist, hosts a show on RBMA Radio and together with kindred spirit Mama Snake runs the techno label Ectotherm.
The very antithesis of a vinyl hoarder, Vestbirk has one of the most focused record collections we've seen. We caught up with her as she was unpacking her records following several months on the move.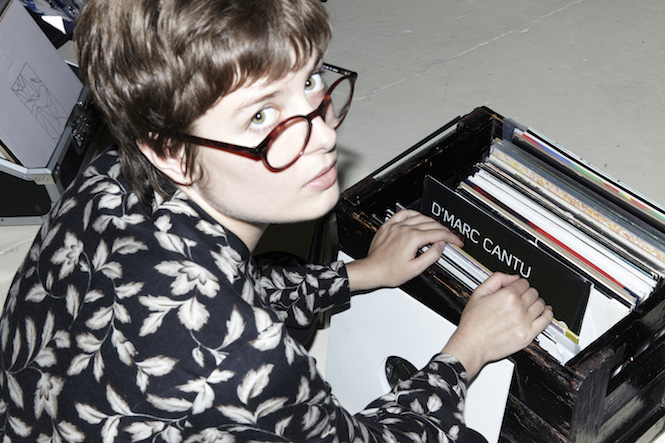 ---
Interview: Amar Ediriwira
---
Hey Najaraaq, how's it going?
I'm pretty good. I just spent the whole morning unpacking my records and trying to figure what's going to go where and what system to put everything in, which is quite confusing!
Have you just moved house?
Yeah, I spent two months in Berlin working as a journalist there and then moved back to Copenhagen a month ago but I've been travelling basically non-stop so I'm only just unpacking my studio now.
I recently had to move my record collection for the first time. It was tough.
It's mad. I'm doing a really rough sorting. I'm going to toss a lot of stuff because I never want to do this again, like unnecessarily move records that I'm not going to play. I don't need to own tons and tons of records. I need to know what I have and not have to sort through stuff that I won't play again.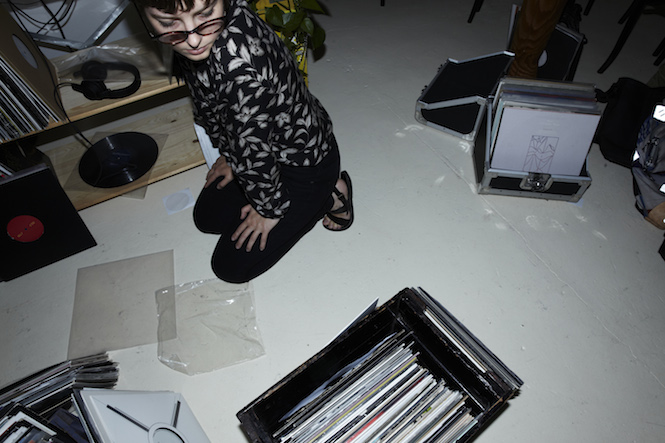 Your label Ectotherm just launched, how did that get started?
Some friends from the live noise, experimental scene started adding techno beats to their live sets recently. After seeing them play these amazing, slightly industrial wavy techno sets, Sara Svanholm (from the Apeiron Crew) and I decided to start a label so we could release their music.
The first EP just came out in July. It's a functional techno record from a guy called Schacke with some trance-y and dub influences. We have Rashad Becker doing the mastering. When I was in Tokyo he did a talk there and we became friends and I just love the way he works. He's one of the best and most interested engineers. We've tried to have all the processes of the label involve people we like or admire, from mastering to distribution and graphics.
I'm interested to know what your earliest musical influences and memories are. What did your parents play you? And when did you first get into collecting records?
Well, I think for me the really early music I remember shaping my taste in music is the soundtrack from the Never Ending Story, which I didn't figure out until quite recently is something Giorgio Moroder co-produced. That film I absolutely adored as a kid and I watched over and over again. It has this incredible soundtrack where there's a lot of use of colourful arpeggiators, which I really love.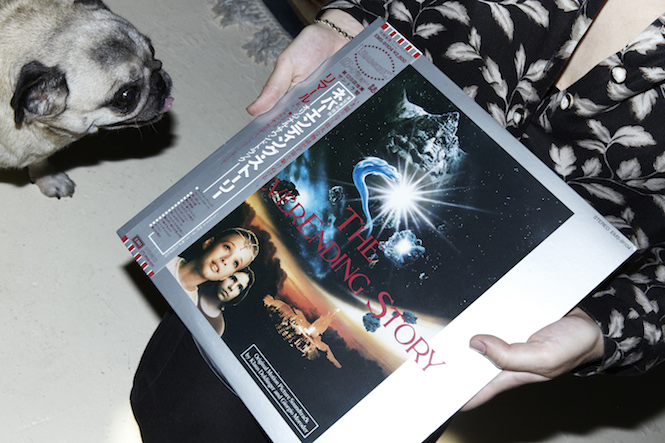 My parents were not really introducing me to electronic music at all. They listened to The Rolling Stones and Bob Dylan, which is also some of the first vinyl I started buying for myself. I didn't start collecting records properly before I started in high school because I'm a child of the CD generation.
Music and art was always my main interest, to such a degree that it was difficult for me to focus on anything else. I ended up dropping out of high school and I moved to Copenhagen at 18. I started DJ'ing and interning for an indie record label. I would DJ at release parties where I would play David Bowie or Iggy Pop mixed with all that indie-dance mid-2000s kind of stuff. That was basically when I started collecting records and I still have a stack of stuff from back then. As for a lot of people I know, that was kind of a gateway into electronic music. And the better I got at mixing, the more interesting it became to buy more tool-y stuff and also buying edits of The Knife, stuff that you could actually mix and DJ properly.
Were you influenced by Danish folk or heritage music at all?
We didn't really have Danish folk music. There's an incredible band called Murder that did folk but with a very heavy English influence. To be honest, where I grew up,the only folk music I knew about was British or Irish or German. It was definitely more Danish indie rock and I was a massive Danish hip hop nerd when I was a kid.
What's the scene like for that?
Hip hop with Danish lyrics was incredible and popular in the '90s. There was a guy called MC Clemens, who wrote two albums in the late '90s – one when he was 17 and one a year later. It's incredible hip hop writing. I think I was in 5th grade and all these lyrics were hard for other kids to understand but I was so into it and all I really wanted was to be the first female rapper in Denmark. I would stand in front of my classmates and rap in music class.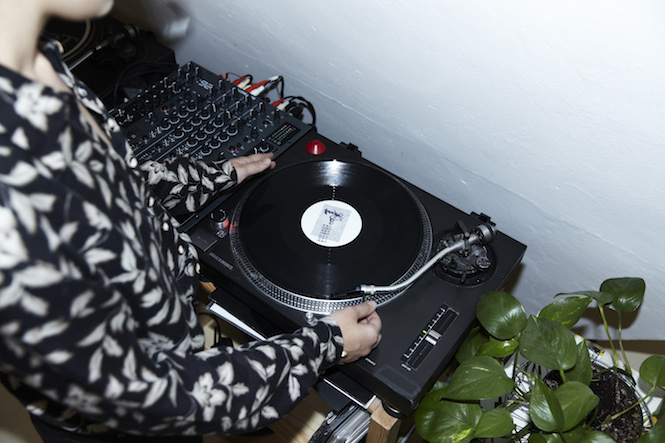 As it turns out you became a DJ, not a rapper. When did you go full-time?
Music has been my full-time job for almost a year now. I've been studying and doing internships in the music industry the last 10 years. I finished a BA degree in Music Management from the Conservatory in my mid-twenties, but before that I was interning at that record label and on the side I would have all these weird jobs selling kids shoes or vacuum cleaners to make ends meet. I got fired from multiple food serving jobs because I was too clumsy. I had the row of most ridiculous jobs while I was doing unpaid internships in the industry and then I was DJ'ing as well.
Do you now exclusively play techno?
Now I usually get booked for techno. I enjoy listening to house DJs a lot, and one of my favourite mixes in the world is a Floating Point's RA mix that's like four years old, which has nothing to do with the stuff I DJ. My sets are mostly techno but there will be breakbeats and classic electro references, though all within the darker realm.
Are you strictly vinyl or do you play CDs too?
I play stuff digitally as well for two reasons. I get a lot of unreleased stuff from my friends that I'm going to be releasing on my label so I play exclusive things digitally. And then I don't want to carry too many vinyl records because I'm a little bit afraid when I have to check-in my bag. I'm constantly in fear of getting to some gig and then my record bag won't be there. So it's a balance of packing my bag just on the tipping point of the 10kg that you can bring with you and then having everything else digitally.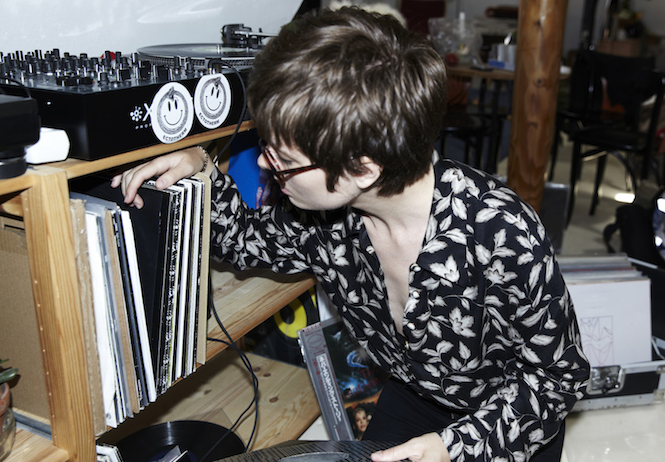 Have you got any vinyl horror stories from DJ'ing in clubs?
Clubs are generally good at taking care of their record players, but I've only played a few festivals where I didn't have problems with the vinyl setup. I played a big, really respected electronic music festival where the subwoofers were placed on the actual stage next to the booth and then they just put the record players directly on the table, with no isolation at all. There was so much feedback on the stage that the CD players by the end actually fell on the floor. This is how much the stage was shaking because of the subwoofers.
Tell me about your record collection. Is it all dance-stuff or do you own a range of stuff?
A lot of it is contemporary techno to be honest. My collection represents a bit from the beginning of my DJ'ing where I was playing indie and then crossover stuff and then I had a long period where I just DJ'd digitally. It's been about three years ago since I started collecting and playing vinyl again.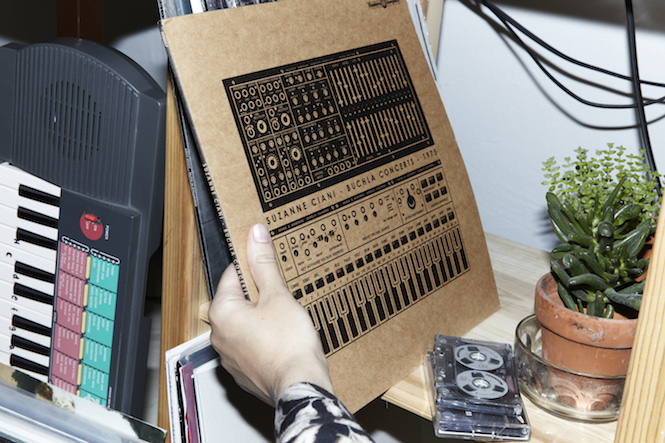 So they're all working records – as in ones you play out and DJ?
Yeah exactly. If I have records that's not DJ stuff, it's more like nostalgic albums like a movie soundtrack. And then I have ambient records which I also use for opening sets. In Copenhagen I've lived in a lot of temporary spaces which meant that is was not nice to carry around a lot of shit. So I have this thing where I don't like to own stuff I don't use. I'm not obsessed with owning a physical object. It's stuff that I enjoy playing and that's why I want to own it.
If you could only save one record from your collection, what would it be? Is there one with particular meaning?
When I was in Tokyo for a RMBA I bought this little DMX Krew 7″ single that's shaped like his body and he's holding two 1210s on his lap and wearing a New Balance T-shirt with long hair. I don't play that much novelty music but I love that record so much. I bought it during a massively life-changing period for me. I came out of a long-term relationship a week before I went to Tokyo. Feeling very Lost In Translation. And I was listening to a lot of DMX Krew, that single and there's an album where the first track is called 'Come To Me' and the whole album is heartbreak music. Those records are really important to me, they're the most heavy, emotionally tainted ones.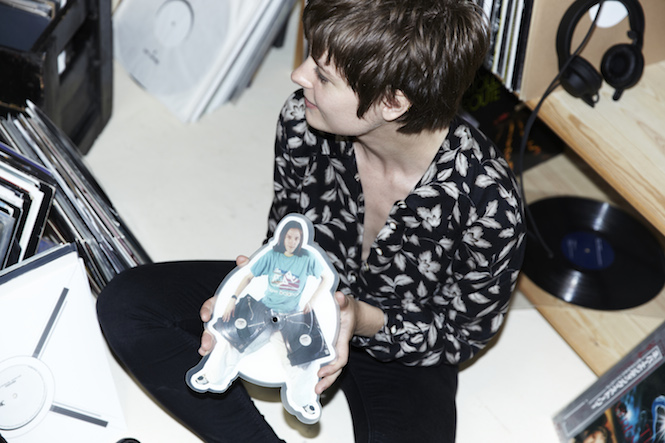 Do you have a go-to record for saving or re-energising the floor?
Lately I've been getting away with playing a lot of breakbeat stuff. Daniel Kohler put out a record called 'Sacred Realm' on Skudge, that one always works, and people usually ask for ID on it.
What's the thing that attracts you to a piece of music?
I'm not interested in playing anything that's going to clear the floors to make an artistic point. At the same time it's not like I will play a full on big room techno set, I'm aware I play pretty alternative music. My ears have just adjusted.
I just got a new album/compilation by Aleksi Perala called The Colundi Sequence. It's basically a guy that used to release on Rephlex (Aphex's label). Some of the stuff will have a four-four beat and then it has all these completely gorgeous 'scapes of little drippy bells and really beautiful melodic parts, but stuff with very few references to disco. Instead I find myself drawn to more artificial melodic stuff and rhythms.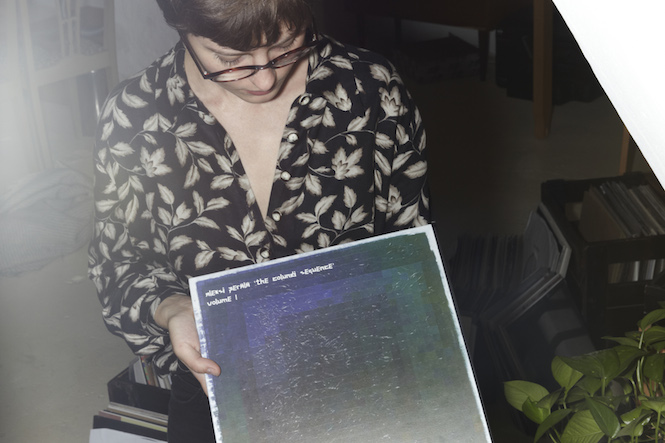 NHK's '941' is also a massive go-to for me, for the same reason why I'm in love with The Colundi Sequence. In a Scandinavian context I'm particularly excited about a lot of artists that come out of, or play on the aesthetics of noise, industrial and punk, like Post Isolation, Northern Electronics, Peder Mannerfelt, Klara Lewis, Puce Mary etc.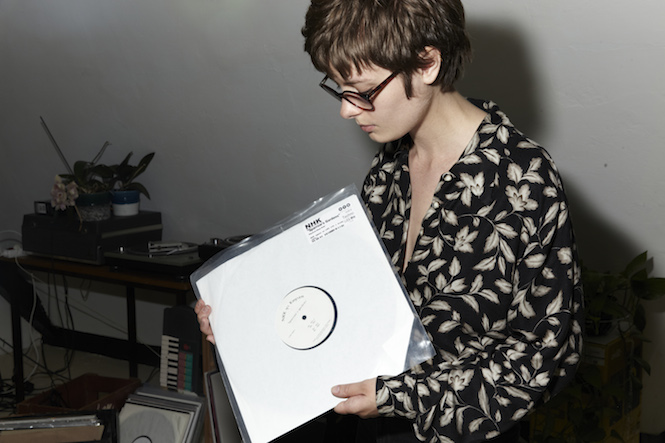 How is the vinyl scene in Copenhagen?
I fucking love Copenhagen. Throughout the last 10 years, since I've been involved, I've seen a lot of very good vinyl DJs here. But we don't have many record stores for electronic music. There's one second hand called Insula, they have a small selection of techno, quite a few trance records too. Then Posh Isolation have their tiny store but that's mostly noise tapes with a little selection of techno from their own distribution label.
Weren't you going to open a record store?
We were looking into it for a while. As it is now, people buy new dance music online here – instead of having a record store we have Facebook groups where people share and talk about new releases. You ask people who's ordering from Hard Wax or Decks or Juno and then you buy stuff for each other to share the shipping costs.
That's really nice.
Yeah the scene is really helpful. People are very supportive of each other and you have a lot of nice parties going on so it's kind of like a miniature version of what is going on in other capitals. Only half a million people live in Copenhagen, which obviously affects the number of potential scenesters attending an event, so for the most part there isn't big budgets to book big names at a party in a non-established venue. It'll usually be local names playing but the DJs are very good and a lot of people play vinyl here. We don't have proper record stores for electronic music right now but there's a very strong vinyl scene.
---
Photography by Emil Jupin