Published on
June 20, 2019
Category
Features
From Soft Cell and Incubus to tech house and Turkish folk, DJ and label head Bradley Zero Phillip has possessed a unique eclecticism since his formative years. We visited him at his South London abode to find out more. 
Growing up with a father who was a DJ, the art of bringing music 'on the road' – whether recorded or live – was subconsciously instilled into Bradley Zero Phillip from childhood. What shaped him was not only the influence of his immediate relatives around him, but also the deeply community-orientated parties and scenes where friends became like family. 
Moving to London over ten years ago, Bradley has instilled this spirit across everything he does – be it via his DJ sets, or his Rhythm Section label, radio show and parties. This trajectory has seen him move from university days working at Bar Story and playing in bands, to a stint at London institution Phonica Records, a pivotal role at Boiler Room, launching Rhythm Section as a regular show on NTS, as well as RS dances at Canavan's and a label, alongside DJing gigs around the world.
As he culminates the end of a 3-month residency at XOYO that has seen everyone from Lee 'Scratch' Perry and Dele Sosimi to Ikonika and Omar Souleyman come through the doors, we caught up with Bradley at his home in Peckham to discover what has shaped him as a DJ along the way.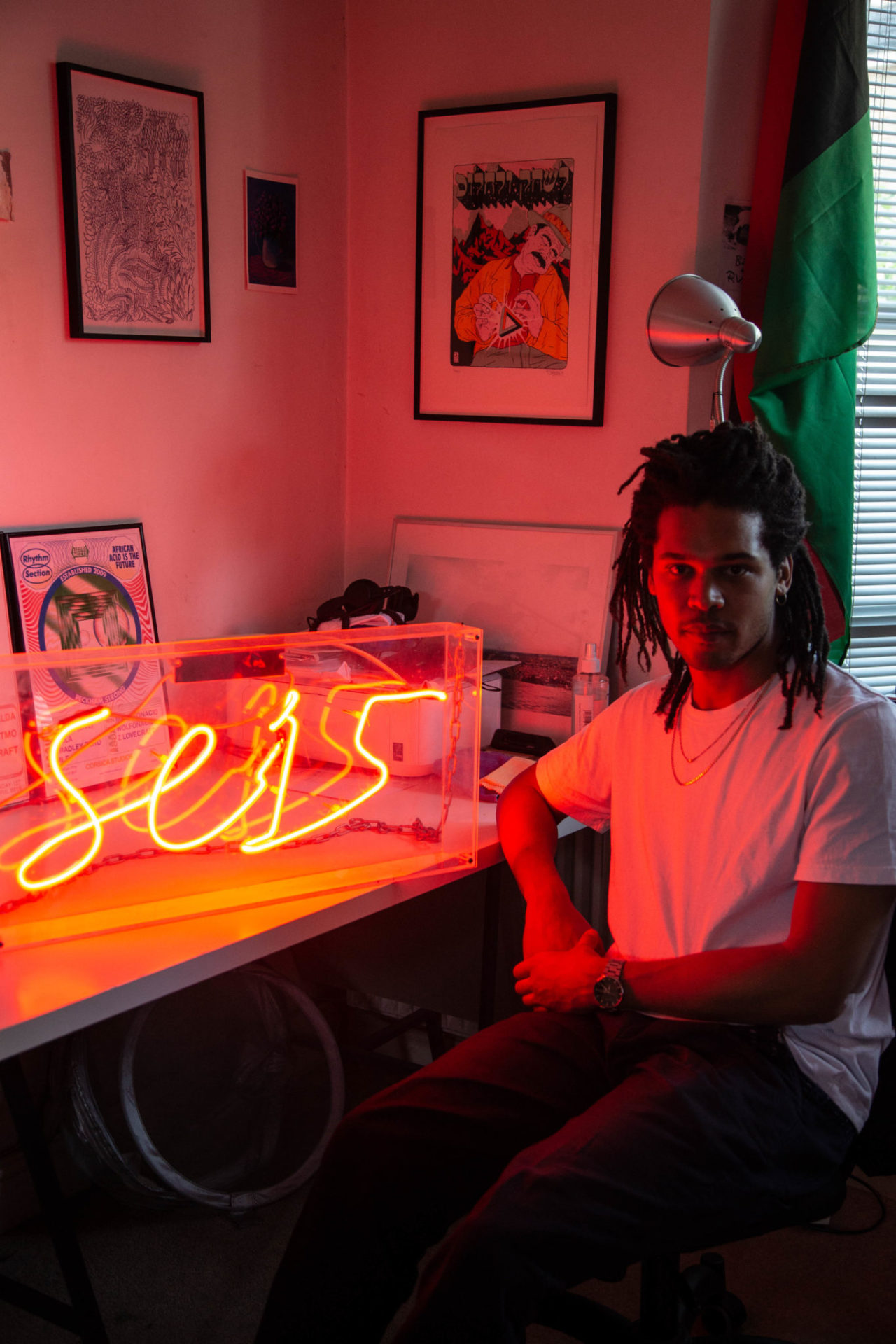 Did you have records as a kid?
My dad was a DJ, not quite the same way that I do. He's been doing it since the '70s, so the turntables I've got are from him. They're the first mark of Technic 1210s. Model 1s. I had them refurbished recently, and the guy was like "Wah-hoe, you don't see many of these now."
When did your dad give them to you?
Before I moved down to London. I'd started collecting records when I was maybe 15/16, but initially wanting to scratch, as I think a lot of people did back then. I bought a few battle records, and a few hip-hop records. I remember when that dream died, because I left them by the window on a really hot summer's day, and the sun came through and warped them.
Do you remember what some of those records were?
They were the kind of battle records with lots of different scratch samples and breaks. I had some Jurassic 5 too, because I'd seen them play at Leeds Festival.
What happened after your scratching dreams melted?
I got into a lot of minimal techno and house. I had a friend at school, James O'Boyle but we called him OB – and he was that person who was always one step ahead in terms of knowing what's up, kind of like a big brother that isn't your brother.
Did he have older siblings?
No, he's the eldest, but he was always one step ahead. We were 15/16 and he somehow got into minimal techno, in Wakefield. I don't know how that happened. So we were all listening to it together. I started buying loads of early Minus releases, and a lot of tech house – when tech house was actually experimental and exciting rather than just the same thing again and again. In terms of becoming interested in electronic music, DJing and mixing, that was when it started.
Where were you buying records from?
There was a store in Leeds called Tribe, and Darius Syrossian worked there in the basement. Not my kind of music now, but he was really enthusiastic. It was a record shop that was mostly rock and indie, but in the basement was all electronic music – he called it electronic house.
Electronic house, as opposed to?
Electro house? Tech house? But he was always about 'Electronic House' and he wrote a review on every record, by hand. If he had 10 copies, he'd write it 10 times. I got to know him because he was friends with my cousin.
I'd pop into there when I wasn't even old enough to go out. I've got some early Paul Woolford as Bobby Peru, a lot of Audiojack, and that continued when I moved to London.
Did your dad show you how to use the turntables?
Not really. We listened to records together but he didn't teach me how to mix. He was a very early adopter of CDJs, he's got the first ever Pioneer ones that have an open top lid, I think it's like CDJ500. He's also got the Technics CDJ1210s, the ones that have the spinning platter. He's got thousands of records, but by the time I was aware of them and interested, he'd stopped playing out with them.
My dad was doing more commercial events, family stuff, big weddings, and that kind of thing. He was from a time when being a mobile DJ was a bit more necessary. Nowadays you can just plug in your phone, hire a Function One system, and you've got everything that you could ever need. 20 or 30 years ago, you'd have to turn up with 10,000 records, and have a huge sound system, with valve powered amplifiers, you needed big lighting rigs, it was a big effort. That's what he did for most of my growing up.
Would he bring you to his gigs?
Sometimes he'd bring me to the more family friendly things, and I'd play with him. I wasn't mixing or anything like that. I was playing pop songs.
How old were you?
Like 12 or 13. But I didn't think of it as DJing I just thought of it as playing these songs that I liked, in an order, in front of people… which is all DJing is really, isn't it?
What were some of the songs you'd play?
It was like Now Greatest Hits, pop music, soul, funk. He's still got all of those CDs at home.  
Is that the kind of music you'd listen to in the house as well?
Yeah. My dad was into soul, funk, reggae, everything from the '80s. I had this little Fischer Price tape deck and I used to record music from the radio and make little playlists. There's one song I always remember which is Soft Cell 'Tainted Love', I was recording '80s new wave electro music.
Was that what you liked to listen to as a kid?
I was more into rock and metal. I went to Leeds festival every year from like the age of 13, and that influenced a lot of my taste. But at the same time, I was listening to minimal techno, and stuff like that.  I played drums in a band in school called The 77s. If you listened to it now it'd be a bit cringe, but when I think that we were literally 15 it's actually pretty impressive. We went to a studio and recorded in Huddersfield, with a guy called Steve Whitfield who worked on an album for The Cure. It was a huge deal, it felt like we'd made it. We only ever played around Yorkshire – Leeds, Huddersfield, various other towns – but we had a following.
We never thought of ourselves as promoters, but we were putting on gigs and half the year would come, there'd be a big queue.  Those were the first parties we put on, we never thought of it like that, it was just trying to get friends to come down to your gig.
Bands like System of a Down, Foo Fighters, Metallica, Pantera, Rage Against The Machine, that kind of thing. Incubus! I love Incubus – I think they're one of the only bands lumped into the 'nu-metal' scene that actually released some great music that still stands up. I could listen to Morning View now and not cringe. Their drummer José Pasillas is amazing. Whereas if I listen to Limp Bizkit or Korn, oh my god it's too much.
Were you buying records at the time? 
Yeah, I always had loads of weird bits and pieces in my collection. And I was never like mininal techno and tech house was my 'sound' though, that's just what was predominant then. At the same time I was really into reggae and dub because I'd been going to Sub Dub in Leeds.
Did you collect reggae and dub records as well?
I remember making a conscious decision when I was beginning to collect records to go one way or the other, because both of them are just worlds unto themselves.
When you say one way or the other, what do you mean?
Dub and reggae or house, disco, techno, and that side. It was a sort of crossroads for me, musically. I had two passions and I had choose one to really immerse myself in.
So what is Sub Dub?
It's a club night.  Well, it's more than a club night. It's a dance. I guess that was the biggest influence on Rhythm Section, because it was the first place I'd been that felt like a community get together. It happened in the West Indian Centre in Leeds, in Chapeltown – the Afro-Caribbean area of the city.
What was so special about it?
It felt like a family gathering. They'd be selling food from the kitchen. The bouncers would be selling weed on the door. You could smoke inside in those days. I used to go with my dad, my sister. Every year they'd have a skanking competition where people would dance for a massive trophy.
Is it still happening now?
Yes. Not in the West Indian Centre regularly, it's more in warehouse clubs in Leeds now. When I went there, every few months they had the DMZ Exodus parties – Mala, Skream, Benga, Coki, Sgt Pokes. All that lot would come up and play on the sound system. To this  day it's still the heaviest system I've ever heard.
How so?
It makes Aba Shanti feel gentle. Iration Steppahs is dub, but it's steppers dub. They way they describe it is 'Dubz inna year 3000 style'. It's techno production, with dub sounds. It's very tough, so loud that your eyes are wobbling.
OK, you've sold me with the eyes wobbling, I'm in.
It's quite special. You have to go, they come down to London every now and again, they actually played at my XOYO residency, with Mala. I tried really hard to get the venue to allow Iration Steppahs to bring their system into the basement, but they were not having it. It'd shake the foundations of the building, you'd probably get noise complaints from miles away. There was also the logistics of getting it downstairs, etc. I'm very excited to have had them.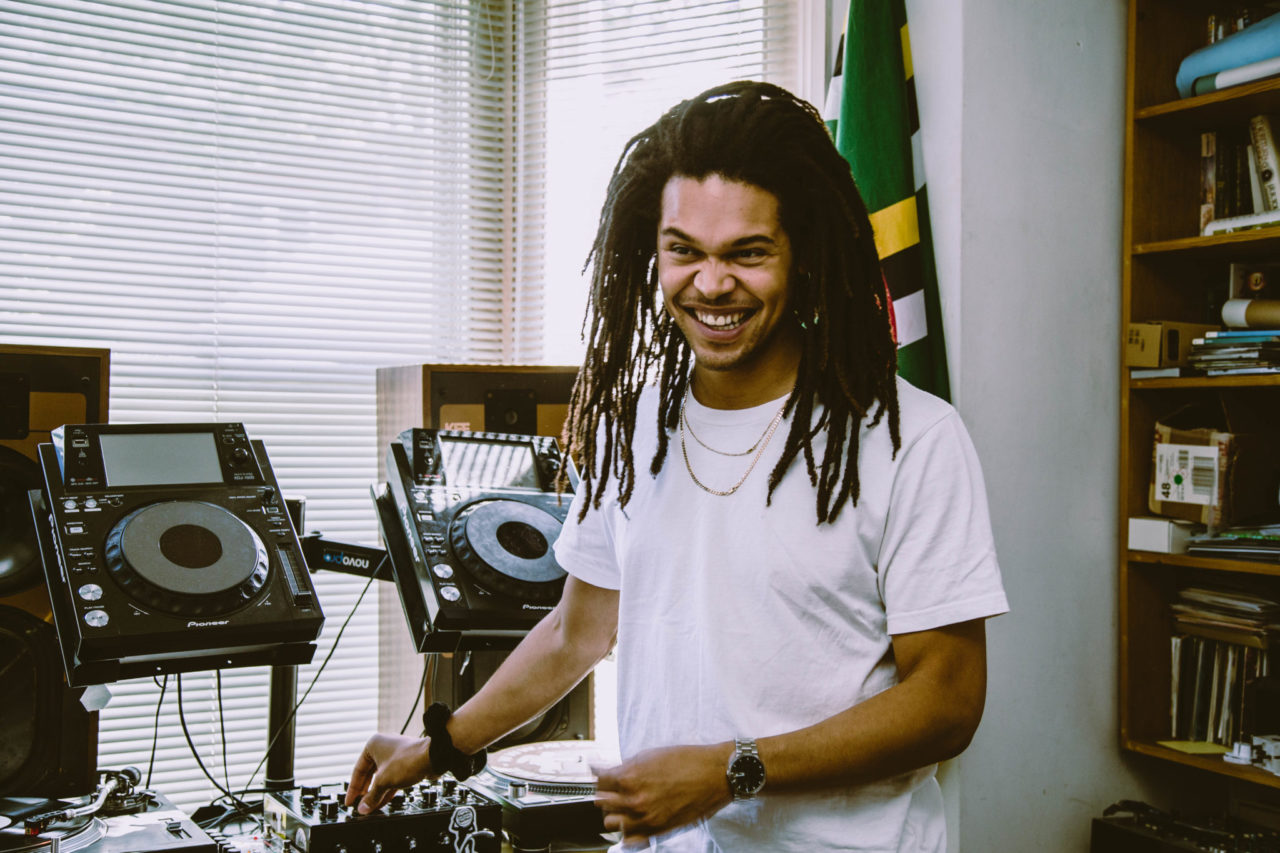 Going back to when you moved to London for uni, were you still playing in bands?
My second or third year of uni yeah – I played drums in a band called The Saudis that went on to become Fat White Family. By this time I was already DJing a bit as well. I used to work at Bar Story.  When I wasn't working on the bar I'd be DJing, that was my first residency I guess, because I'd pretty much play every Friday and then I'd work on Saturdays. But if it wasn't busy I'd just DJ and still get paid. "£5 an hour for DJing? Yesss!" Better than cleaning up glasses.
There were just two turntables, so it was all records, and that would be a chance to play the things that I'd been buying. It was a good practice for knowing your way around your own collection and learning to make a thread of music with a limited palate. That's a skill that's dying because more people are playing on CDJs for all sorts of valid reasons, myself included. But I think it's never quite as interesting as when you just have a few records to work with.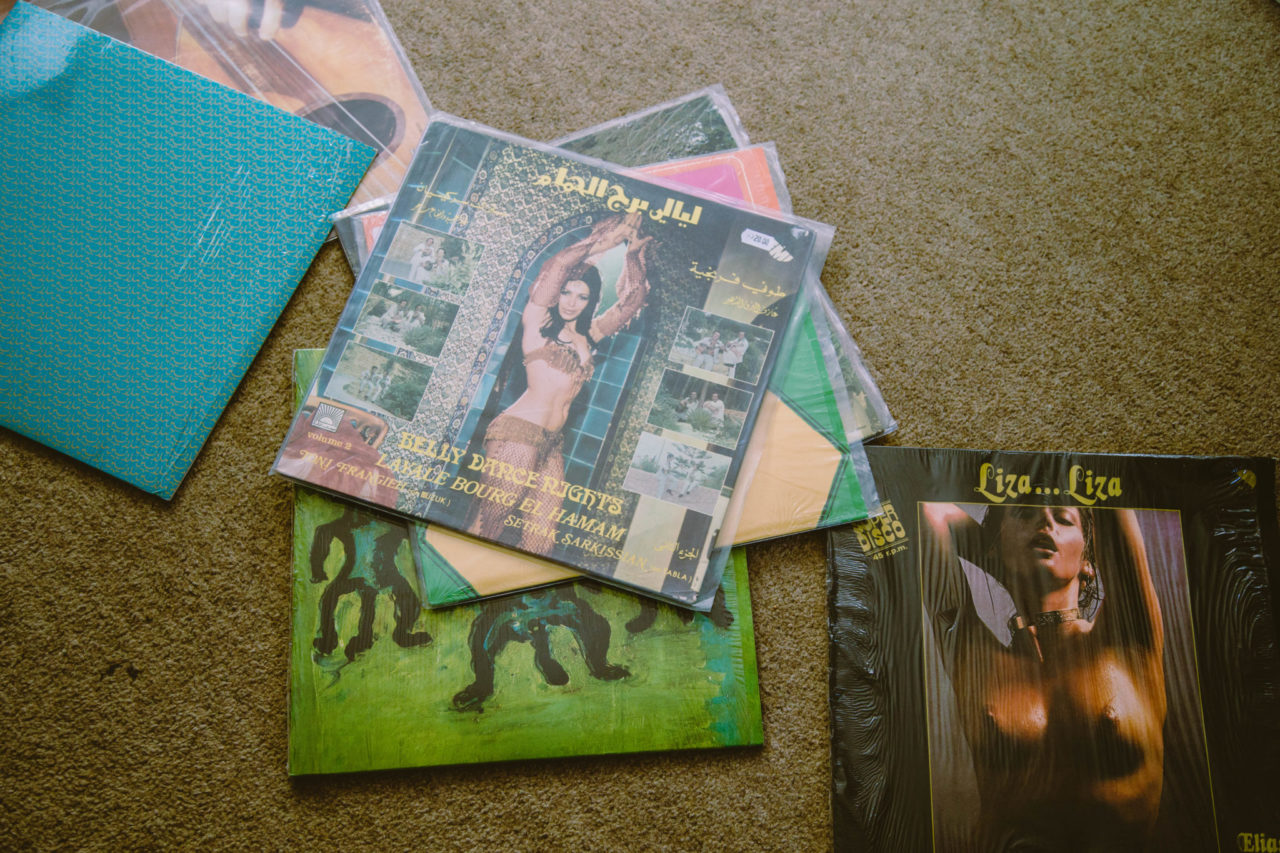 When you say a limited palate, do you mean because you have the records in your bag and that's it?
Yeah, if you have 60 records in a bag, you have to really think and be awake, present and it's like problem solving. Say you've got a record on that's 140 bpm, but you only have one other record that will go along with that tempo. So you have to think of a bridge to get you over to the next one, which is going to slow down. So you want something that's the same kind of energy, but a different tempo that has an intro… You have to think about all that. If you have a USB with 10,000 songs on it, then it's just like: arrange by 140 bpm.
I think you lose something with that. But I use digital stuff as well, and the problem is when you're traveling half the time the turntables don't work, or there's feedback…
They're not balanced, the needles are in bad shape…
There are a thousand things that can go wrong. So after the 100th time of spending a whole day packing a record bag, and going to different countries, and being excited to play what you've got and it doesn't work… again. You think: you know what I'm just going to prepare my digital stuff. But it does take a bit of the excitement away. You end up playing safer too.
How so?
You know what's going to work, and you can easily find your go to tracks.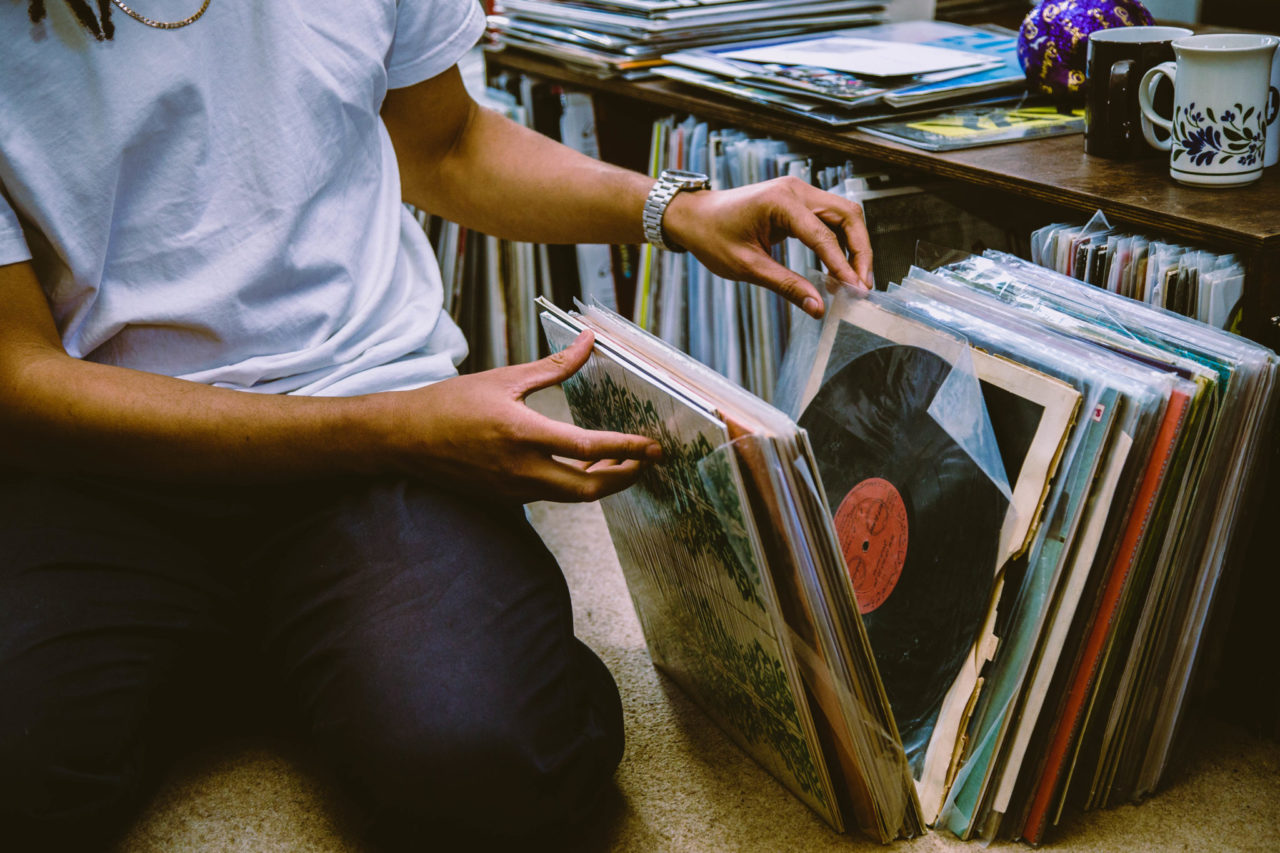 How do you prepare for those shows?
I spend at least a day every week just listening to promos, listening to demos, searching new releases. That's what I play on the radio, and then the things that feel right on the radio is what I will bring out for my sets, mixed with the things that I've got here, and the bits that I know will work in whatever scenario.
When I started I didn't use USBs, I didn't have Rekordbox… even back when I was working at Boiler Room, I'd be warming up for different people every week and didn't use CDJs. Because I thought: "I collect records, I know all my records." I'd spend time putting a bag together before every show, and I remember Thristian saying to me, "man, just make a playlist with the music you've been downloading for radio and then you've got it! If you ever need to reference back to it, you'll know that that worked with that thing, and you'll slowly build up a library." I was skeptical. Slowly that happened though, and now I like to use both.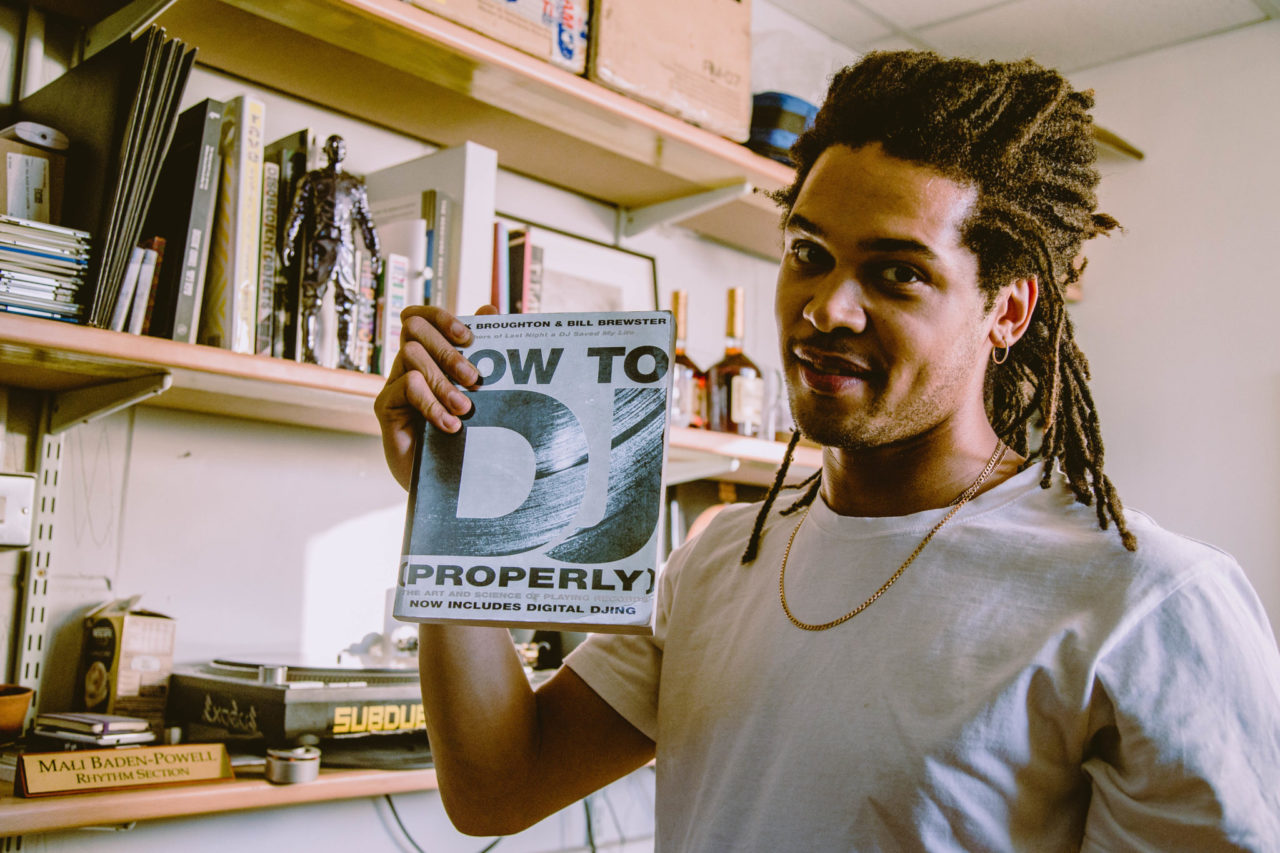 What changed?
Well, I do still like the challenge of just having records.  To be honest no one really sets that challenge other than at my own parties.  I've never played at anyone else's parties where they've said it's only vinyl. Whereas I impose that rule on everyone who plays at RS parties. There have only been like 4 or 5 exceptions over the 8 years we've been doing them.
Are people always open to that? (I guess they have to be if they want to play?)
Yeah, because people aren't used to that, so they'll spend a long time packing, they'll go through the whole collection, they'll think of all the different potential angles, set their mind on a box of records and it's not just another gig. I think that adds something special to RS parties. Originally we did it because we didn't have any CDJs.
What was your set-up during the early days?
I used to put my dad's turntables in flight cases and walk them over to Canavan's, and that was it. I brought my dad's sound system for the first gigs at the pool hall too.
These speakers look and sound very formidable by the way.
Yes. They've got this passive subwoofer at the bottom, so there's no driver behind there, it's driven by the air that is pushed out.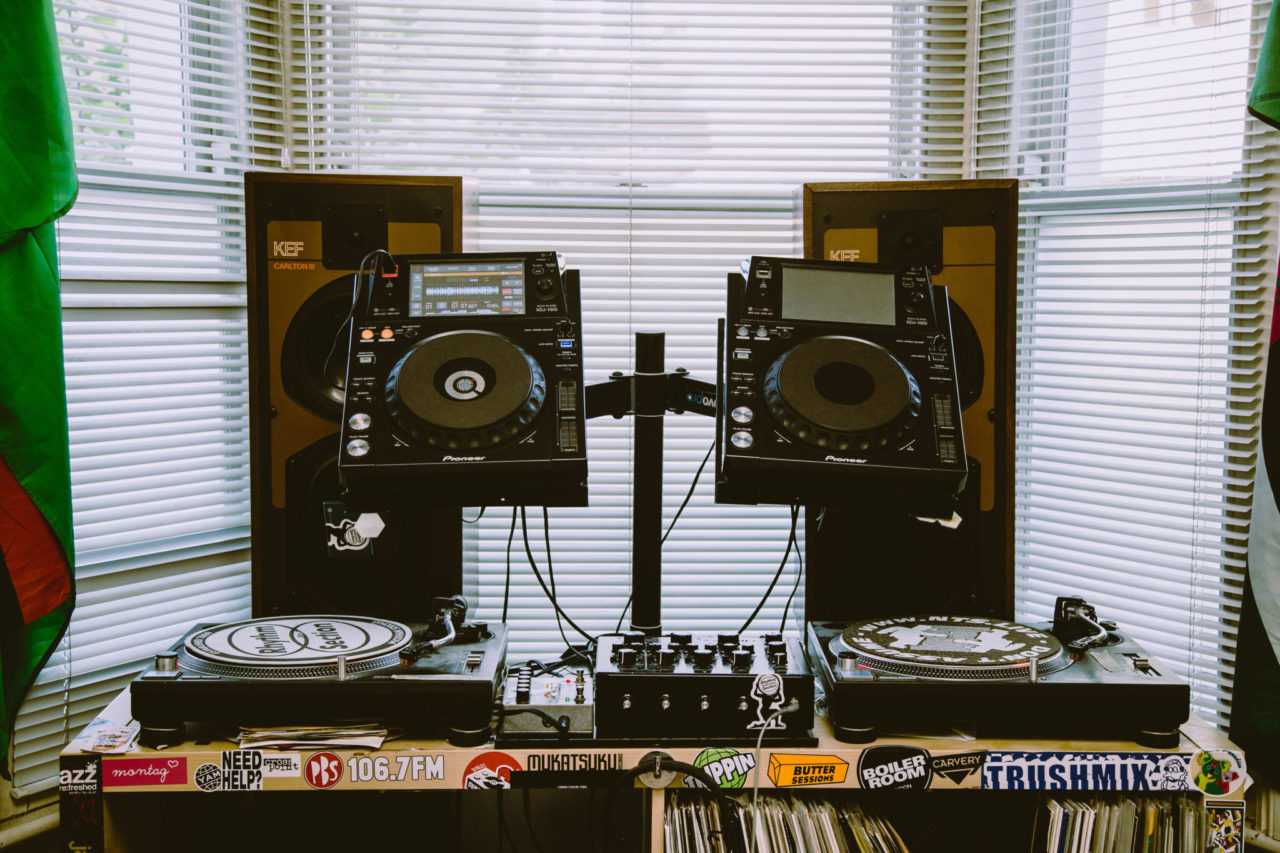 Tell me about the set-up.
The turntables are from my dad, as I mentioned, they're very early 1210s that haven't really been modified at all. I've got some modified ones upstairs, with Riga tonearm and a Grado needle, a bit more of an audiophile set-up. But these are basics. Going through an E&S mixer, which I bought off of Pearson Sound, with a Memory Boy Deluxe routed through the send and return effects to give it that delay. Two Pioneer XDJs, which I got from Pioneer in exchange for them using some Rhythm Section music, on their product demonstrations, with a touch screen which is really handy, and then the piece de resistance if you will – are these Kef Carlton III's – old speakers not that expensive, the passive subwoofer is driven by this beautiful amp which is a quad 606, classic British solid state amplifier.
I also have a tape deck for my small collection of tapes that I got from Mali aka Z Lovecraft. But the digital side of things is strong as well.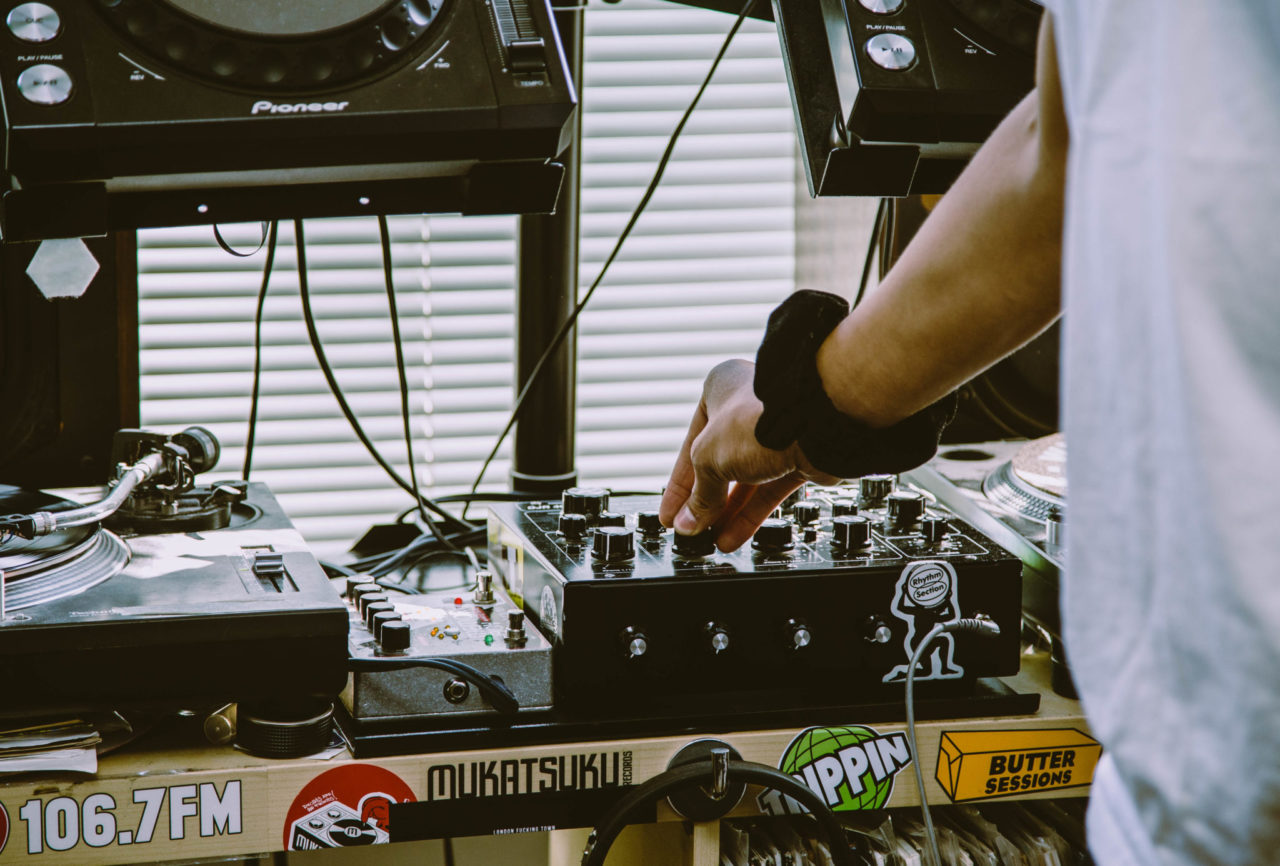 Do you prefer rotary mixers?
It depends how you play it, if you're playing quick fire mixes, and layering multiple channels and effects, then Pioneer. You have to listen more with something like the E&S, because there are no built-in effects. It's an exercise in letting the song breathe and finding the right time to blend. However, I do often use the mixer with an outboard analogue delay.
This is the kind of thing I always use at RS – it's a Memory Boy deluxe. It's a very noisey, screechy, rather unpredictable little unit that goes back to the dub aesthetic I grew up with. Plug a mixer into it and you're off.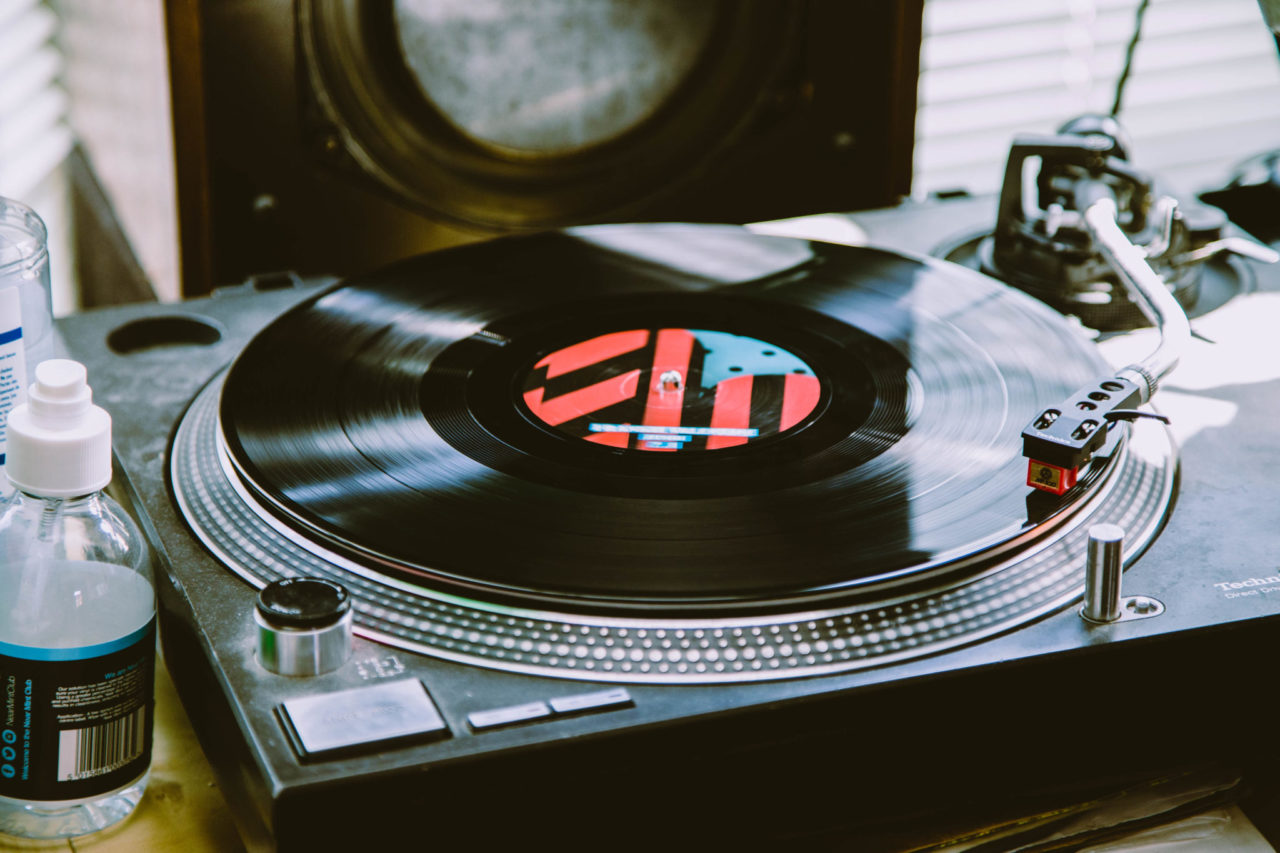 How were you moving between these songs and different styles technically?
I think at first I was beat matching, and then once you learn how to do it, and realise it's not that hard, then it's just more about the selection. Because scratching is really hard, but beat matching isn't, really.
Although house and techno is what got me into DJing – it's very rare when I'll do a set where I just play one style of music. By the time I started parties, I was already a bit bored of going out and hearing sets that were just the same thing all night long. That was why I wanted to mix it up myself in my own sets.  
It sounds like you prefer to play on records?
Well, I prefer to have both now, because I play so much new music – that's my thing. Mainly through my Rhythm Section radio shows, which I do twice a month on NTS. I play new music that's just come out or is about to be released, and that excites me. Finding new stuff is doing a service. Who are you really serving if you're trying to find the rarest 12″ record that was released in 1974 on a test pressing? Who is that benefitting? This person is probably dead, or doesn't make music anymore. There's so much good stuff all over the world, sharing it is a key thing to what I do. While digital is now the way I receive a lot of new music, it's owning the record that somehow immortalises this discovery. That's what makes collecting special to me.