Published on
October 23, 2018
Category
Features
From techno with pals at T in the Park's Slam Tent as a teenager and being the first UK club promoters to book Villalobos in his early 20s, to being influenced by Afrofuturism, founding Highlife, and releasing his new album on Brownswood, we head to the home of Auntie Flo to trace his musical journey and the records that have shaped him along the way.
Some would say Red Snapper, Mogwai and Jeff Mills are quite eclectic tastes by the age of fourteen. Brian d'Souza aka Auntie Flo's DJ sets and productions have always been a conscious strive to try and present something new, and this has stemmed from a desire, from a young age, to relate with current musical culture. Connecting the dots with the music that has come before truly allowed d'Souza to find his own sound which his night and label Highlife are testaments to.
Ahead of the release of his third full length album Radio Highlife on Brownswood,  and an in-store at Phonica Records this Wednesday 24th October – live streamed on The Vinyl Factory Facebook from 8pm GMT, d'Souza invited us round for tea and a look back over his musical journey from informative 24hr Youtube Glasgow afterparties, to a recent rediscovery of his love for vinyl.
---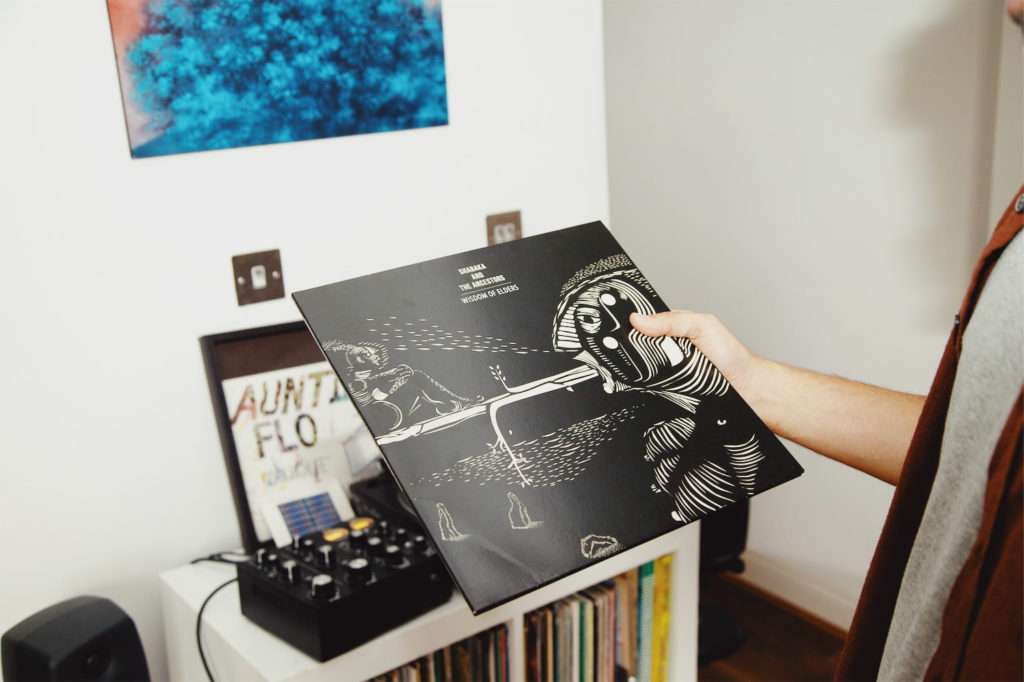 What was the first record you played today?
It's actually still on the deck. I was listening to some morning jazz, Shabaka Hutchings, who didn't win the Mercury music prize with Sons of Kemet unfortunately.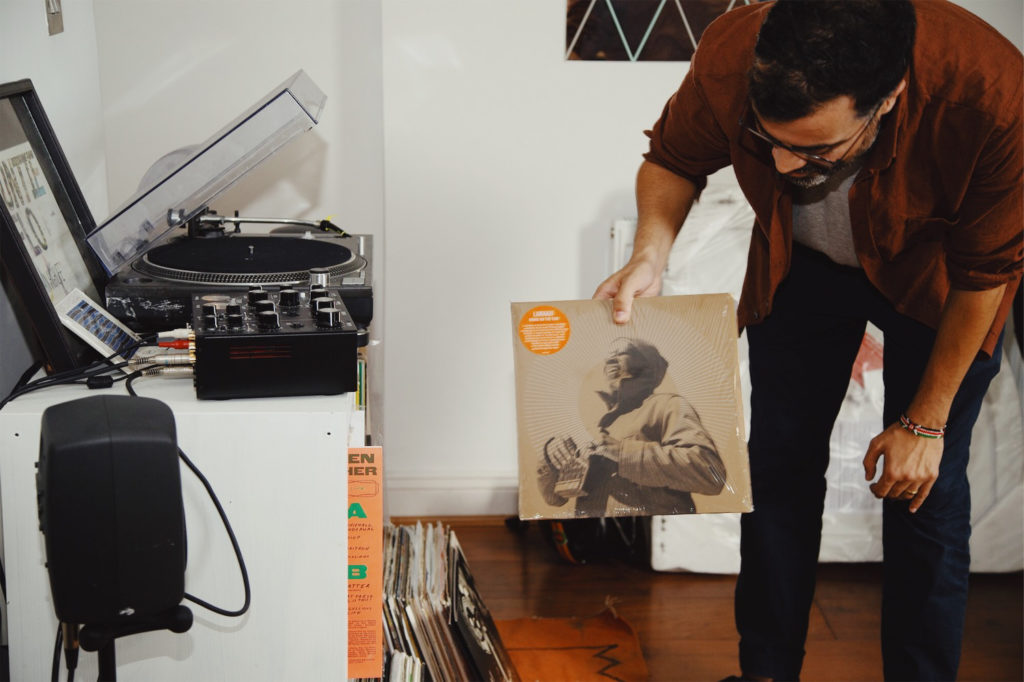 Any reason in particular you played this one?
I have a lot of more ambient stuff for mornings as I usually get up and do a bit of yoga, stretches, so I put on a bit of this (Laraaji) and this (Petre Inspirescu). It's the best way in which I handle London, otherwise it gets too hectic. I've fallen back in love with vinyl this year. I've bought more vinyl records probably than any other year. I rediscovered I really like listening to it.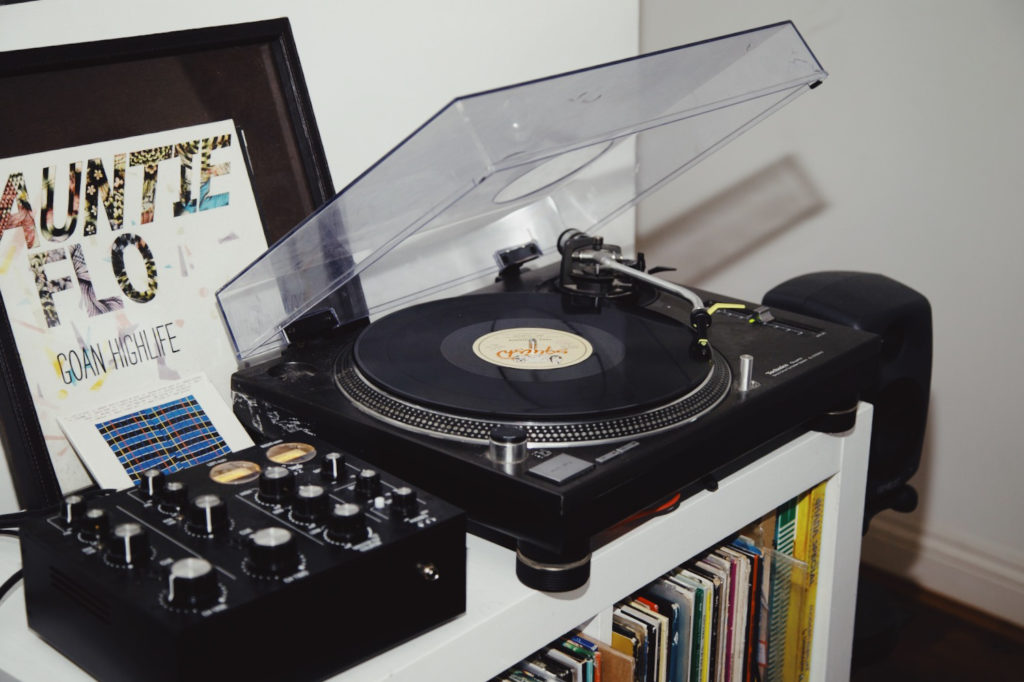 It's a refined setup…
For ages it was pretty shit and I thought what am I doing here? I'm constantly talking about the quality and value of good sound and I didn't have it myself so I bought a MasterSounds mixer and a new needle. I wouldn't consider myself a total audiophile but this just really improved my setup. It's been amazing and has lead to me buying loads more records.
What would you say first got you into records?
I properly got into music in my early teens, I'd stay up all night listening to John Peel, writing notes of every track I liked. I'd go to Fopp in Glasgow armed with a list and my pocket money and buy records and borrow my dad's turntable to listen to them.
So your parents had vinyl? Did you dip into their collections?
Yeah there was vinyl but my parents didn't really collect as such. They're relatively into music but not in a massive way.
Sometimes at that age you push back a bit on what your parents are all about, that happened for me and their music. Not based on the music itself, just the fact I wanted to push back against what my dad was into. I've actually come round and think Van Morrison is great now – sorry dad!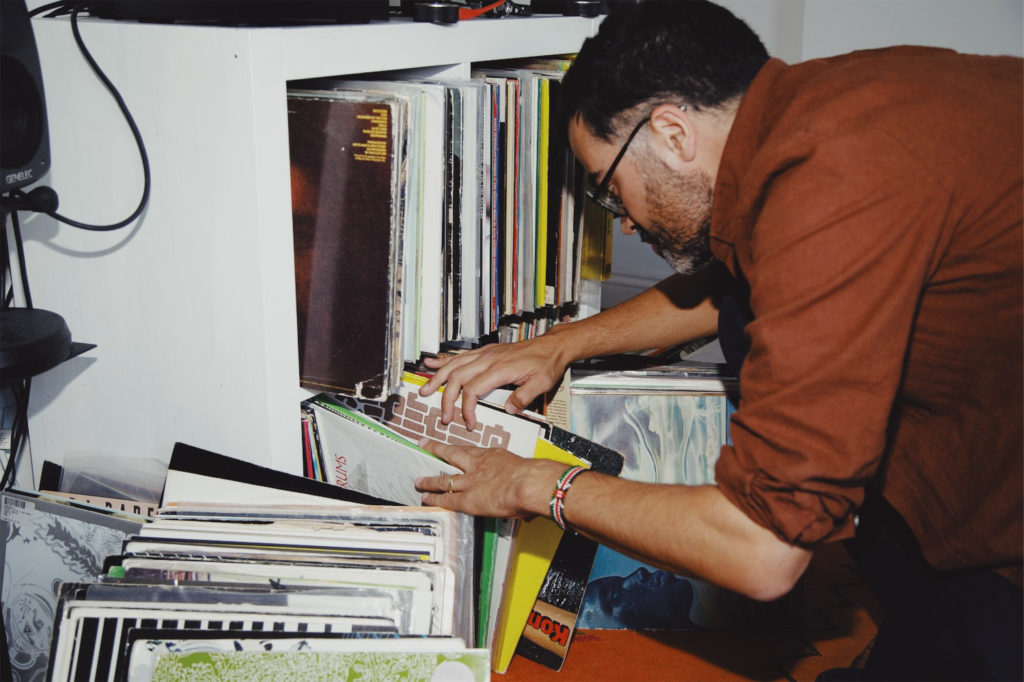 So older music wasn't an interest?
I've always been into new music, I've really had to force myself to go back, which sounds ridiculous as a collector, but I just felt like there was so much stuff that was happening now, that I had to go and listen to that first. Music that is happening now is representative of the culture that is putting it out, and that's what I wanted to discover. To do something different, go on my own path.
It's the same with my DJ sets, if someone else is playing a record, then I don't want to play it. I feel it's my responsibility as a DJ to play different music. We're all dedicating a lot of time and money to listening and searching out music, so the responsibility is not only to play it in a way that works in context, but to introduce people to different stuff they might not have heard because they haven't had the time.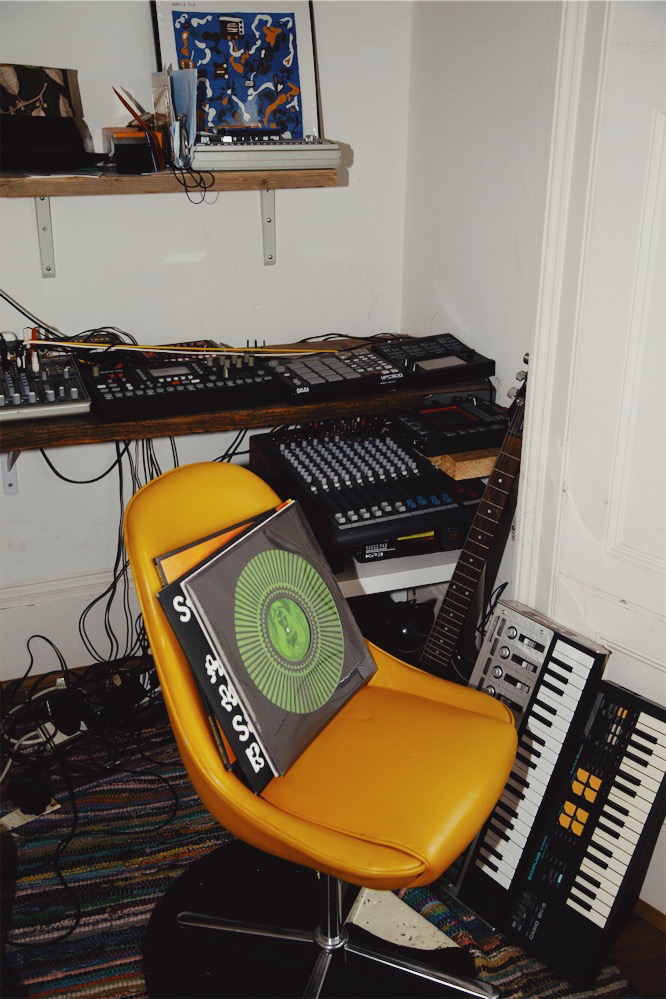 Any memorable experiences of the culture at this time?
I remember going to Tea in the Park around the age of fourteen. For a while I was this weird kid whose music taste no-one got, but I went with two friends who were kind of closest in their music interests to me, but not really. Blur and Mogwai headlined and Jeff Mills played in the Slam Tent.
Jeff at Tea in the Park?
He's massive in Scotland, every year he plays at Pressure. But it was just mental slamming, industrial and super loud, just so alien. We just stood at the back and thought: 'I don't understand this at all!'
Makes sense at that age!
That's when techno crept in, for me certainly. I remember the year afterwards going to the first Homelands festival, which was a big all-night dance music festival in Hampshire. Me and a friend went down and that was our first insight into dance music culture, people were offering us drugs! I was just into the music, it wasn't to go and party or get fucked up, I was pretty naive.
So do you organise your records in any sort of way?
I know where things are but it's not organised. I have my LPs in one place, a load of Italo records over here. (Puts on Mr Flagio – 'Take a Chance'.)
This pile here is all my carnival stuff which is various soca and latin, Caribbean stuff, DJ Gregory, Diplo on Big Dada with Vybz cartel..controversial.
This is the Auntie Flo releases section (points to his bedroom shelf). The first and second album, the first Highlife record, the first ever SOPHIE record we released, and my Philomena release which has really nice artwork.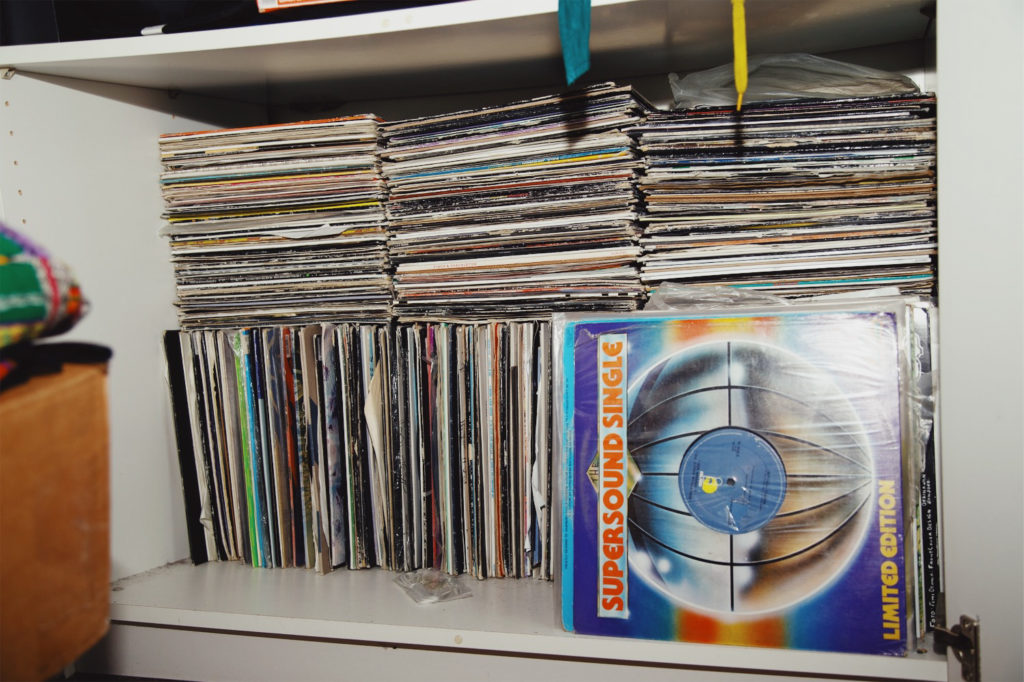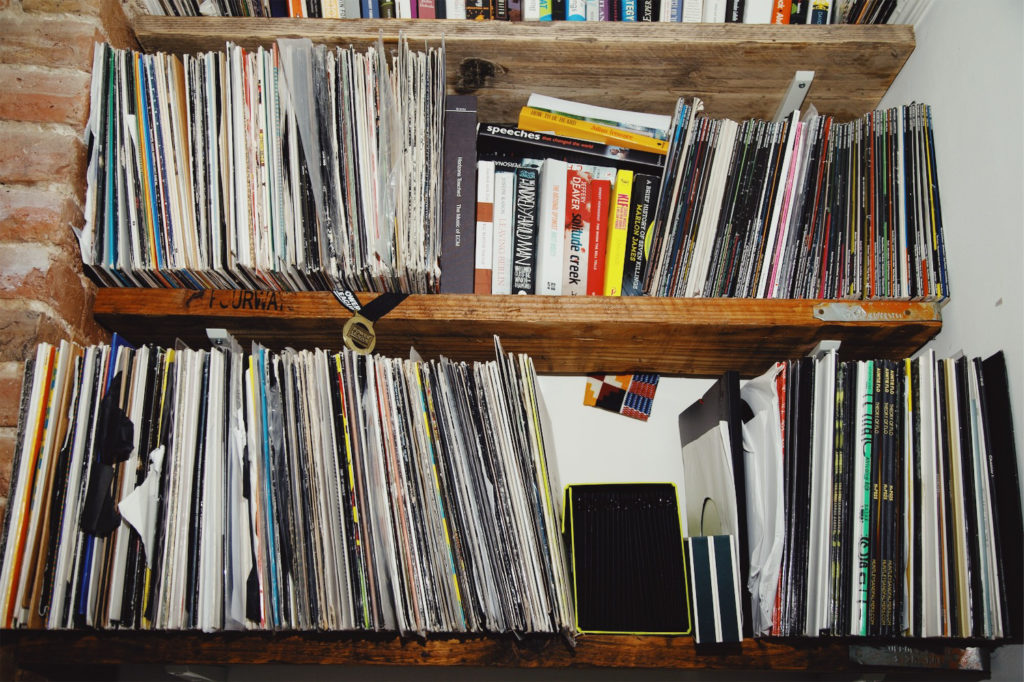 You've journeyed into a few styles over the years?
Yeah, so I had a residency at a place in Edinburgh playing dubstep, but that didn't last long, I was also a resident as part of a night called Slabs at the Tabernacle in Glasgow, this was really informative for my musical education because these three mates of mine introduced me to Italo disco. They were really into Detroit and Chicago house, and proper electro stuff too.
Who were you being introduced to?
Well I warmed up for Casco who is an Italo legend, one of the originators. Then we booked a lot of the Rotterdam type players, David Vunk and Mark Du Mosh. All those Clone Records type guys used to come and play; they played the more Legowelt, machine funk and electro funk sort of stuff. Then we would go into more Detroit techno – we had Buzz Goree and a few of those underground resistance type guys who would come and play banging techno sets. This was probably when we were partying the hardest, start on the Friday, go on till Monday.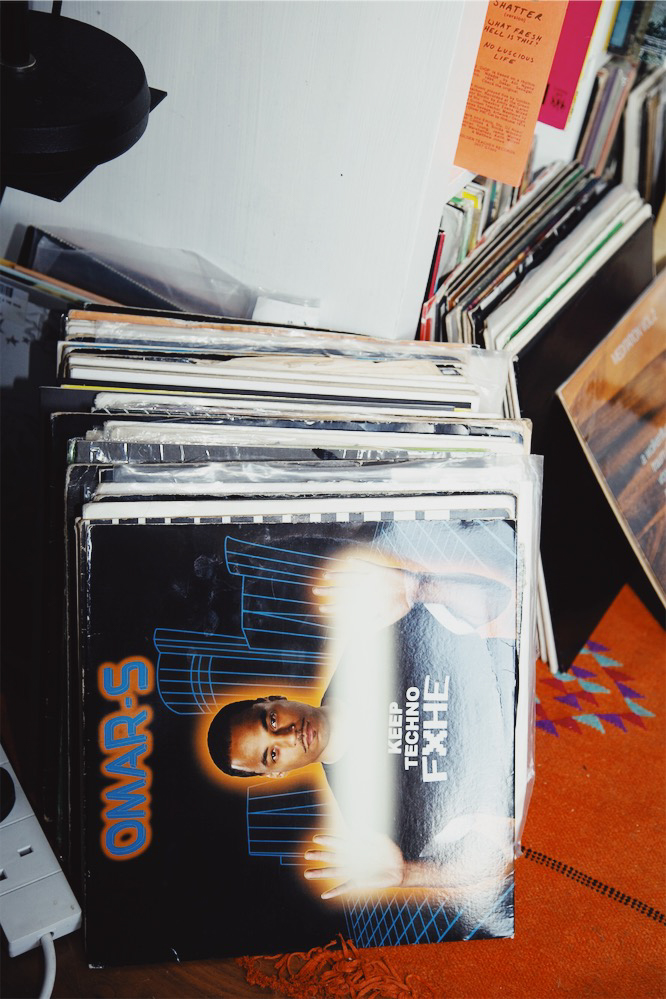 That is hard…
Yeah it was pretty crazy, that was proper Glasgow partying. Our night was monthly and we'd go and play at other nights that people we knew put on, they would also come to ours and then there would be continuous after parties, it was relentless. The quality of music was just amazing as these guys were so knowledgable. It was a revelation as it made me realise there was so much older stuff that was better than what I was listening to at the time.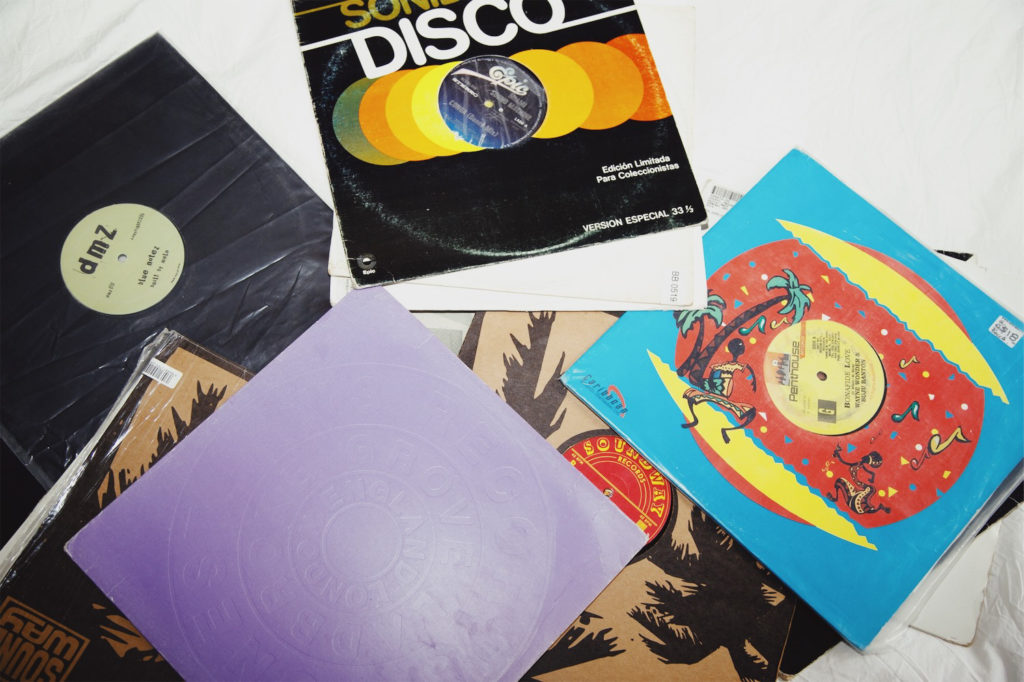 When did your interest become more global then?
It sort of transitioned from there really. I did the dubstep thing for about two years. It was pretty big in Edinburgh, we used to sell out 700 cap venues. Slabs ran for about four years, three of those were relentless partying and we built a great community, Magic Wave in Brighton and John Heckle and Headfront Panels from Liverpool.
Eventually we moved on. At that point I was friends with Andrew Thompson from Huntleys and Palmers and we had been chatting around our music tastes and it just to happened that we had aligned a lot around finding music from different parts of the world. That was purely because I had spent four or five years listening to house, techno and disco.
Were you producing at this point?
Not quite, I'd done a bit before as a student as Auntie Flo, but that is another story.
Pray tell…
At uni I ran a night called Pogo Vogue in Edinburgh which we loosely modelled on Warp records, but we were the first club in the UK to book Ricardo Villalobos.
No way!
It was my 21st birthday and at the end of his set we realised we still had some time and he asked me if I had a song. I'd just finished my first ever production so I thought fuck it and put it on, it was probably the best moment of my life, it went down really well. He asked me for it the next day and he started playing it in a lot of his sets.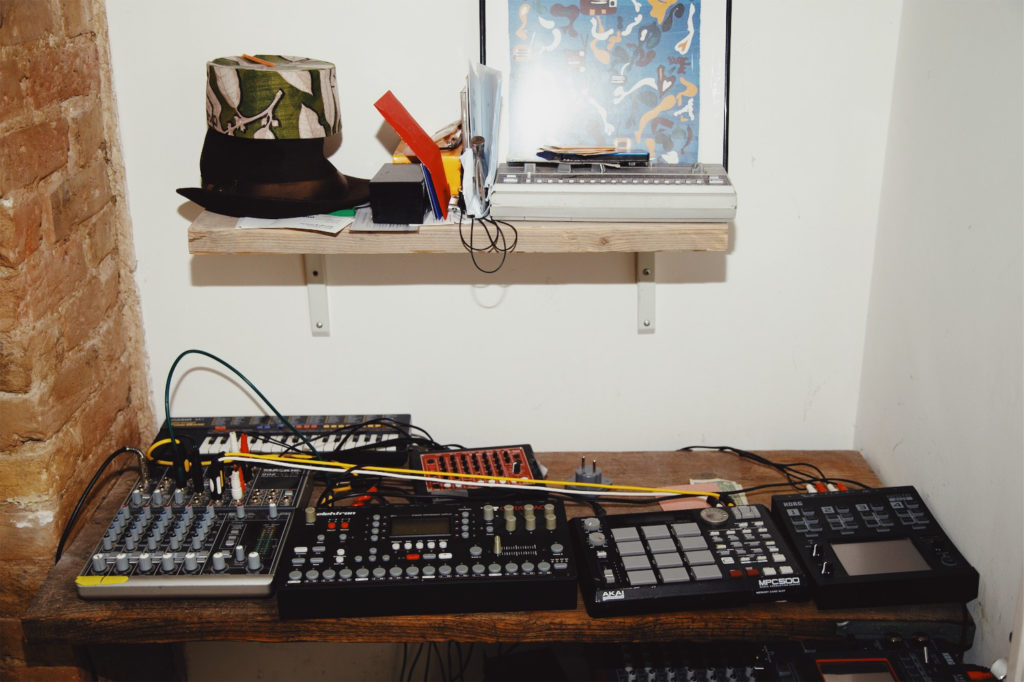 Dream, where is it now?
It never got released. My computer crashed a little while afterwards and I lost all the parts. I tried to recreate it but it was impossible.
Okay, so veering back…
Yes, we started Highlife in 2010, a few years after Slabs. Matias Aguayo of Comeme was a huge influence, as was Soundway Records. This is in fact where the name came from! (Ghana Special: Modern Highlife, Afro-Sounds & Ghanaian Blues) It wasn't because of the genre but about living the high life.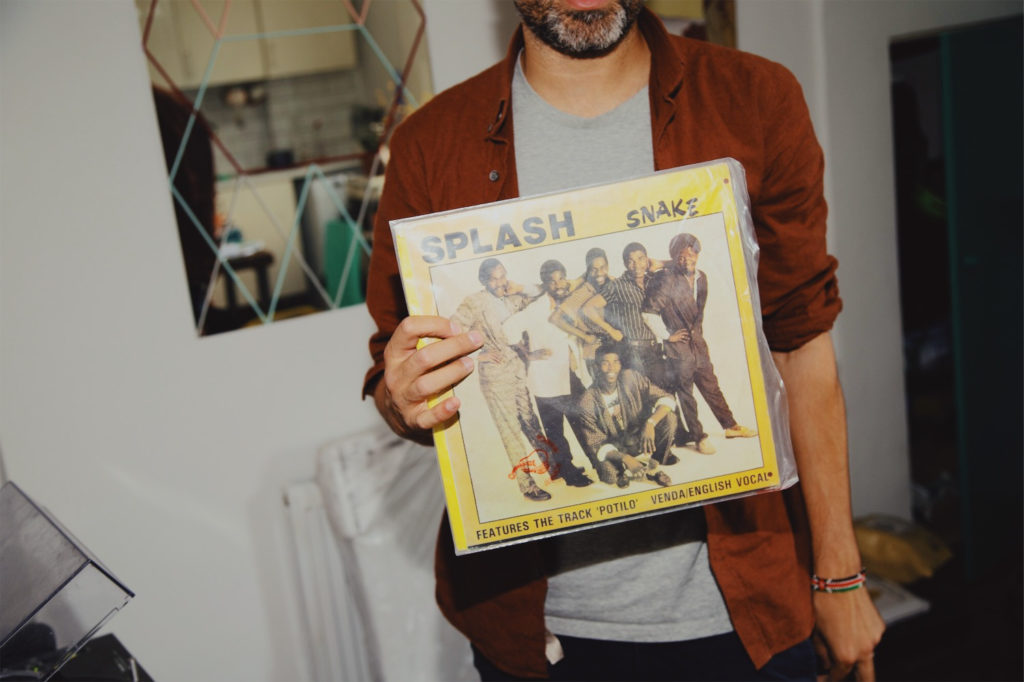 Is this when you started collecting stuff from all over the world?
I had been a little before but Highlife really propelled it. We took the same approach as I've mentioned before; funnily enough it's kind of come full circle as I'm releasing on Brownswood; but we looked at Gilles Peterson who plays world music and we thought lets release the music he doesn't do. Gilles' music is very percussive, a bit of latin – really great, but in Glasgow it wouldn't work. You need a kick and that four/four energy because the clubs are finishing at three am, so you don't have much time. Straight to the point, no fannying around, "here we go", "taps aff" and all that sort of stuff. As a DJ growing up there you have to learn to play like that. That's why its so great for any DJ to play there because if you play with energy you get a response. On the flip side, travelling around and not getting that from the crowd is something I've had to learn.
So Highlife helped you explore?
Highlife felt like it was one hundred percent me. I was more inspired to produce records that I could go and play on Highlife. I had the freedom to do anything. I used to have this blog called Afrofutures that was inspired by the concept of Afrofuturism, which mixed the old with the future, the travel through the Black Atlantic. The real origins of music from a tribal and ritualistic perspective to everything, from all the Latin and southern American music styles, to blues, and back into house in Europe. That to me is everything, and meant having freedom within a framework that makes sense from a creative point of view.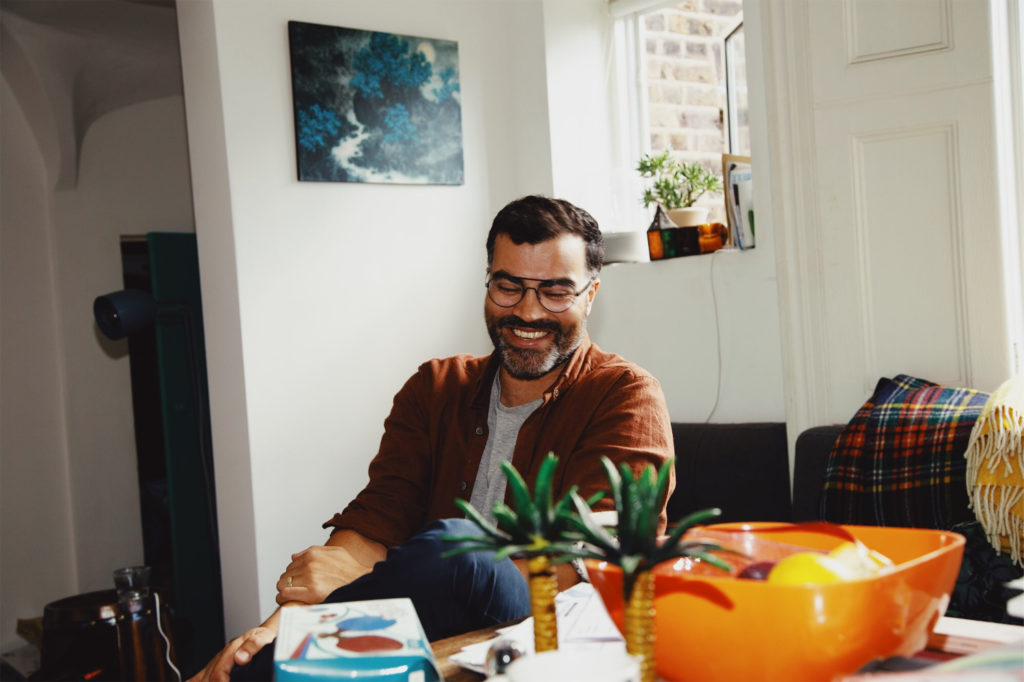 Which records were important in this phase for you?
I have this collection of the first Comeme records, I've literally got all of them (sticks on Comeme #6). This blew my mind – Daniel Maloso is from Mexico and all these Latin American artists, they're basically making Italo but in a Latin American style – it made me think maybe there are all these pockets of scenes going on all over the world that I just don't know about. I was joining the dots between me being into Italo, electro and house and finding this elsewhere around the world. The label has changed now but those first six or seven releases absolutely transformed my path in music.
This is another one that transformed my life (picks up Charangit Singh), this album was basically acid house before acid house. With both of these it was music that didn't sound like your concept of what you thought Mexican music or Indian music would be, and that is exactly what I was trying to do with Highlife. It makes you rethink and reinvent your notion of music from that place.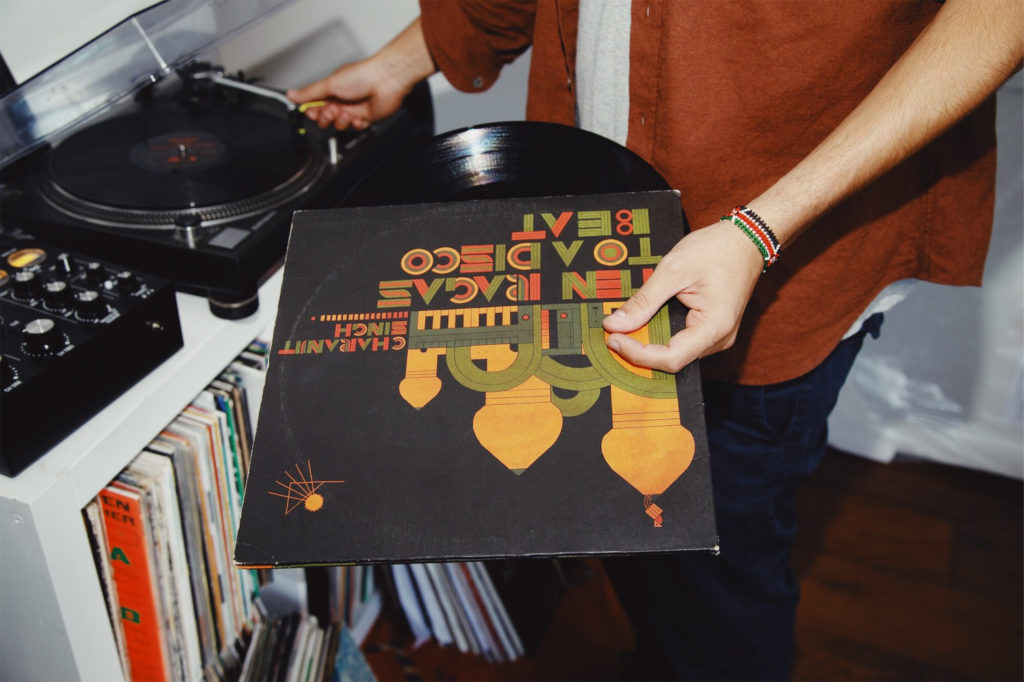 On one of my trips we went to Cuba to play, and also got some studio time. This guy Juan Blanco (holding album Música Electroacústica) is a pioneer of electroacoustic music from Cuba in the '70s and 8'0s and he established a studio called the Laboratory of Electroacoustic music which still functions today, some of the new album was recorded here in fact. This music again completely challenges your perception of what Cuban music is, I found it in a flea market in Havana.
Are there any records you've bought and gone on to question later on?
Arguably all those records are sitting in my mum's house! But even if the record isn't good it's a memory and that's what I really like about going record shopping when I'm travelling; it's picking up memories of that trip. I could probably tell you where I bought very single one of my records.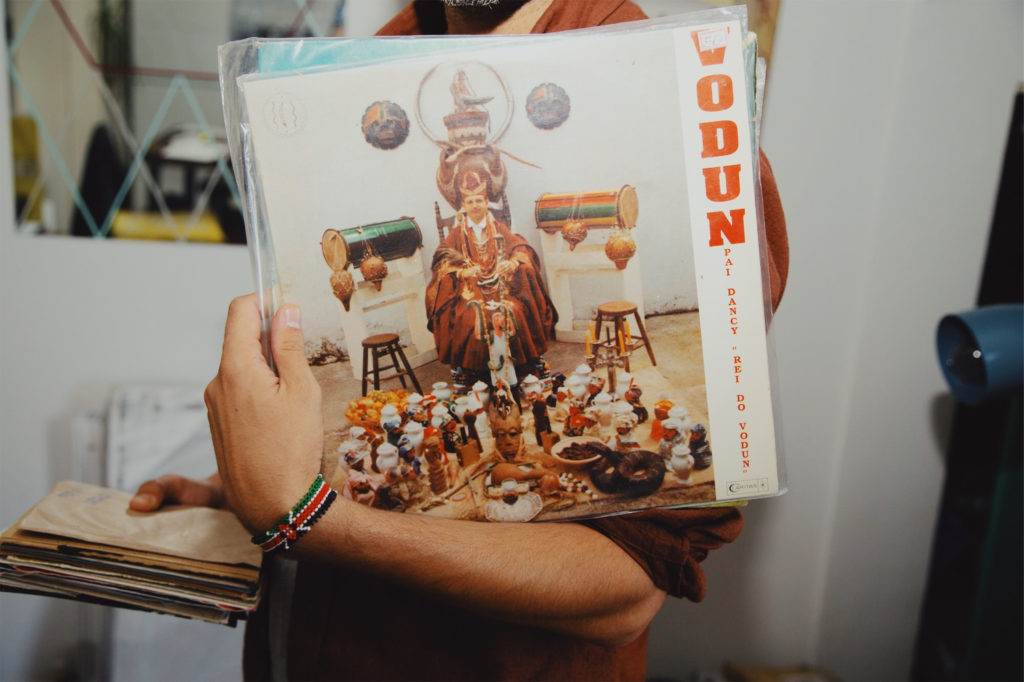 This one (pulls out Pai dancy – Rei do Vodun) I got in Sao Paolo – the store is run by a blind guy and he just knows where every single record in his store is. You'd ask him for a particular style of record, and he'd pick out a few for you to listen to, it's incredible.
Radio Highlife is out now on Brownswood.
---
Photos by Ceili McGeever for The Vinyl Factory.