Published on
July 3, 2018
Category
Features
At home with the DJ and Eglo Records boss.
Alexander Rogers aka Alex Nut is just thirty seven years old, but he carries himself like an elder. Twenty years is a long time in dance music and much has changed since he wrapped his records in a curtain to transport them to his first gig in a Wolverhampton pub.
Enticed to DJ by New York's classic hip-hop figureheads, intoxicated by grime's pirate radio culture, obsessed with Ghanaian highlife and schooled on the soul of Stevie Wonder and Evelyn Champagne King, Rogers' journey through music is as wide-ranging as his sets, which can jump from South African bubblegum to garage in just a few tracks. As long as it feels right, anything goes.
An outspoken advocate for community driven club culture, where passion and love for music trumps the showy world of the Discogs "selector", Rogers is as dedicated a member of the UK music scene as you're likely to find, and while Eglo Records – the label he started with Floating Points back in 2009 – goes from strength to strength, it's DJing which still keeps him fresh: "It's like meditation, and is definitely one of the things I enjoy most on this Earth."
Ahead of his performance at Dimensions Festival next month, Rogers invited us over to show off his P-Funk tattoo, make the case for Curtis Mayfield and re-trace the steps that have taken him from being a pot washer in Wolves to working with idols like Steve Spacek.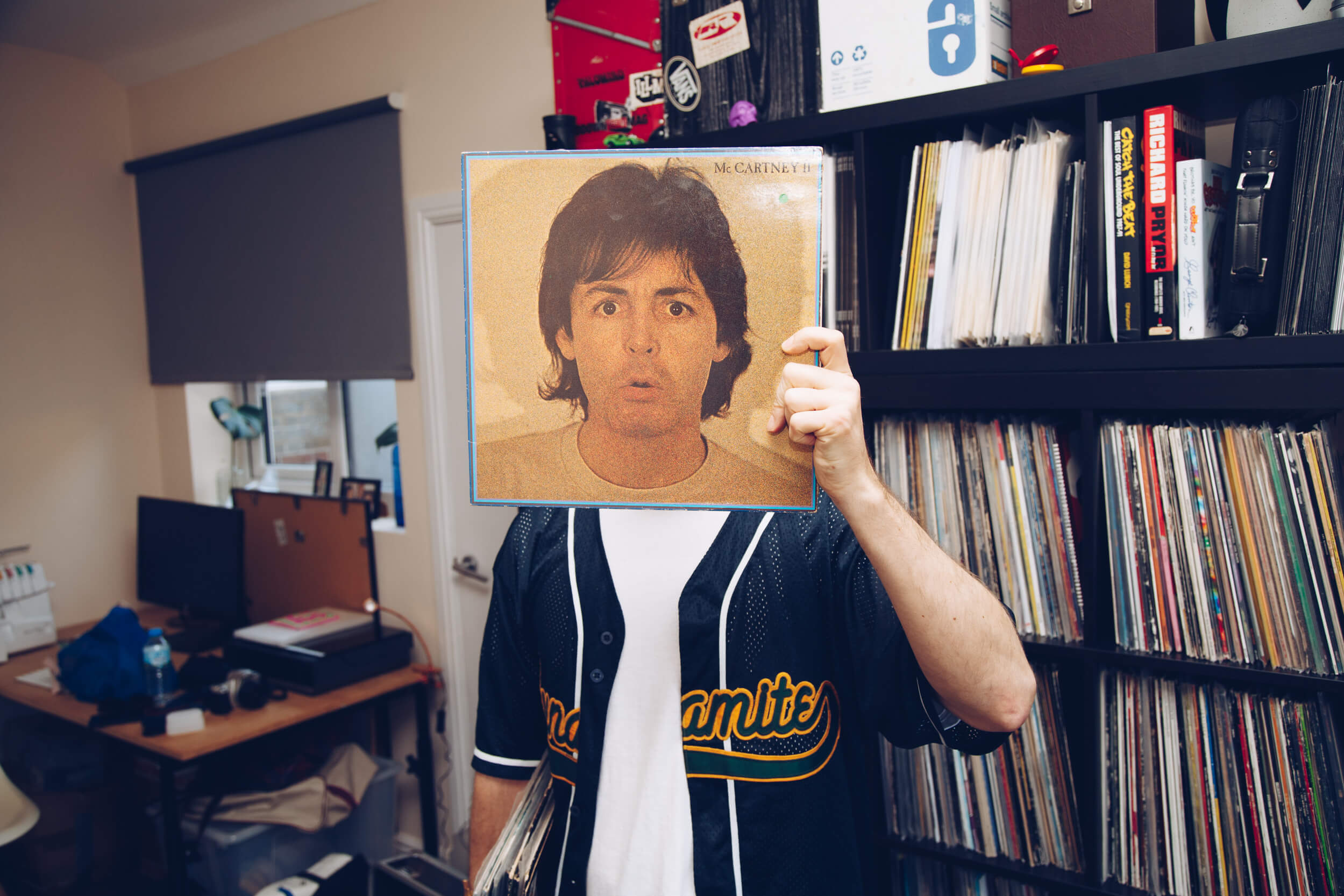 ---
Given the weather has been so warm recently, how about we start with a seasonal recommendation. What do you like listening to in the sun?
I was listening to a bit of Curtis Mayfield, Marvin Gaye and Stevie Wonder earlier, just classic stuff really. That's always good for when the sun comes out. Uplifting, chilled out vibes.
I don't tend to listen to much dance music or hard electronic music while I'm at home, as much as I love all that stuff and will play it out in clubs.
So you still buy stuff that isn't strictly for the dance floor?
I collect things for my personal satisfaction more now probably. Especially recently, I've been buying a lot of West African records, Ghanaian highlife, funk and rock.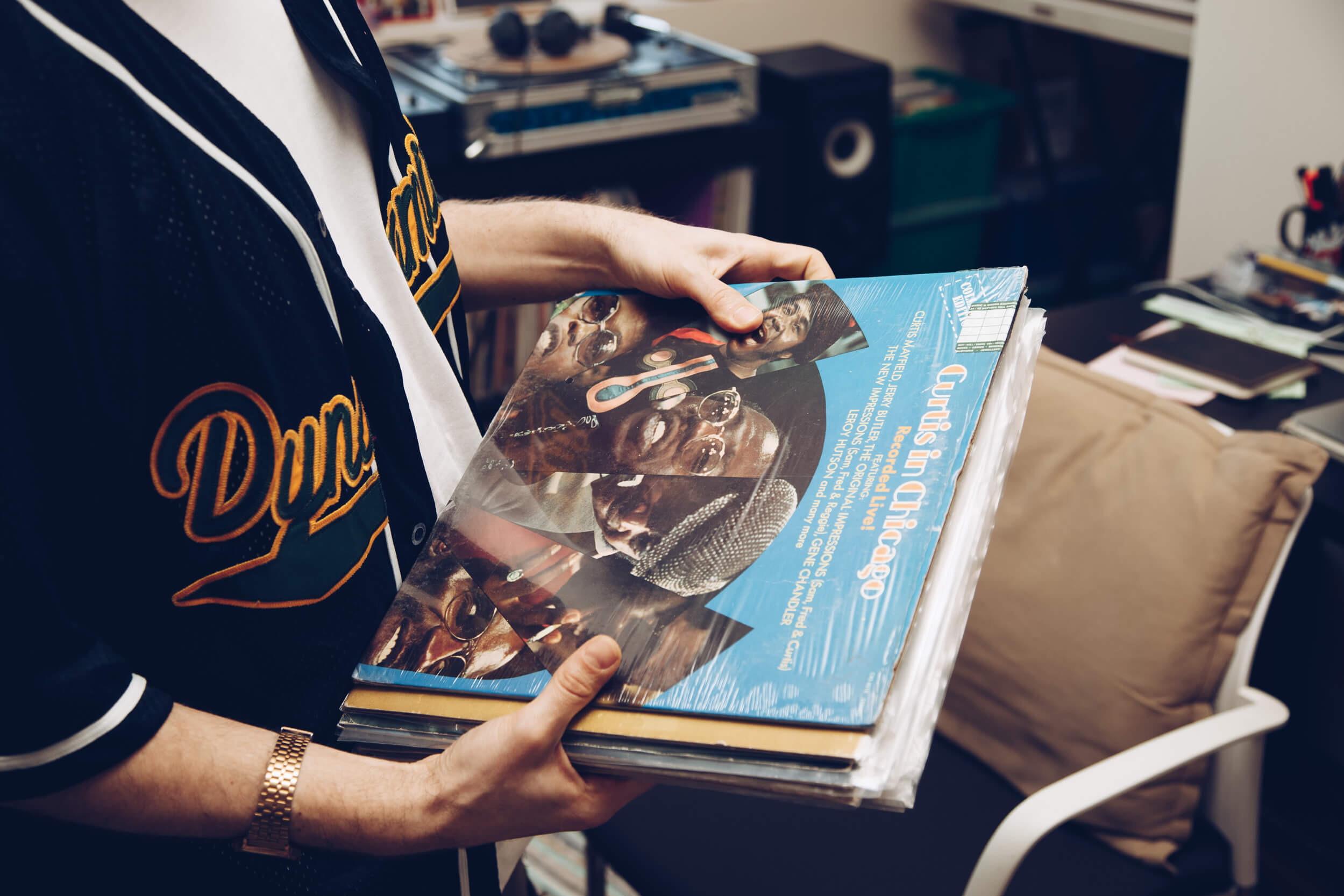 And I'm 37, right, so I actually grew up buying records as the way I used to listen to music. When I was nine or ten I was buying 7″s and then cassettes with my pocket money.
What I have here is probably half the size of what I've amassed in my lifetime. I try and prune it, because I have to travel around so much and live a nomadic life. I've just moved back to London after living in Wolves for three years – and I probably sold about 2,000 records before I came here.
What kind of things are you happy to get rid of?
Basically back in the day you just ended up with hundreds of 12″s of stuff you really don't need, like an a capella, an instrumental, and a radio version of every Mary J. Blige song. As cool as it is, it's not that feasible to carry it through your life like that.
Also things like Sister Sledge, or Chic. I don't really need all those 12″s, as much as I love the music. There are things that I'm obsessed with like Outkast, Wu-Tang, and A Tribe Called Quest. I've grown up with that all my life, so I'm never going to get rid of that.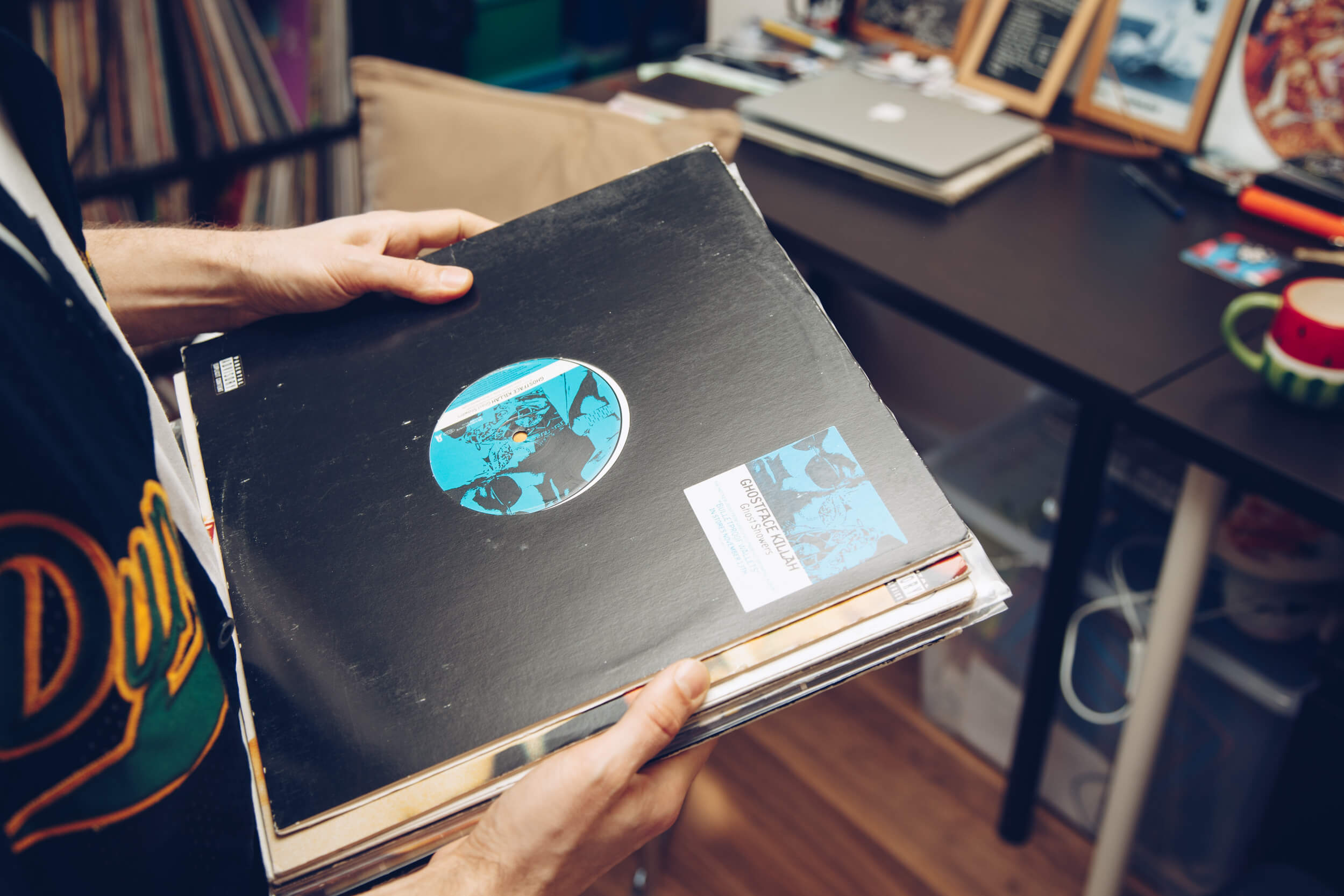 Did your musical upbringing begin with disco?
My parents had a little record collection, and they had The Beatles, Marvin Gaye, some Curtis Mayfield, Sly Stone, classic stuff that you don't realise is the best of the best when you listen to it as a kid.
My dad had a little short lived run of being a DJ. I think he said he had one gig with his mates, so I've got a lot of 7″s of his, which have 'Soul Finger Disco' written on them, because him and his mates collected records together under that name. It wasn't until I was in my 20s that he told me that's what it referred to!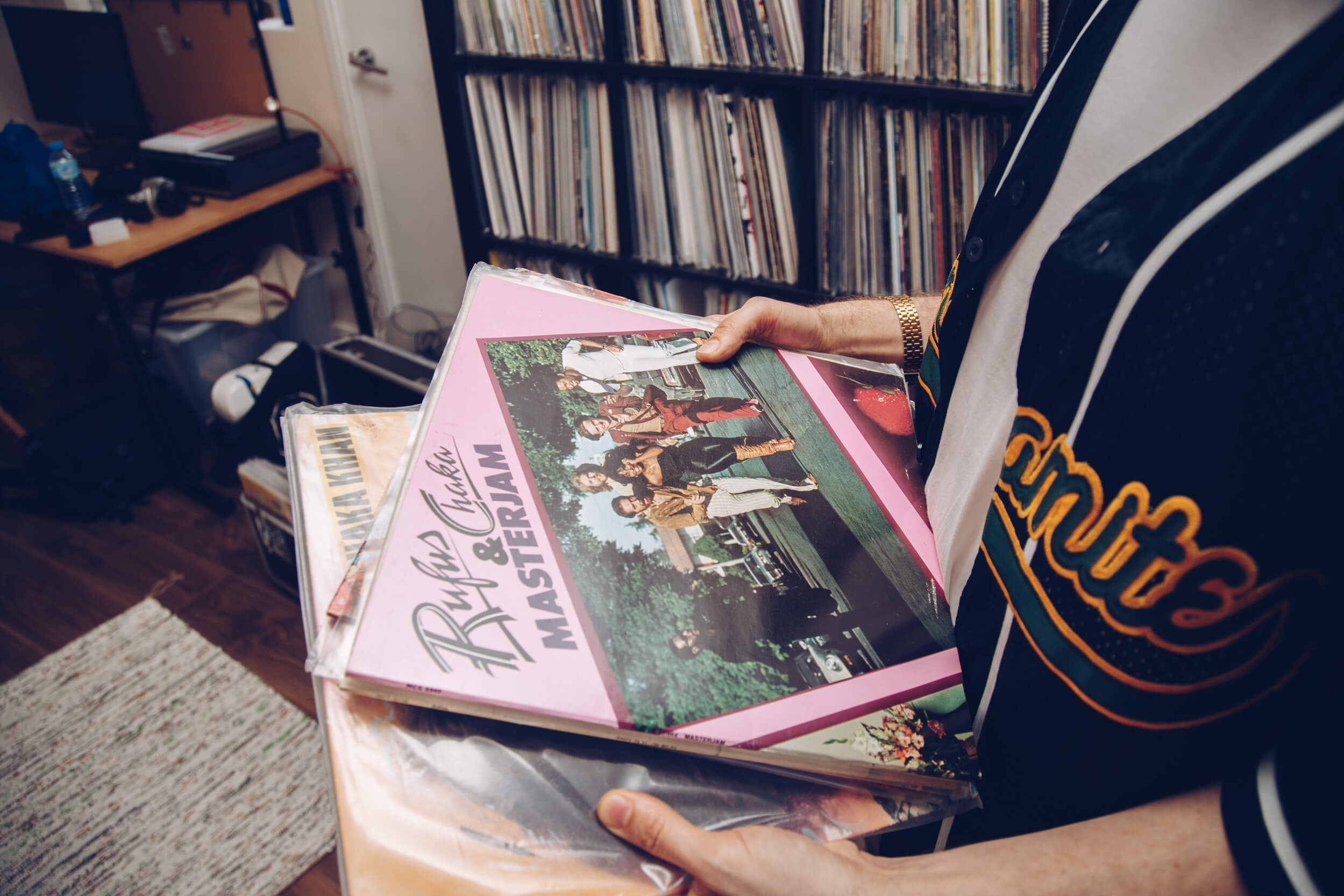 It's funny he kept that from you for so long, while you were already DJing.
It was a big influence on me, and where I grew up in Wolverhampton, there weren't a lot of record shops. I didn't even have a record box to carry my records around in, and my first ever gig was in a pub and I took my records in a wrapped up curtain, because I didn't know what to carry them in!
There used to be a few record stores. One was called Summit, but that was just pure dancehall, and the other, Ruby Reds, had everything like soul, funk, garage, and RnB. I'd buy some stuff there when I was 16. There was another shop called Oldies, and I started going there when I was literally doing my paper round.
I'd pick up my wage on a Friday, I'd go down there and spend all day buying records. And because the resources were so few and far between, it was mega exciting. A lot of my early record collection came from this shop. Street soul, Shalamar, Evelyn Champagne King… I probably got ever Soul II Soul record two or three times because every time there would be a copy in there I would buy it!
I guess you weren't buying with being a DJ in mind?
No, not at all, just for fun really. I didn't really aspire to be a DJ.
Was there a moment that changed the game for you?
Totally. I remember getting my first radio alarm clock when I was like ten or eleven, and it felt like a secret, it was like access to the outside world.
I do remember hearing John Peel and thinking, "what the fuck is this man? This is really weird," because he played such a wild variety of things, some of which I really liked and some of which would just be drone or some crazy electronic punk music.
It's a feeling I really enjoy now, whereas back then it felt so alien. Now, that strange alien feeling is the beginning of something that's really original and exciting. It's kind of like the first time I heard Timbaland and Missy Elliot. I was already deeply ingrained in hop-hop and RnB, but this was so different.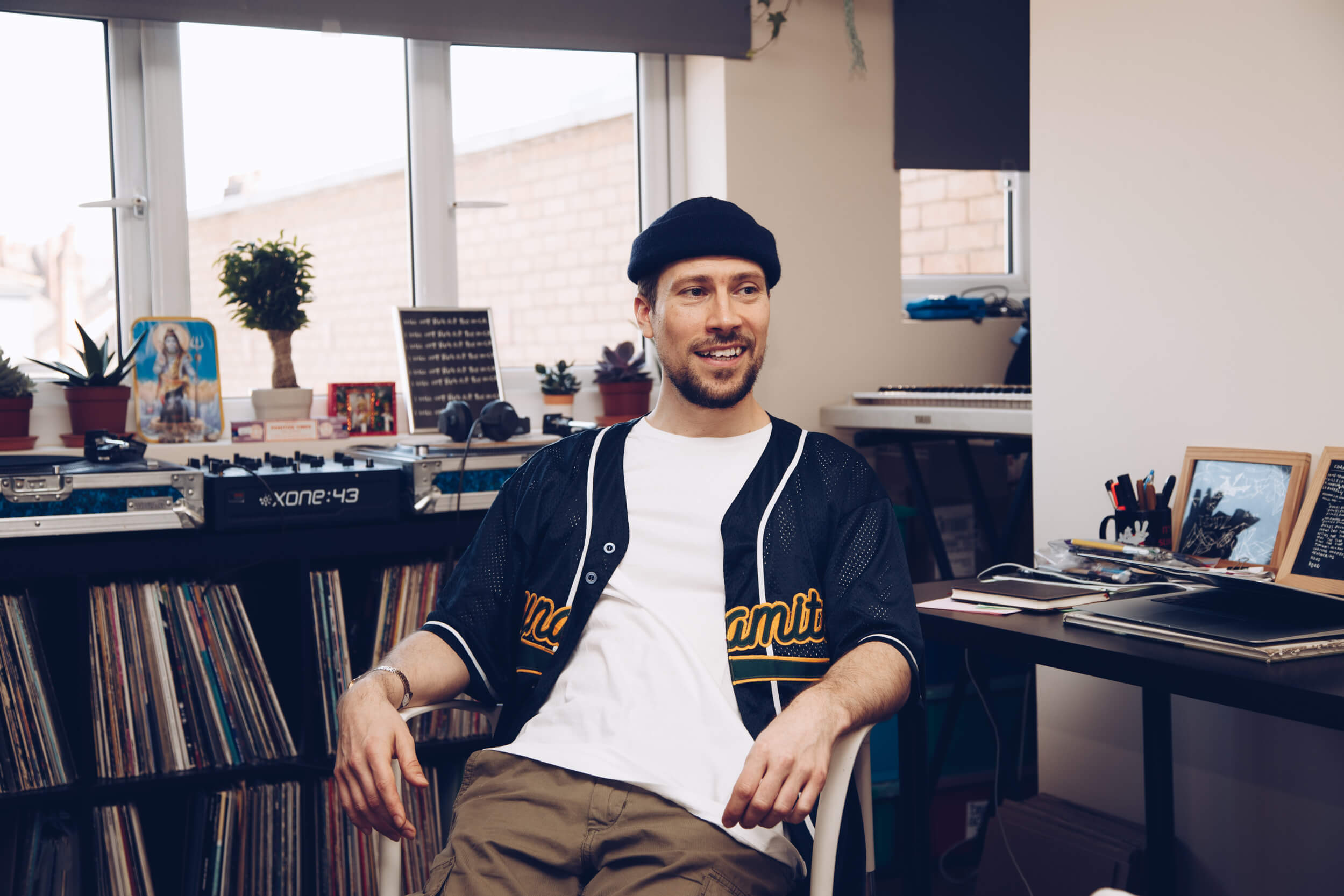 I guess those moments get a bit rarer the older you get?
I think everything gets shoved down your throat straight away now. I think the last time there was a really new and exciting movement was grime. I first moved to London in 2003, and because it was still pirate radio and record store-based, it was still super exciting to go to Rhythm Division or Uptown Records. I remember hearing stuff on the radio, then going to the record store to buy it, but you couldn't buy it, because you could only buy the dubplate and there wasn't any vocal on it. You'd hear some DJ play a Wiley tune or a Kano tune but you couldn't actually buy it.
Things like 'Together', which is Ruff Squad – a Wiley 12″. It's really nice to have the memory of walking into Uptown and Cameo being behind the counter and going "what's new in?" He'd give you a pile of 12″s and I remember listening to this and being like "Oh My God, this is incredible." It's even got a Sting sample. I was like "what?" Especially at a 140bpm tempo, and then two-minutes in and you're like "this is amazing."
Your sets are really eclectic, but do you ever get to play grime?
On rare occasions, yeah. For instance, I just did a five-hour set at this place in Antwerp, which was incredible. I was going through a little story and the lineage of music, but it's pretty hard to get there. I ended up playing lots of drum'n'bass and footwork at the end, but that's easier than grime I think, as people are more open to it in a dance environment.
Whereas for a lot of grime and sublow, even dubstep stuff, it's more of a bassweight meditation thing. Going to FWD back in the day was not like going to a dance, people weren't really getting loose with their bodies. It was a head down, eyes closed thing. It's pretty hard to get people to that point, but I'll always take some with me and if I can get them tuned into that moment, then we can go there.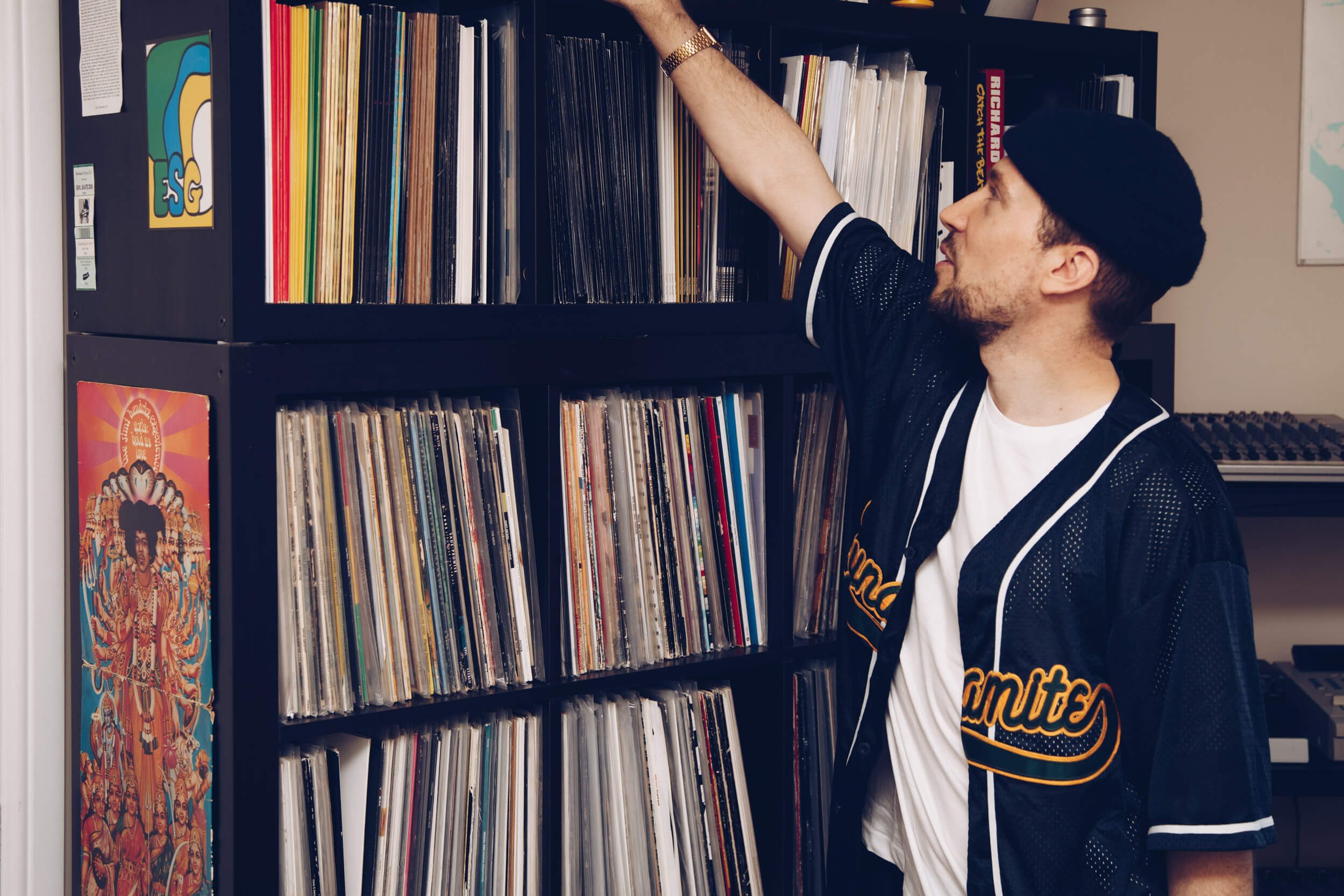 How do you go about structuring a 5-hour set?
It's always pretty loose. There will be certain tunes I know I like to mix with each other, or that I know will be a good way of switching it into a new style, where it relates. As eclectic and wild as things can be, I don't like to do things that are haphazard, it's got to relate or have some correlation.
There are definitely distasteful ways of doing things. I wouldn't ever want to hear someone mix a disco song into a dubstep song. I'm sure there is a way of doing it, but on the surface it just seems like a really bad idea.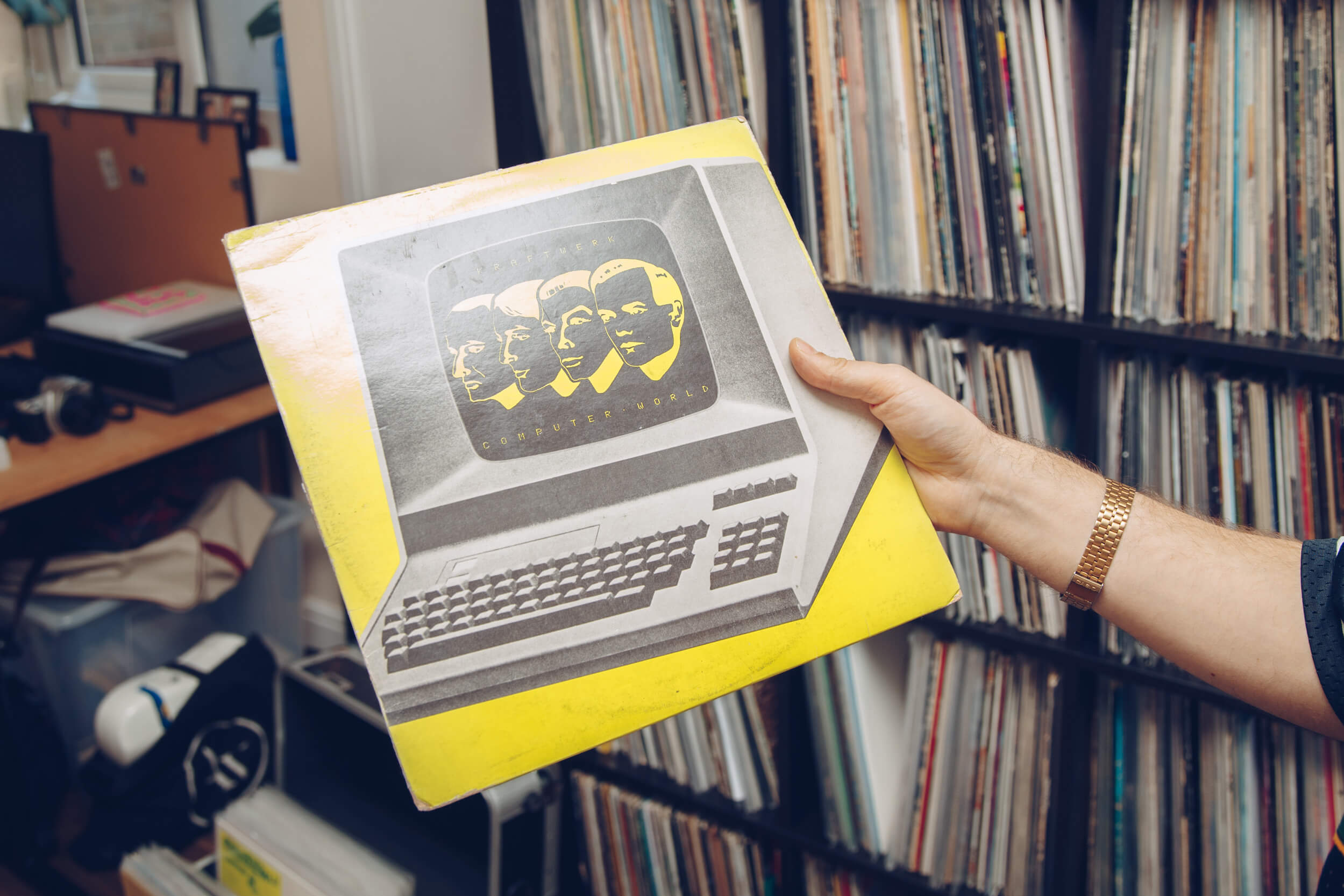 You dipped in and out of all sorts of scenes and musical styles on your way, right?
Yeah, in terms of DJing I really came into it from a hip-hop perspective. Starting out I was inspired by [Kool DJ] Red Alert, Jazzy Jay, [Afrika] Bambaataa, the classic hip-hop guys. And they could play Kraftwerk or Sly Stone and it made sense. I think that relates now to how a lot of people DJ. You have people like Antal and Hunee – it's a really open minded policy, but there's a common thread to it.
At high school, garage and jungle was about, but I was always just dipping, taking little bits that I liked. I never subscribed to either one of those cultures.
In fact, funnily enough I went to school with Actress, he was in the year above me, and the guys from Leatherette were at my class at school, and so was Bibio on Warp. I was a nerd from early on, so with Steve [Bibio], I kind of introduced him to stuff early on like Daft Punk, and he was like "oh my god I want to buy a sampler."
Sounds like there was something in the water…
It's weird because it really didn't feel like it at the time. It felt like there was absolutely nothing in the water!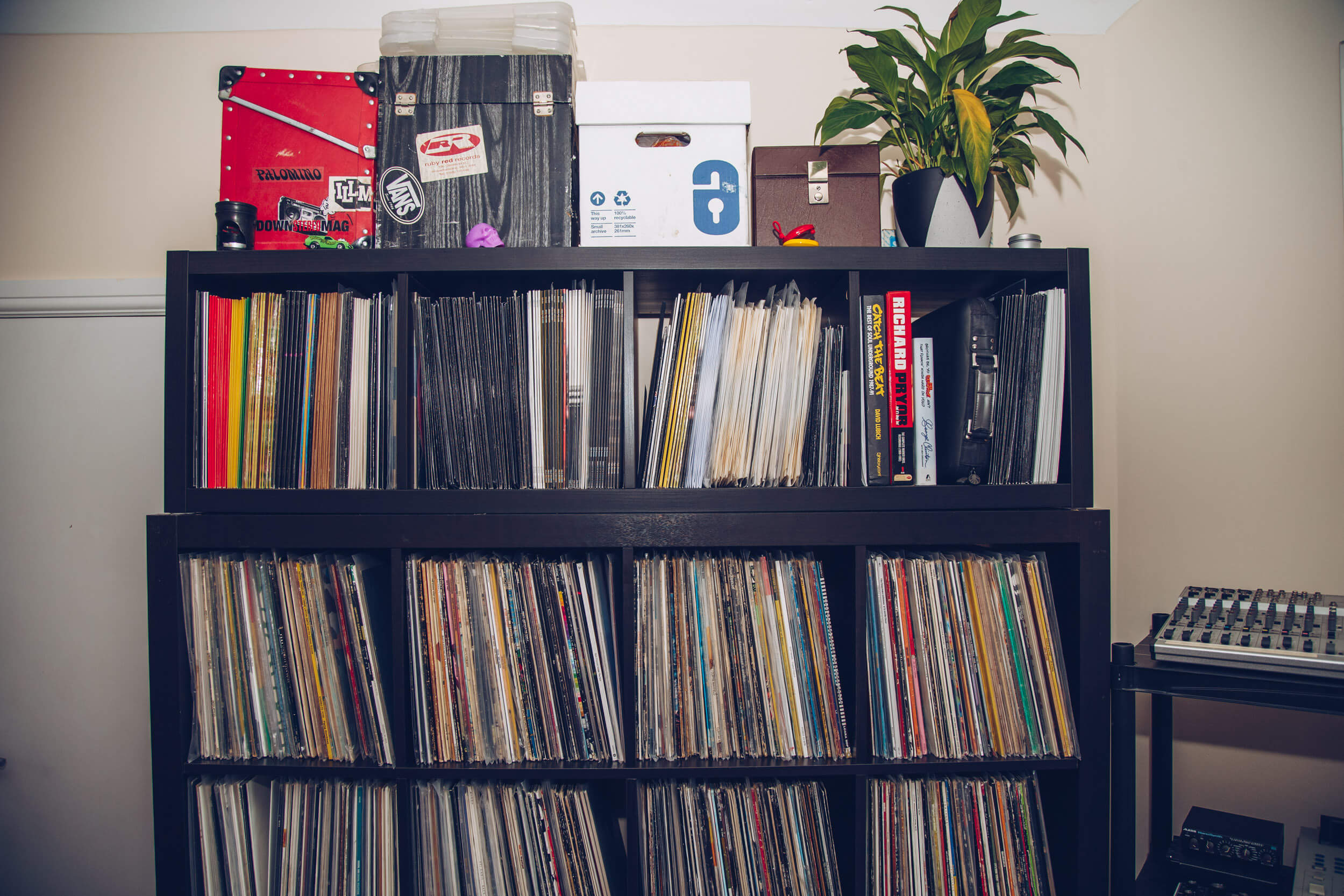 What's it been like balancing your DJ commitments with running the label?
It's not a joke. Just running the label is like – 90% of my time is focussed on this thing and it's like you live on an island. The top shelf here is just Eglo releases.
To be honest, the moment of actually DJing is my sanctuary, that's the moment where I can forget about all these things, like people chasing me, payments that have to be made, artwork that's gone wrong. It's my moment to clear my mind. It's like meditation, and is definitely one of the things I enjoy most on this Earth.
Has your record bag evolved over the years?
I wouldn't say I'm getting more adventurous, because I've always done what I wanted, but it's easier for me to do that now, because the climate is more accepting of that. This is the bag I've just come back with from Antwerp and the order I played them in!
South African dance music from the early '90s, a Rick James edit, a Todd Edwards remix – to go from a South African tune to garage in three tracks might have been a bit daunting fifteen years ago, but it just felt like a continuation of the vibe.
I've always been a bit of a bargain shopper too, and I've never had big money to floss on records.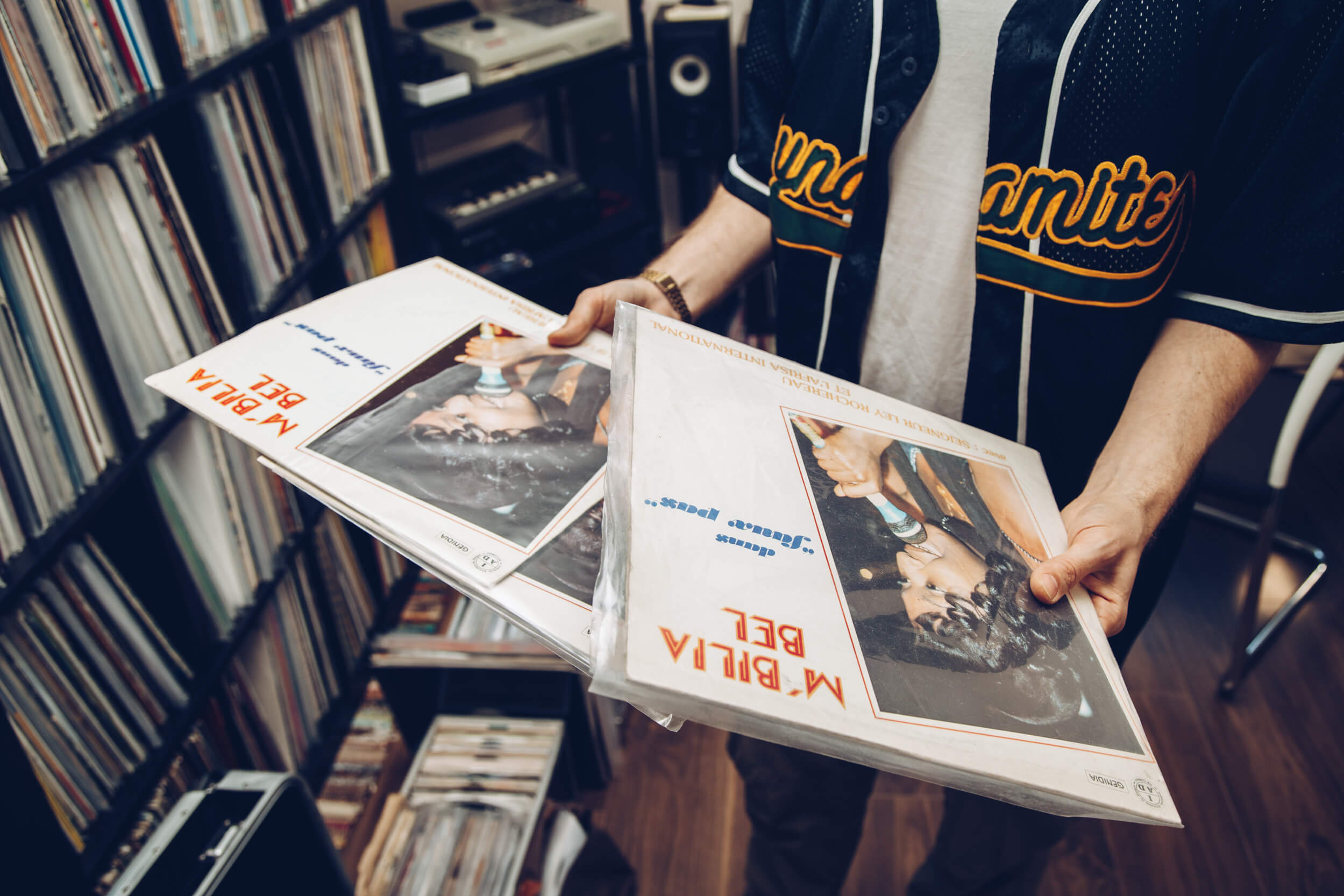 The connection between cost and how musical value is ascribed feels like an increasing problem in the scene…
Now that this record collector or "selector" culture has popped off the way it has, it can just become an economical pursuit. There are people who just have a big pot of money and they'll go and spend money… It's not a compliment to the legacy of someone like Larry Levan to have people buying all these expensive tunes that somebody has already made and proven to be great dance floor music. Rather than take that and flip it and do something interesting with it, or put their own stamp on it, they're literally just replicating it.
I guess it comes down to people's intentions.
Yeah that's all it is, intentions. Again, just because you've got a big pot of money, doesn't mean you have a hell of a lot of passion. You can have both. Whereas I'd say for myself coming up, I was forced to be more creative as a result of having limited resources, whether that's financially, or the record shops, or the community that you're surrounded by, it was like "what am I going to do to do this my way and put my spin on things?"
Does that apply to how you've approached things with Eglo?
Yeah, it's constantly in flux. It's always a hustle. I don't mean that in terms of making money, more in the fact that's it's not easy. I don't have any choice, this is always what I've done, I've always been involved in art and music. I've tried to get involved in other things and never really found much acceptance there, so it's like "OK, this is who I am, this is what I do." You have to eat and pay rent so you have to think in creative ways to make sure you can sustain it, because if it is your passion, you can't just give up.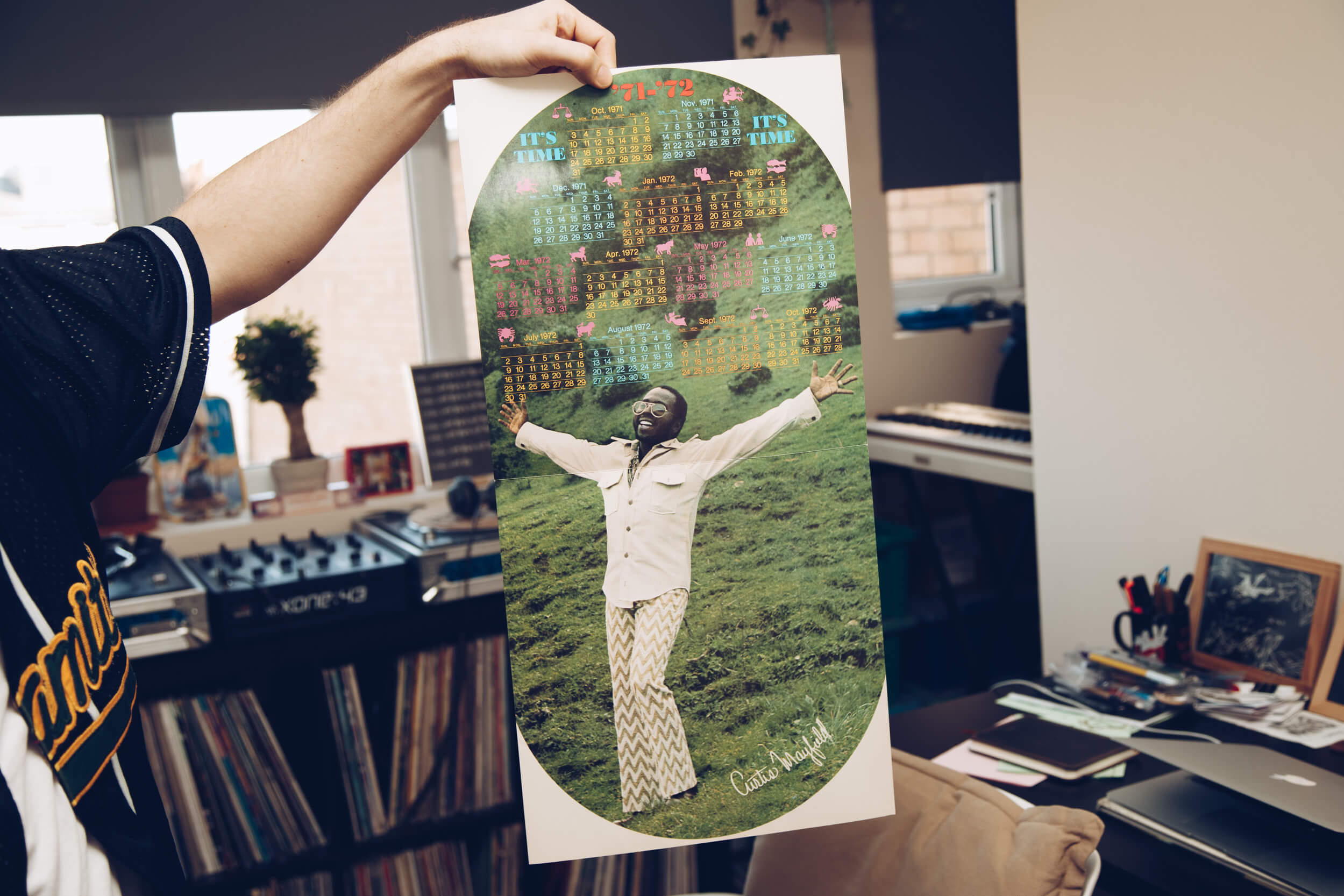 Let's go back to the records. What else should we know?
So when I was a kid there were two musicians that I was obsessed with, Hendrix and Curtis Mayfield.
I feel like Curtis Mayfield never gets enough attention.
Strange right? In terms of production, he probably has my favourite sound. I've found there's been a relationship between Curtis Mayfield and Dilla, I don't know if it's the swing and the spirit of it, there's something there…
I do play out a lot of Curtis too, but the stuff I tend to play is below 100bpm. Maybe they're a bit too politically minded, or socially conscious to be club tunes.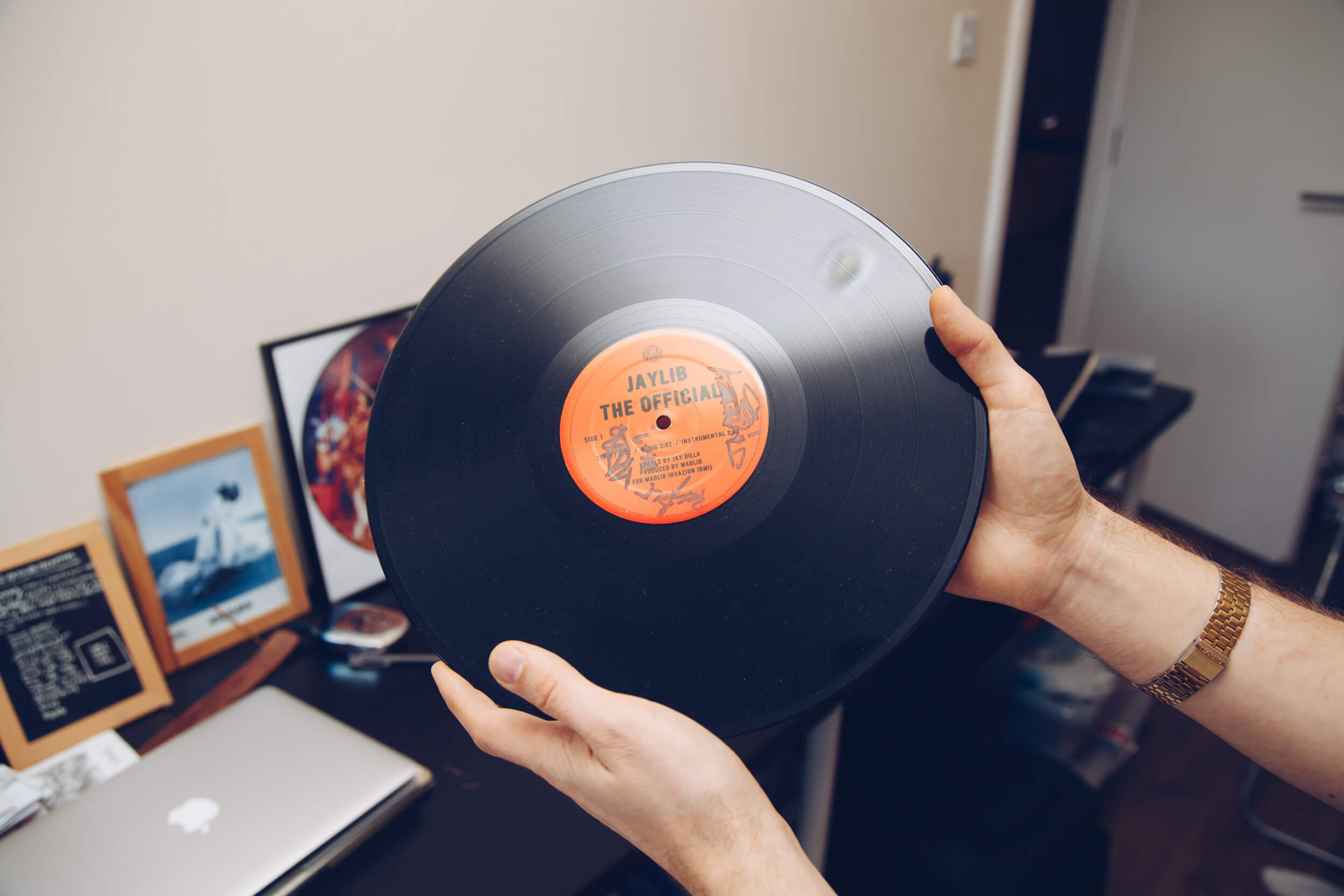 Perhaps yeah.
Here's another one that's been important to me, Parliament-Funkadelic, and this is just one of the best records ever made. You make a pop-up background, you're meant to pop-out the characters, prop the record up like that and make a little scene. And actually I've got a tattoo of it.
Wow.
I sent Overton Lloyd a picture of this when I got it done and he was like, "yo, you're crazy!"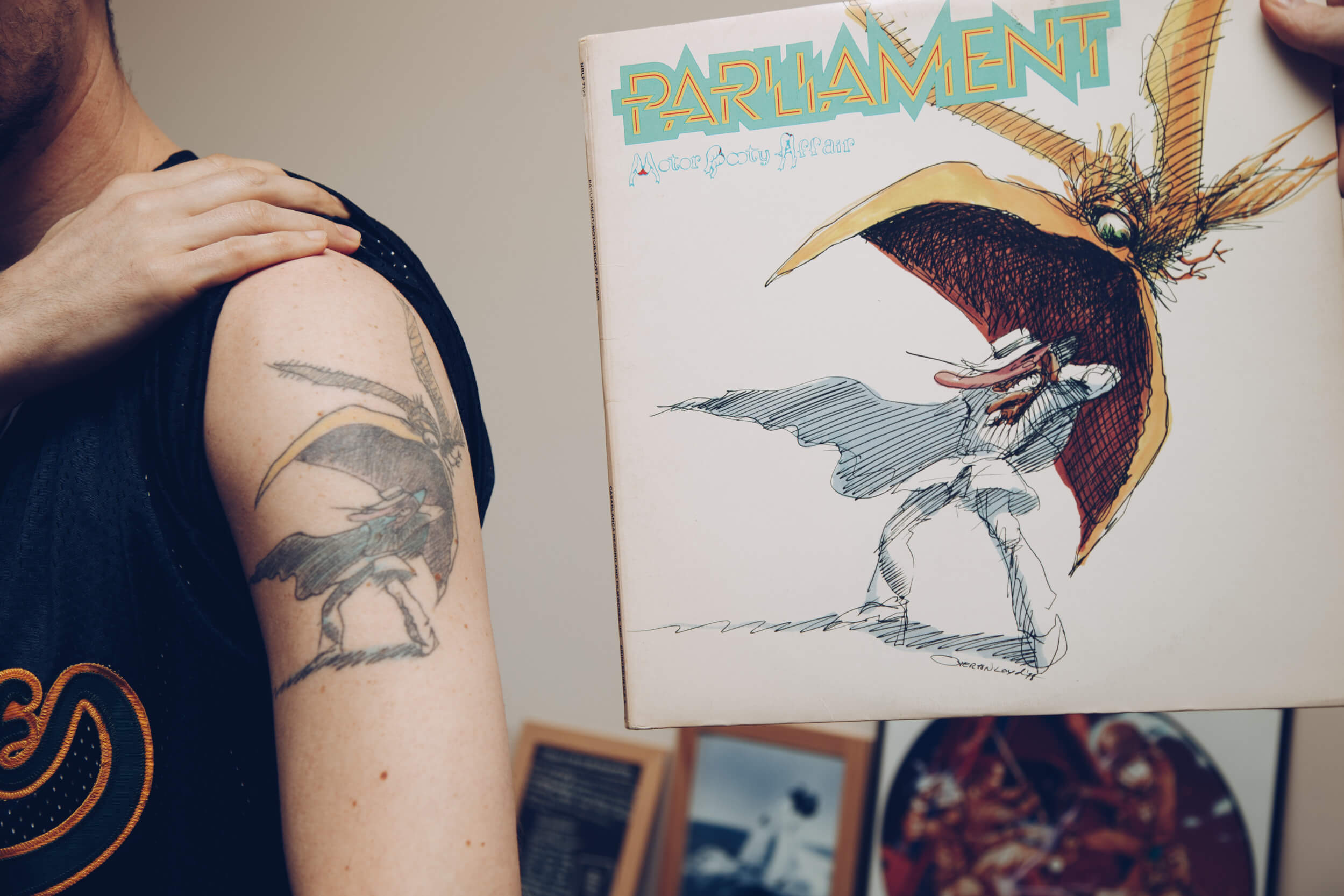 Do you mind buying reissues or do you prefer originals?
I'm not fussed about it. If there's a record where the originals are still relatively easy to get and relatively cheaply priced, I'll prefer to get an original in good condition.
Another person I like to collect is Gnonnas Pedro, he's a singer from Benin. Him, and Ebo Taylor, I will religiously buy anything that they've touched.
You'd probably play Ebo Taylor out though?
Yeah, and there are a couple of tunes like 'Love and Death' which are big dance floor tunes. And because he's been heavily sampled, people recognise things without knowing why exactly, so they feel more comfortable with it.
Is the P-Funk your only tattoo?
I've got a Hendrix too…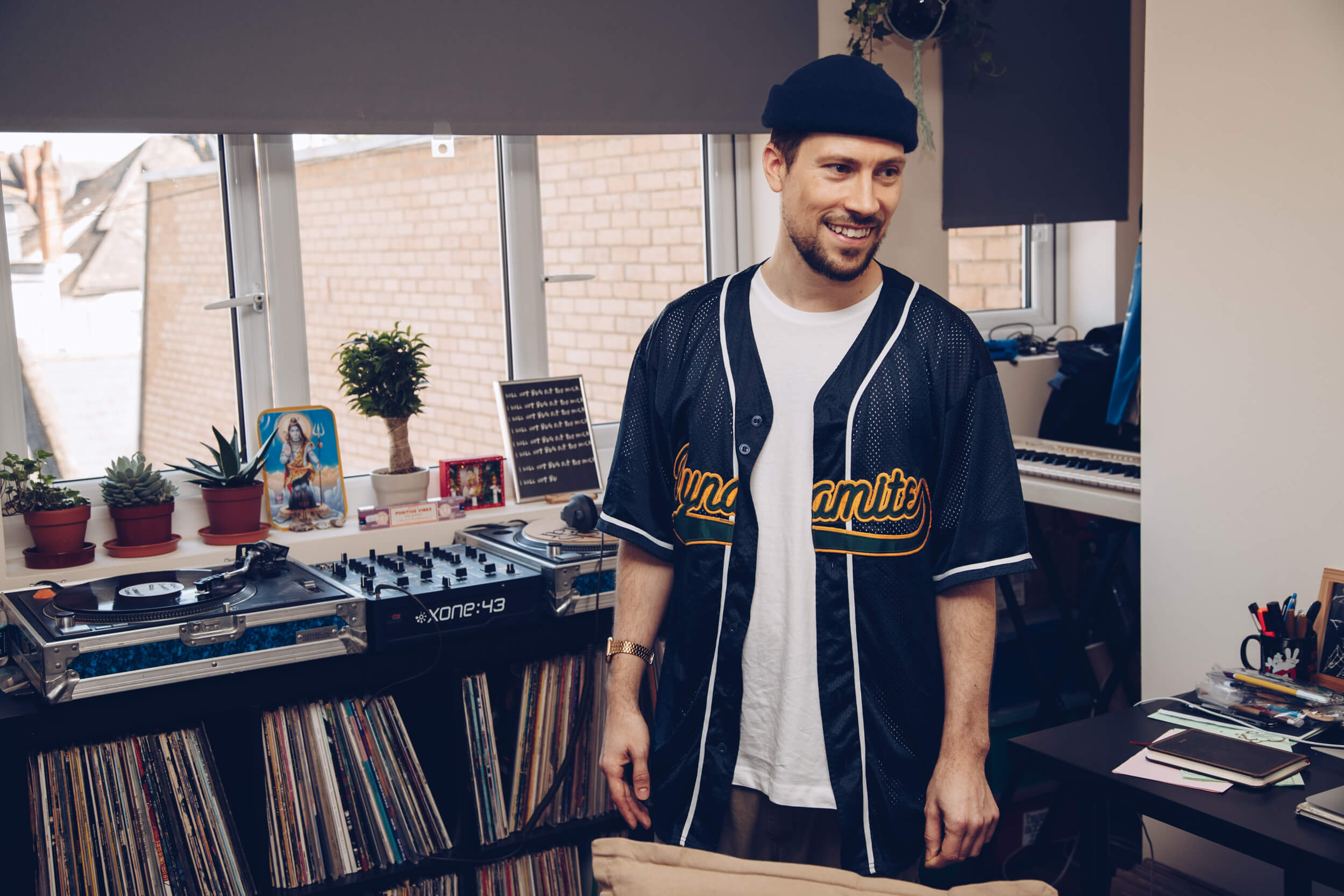 How do you pack your bag to DJ? Do you go through and keep rotating it?
I try and rotate it, because it can become easy to be reliant on a set, and I'll do it in a masochistic way to challenge myself. I'll be like "I'm not taking these out now", and I'll chuck them back in the shelf so I won't know where they are, so that when that moment comes and I need to prepare some tunes, I can't just easily go back to those things. One, it'll keep it interesting for me when I actually play because I'm not just in auto-pilot and two, you freestyle things that maybe you wouldn't have tried.
Your primary desire as a DJ is probably to get people to dance, but that's not as obvious as it could be…
It's not a linear thing. As much as making people dance can be a functional thing, it's actually not superficial, it's a magical, special thing to create that moment.
I kind of relate it more to someone doing stand-up comedy – one way is the equivalent of doing slapstick. It's going out and falling off ladders, it's the lowest common denominator boring stuff. Instead, you've got to have these moments where you can be introspective for a bit, you can be political, you can be social, and then you bring it back and it hits you. I think it's the same for a DJ set. You can really take people to different places and you might have got them to that point where you're playing a heart-string pulling tune and everyone is having a bit of a teary moment, and then you hit them with a gospel tune and everyone's got their hands in the air.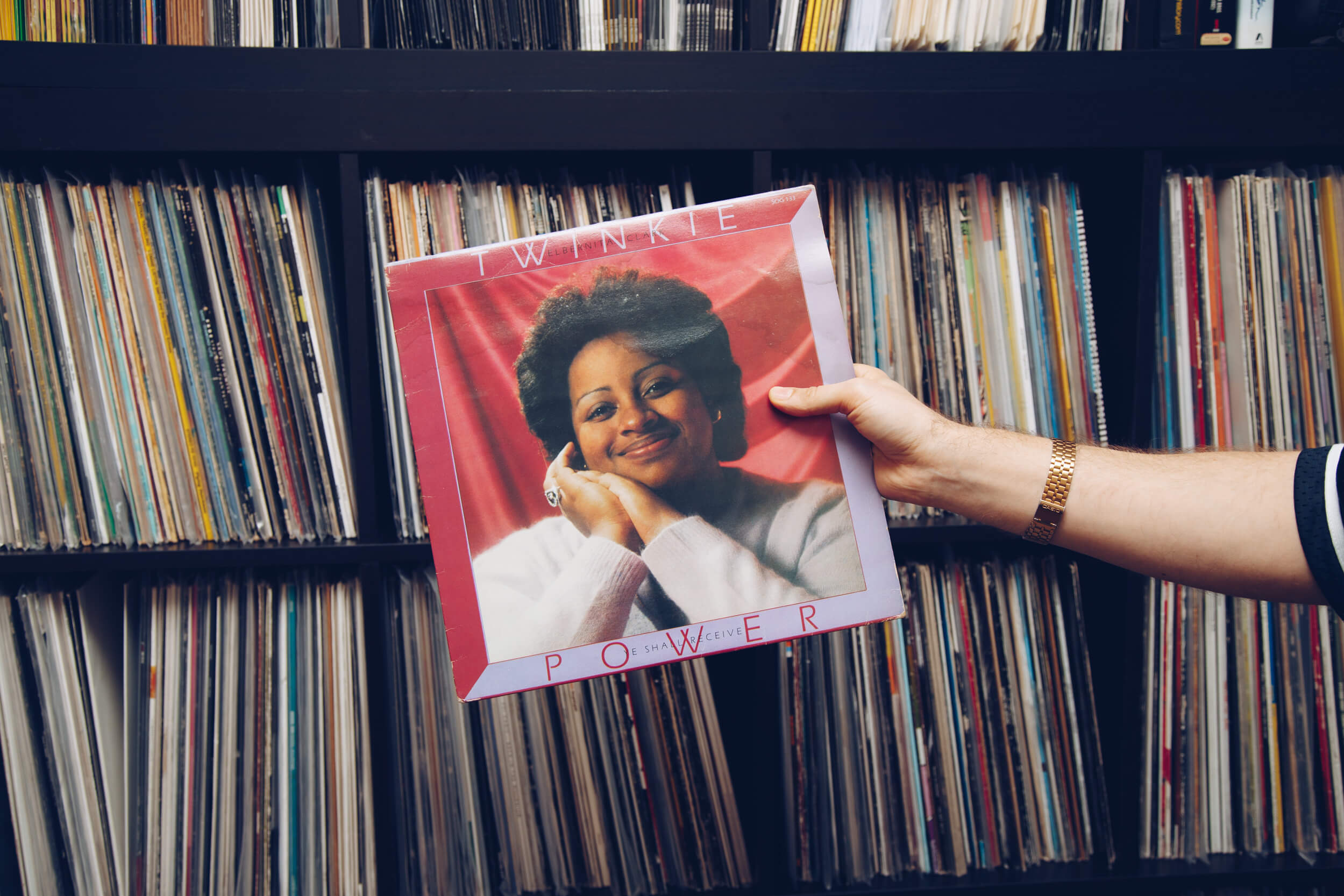 That must also come from having had some special experiences in clubs yourself?
I remember as a punter going to club nights. I was a pot washer in a pub, I'd finish washing the dishes and I'd go straight to the club, and my hands would stink from having them in the sink all night, but it was a release. And I felt like 80% of the club were on that same tip, it was like, "thank fuck, it's the weekend. I haven't got to work tomorrow morning, let's get wild." I think that's changed a little bit now.
I feel like I can say these things because I put on events, and I try my best to create an atmosphere where it does feel like that, and you haven't got huge door fees, or the same old fucking line-up that everybody's got, or to make sure that the sound system can give you that experience.
Where I played on the weekend, I walked in and I could feel the sound on my face, I could feel it all over my skin and I was like "this is the best feeling in the fucking world". I feel like I can physically touch every aspect of the music in this room.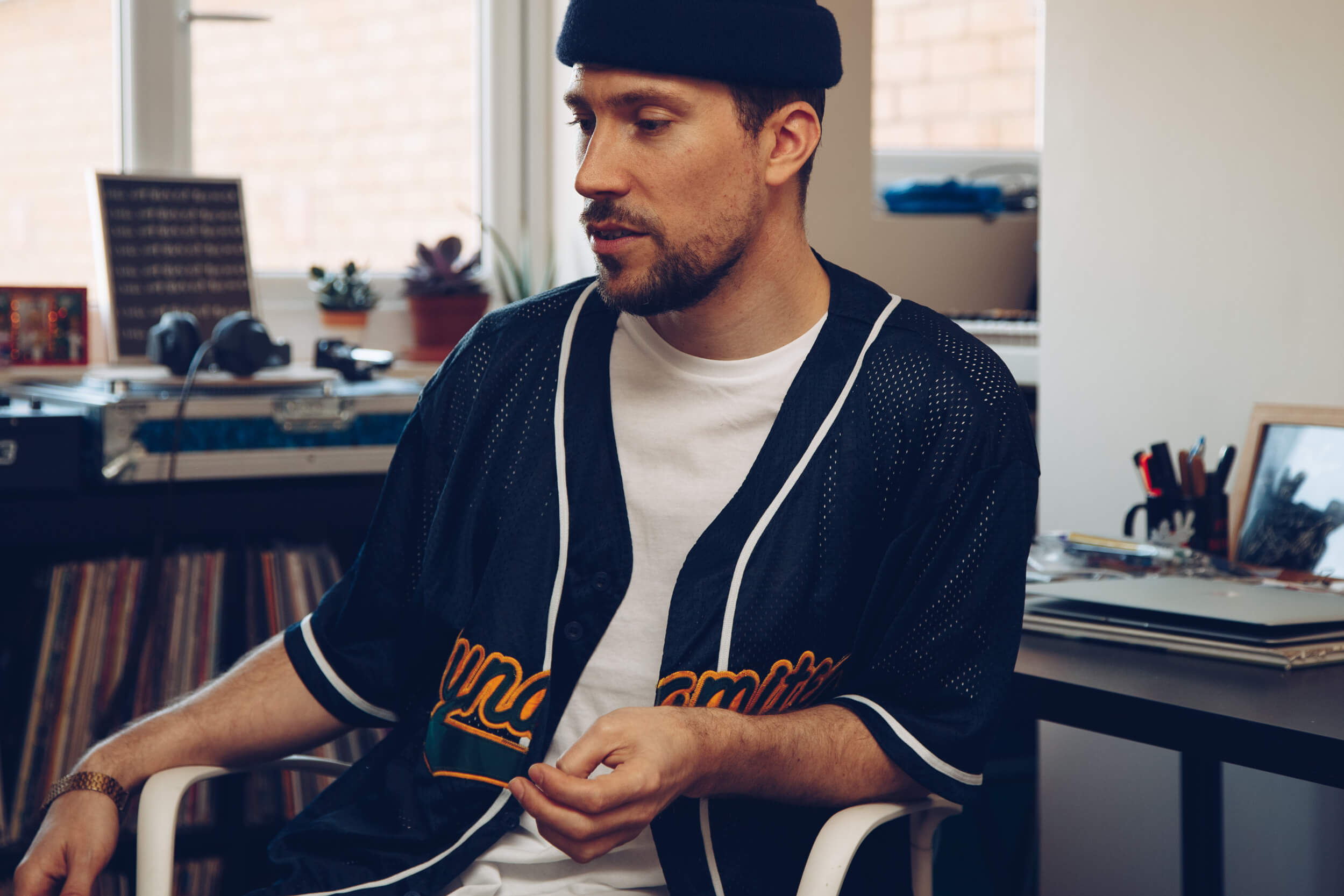 Is there a spiritual aspect to that too?
Absolutely, 100%. I think that goes back to the idea of working all week and having time to release and get loose. That's a totally spiritually thing, especially when you're in a room full of people all on the same tip. That's a community.
Does your record collection as a whole have a meaning for you?
I think it's really important that it should be a reflection of your personality and be unique in that way. Sometimes it feels like there's a bit of a tick list for some people – a paint by numbers record collection, and as much as they're all amazing records, it's not particularly interesting…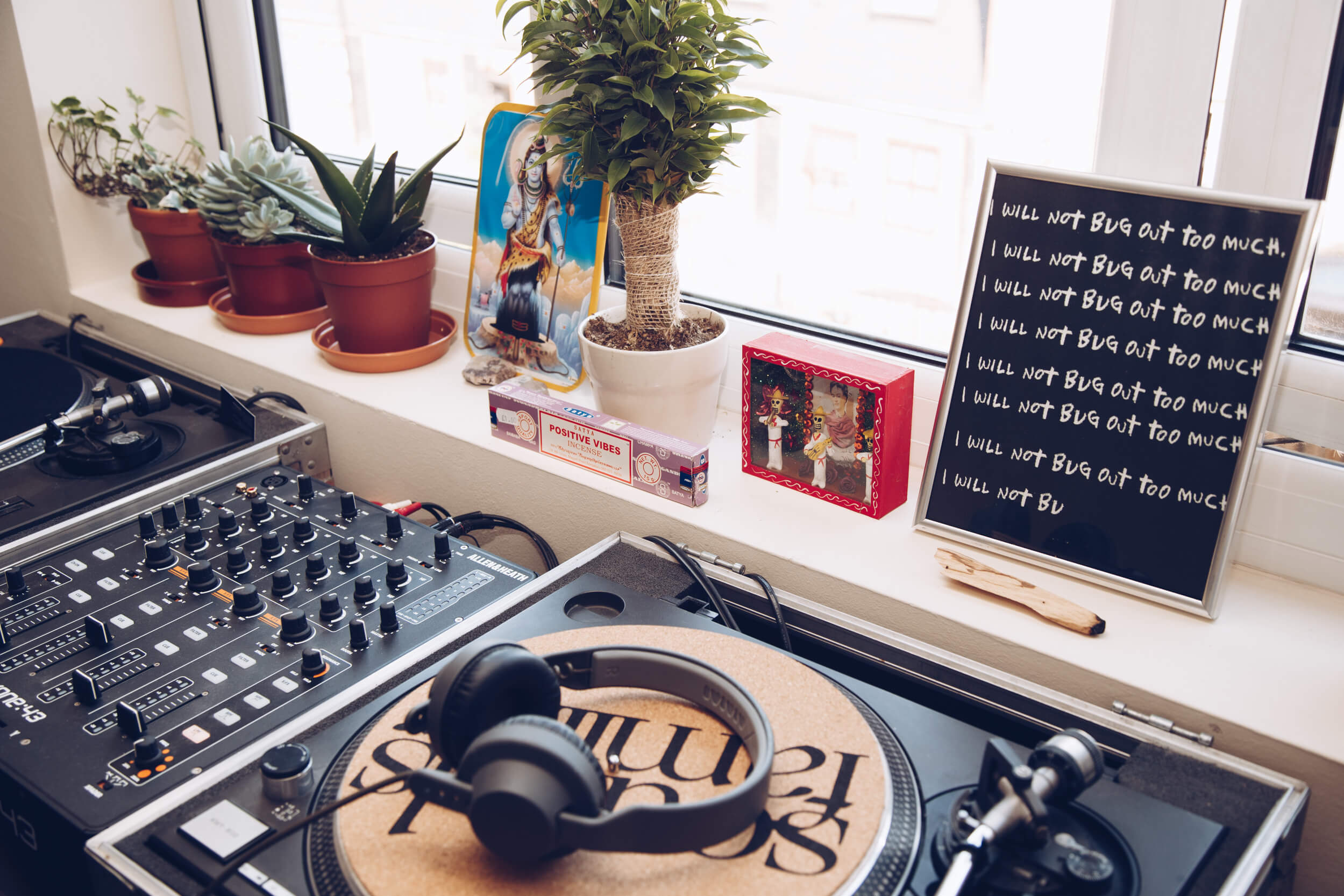 There are loads of records in here that are a result of conversations with friends, or visiting friends. My record collection is pretty much a journey of my life, and that also relates to how you get rid of things you don't need. You don't carry everything with you.
I've even got a section just for releases from friends, that's really nice, to know that my friends have done these amazing things.
Photos by Ceili McGeever