Published on
September 12, 2014
Category
Features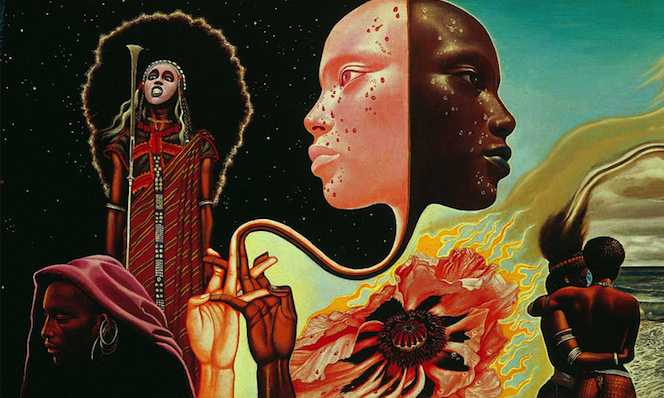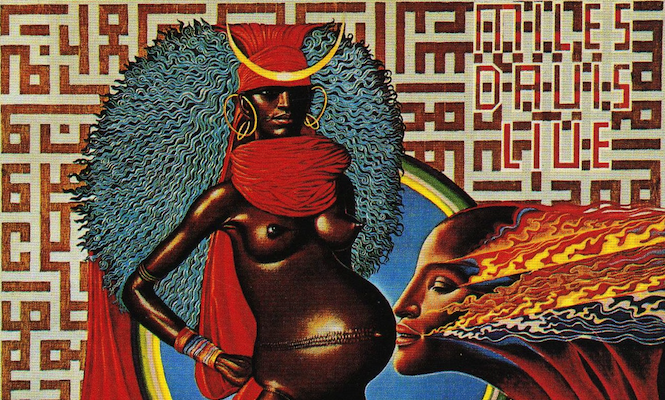 One of the most distinctive record cover artists of all time, The Vinyl Factory introduces the ten most important sleeves by Mati Klarwein, from Miles Davis' iconic Bitches Brew to early Earth, Wind & Fire and the incendiary "phantastic realism" of The Last Poets' seminal This Is Madness.
Joining the dots with Abdul Mati Klarwein's artwork for music is an intriguing process – when looking upon his most widely seen images for Santana's Abraxas and Miles Davis' Bitches Brew, there's been many an epiphany that despite their differences they're indeed from the same surrealist brush, a brush that blurs boundaries and cross-pollinates cultural iconography and imagery into new abstractions.
Klarwein was also friends with many of those whom he provided artwork for – from Jimi Hendrix to Miles Davis to Jon Hassell – with the last two in particular finding a profound marriage of sound and image in their collaboration with Mati. To look upon his works with them is to set an enticing and charged precedent to the sounds within.
The period of 1969-1972 was key to Mati's works in this medium, a time where he was surrounded by the movers and shakers of the zeitgeist, and a time where LP artwork and production was still in its heyday. As such Mati thrived on this format and a CD cover is a pale comparison to cracking open a gatefold and allowing the two sides of a Klarwein vista to become apparent. His work in this medium was occasionally commissioned and more commonly appropriated, and produced 52 record covers in total (all fantastically compiled in an LP sized book by Serge Bramly), the list below serves as an introduction to 10 of his most distinctive images.
---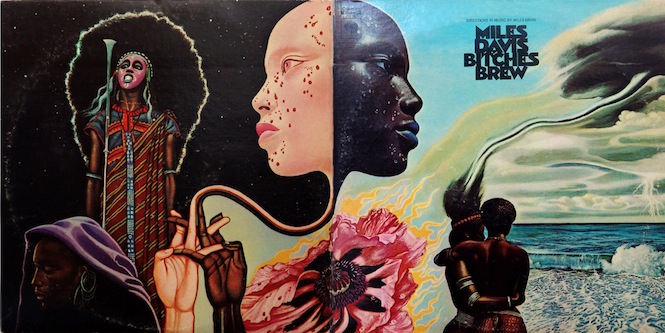 Miles Davis
Bitches Brew
(Columbia 1970)
It would be hard to start a list of Mati's work for music without Bitches Brew taking pride of place – a cover that's as potent as the fearless music within. It's of no surprise that the art world of the time had as much trouble getting their head around the cover, as the jazz world did with Miles' new direction. Its influence is still felt at a glance on upcoming record releases at any given time, and back in the early 70s it definitely set a trend in motion – see Robert Springett's cover for Herbie Hancock's Sextant to see the Klarwein influence in full effect. The painting itself was sold in the 1970s and its location is unfortunately still unknown, not even Miles managed to track it down when he sought to buy it back in the 80s.
---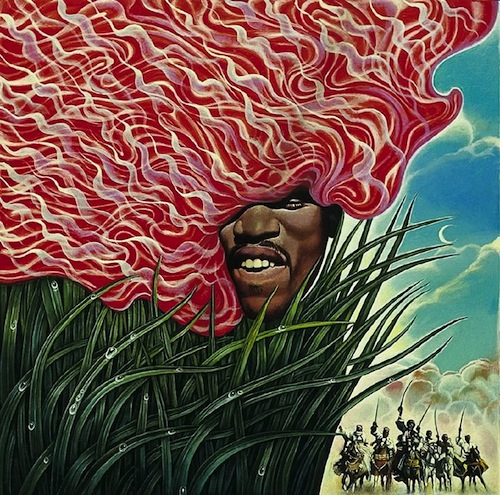 Jimi Hendrix
Unreleased / And a Happy New Year
(Reprise 1974)
This portrait of Jimi Hendrix was painted for a planned Hendrix / Gil Evans collaboration that never happened due to Hendrix's death. As with many of Hendrix's planned projects, it pointed to more essential work ahead, and this image and Gil Evans orchestral interpretations of Hendrix's back-catalogue are what remain of the plan. The portrait seems to have troubled Mati as it was completed right before Hendrix's overdose, and given a series of coincidences with death around his portraits, Mati stated it as one of events that led to him moving towards still life painting. The portrait did eventually find its way onto vinyl in quite a different form – as 7" picture discs and 12" seasonal promos that included Hendrix covers of 'Auld Lang Syne' and 'Silent Night'.
---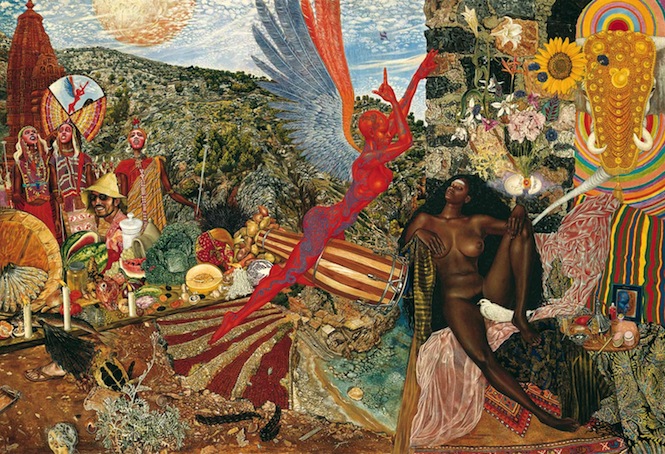 Santana
Abraxas
(Columbia 1970)
This was the release that exposed Mati's work to the masses with it selling over 2 million copies on its first year of release. The original painting 'Annunciation' dates from 1961, and was originally a key part of Mati's 'Aleph Sanctuary' – a transportable cube of his images, within which his world was unveiled in full focus. Jimi Hendrix and Timothy Leary both spent time within the sanctuary (Leary reportedly for a 4 day lysergic stretch), and it was upon seeing photos of the sanctuary in a magazine that Carlos Santana found a match to the music made for Abraxas.
---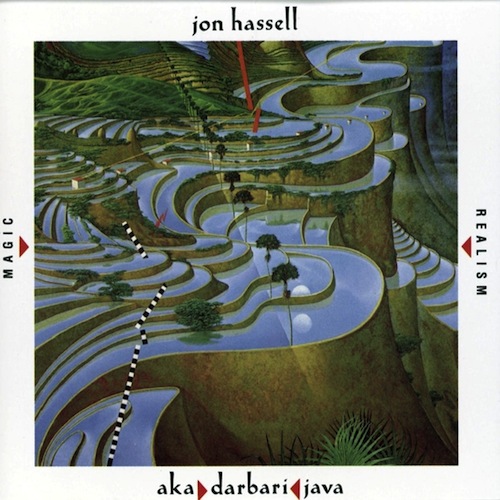 Jon Hassell
Aka Dabari Java
(Editions EG 1983)
Jon Hassell's Fourth World music found a true soul mate in Mati Klarwein and many of Hassell's finest LPs are adorned with Mati's artwork. In a recent interview with Jon he informed me that Mati's "vinyl collection was as varied and geographically promiscuous as his paintings for Miles and Santana LPs whose cover size invited original work like this." Hanging out and listening to records together from 1976 onward, many of their ideas found a parallel, and the music and cover of Aka Dabari Java is testament to this. This 'Inscape' style found it's way onto several other covers from the mid seventies onwards, reflecting Mati's increased work in this area and his infatuation with the landscape of his Majorcan home.
---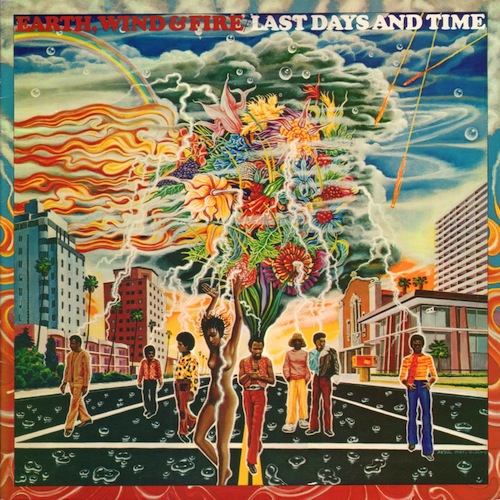 Earth Wind and Fire
Last Days and Time
(Columbia 1972)
Enamored with the works and writing of Salvador Dali at a young age, the Dali influence is a constant, but far from defining. Here it's clear but still distinct to Klarwein – florid psychedelia, copulating with fire, weather, the human mind and the cosmos – and fitting to the bands namesake of course. It may be a touch too day-glo and kitsch for some, but those elements are indeed a part of the Klarwein spectrum (and for the love of god don't look at the rest of the Earth, Wind and Fire artwork if this turns you off).
---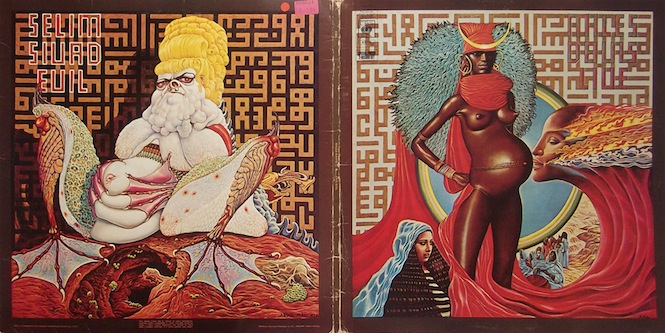 Miles Davis
Live/Evil
(Columbia 1971)
Mirroring the Live-Evil format of the double LP, Miles opted for a pre-existing image for the front – the 'Live' section – and then asked Mati to create a mirror image of 'Evil' for the back. What Klarwein conjured was J. Edgar Hoover as a toad-come-duck-come intestinal mutant lard-ball with a blonde beehive. Ever the cosmic joker it's as humorous as it is politicized, and makes for a stunning diptych, and the music is, as you might expect, sublime.
---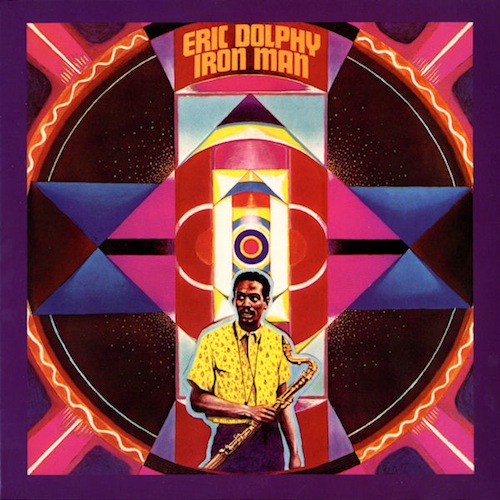 Eric Dolphy
Iron Man
(Douglas 1971)
This is the cover to the second edition of Iron Man with the first featuring a comparatively simple photo of Dolphy in the studio. Klarwein took this photo and painted Dolphy's image from it onto his 'Birth Mandala', and hey presto we have something totally other. Religious iconography was a vital fuel to the fire of his imagination, and mandalas or at least abstractions of their concept are present in many of his works.
---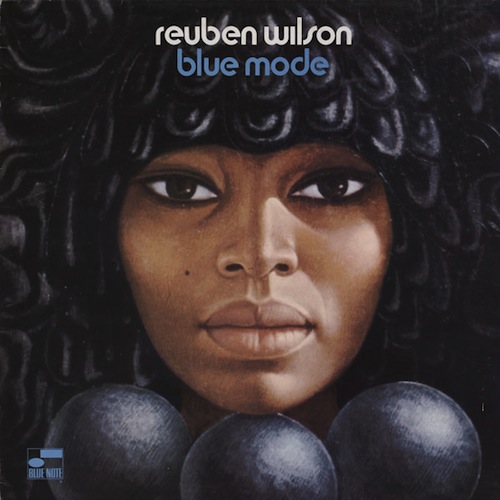 Reuben Wilson
Blue Mode
(Blue Note 1969)
Testament to the detail and individual zones of Klarwein's painting this is a cropped portrait taken from 1965's 'New York Angel'. Whilst she's been clipped of her wings it still makes a beautiful cover for Reuben Wilson's organ works. This was Klarwein's second cover for Blue Note, with the other being for Jackie McLean.
---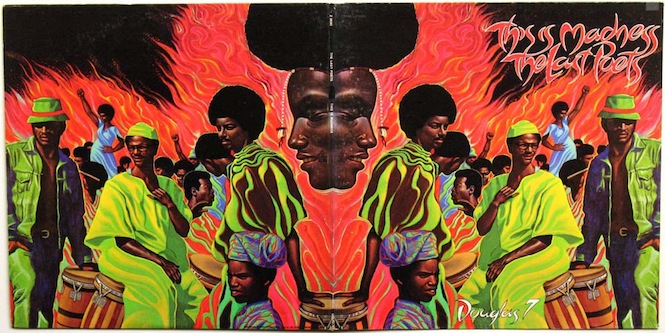 The Last Poets
This is Madness
(Douglas 1971)
This gatefold opens out on to a mirror image of the Last Poets universe in full vibrancy. The technique Klarwein used on these works was taught to him by "phantastic realism" master Ernst Fuchs and stems from Jan Van Eyck's layering of casein tempera, and translucent oil colors. Klarwein enthused that Van Eyck's works glowed in the dark as a result of this technique, and you can certainly see the luminous results here. 'Zonked', a work for a shelved Miles Davis album, later appeared as the cover of the Last Poets' Holy Terror.
---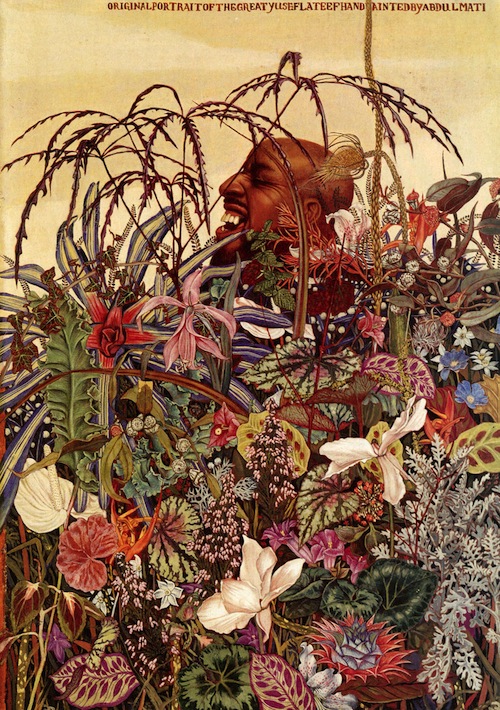 Yusuf Lateef
(Unreleased)
This is another curiosity amongst Mati's works in that he created this portrait as a fan of Lateef's music and in the hope that he would use it as a record cover. Lateef showed a great deal of initial interest in his correspondence with Abdul Mati, but upon meeting face to face and discovering Klarwein was white, he refused to talk on the matter. Reasoning aside (it should be noted that Lateef worked with white musicians in his career), the image still shines through as one of Klarwein's finest musically inspired works that didn't make the cover.