Published on
April 29, 2016
Category
Features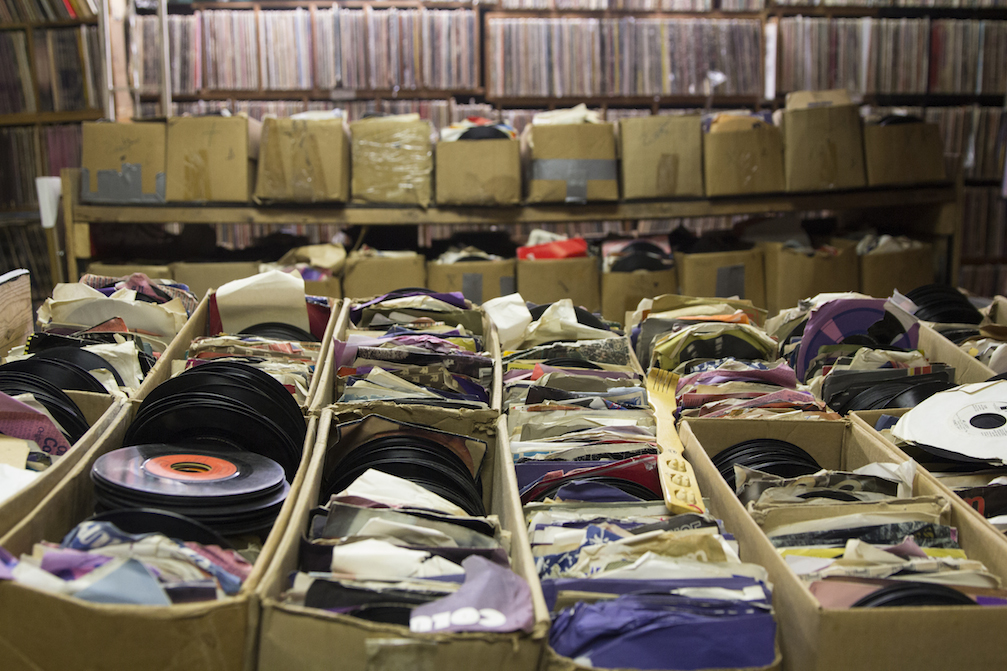 We profile the Windy City's ten best record shops.
---
Words: Erin Pophal / Photography: Simon Brubaker
---
In the States, Cleveland may be the home of rock n' roll, but Chicago is its soul. The birthplace of both urban blues and house music, the musical landscape of Chicago is as diverse as the city itself. Known for its gospel, soul and blues, Chicago was once home to greats like Howlin' Wolf and Muddy Waters.
Today, artists including Chance the Rapper, The Smith Westerns, Andrew Bird, and Kanye West call Chicago home. A distinctly unique American city, Chicago's sounds reflect that character, and has had a massive impact on the course of music history worldwide.
During "The Great Migration" of the early 1900s, over 90,000 African Americans relocated to Chicago's south side in search of better jobs and a better life. The already flourishing creative scene exploded into an unprecedented community of jazz and blues musicians who created music that would eventually lead to the birth of rock n' roll. The rise and fall of labels including Chess and Delmark Records created a genre of Chicago blues and soul that later influenced Elvis Presley, the British blues movement, and the Rolling Stones .
The third largest city in the U.S., Chicago's music scene has expanded with the city itself. The Numero Group has made Chicago a haven for revivalist reissues, and today you can expect to find many record stores with their own labels. Live shows and DJ sets are common in-store with shops like Permanent and Reckless Records regularly hosting huge acts in intimate settings.
Our list of the top 10 includes favorites from a wide range of tastes, history, and geography. Daytime record shopping ambles can easily be had in neighborhoods like Wicker Park and Pilsen, and digging through stacks of 45s is guaranteed to turn up some Chess originals. Vinyl records facilitated the blues revolution in Chicago in the early 20th century, and today you can still find a piece of that history and more at the shops included on our list.
---
Reckless Records (Wicker Park)
Location: 1379 N Milwaukee Avenue, Chicago, IL 60622
Go For: Gems from across the board
What's the story? The Mecca of Chicago record stores. Originally a London standalone, Reckless expanded to Chicago's iconic Wicker Park neighborhood in 1988. With a massive selection on Milwaukee Avenue, their curated wall of staff picks is a lesson in music appreciation that never ends. As an institution Reckless has been a strong presence in the Chicago music scene for the past two decades. In store shows have included the likes of Circuit Des Yeux's Hayley Fohr, Jack White, and Wild Belle. Each new record has a stickered staff review worthy of your attention, and labels from far and wide are more than adequately represented. Rare and recommended titles are marked as such, and time seems to fly when digging through the vast and fairly priced stock. Reckless is a Chicago vinyl given.
---
Val's Halla Records
Location: 239 Harrison St, Oak Park, IL 60304
Go For: Used records and the Elvis restroom.
What's the story? If you're not intrigued by the name alone, come to Val's for some first-rate used vinyl. Open since 1972, Val's Halla is owned and operated by Val, a Capitol Records veteran with over 50 years experience in the record industry. Val is determined to only sell used LPs in excellent condition, and here you will also find new LPs, cassette tapes, and CDs. Genres range from 'big bands to bauhaus, rockabilly, to rap' and the shop has impressive selections of both classical and jazz. Aside from the records themselves, the shop is also home to an eclectic array of the signed portraits of famous artists from days past, including one of Val with Brian Wilson of the Beach Boys. The shop is well organized and fairly priced, and is a historic staple in the Chicago record scene. Just make sure to use the bathroom before you leave; Val's is also famous for its Elvis shrine sal de bain.
---
Logan Hardware
Location: 2532 W Fullerton Ave, Chicago, IL 60647
Go For: Punk and pinball
What's the story? Originally housed in an old hardware storefront in Chicago's Logan Square neighborhood, the small record shop and pinball parlor has evolved into a full blown vintage arcade and record store since its inception in 2010. Today the record store and arcade are located separately, about two blocks apart. The record store houses thousands of LPs and 45s, as well as a continually changing stock of new and vintage turntables, stereos, movies, and collectible toys. Widely respected in Chicago for its punk selection, classics like T-Rex and Motorhead, as well as contemporary artists like Chicago's own Angel Olsen can be found. Purchase anything in the store and you will be given free entry to the Arcade Museum in the back of the store – over 30 video games and 4 pinball machines are all set to free play.
---
Bucket O' Blood Books and Records
Location: 3182 N Elston Ave, Chicago, IL 60618
Go For: All things gothic
What's the story? Named after the Roger Corman film A Bucket of Blood, Bucket O' Blood is an Avondale haven for those with more macabre musical palates. Focused primarily on punk, metal, '70s and '80s rock, and new wave, Blood is known for its selection of horror themed books, records, and movies. Expect to find both metal and sci-fi staples like Morbosidad, Monster Magnet, and J.G Ballard here, as well as a satisfying selection of rock LPs and B-horror films. Blood's selection of horror films and soundtracks is unrivalled.
---
Dave's Records
Location: 2604 N Clark St, Chicago, IL 60614
Go For: Anything but CDs
What's the story? The first thing you'll notice at Dave's is a sign on the door that reads, "NO CD'S! Never Had Em' Never Will!" Not only does Dave carry vinyl, but with over 40,000 records on the floor, he carries all speeds (33, 45, even 78,) all formats (7", 10", 12" single, EP, LP) and all genres. Moderately priced, Dave's is a cozy alternative to larger stores like Reckless or Dusty Groove, where you won't sacrifice an eclectic selection for a little one on one attention from the man himself.
---
Laurie's Planet of Sound
Location: 4639 N Lincoln Ave, Chicago, IL 60625
Go For: Anything but Pitchfork
What's the story? Laurie's Planet of Sound is a small shop chocked full of new and used vinyl, cassettes, VHS tapes and memorabilia. There's an eclectic selection, but don't expect to find any Journey here. A paper titled, "Do Not Ever Buy List" was released by a store employee a few years ago. Alongside Journey and the Eagles, "anything Pitchfork" was blacklisted as well.
---
Dusty Groove
Location: 1120 N Ashland Ave, Chicago, IL 60622
Go For: A rare groove pilgrimage
What's the story? Dusty Groove is the epicenter of rare funk, soul, and global music in the Chicago record scene. Beginning as an online store run by two collectors in 1996, Dusty Groove became a brick and mortar in the Wicker Park neighborhood in the early naughties, and subsequently launched it's own reissue label in 2007. Ranked the number three record store in America by Rolling Stone magazine in 2010, Dusty Groove has proven its reputation as a record shop worthy of pilgrimage. Annually Record Store day lines wrap blocks around the building, and the shop regularly restocks pressings from labels all over the world, including a dense selection from Chicago's native sons Numero Records. With spectacular organization (both online and in-store) and a staff of wax savants, you are guaranteed to find records you didn't even know you were looking for at Dusty Groove, and that's half the fun.
---
Out of the Past Records
Location: 4407 W. Madison St, Chicago, IL 60624
Go For: Dusty jazz, blues, funk, soul & gospel
What's the story? Couple Charlie and Marie Henderson have been selling records in Garfield Park since 1969. A West Side Chicago mainstay, the original Madison Street storefront burned down during riots following the assassination of Martin Luther King. Now at 4407 W. Madison, the shop today is a one-stop adventure for eager collectors ready to get dirty and dig. Walls are lined with shelves of 12" wax, while cardboard boxes of 45's dominate the floor space. While organization is not a priority, here you'll find a world class collection of vintage jazz, blues, funk, soul, as well as an unparalleled selection of gospel. Syl Johnson, Lightnin' Hopkins, Sweet Emma Barrett and Little Milton can all be found on the shelves, as can a selection of Steppin' LP's – music that swelled into a dance movement on Chicago's South Side in the 1970s. A cross-eyed cat named Shadow roams the store, and you'll be sure to see some dusty groovers meandering through the stacks alongside you. Items are reasonably priced and gently used. Out of the Past also sells a small selection of contemporary tapes and CDs, and… hats.
---
Bric A Brac
Location: 3156 W Diversey Avenue, Chicago, IL 60647
Go For: Collectible action figures and punk 12″
What's the story? Bric-a-brac is the place in Chicago for record enthusiasts with a heart full of nostalgia. Opened by Jen Lemasters and Nick Mayer in Chicago's Logan Square neighborhood, the couple describes the shop as their "apartment for sale." Overflowing with colorful arrangements of '80s and '90s collectibles, VHS tapes, and other "bric a brac," it's a record store that will make you feel like a kid again. Their intimately curated collection of contemporary records is well known for its impressive selection of garage and punk. Bric-a-Brac may be the only record store when you can pick up that collectible Pee-Wee Herman action figure you've been eyeing alongside the new Coathangers 12″.
---
Permanent Records
Location: 1914 W Chicago Ave, Chicago, IL 60622
Go For: Your dream record collection?
What's the story? A store that values quality over quantity in Chicago's West Town neighborhood, it's walking distance from Reckless and much less crowded. The friendly and hyper informative staff will never lead you astray, and you'll be at peace listening to their playlists while browsing the well organized stacks of PJ Harvey, Les Rallizes Denudes, and Spacemen 3. The sister of an LA counterpart, Permanent also has a label by the same name. Bitchin' Bajas, Cosmonauts, and OBNOX are on the roster, and in-store live shows include both local and national acts. If you visit one record store in Chicago, this should be it.