Published on
August 4, 2015
Category
Features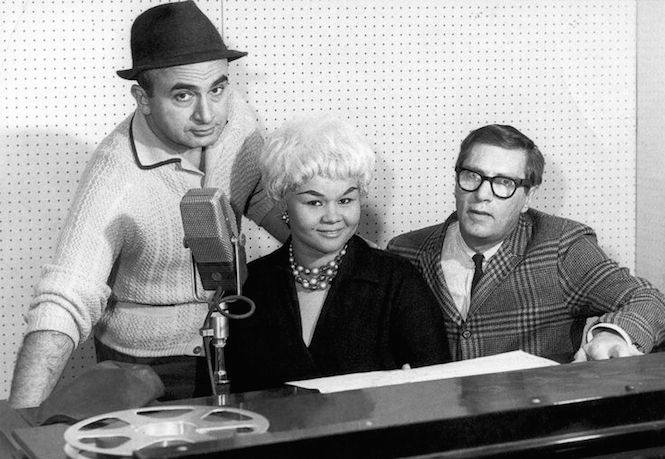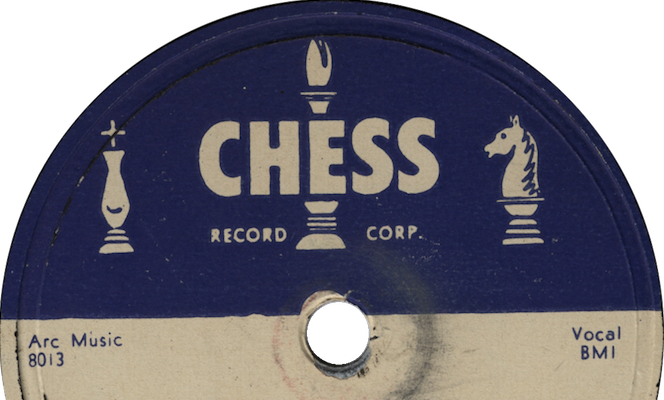 Chicago's Chess Records presented the world with a myriad of amplified blues, jazz, and soul classics, not to mention some of rock'n'roll's earliest participants. Home to Muddy Waters, Chuck Berry and Etta James, this is the story of one of the finest postwar era labels.
---
Words: Bill Dahl
---
Blues, jazz, rock and roll, and soul. Chicago's Chess Records excelled at all four genres during the postwar era, emerging as the Windy City's top indie label during the early 1950s and remaining a force even after the unexpected death of founder Leonard Chess in 1969. Leonard and his brother/co-founder Phil Chess were Jewish immigrants from Poland who may not have grown up around the music but had an innate feel for producing potential hits.
Leonard got his feet wet in the recording business at the Aristocrat label, becoming a partner in the spring of 1948. There he recorded local blues shouter Andrew Tibbs, piano pounder Sunnyland Slim, and slide guitar wizard Muddy Waters, who scored a national R&B hit for the firm that autumn with his 'I Feel Like Going Home'.
The brothers launched Chess Records in 1950 with an instrumental ballad by jazz saxist Gene Ammons, 'My Foolish Heart'. Its release number (1425) paid tribute to the address of their first home on South Karlov Avenue. But blues and R&B would be the firm's specialty during its early years, with Muddy and his band members Jimmy Rogers and Baby Face Leroy on board. A hookup with fledgling Memphis producer Sam Phillips proved especially important, providing major hits by Jackie Brenston and the ferocious Howlin' Wolf.
The label diversified in 1952, introducing its Checker subsidiary. That's where Muddy's genius harpist Little Walter was assigned; his innovations deeply influenced every blues harmonica player to follow. Laconic pianist Willie Mabon gave Chess two 1953 R&B chart-toppers with 'I Don't Know' and 'I'm Mad', and bassist Willie Dixon emerged as an endless source of memorable material for Chess artists. Guitarist Lowell Fulson's 'Reconsider Baby' was a 1954 sensation on Checker; ditto veteran harpist Sonny Boy Williamson's 'Don't Start Me Talkin'' the next year. As vocal groups became the rage, Chess unveiled the Moonglows, whose breathtaking ballad 'Sincerely' topped the R&B hit parade, and the Flamingos (their exquisite ballad 'I'll Be Home' was a '56 hit on Checker).
1955 was dominated by the advent of rock and roll, and Chess was at the epicentre of the action thanks to a pair of groundbreaking guitarists. Bo Diddley brought his thundering African-derived beat to Checker's artist roster, his self-named debut single proving a juggernaut. Even more auspicious was the Chess bow of St. Louis import Chuck Berry, whose guitar technique would lay the foundation of rock and roll (his songwriting talent was equally seminal). Berry's output would enrich the Chess coffers exponentially into the mid-'60s. Other notable rockers gracing the label included Shreveport's Dale Hawkins, whose 1957 smash 'Susie-Q' was rockabilly with a bluesy edge, and New Orleanian Bobby Charles (Chess thought Bobby was black when he cut his '56 hit 'Later Alligator' for the firm, but that wasn't the case).
Another sister label, Argo, bowed in 1956. This one would be dominated by jazz, most importantly by pianist Ramsey Lewis' trio, who managed the rare feat of crossing into the mainstream with their radio-friendly 1965 hits 'The "In" Crowd' and 'Hang On Sloopy' (the latter out on the renamed Cadet label after the British Argo imprint complained). Pianist Ahmad Jamal also enjoyed considerable success on Argo. Chess established its best-known headquarters at 2120 S. Michigan in 1957 complete with an in-house studio, and the hits kept rolling.
Producer Billy Davis brought Chess/Checker into the soul era in spectacular fashion during the '60s, making sure the label's product was just as commercially attractive as that of Motown. Davis helmed huge sellers for Billy Stewart, Little Milton, Jackie Ross, Fontella Bass, Mitty Collier, Etta James, the Radiants, and the Dells. Chess remained dedicated to the blues, bringing in fiery young guitarists Buddy Guy and Otis Rush at the dawn of the '60s to complement Muddy and Wolf. Near decade's end, Leonard's son Marshall subjected Waters and Wolf to psychedelic blues-rock experiments that neither veteran bluesman much appreciated.
The tragic October 1969 death of Leonard Chess was a devastating blow to the company, though he'd sold it a few months earlier to GRT, a tape manufacturer (Chess had recently moved its headquarters to the nearby and much roomier 320 E. 21st St.). Even without Leonard's guidance, Chess Records stayed afloat into the mid-'70s, thanks in large part to the soulful hits of the Dells. Berry remained with the company, ownership changes and all, until it folded in the mid-'70s, scoring his biggest pop seller of all in 1972 with the puerile 'My Ding-A-Ling'.
Of all the legendary labels to call Chicago home over the decades, none can match the legacy of Chess Records.
---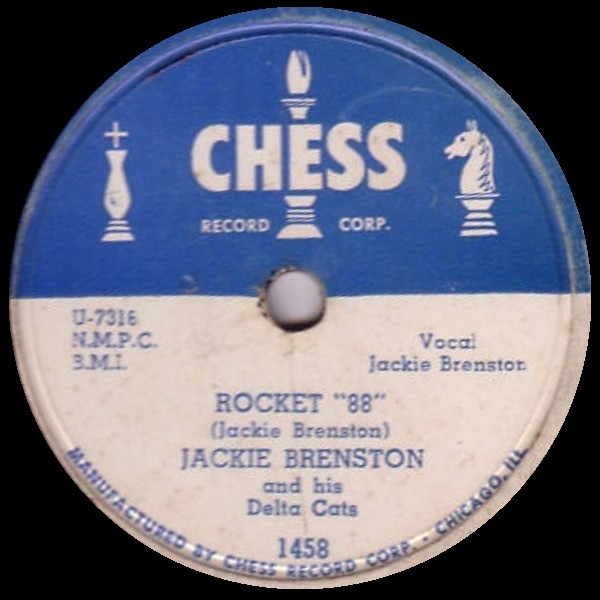 Jackie Brenston and his Delta Cats
'Rocket "88"'
(Chess, 1951)
Often cited as the first rock and roll record, saxist Jackie Brenston's debut single, cut at Sam Phillips' fledgling Memphis Recording Service in 1951 with Ike Turner on piano and his Kings of Rhythm rattling the studio walls, was heavily influenced by Jimmy Liggins' 'Cadillac Boogie', infused with a whole lot of Delta raunch. Phillips sold the master to Chess, and the result was an R&B chart-topper. After a similarly staggering encore ('My Real Gone Rocket') with Ike's outfit, Brenston went on his own at Chess but never returned to the winner's circle (he eventually rejoined the Kings of Rhythm a wiser man).
---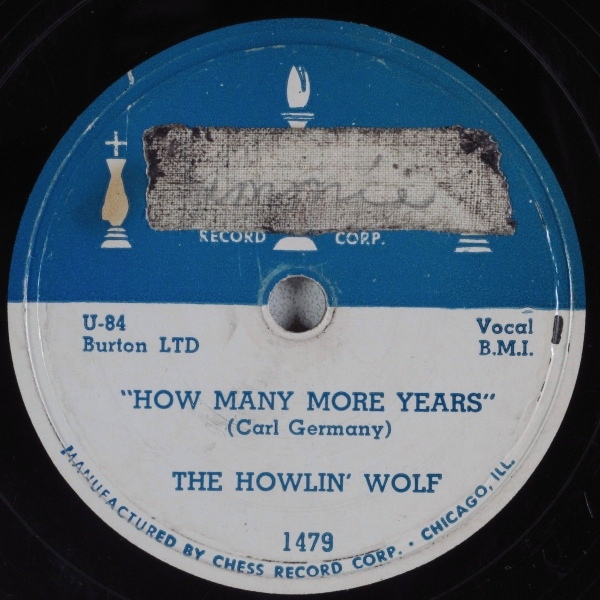 The Howlin' Wolf
'How Many More Years'
(Chess, 1951)
Phillips' famous quote about Howlin' Wolf's voice ("This is where the soul of man never dies") wasn't blatant hyperbole; Chester Burnett's pipes were a true force of nature. 41 years old when he cut his 1951 debut 78 'How Many More Years', the Wolf's otherworldly roar was backed by the barbed wire guitar of Willie Johnson and Ike Turner's four-on-the-floor piano. The massively constructed harmonica blower would soon move to Chicago and record prolifically for Chess, exhibiting an affinity for the compositions of house bassist Willie Dixon. Having Hubert Sumlin's elastic lead guitar at his beck and call didn't hurt either.
---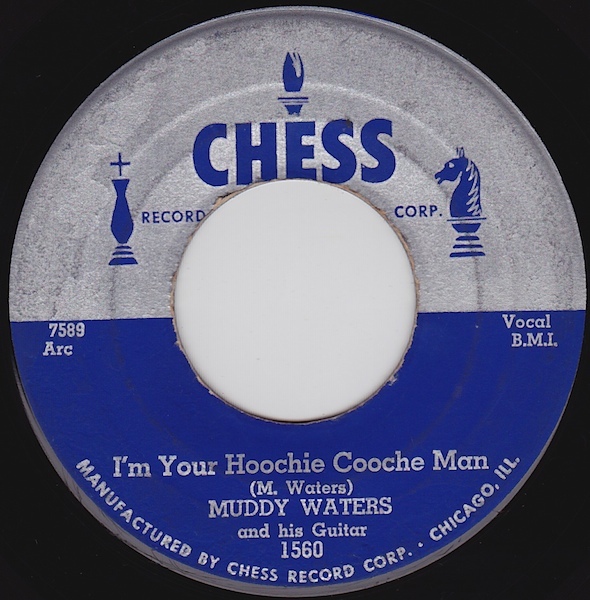 Muddy Waters
I'm Your Hoochie Cooche Man'
(Chess, 1954)
The early Aristocrat and Chess waxings of Muddy Waters were often electrified versions of Mississippi Delta blues, slathered in slide guitar and rural in scope despite their amplification. But once Muddy grabbed hold of some of Willie Dixon's writings, he was the ultimate urban blues growler. Waters' peerless band on the superstition-laced 1954 hit 'I'm Your Hoochie Cooche Man' (that's how it was originally spelled, with Muddy listed as composer rather than Dixon) included harmonica visionary Little Walter and two-fisted 88s specialist Otis Spann. They were the front line of the greatest Chicago blues band ever.
---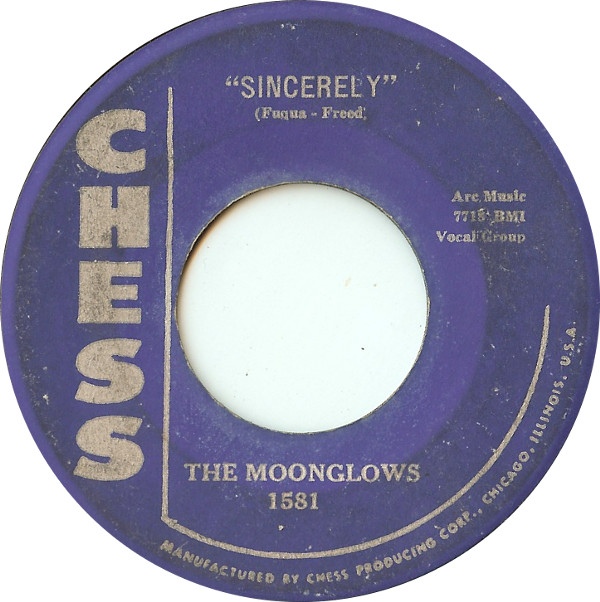 The Moonglows
'Sincerely'
(Chess, 1954)
Vocal groups boasting smooth harmonic blends were everywhere during the '50s, but the Moonglows were in a class of their own. Their "blow harmony" was fresh and immediately identifiable, and they boasted two great lead singers: group founder Harvey Fuqua and the volcanic Bobby Lester, who was front and center on their breathtaking ballad 'Sincerely'. It paced the R&B hit parade in early 1955, Fuqua sharing writer's credit with deejay Alan Freed, who mentored the group in Cleveland. Marvin Gaye would join the Moonglows much later on; that iteration also recorded for Chess.
---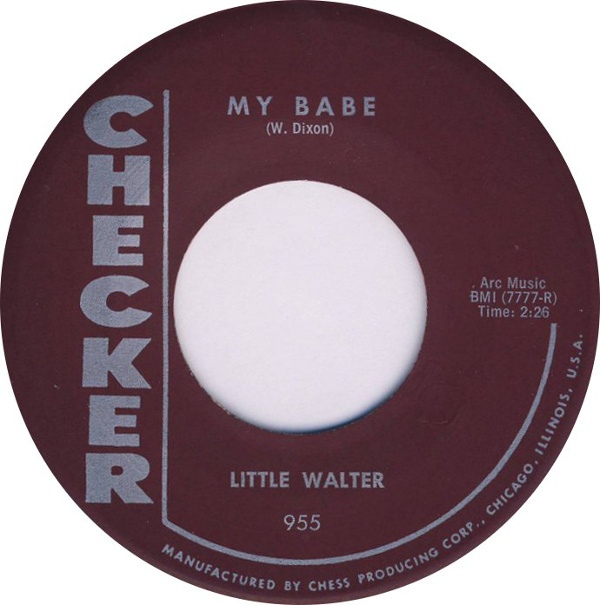 Little Walter
'My Babe'
(Checker, 1960)
Pure and simple, Little Walter Jacobs invented much of the vocabulary of amplified blues harmonica. When he broke out on his own in 1952 on Checker with the romping instrumental smash 'Juke', it was the first of many classics from the young firebrand. Chess A&R man Willie Dixon rewrote the lyrics of the spiritual 'This Train' for Walter in 1955 as the secular 'My Babe', creating an instant standard that defied idiomatic boundaries. Walter's coarse, confident vocal and mile-wide harp wailing laid over a skittering guitar figure added up to five weeks at the top of the R&B charts. 'My Babe' was so catchy that it almost cracked the pop hit parade.
---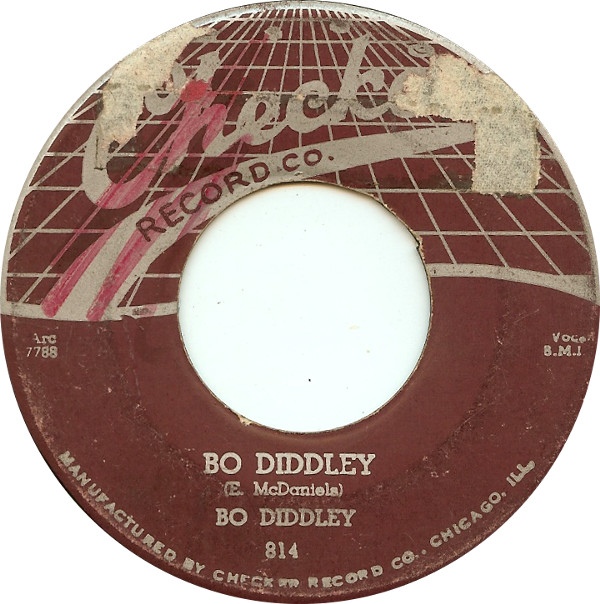 Bo Diddley
'Bo Diddley'
(Checker, 1955)
Not many musicians have a signature groove named after themselves. But Ellas McDaniel's pulverizing, African-rooted rhythmic thrust, so often borrowed from him by other rockers later on, was duly christened the "Bo Diddley beat". It all began with his 1955 Checker debut single, where he introduced himself with a thundering anthem that laid the groundwork for a bigger-than-life legend who thrashed on guitars that looked like they came from outer space. This was his top-selling single of all time, his only #1 R&B entry, with the swaggering blues 'I'm A Man' tucked away on the flip side. Talk about value for money!
---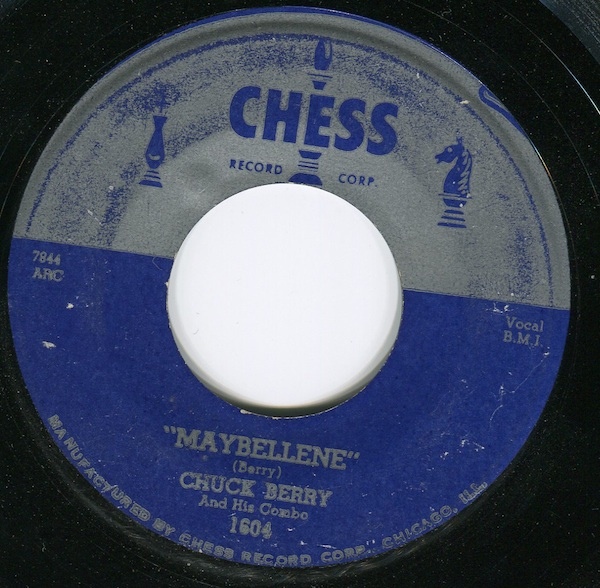 Chuck Berry
'Maybellene'
(Chess, 1955)
Sporting a unique blend of musical influences, Chuck Berry arrived on Leonard's doorstep not long after Bo. He modeled his debut single after an old country ditty, 'Ida Red', but when Chess suggested an entirely fresh name for the girl in his song, he harked back to a story about a cow he read as a lad and named his creation 'Maybellene'. Of course, Berry's blistering guitar work and keen lyrical genius were there from the start, though no one realized that his fretwork would be the foundation for the rock and roll idiom. The loose-limbed duck walker would long reign as Chess' flagship artist, loyally abetted by Johnnie Johnson's crashing ivories.
---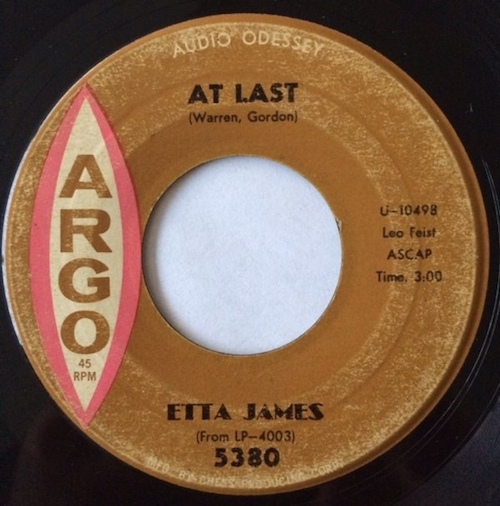 Etta James
'At Last'
(Argo, 1961)
It's the ultimate wedding slow dance theme now, but Etta James' dreamy ballad 'At Last' knocked Leonard Chess for a loop. Thanks to Riley Hampton's majestic violin chart and Etta's grown-up vocal treatment, he proclaimed it the gateway to full-fledged pop crossover acceptance. Out on Chess' Argo subsidiary, 'At Last' was a Tin Pan Alley standard taught to James by her musical mentor at the time, the Moonglows' Harvey Fuqua. It just missed pacing the R&B hit parade in early 1961, one of a series of similarly lush explorations of the Great American Songbook by the feisty young singer. Her hip phrasing, however, was anything but old-fashioned.
---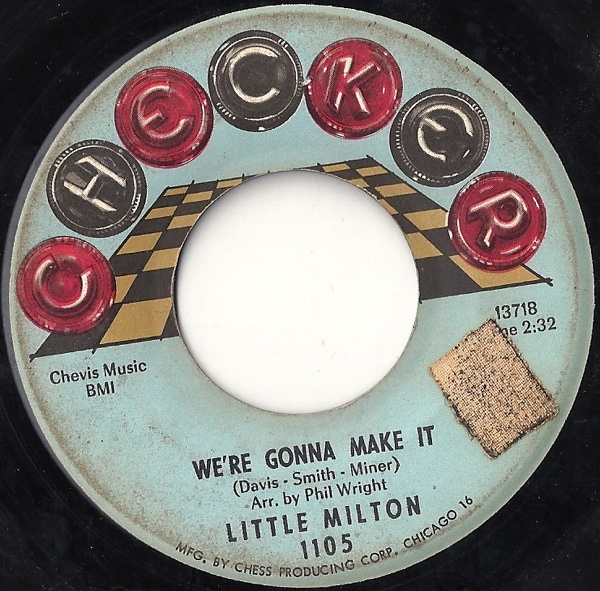 Little Milton
'We're Gonna Make It'
(Checker, 1965)
Although he started out at Sun Records in 1953 as a blues guitarist, versatile Little Milton Campbell morphed into a soul belter of the first order at Chess. Under the direction of producer Billy Davis, Milton's big, rich voice was channeled into the uplifting 'We're Gonna Make It', penned by Davis and house scribes Carl Smith and Raynard Miner. Phil Wright's brassy arrangement was ebullient, and the record's positive message proved inspirational to record buyers as it zoomed to the top of the R&B hit parade in the spring of 1965. Milton would continue to alternate between sparkling soul and blistering blues at Checker into 1971.
---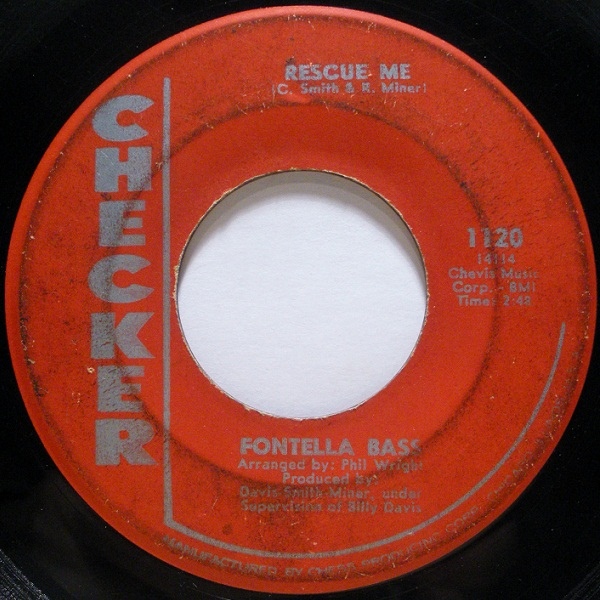 Fontella Bass
'Rescue Me'
(Checker, 1965)
Competing with the Motown hit-making machine was no easy task, but Chess producer Billy Davis managed spectacularly. He was in charge for gospel-trained St. Louis chanteuse Fontella Bass' 1965 R&B chart-topper 'Rescue Me' along with its composers Carl Smith and Raynard Miner. Chess' house band was easily the equivalent of Hitsville's Funk Brothers, even if they never got the publicity; Louis Satterfield's scintillating bass line and punchy horns urge Fontella on as she emotes with soul-searing intensity. Windy City soul didn't get any more compelling. Fontella's masterpiece was a major pop smash as well.