Published on
March 1, 2017
Category
Elevation
From working with Butterz' Elijah & Skilliam to learning Thai boxing in the underbelly of Bangkok, Cecilia Bengolea addresses the rage of marginalised young people in dance.
It's approaching 9pm, edging below zero degrees and Cecilia Bengolea is twerking in a hand-made glow-in-the-dark catsuit on the snow in front of a projection of a Thai man caressing a python. Nascent French grime echoes up the hillside. Just another day in the life then of the Argentine performance artist, whose performance of Same Same Joy in the Swiss Alps of Gstaad for Elevation Festival comes squeezed between trips to the dancehall championships in Jamaica, a Thai boxing course in Bangkok and racing horses across the Arabian peninsula.
For Bengolea to make work inspired by new environments, she really has to live it, to feel it herself.
"I think it's very possible to develop different steps because the music already takes various influences from dancehall, drum n bass, electronic music and garage," Bengolea says. Having accompanied Japanese dancehall sensation Bom Bom to Jamaica for her film with Jeremy Deller Bom Bom's Dream at The Infinite Mix last year, it's no surprise to see Bengolea has incorporated some of its moves into her newest routine. "The dance can bring various influences into one body," she explains, likening it to the experience of Jamaican immigrants in London combining white electronic music with dancehall and dub.
Fascinated by the social and cultural anthropology of dance, Bengolea has honed in on music typical of confined and often deprived urban spaces. Her interest in grime dates back to a 2012 collaboration with Butterz' Elijah and Skilliam which culminated in a performance at Paris' Pompidou Centre, a form of music that was new to the city, not just the rarified gallery crowd.
"There's been a great rap scene for a few years, but grime was very new to Paris," she explains, tracing the UK's connection with the music back to dancehall and mass immigration from the Caribbean. "Paris is effervescent and there's a lot of rage in the suburbs with politics right now and young people in the city are very creative."
Bengolea explains how she was introduced to the music by a friend and music journalist in London, opening her to some of the city's most prominent MCs and DJs like Champion, Swindle and Flava D. Out of this came Altered Natives' Say Yes To Another Excess ⎯ TWERK, a performance conceived with regular collaborator François Chaignaud and soundtracked by Elijah and Skilliam that sought to reconcile grime – a hybrid music, but one without its own recognisable steps – with contemporary dance.
The dance that emerged was equally hybrid, at times influences by dancehall and splintered urban sub-cultures like bashment, krump and dubstep and at others exploiting the sexuality and poise of New York's voguing ballrooms. "I've been to Jamaica for the last three years working with dancehall creators," she explains, recognising the island's bass music culture as the real root. "I always try to work with the awareness that they are the real creators of the steps and the music."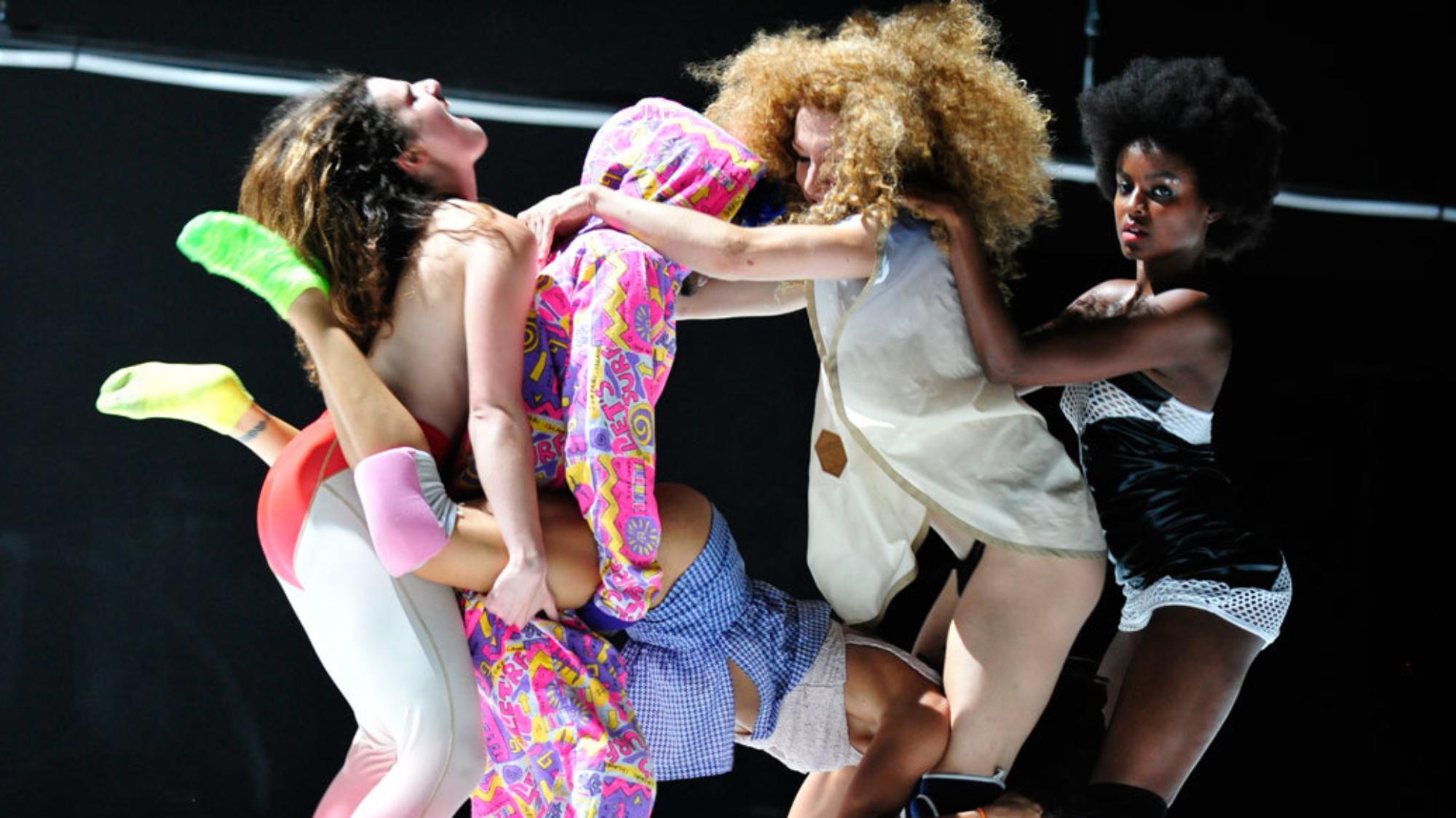 Without saying so explicitly, Bengolea appears to draw parallels between grime, trap and urban bass music as a form of everyday resistance – a vent for the frustrations of social injustice, poverty and crime in Paris and London – with the discipline of a martial art-form like Thai boxing. Smashed together on the slopes of an affluent Swiss ski resort, the contrasts couldn't be higher.
"It was very thrilling to imagine the mountain and me alone in nature addressing this rage from the suburbs in Paris," she explains electrically, bringing her performance back to the sweat and blood soaked halls of Bangkok's amateur boxing clubs. "I always like these movements where people are trying to go beyond their limits in different ways."
It's a process she maps in her own development as an artist, moving from acting to dance to martial arts in the pursuit of the truest form of movement. "When you fight you really have to move your body in perfect gestures, so I thought it was even more essential or even more primal than the dance," she explains. "However, I always come back to dance, because there's a way of expression in dance that allows you to express concrete things and use them to tell a story figuratively."
In Thailand, children are encouraged to box from a young age and for many, particularly those born into poverty or brought up in orphanages, the sport it can represent the only tangible way out of the ghetto. While becoming a professional is fiendishly difficult, not to mention dangerous, it can be the only schooling these children receive.
That said, it's practiced with what Bengolea calls "a much more peaceful and integrated spirit," than it is in France, where men from marginalised communities fight with their own sense of isolation as much as with each other.
"In Paris rap the suburbs are called "the zoo" because it's like a jungle…" Bengolea explains, "everyone is a different animal, like rats, bats and bears." And suddenly the images projected on the slopes behind her, filmed on location in Bangkok and laced with psychedelic ritual images of insects and reptiles begin falls into place. All influences, emotions and actions brought together in the movement of a solitary body, silhouetted against the snow.