Published on
August 20, 2015
Category
Features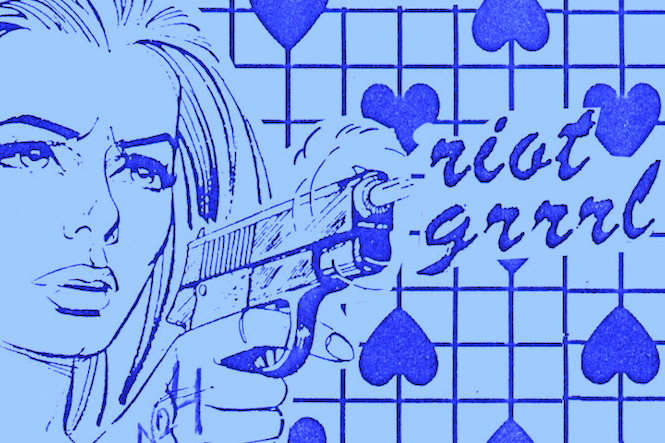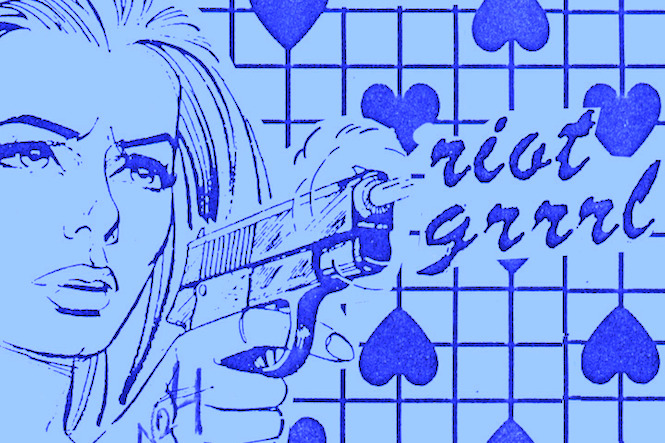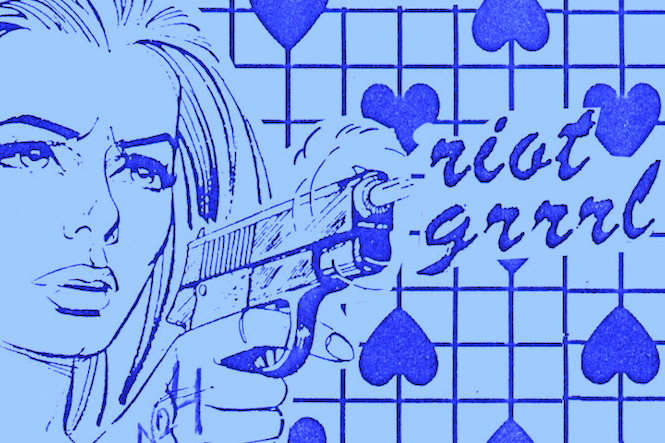 Despite being a movement of feminist iconoclasts who had little time or patience for the rock canon, the passage of time has led to a riot grrrl canon itself. Anwen Crawford shares the revolution with 10 records that encompass the broadest possible definition of riot grrrl, including historic predecessors and contemporary inheritors.
---
Words: Anwen Crawford
---
In June 1991, feminist punk band Bikini Kill completed their first cross-country tour of America, hawking an eight-track demo cassette titled Revolution Girl Style Now. Their shows, held in decrepit clubs and all-ages spaces, were purposely confrontational. Vocalist Kathleen Hanna would often tear off her shirt to expose the word SLUT, written in marker across her stomach. Holidaying for the northern summer in Washington, D.C., Bikini Kill and their friends put together the first issue of a zine called Riot Grrrl.
"Riot Grrrl always existed," writes Sara Marcus in Girls To The Front, an account of this most ephemeral of feminist movements, "first and foremost as an incantation." There was no official leadership, no membership process, not even an easily identifiable dress code. Perhaps, like Marcus, you took a pen and wrote 'RIOT' on the knuckles of one hand and 'GRRRL' on the other. Perhaps, like me, you took an old school blouse, dyed it candy pink, and embellished it with the same words using silver spray paint. To be a riot grrrl it was enough to believe that you were one. There is simply no way of knowing how many young women across the world have taken those two words into their mouths, or written them onto their clothes and skin, and in doing so felt a nascent power like nothing they've ever felt before.
Music was a means to an end for the riot grrrl movement — a way to spread the message of revolution. Though the prominent riot grrrl bands, like Bikini Kill and Heavens To Betsy, left a recorded legacy, many other riot grrrl musicians did not. Spontaneity and amateurism (in the best sense) were hallmarks of the movement. A more complex, less abridged history of riot grrrl — its many tangents, its urgent political questions and personal stories — lies in the countless thousands of zines created by participants. Even then, what you will find is a patchwork. Riot grrrl is a movement that has left no monuments, though it has put fire into many hearts.
If you do want to start investigating riot grrrl with a playlist, what follows is a selection of tracks that takes the broadest possible definition of riot grrrl, including historic predecessors and contemporary inheritors. Riot grrrl is often taken to be an offshoot of punk or hardcore, but there was an important musical thread which linked riot grrrl, as it developed in the 1990s, to the gentler, more melodic sounds of 1980s indie rock, particularly British groups like Young Marble Giants and The Pastels. Riot grrrl was an attitude, not a genre: it mattered more to get up and try playing a song, than how you played it.
Despite being a movement of feminist iconoclasts who had little time or patience for the rock canon, the passage of time has, perhaps inevitably, led to a riot grrrl canon itself. This playlist includes some obvious candidates, but it leaves out others, like Bratmobile, one of the first riot grrrl bands, and groundbreaking feminist punk forebears like The Raincoats. Take this playlist as a starting provocation, not as the final word.
---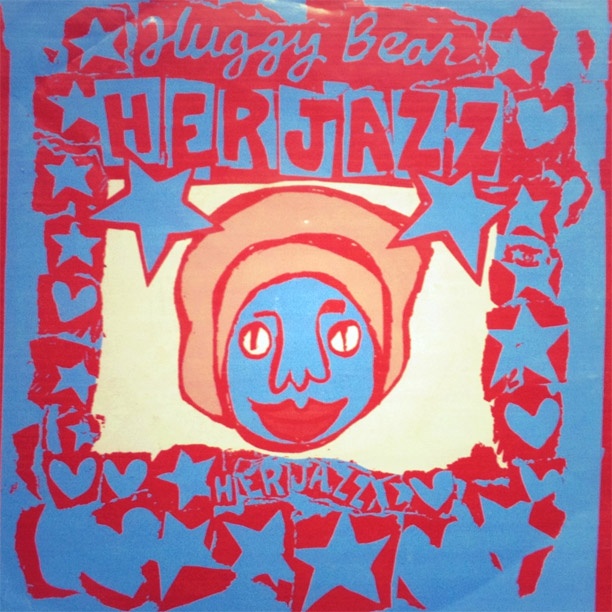 Huggy Bear
'Her Jazz' from 7″
(Wiija Records, 1993)
If it came down to picking a single riot grrrl anthem, this would be mine. Huggy Bear, Britain's best-known riot grrrl band, would share stages and even a split album with American scene leaders Bikini Kill, but 'Her Jazz' is faster, funnier and more deft than Bikini Kill would ever be. With a wonderful stop-start arrangement and eminently quotable lyrics ("We're gonna trash the square world"), this was, indeed, the sound of the revolution. Twenty-two years after Huggy Bear's legendary television appearance on British music show "The Word" performing this song, 'Her Jazz' still sounds like a future waiting to be made.
---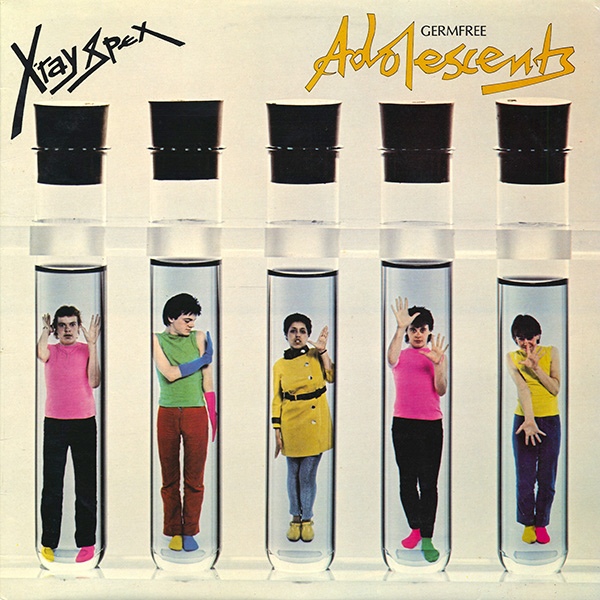 X-Ray Spex
'Art-I-Ficial' from Germ Free Adolescents
(EMI, 1978)
"I wanna be Instamatic/I wanna be a frozen pea" — the best punk rock lyric ever? The genius of Poly Styrene, front woman and songwriter of first-wave British punk band X-Ray Spex, was in her simultaneous embrace and rejection of consumer culture. That tension gave her songs an intelligence and a wit that continues to sparkle; she anticipated the dilemmas of contemporary feminism by decades. 'Art-I-Ficial', with its heavy guitar and drums, is the storming opener to the band's debut album, Germ Free Adolescents. Without X-Ray Spex, there would be no riot grrrl.
---
Teenage Jesus and the Jerks
'Burning Rubber' from Teenage Jesus And The Jerks
(Antilles Records, 1978)
Lydia Lunch never seems to get the credit she deserves as a riot grrrl forebear: her name isn't even listed in the index of Sara Marcus's Girls To The Front, which is the best general history of riot grrrl available. But her groundbreaking work as a punk songwriter and performance poet would open the way for later artists like Bikini Kill's Kathleen Hanna. 'Burning Rubber', which first appeared on the hugely influential no wave compilation No New York, produced by Brian Eno, is full of dread and strangeness: the domestic, 'feminine' world turned to a nightmare.
---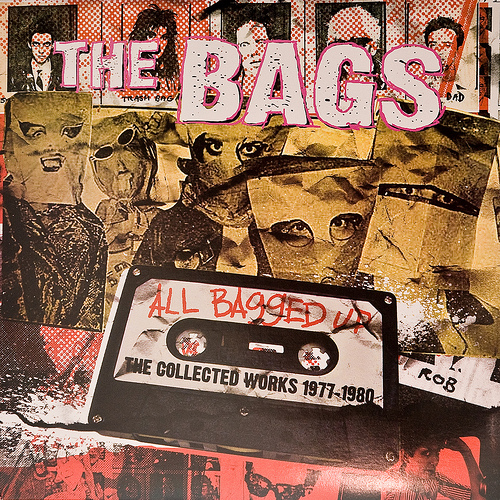 The Bags
'Gluttony' from All Bagged Up
(Slash Records, 1980)
The Bags were one of the first punk bands in Los Angeles, formed by vocalist Alice Bag (Alice Armandariz) and bass player Pat Bag (Patricia Morrison) in 1977. The Bags released only one record during the group's lifetime, a 7" called 'Survive', on the punk label Dangerhouse Records. 'Gluttony', which predates any number of riot grrrl songs about women's relationship to food, is available on All Bagged Up, a 2007 anthology, but a powerful live performance of the song features in Penelope Spheeris's cult documentary about the Los Angeles punk scene, The Decline of Western Civilisation, and on the accompanying soundtrack.
---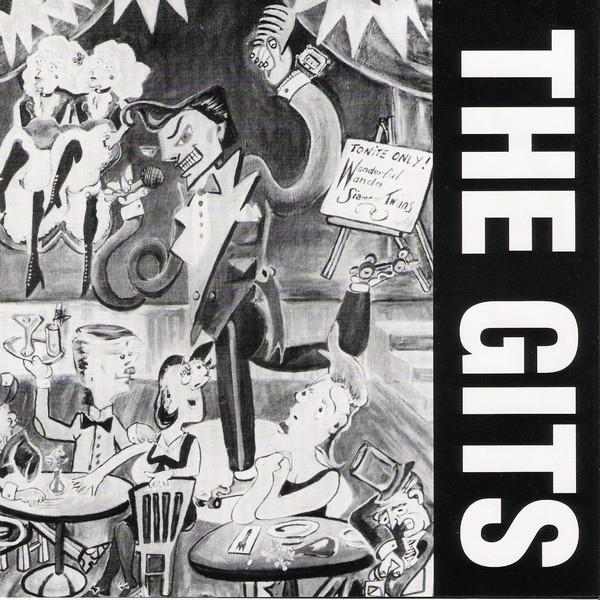 The Gits
'Second Skin' from 7″
(Broken Rekids, 1991)
Were she still alive, Gits vocalist Mia Zapata might challenge her inclusion on this list: there is little evidence that she was a supporter of riot grrrl, let alone an active participant. Nevertheless, The Gits, who formed in Seattle in 1986, were one of several female-fronted American bands — including L7 and Babes In Toyland — whose heavy sound and lyrical interests shared something of the riot grrrl spirit. In this song, Zapata sings of needing a "second skin" to stand up to "a world set to deceive". She was a magnetic front woman, and her murder in 1993 was a tragedy for the closely knit Seattle rock scene.
---
Bikini Kill
'Feels Blind' from Bikini Kill
(Kill Rock Stars, 1992)
It would be possible to compile an entire riot grrrl top ten just from Bikini Kill's influential discography. 'Rebel Girl' will make you feel fifty foot tall; 'Double Dare Ya' is an unmissable call to action. 'Feels Blind' — which first appeared on the group's self-released 1991 cassette tape, Revolution Girl Style Now, and again on the following year's Bikini Kill EP — is a churning, claustrophobic song, with a musical mood perfectly matched to the lyric's blend of rage and terror. "As a woman I was taught to be hungry," sings Hanna. "We eat your hate like love. How does it feel? It feels blind."
---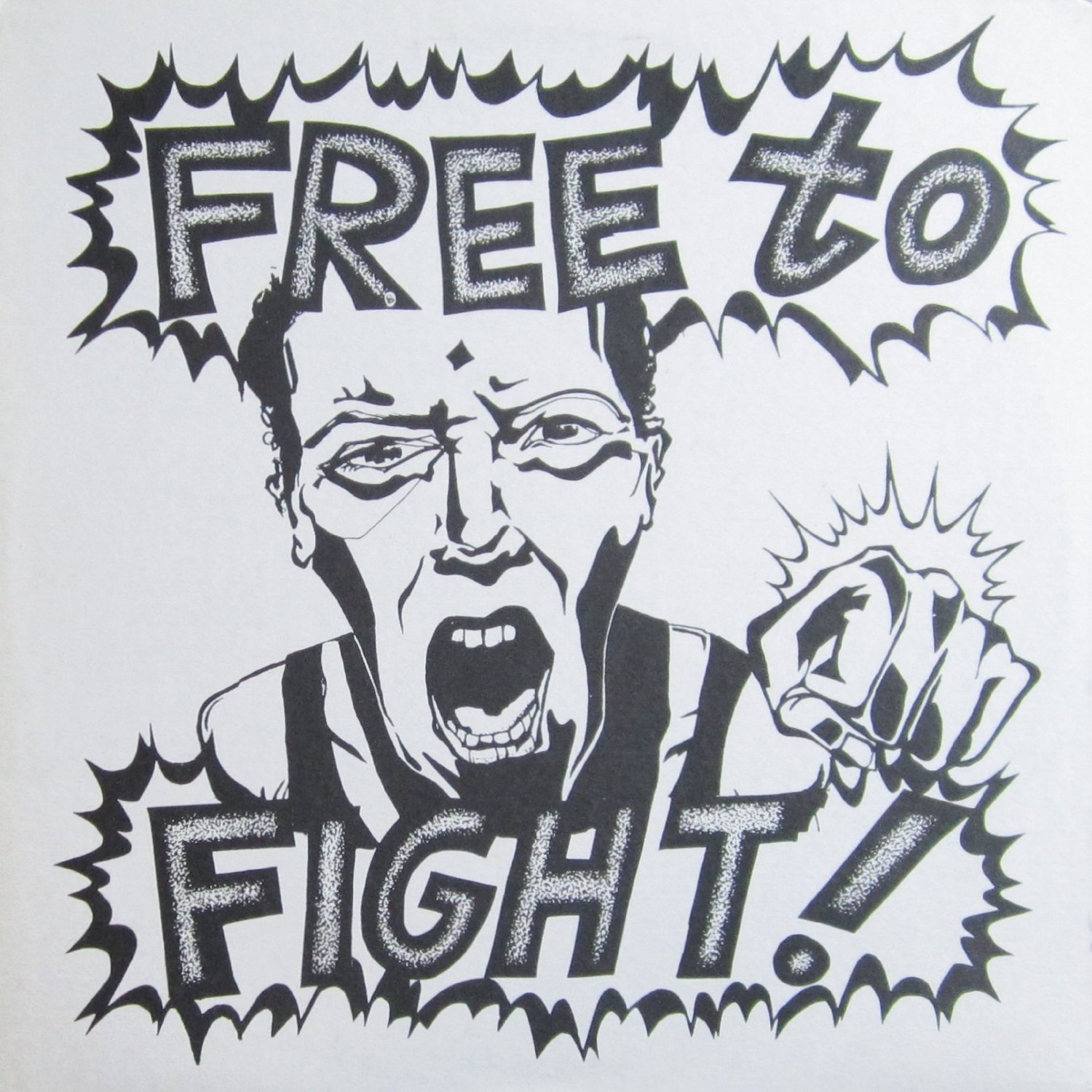 Heavens To Betsy
'My Red Self' from Free To Fight! Self Defense For Women And Girls
(Candy-Ass Records, 1995)
Riot grrrl wasn't all about loud punk rock. The rage and humiliation that motivates 'My Red Self' is held in check by a stark arrangement of bass and drums. The song is about the taboo of menstruation, and vocalist Corin Tucker delivers her lyric like a secret held out to the listener. "Never wear white/Or your shame will creep through," she sings. Heavens To Betsy were one of first riot grrrl bands, forming in 1991; three years later, Tucker would go on to form Sleater-Kinney, the greatest post-riot grrrl band of all.
---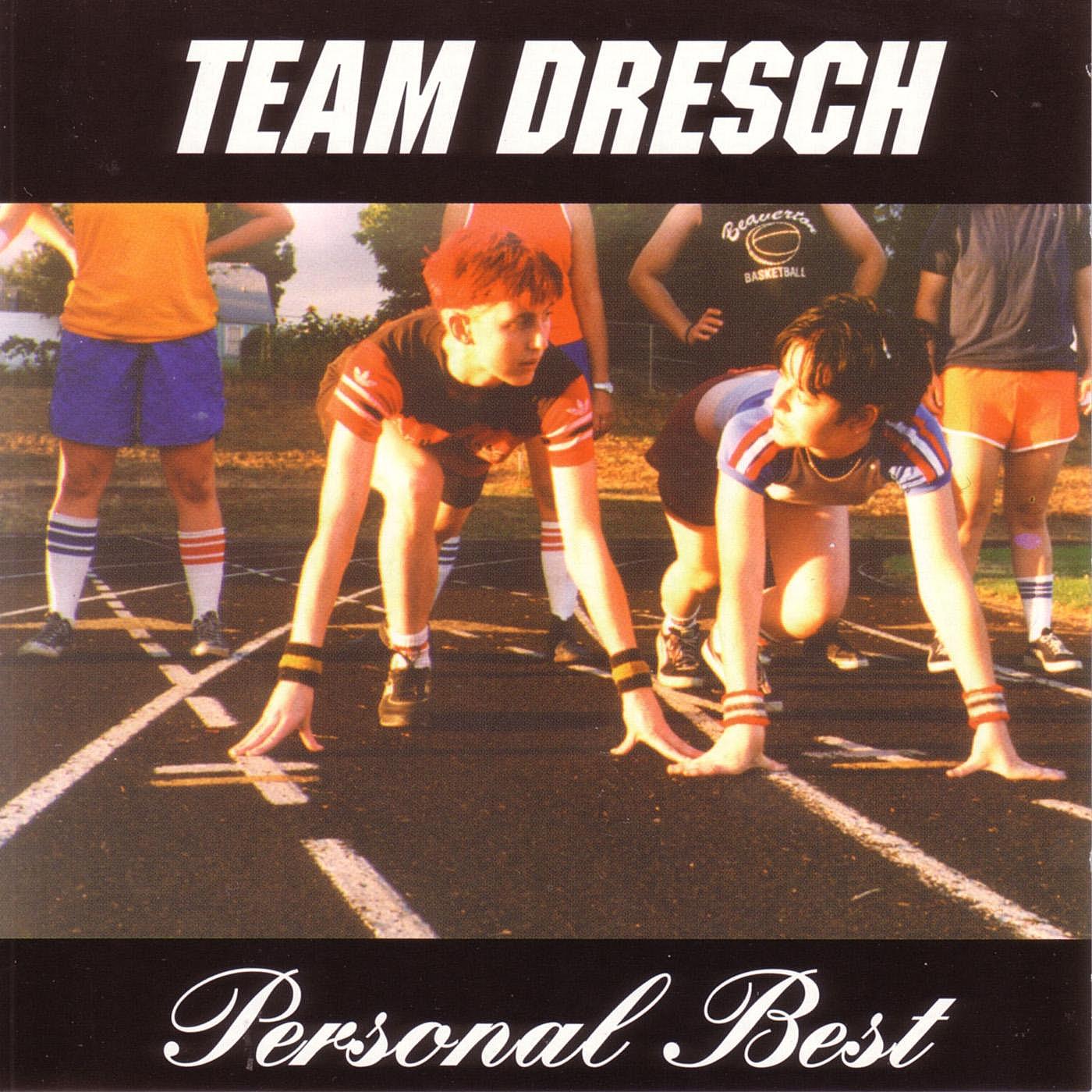 Team Dresch
'Growing Up In Springfield' from Personal Best
(Chainsaw Records, 1994)
The brilliant Donna Dresch began writing her zine Chainsaw during the 1980s. By the following decade, Chainsaw was also her record label. Team Dresch formed a pivot between the riot grrrl and queercore scenes — all band members were openly lesbian. The band's debut album, Personal Best, is still a gem: twenty-four minutes of impassioned politics, punk spirit and pop melodies. 'Growing Up In Springfield' is an evocative, poignant tale of queer teenage life and small town frustrations: "She told me I needed God/I told her I just needed her."
---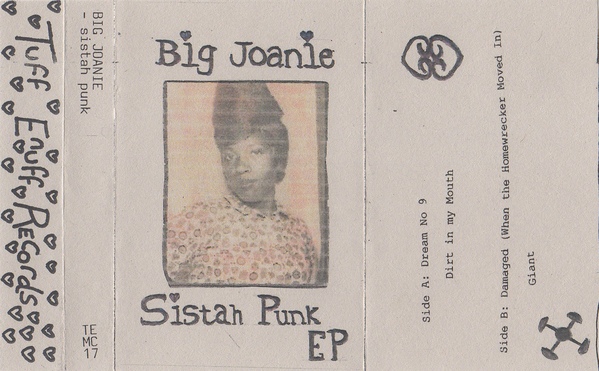 Big Joanie
'Giant' from Sistah Punk EP
(Tuff Enuff Records, 2014)
London trio Big Joanie describe themselves as "like The Ronettes filtered through 80s DIY and riot grrrl." Their EP Sistah Punk was released late last year on Brighton-based label Tuff Enuff Records. 'Giant' is slinking and a little bit sinister, reminiscent of Young Marble Giants but with more attitude. An earlier version of the song appeared on the band's 'Lounge Sessions' (available from Bandcamp), recorded in band member Chardine's lounge room, with a coffee table and plastic box substituting for a drum kit. The DIY spirit burns strong.
---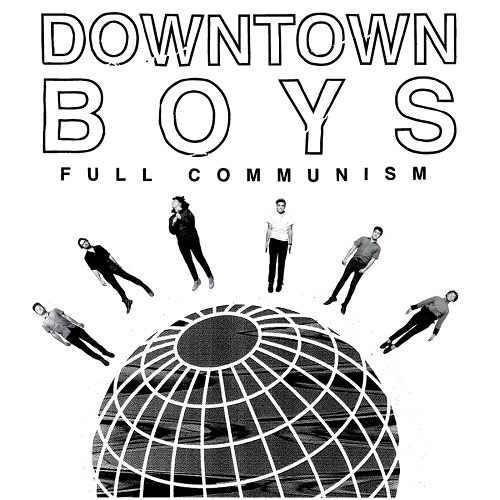 Downtown Boys
'Monstro' from Full Communism
(Don Giovanni Records, 2015)
The parallels between Downtown Boys and X-Ray Spex are impossible to avoid, but hey, if there were more bands in the world that sounded like X-Ray Spex, and less that sounded like Coldplay, the world might be a better place. Downtown Boys formed in 2011, and their debut album Full Communism was released in March this year. 'Monstro' is the lead single, and an excellent demonstration of the Downtown Boys sound: a beat for dancing to, a saxophone riff to remember, and a vocal by Victoria Ruiz to make you pay attention. "She's brown! She's smart!" She's out to change the world.
---
Anwen Crawford is the author of Live Through This