Published on
October 17, 2015
Category
Features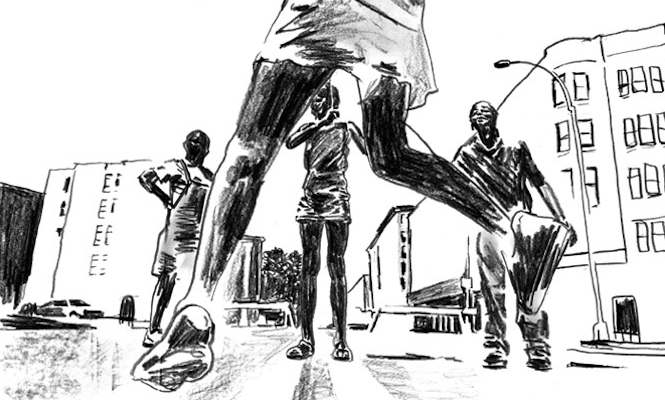 Continuing our new monthly roundup of the best mixes, radio shows and live sets.
Uncovering records through mixes might just be the next best thing to rummaging around in a record shop. So, each month we'll be trawling through the wild world of online mixes to save you the trouble.
To be eligible for our top five, candidates must be vinyl-only or vinyl-centric in format. And failing that we'll only consider it, if it slakes our crate digging urges.
This month's selection begins on a personal note, with a touching tribute mix by Mr. C, who rifles through several crates of wax to deliver a history of house and techno in three hours to pay homage to UK dance music legend Colin Faver. Equally conclusive, XL Middleton takes us through three deacdes of funk from the '80s to the present day, while Madlib abridges the Trojan and Greensleeves discographies for an hour of deep and dreamy dub. Cabaret Voltaire's Stephen Mallinder flips through his personal collection to craft a gorgeous ambient mood piece, before Music Is My Sanctuary finish things off with a box of rare Polish groove salvaged from the flea markets of Warsaw.
---
Mr. C
Beyond The Clouds – A Tribute to Colin Faver
A tribute to the late Colin Faver, Mr. C drops a devotional 3-hour history lesson of house, techno and acid from the '80s and early '90s. As one of UK club culture's foundational characters, DJ and KISS FM founder Colin Faver had such an impact on Mr. C, the mix comes with a touching letter to "my dearly departed brother, guru, mentor & Godfather of the UK electronic dance music scene". It continues: "For the new kids on the block who don't know who Colin Faver is, he's the reason that you're dancing & enjoying the global dance music scene as we know it." This one's 100% vinyl too.
---
Stephen Mallinder (Cabaret Voltaire)
Sleepable 3/3
On tour with LoneLady this autumn, Cabaret Voltaire's Stephen Malinder has shared a soporific journey through the hinterlands of ambient and post-punk via LoneLady's Mixcloud earlier this month. A gorgeous, concise mood piece, the mix exmeplifies their "shared predilection for machine grooves, funk punctuations and all things murky in the concrete labyrinth" – a theme you can explore further with both in our short film here.
---
XL Middleton
Discogs Mix 40
With his new album Tap Water dropping like an asteroid from the funkmosphere at the end of this month, California producer XL Middleton has stepped up for the latest Discogs mix with a 75-minute excursion across three decades of funk. Laid down in chronological order, it begins with synth-heavy boogie funk, before getting deep into the pocket of early '90s g-funk, picking things up for an electric surge through into modern funk for the finale. This is the funk, the whole funk and nothing but the funk. If you don't dig it, you know where to go.
---
Madlib
Blunted In The Bomb Shelter
It may have been assembled in 2002, but that Madlib has just uploaded his killer reggae and dub selection Blunted In The Bomb Shelter is a thing to celebrate. It began when some good folks who owned the catalogues of classic reggae labels Trojan and Greensleeves sent Madlib a box of every record they had bidding him turn it into a mix. Forged from two months of heady listening and recording in the Bomb Shelter, you really don't need us to tell you how essential this is.
---
Music Is My Sanctuary guest mix
Polish Rare Grooves
DJ Lexis' Music Is My Sanbctuary serves up the final mix in this month's run down. A rip-roaring session of rare Polish jazz, funk, soul and psych, we can't tell you an awful lot about the records in here, but suffice to say it's hotter than a cured kielbasa on a sunny day. There's even a spot of Polish bossa to get your through the long autumn evenings.