Published on
October 15, 2015
Category
Features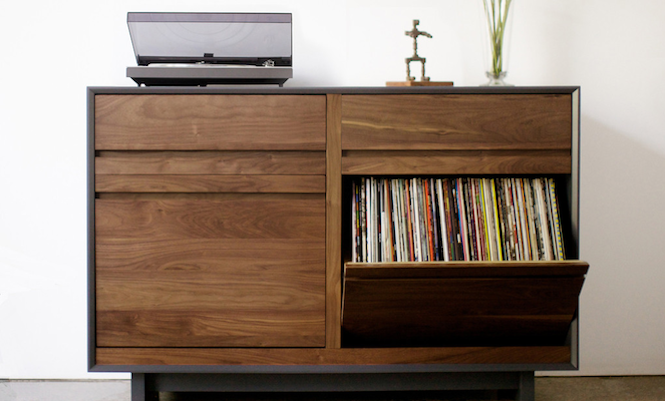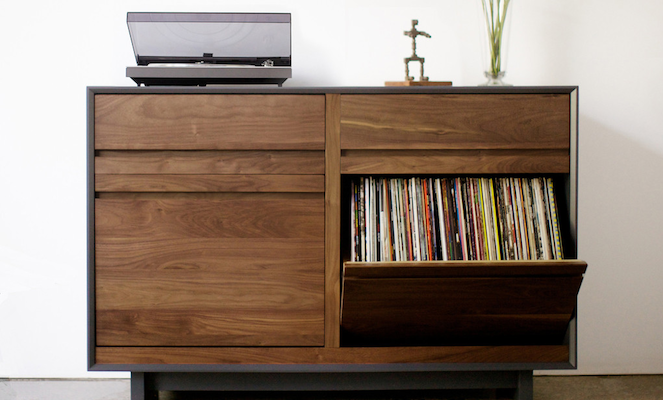 IKEA Kallax (FKA Expedit) may be omnipotent but it is not your only god. Here are twelve alternatives that prove record storage is a polytheistic pursuit.
When it comes to storing your records, there really is no easier way than to reach for that little wooden pencil and scribble down the code for an IKEA Kallax. Superseding the much-loved Expedit, IKEA's no nonsense cubic shelving unit has long been the collector's standard; functionally, ubiquitous (there are currently eight in our office alone) and, if we're honest, really rather bland.
Take a look at our gallery of readers' record collections and it's no surprise IKEA have their prints all over them; homogenous vessels for the most personal of your belongings. But just because the Kallax is king, doesn't mean you don't have a choice.
While lists of alternative record storage ideas might be a dime a dozen right now, but we feel there are none which adequately cover the range of options you have available to jazz up your collection. With today's selection we'll be looking at serious alternatives to IKEA at a range of price points, from standard shelves to high-end multi-function cabinets. Then, over the next month or two, we'll take a look at record consoles, bespoke DJ set-ups and record crates (not milk crates) in more detail.
Storing your records has never been this exciting.
---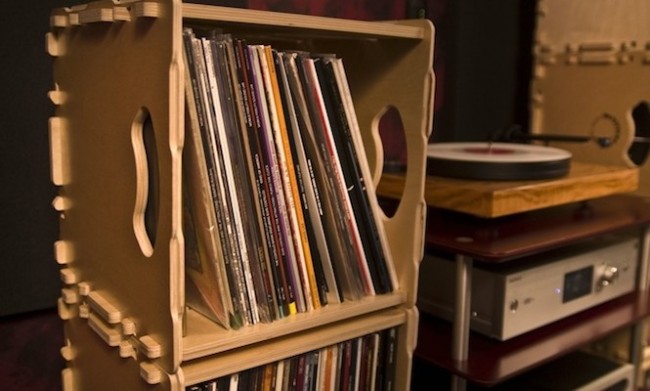 Price: $65 per crate (Kickstarter price)
Capacity: 50+ per crate
Drop that screwdriver! Built from sturdy Baltic birch wood, these crates snap together without tools or hardware. No more worrying about missing screws or bolts, or that damn allen key. And no need for horror show wordless instructions. Just slot the five panels together to build a crate, then stack individual crates in whatever configuration you like. They ship flat and are easily portable. Piece of cake.
---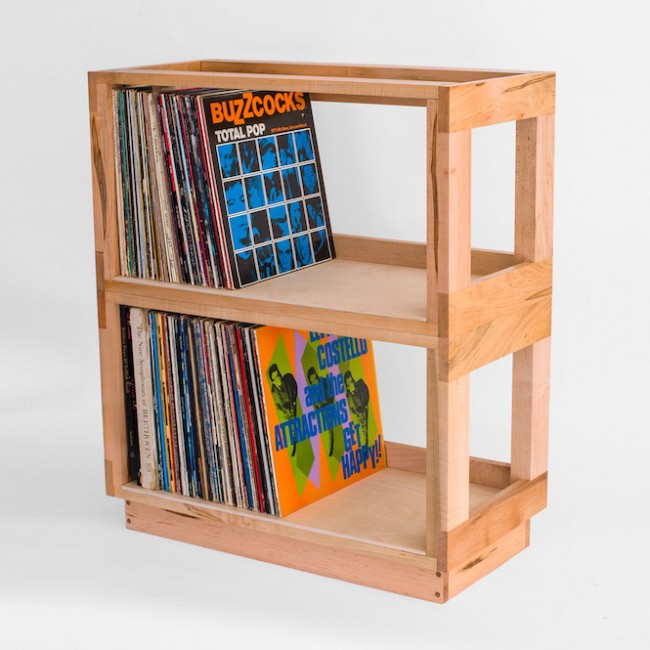 Mapleshade (Record Shelf System)
Price: $75 – $210 per shelf, depending on finish
Capacity: 150 LPs per shelf
Like Wax Stacks, the advantage of these solid oak shelves is that they're expandable as your collection grows. Each shelf holds 150 LPs and you simply add extra units using the sturdy interlocking mechanism. You can stack up to 6 units in total, that's 900 LPs in little more than 2.5 square feet of valuable floor space. There's also a shelf designed for CDs, DVDs and books for the multi-format freaks.
---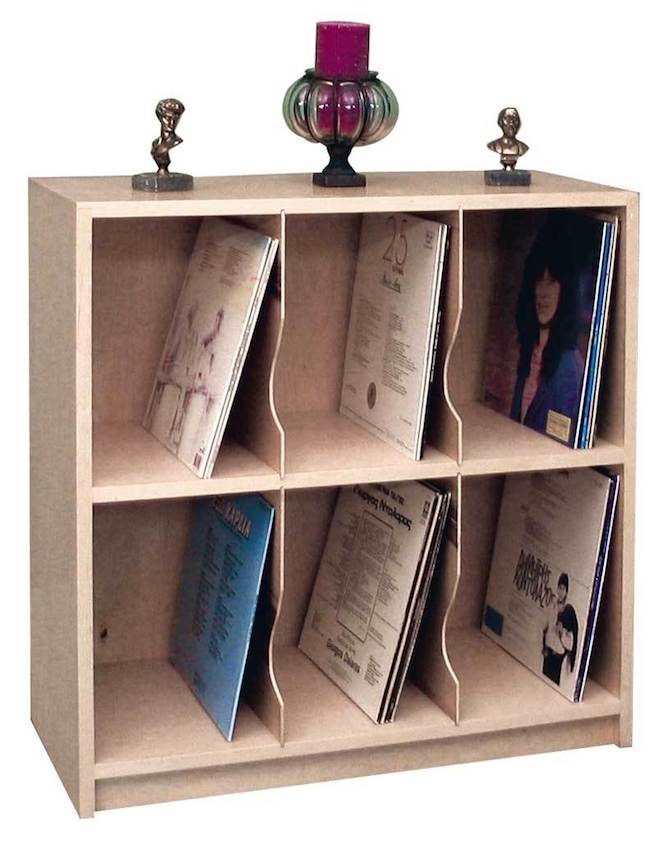 Gothic Furniture (LP Record Rack)
Price: $169 for two shelves, $199 for three shelves
Capacity: approximately 150 LPs and 200 7″s
This New York-based company offer affordable real wood vinyl racks, a neat alternative to the ubiquitous Kallax / Expedit. Choose between two or three shelves, each of which run three cubes wide and are divided by ergonomically-minded middle panels. From wild cherry to midnight blue, there are 20 finishes in total so something for everyone (you'd hope).
---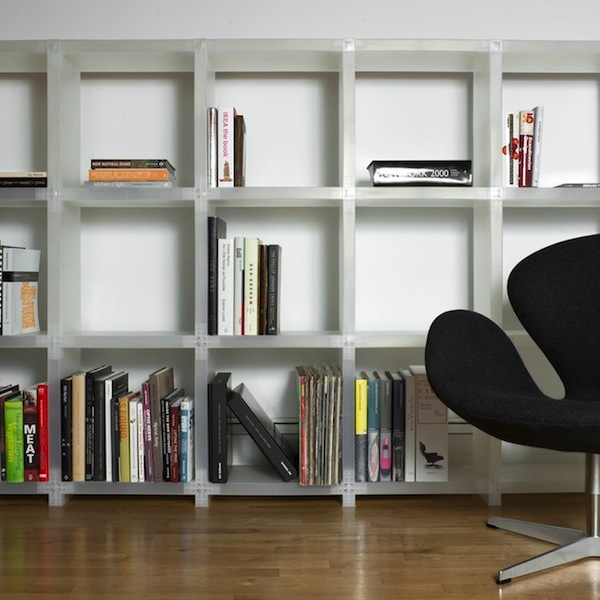 Price: $185.50 per kit (four cubes)
Capacity: c.210 records
The Doran Lachisch-designed Cubitec system may look futuristic, but dating back to 1998 it's stood the test of time admirably. A bit like clipping together your shelf out of giant Lego, the moulded polypropylene blocks have a lightweight corrugated core that allows you to expand your storage in step with your collection. Doors are also an option if you don't like the look of your spines, and at 18″ wide, we reckon each box can hold up to 55 records.
---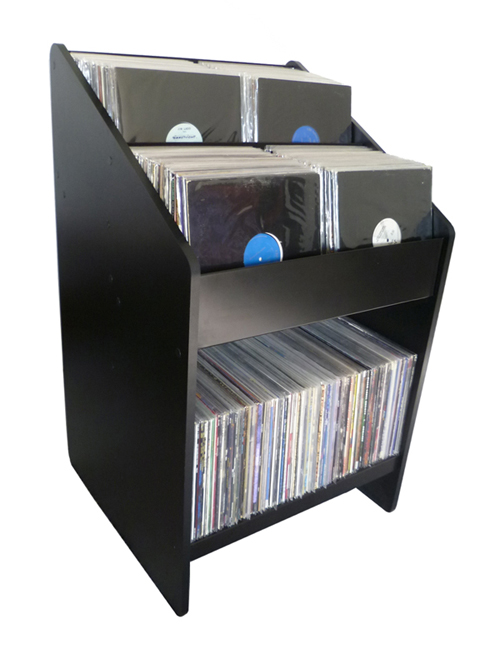 Price: $239.99
Capacity: 560 records
If you find flicking therapeutic (who doesn't?) then the LP Bin might be for you. You do risk your bedroom looking like a record shop, but maybe that's not such a bad thing. Three colours on offer and a record capacity of 560.
---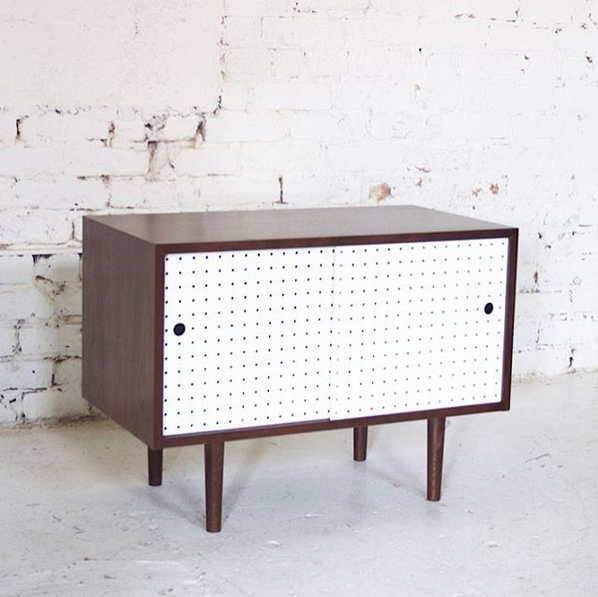 Department Chicago (Walnut Record Cabinet)
Price: $525
Capacity: c.90 records
Like a main course that arrives a good forty minutes after you order it, there's something deeply reassuring about the quality of Chicago Department's Walnut Chest Cabinet and the footnote to allow 2-3 weeks build time. Inspired by classic mid-century American design and constructed to order, the discrete unit wouldn't look out of place on the set at Mad Men, with sliding doors to conceal the odd bottle of scotch too.
---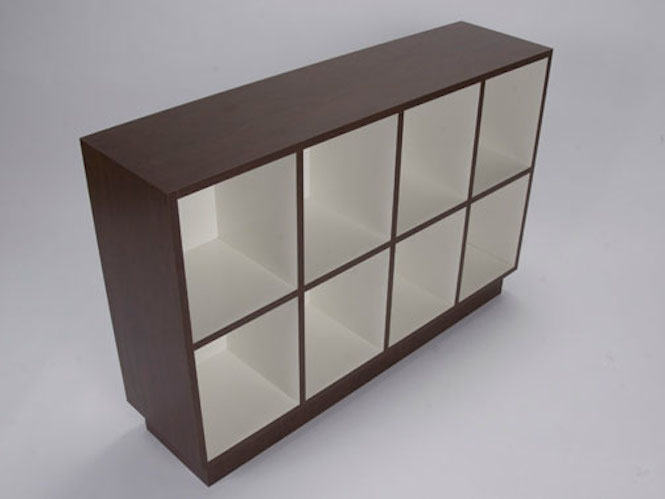 Price: $625
Capacity: 600 records
Dual are known for their crisp DJ consoles but they also have a rocking range of record, CD and book storage units. We've picked out the Portland which comes in 9 different colours and holds 600 records. There's also big sister Hartland and little brother Boston if you need more or less space.
---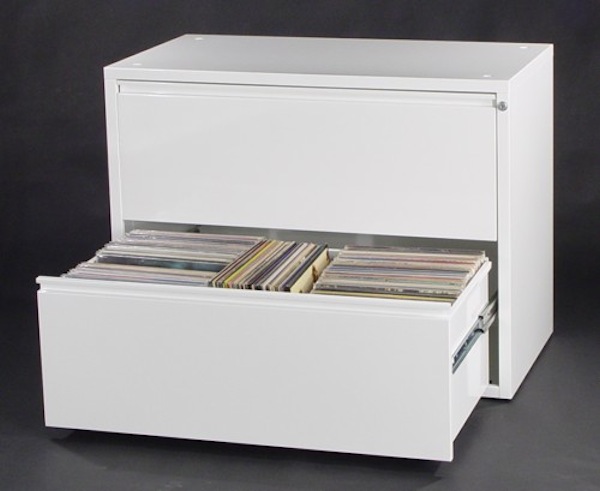 Price: $650
Capacity: 560 records
Are you one of those people who like to keep things minimal? Do you organise your record collection like you might a folder of bank statements? Then the Can-Am is most definitely for you. More audio-file than audiophile it may be, but with 560-record capacity and a huge choice of colours from (questionable) Chocolate Brown to (regal) Plum, the Can-Am is surprisingly versatile. Sleek and utilitarian, there are 38 modules and accessories available in the range to accommodate your collection as it grows.
---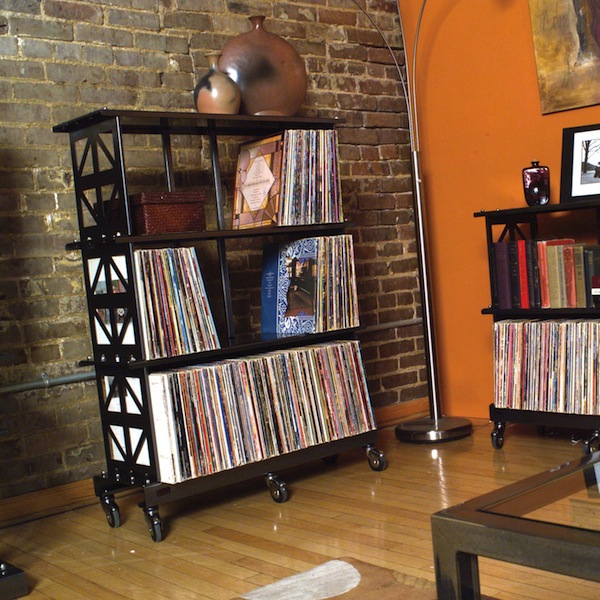 Boltz (LP Record Storage Rack)
Price: $769
Capacity: 720 records
Heavyweight stuff for the metal heads, Boltz' industrial record shelf is as agile as it is sturdy, with wheels allowing you to cart the 720-record capacity around the room. No nails, no nonsense.
---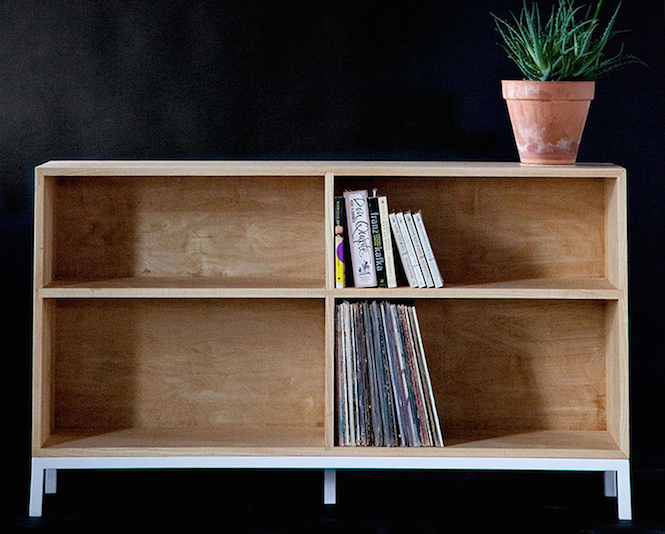 Price: $1200 + shipping
Capacity: c.150 LPs and c.200 7″s
A simple, well crafted, timeless design for the well-heeled collector. Solid ash construction with a power coated metal base, this unit is made to order only. The top shelf is intended for books but we're thinking 7″s.
---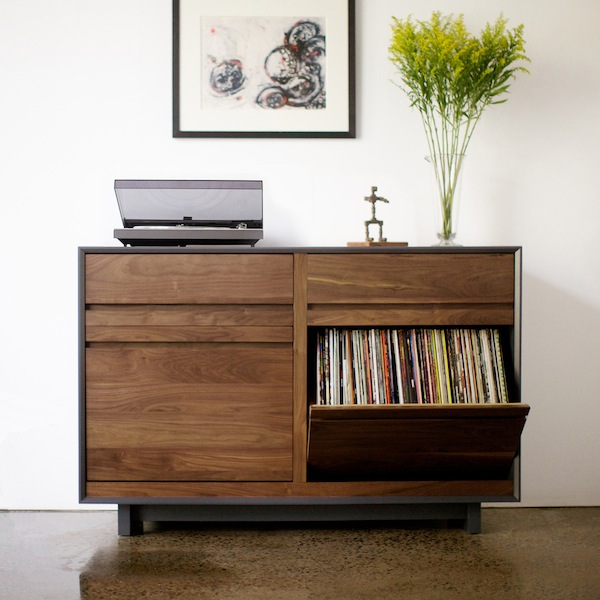 Symbol (Aero 51″ Media Storage Cabinet)
Price: $4,745
Capacity: 240+ (120 per bin + 7″ capacity)
Symbol do a gorgeous range of high-end audio furniture (check out the gravity defying Stereo Console for ever more minimal shelf porn) of which their Aero 51" Media Storage unit takes the biscuit. Hand-built, allowing you to personalize for purpose, the two swivel bins let you display or conceal your records and hold up to 120 LPs each, the classy walnut finish surely the pick of the four options available.
---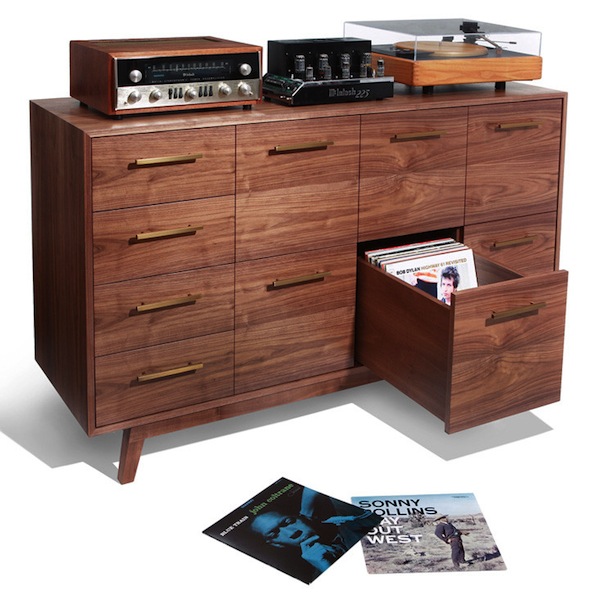 Price: $4,950 – $8,5000
Capacity: 570+ (96 per drawer + 7″ capacity)
From DJ stands to jazzy cocktail tables to leather LP slings, Atocha have you covered. But if it's a boring old record shelf you're after then look no further their Record Cabinet. Run close by the beautiful Open/Close series (keep an eye out for our console feature to come), we've gone for this for its classic design, the 'culmination of form and function' and a shelf that finally finds the perfect balance between LPs and 45s. Designed with that dream NYC loft in mind, each cabinet is hand-made, with a number of modular options available, each LP drawer holding up to 95 records.
---
Read next: How to store you record collection properly in 8 steps