Published on
September 25, 2018
Category
Features
With Technics SL-1200s and Pioneer CDJs, the standards for vinyl turntables and digital playback are rarely a point of debate. Mixers are a different story.
From functional, stripped-down portable mixers, to busier, visual consoles with BPM counters, onboard effects and enough knobs to operate a small car, picking the right mixer to suit your needs requires careful consideration. For this reason, we've selected a range of nine DJ mixers available today. From budget to high-end and with respect for a range of mixing approaches, including Traktor and Serato integration, there's something here for everyone.
A short note before counting down. Beyond budget and individual DJing style, one important factor to keep in mind when shopping for a mixer is the number of channels you require. All mixers have at least two channels (one for each sound source) with dedicated strips to control individual track level and EQ. While you'll only need two channels to get started, as your skills improve, you may want to up the ante with a third turntable or live performance tools like samplers and drum machines. Investing in a four channel mixer, even if you only use two channels to start with, is worthwhile for serious beginners.
---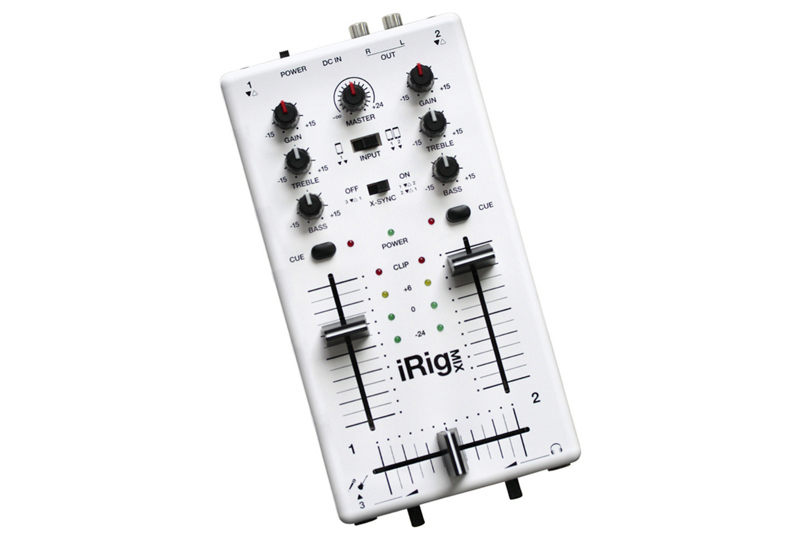 IK Multimedia iRig Mix
Price: £77
IK Multimedia's iRig Mix is a portable mixer designed for use with iOS and Android smartphones and tablets. In combination with a free app called DJ Rig and IK's X-sync technology, you can beat-match audio from one or two different devices — e.g. an iPhone and an iPad — at the same time. In the single device setup, the stereo output is split into two mono signals and sent to individual mixer channels. iRig includes all the basic professional controls — crossfader, cues, EQ, volume control—grouped into an ultra-compact and lightweight design that can fit into a shoulder bag. This small size, paired with a battery power supply option, makes the mixer a good choice for DJs looking to play impromptu house parties and outdoor locations. With an extra input jack, there's room for plugging in a mic or guitar for live accompaniment too.
---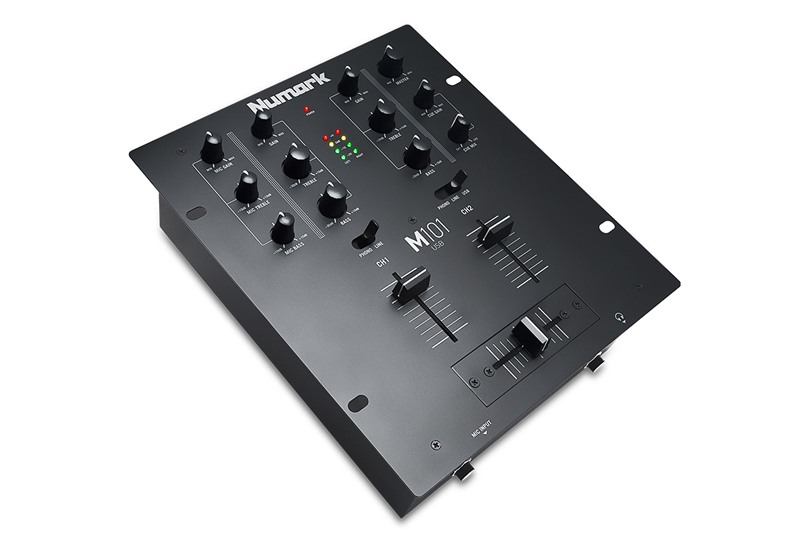 Numark M101USB
Price: £91
The M101 is aimed at DJs looking for an affordable, two-channel mixer that just provides the basics. It includes a mic input, straightforward cue functionalities and an EQ for bass and treble on each channel. Additionally, you can connect via USB to your laptop to play tracks or record sets without the need for external interfaces. There is no flash to the M101 — it has no BPM counter, no sample triggers and no effects. Bottom line: if you need a stripped-down mixer dependable and versatile enough for home use as well as small clubs, look no further than Numark's M101. For an additional £100, the Numark M6 offers two more channels in a similar design.
---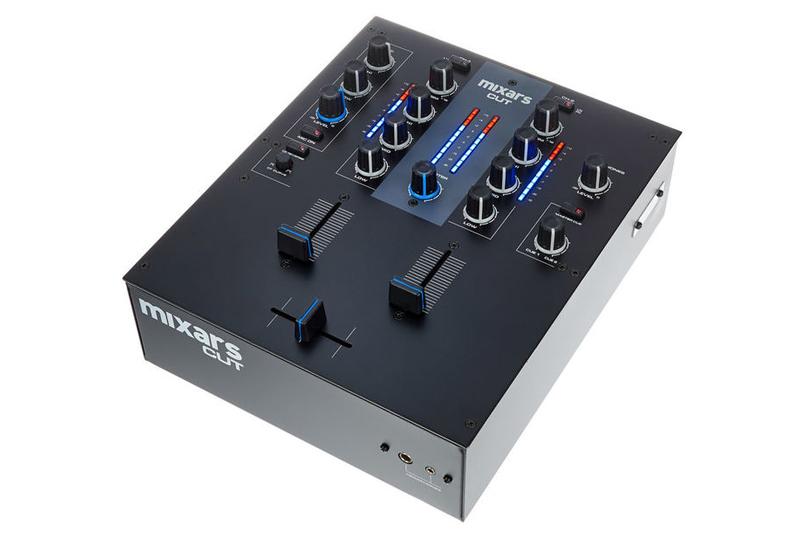 Mixars Cut MKII
Price: £152
In the early 2010s, the sales of standalone entry-level mixers dwindled. Uninterested with techy (and expensive) modular kit, newcomers gravitated toward all-in-one DJ setups instead. Cut MKII is Mixars' attempt to challenge this trend by offering up an affordable and portable two-channel mixer aimed at battle DJs using vinyl or time coded emulations. With a solid metal case and the always-reliable Innofader, it can endure the physicality of frequent, fast cuts. For precision, Innofader direction can be reversed and adjusted based on resistance. Each channel also has an aggressive three-band EQ. A rugged, but high-quality choice for battle DJs or those simply looking for a budget-friendly mixer.
---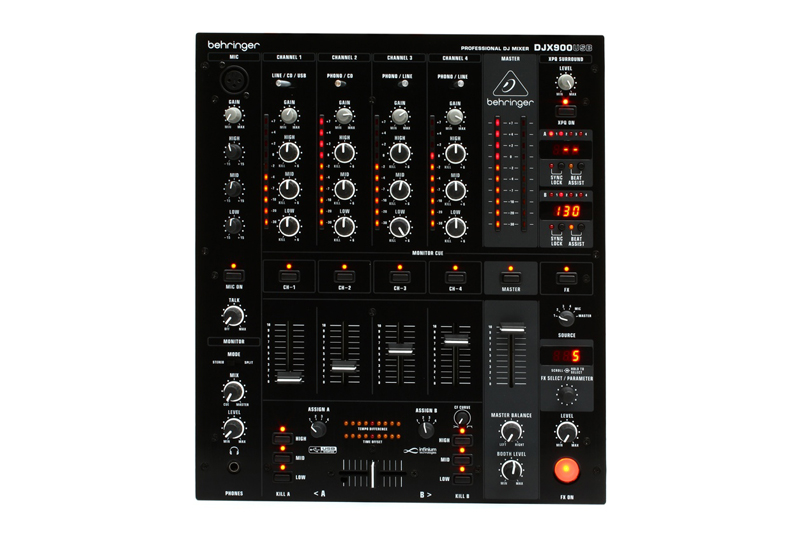 Behringer DJX900 USB
Price: £195
Behringer's DJX900 is built for smooth, clean club mixes. It boasts four channels, with an added fifth for a mic, a host of FX with editable parameters, and three EQ options for each channel. As the name implies, there is seamless laptop integration to play digital tracks and record mixes. More advanced features like BPM counters, visual tempo display, and the CF Curve, which allows for crossfader customisation to match desired levels of tension and sensitivity, give DJs more than enough to execute impressive blends. This is a smart but busy mixer at a fair price point for serious beginners or intermediate users.
---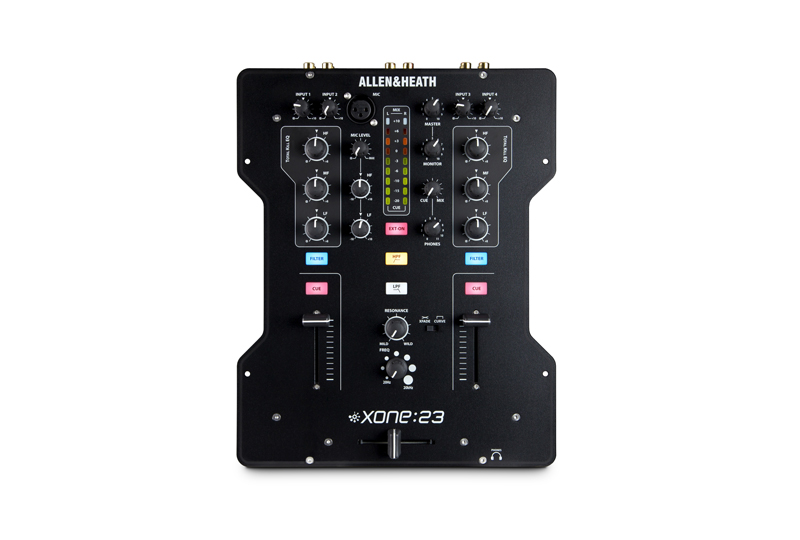 Allen & Heath Xone:23
Price: £249
The sleek Xone:23 is a two-channel, four-input mixer from consistently dependable audio hardware designers Allen & Heath. Many Xone mixers have been made over the years, but this model best balances studio usage, club performance, and affordability. It comes equipped with a three-band EQ for each channel plus a full kill option. After EQ, there's an analogue low-pass and high-pass filter with resonance control for "mild to wild" frequency sweeps. While this is the only built-in effect on the mixer, there is an FX loop send and return on the back panel for external reverbs, delays, and so on. A modern update on the traditional two-channel mixer. If you plan on incorporating your laptop, it's recommended to look into the Xone:23c model, which is identical, with the addition of an internal soundcard, USB port, and X:Link connection for use with the Xone:K controller.
---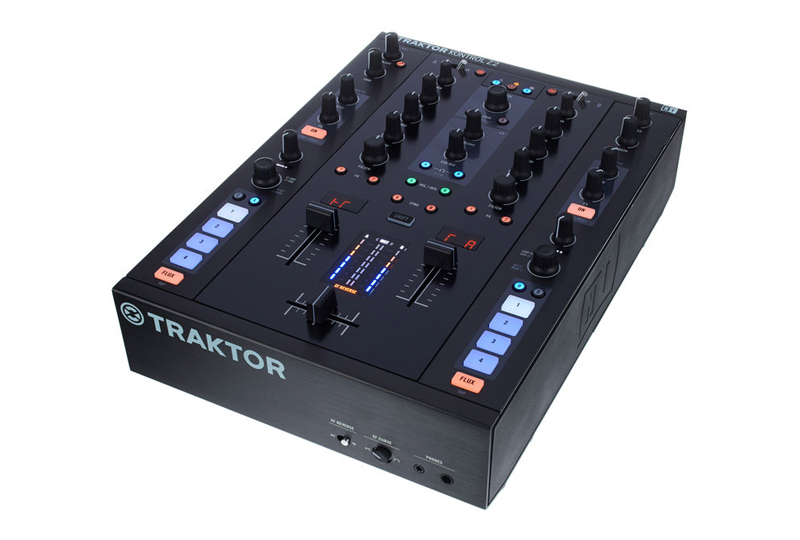 Native Instruments Traktor Kontrol Z2
Price: £599
Moving up the price scale is the Traktor Kontrol Z2 by Native Instruments, a combination of a stand-alone mixer, audio interface, and Traktor controller. It is a two-track mixer, but Traktor decks C and D are available for remix duties with a dedicated volume knob and nothing else. In order to take full advantage of its hybrid capabilities, the Z2 comes with the latest Traktor Scratch Pro 2 software as well as time coded vinyl and CDs. The mixer follows a traditional design — two channel faders with dedicated EQs up top and a crossfader down low. On either side there are four RBG Traktor cue buttons and flux mode control, which allow you to trigger samples or skip to any point in a track without losing its original spot upon return. The Macro FX section offers a range of professional audio effects suitable for all manner of electronic and hip-hop styles. A solid entry for both club and battle-style scratch DJs looking to make an investment.
---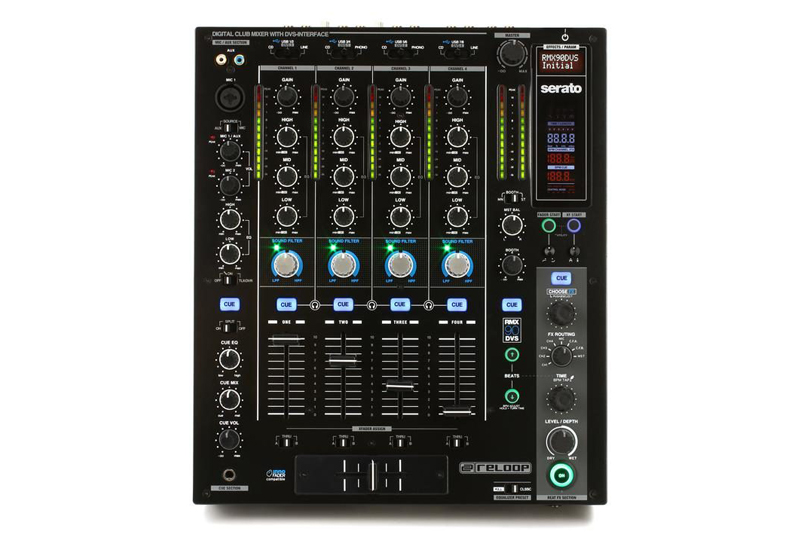 Reloop RMX-90 DVS
Price: £999
Reloop's RMX-90 DVS is a powerful four-channel mixer with seamless Serato integration. It comes with many of the standard features we've seen so far, like three-band adjustable EQs, individual channel filters, and USB connectivity, plus the bonus of MIDI control, BPM display, and twelve audio effects for further sound shaping. The big benefit of this mixer goes to DJs transitioning to digital who do not yet own Serato and want a sophisticated, modern mixer to pair with existing decks. The RMX-90 DVS comes with a bundled Serato license and two time-coded 12″s, so you save £200 and can plug-and-play right out of the box. A suitable mixer for club DJs who want to do a bit of scratching and cutting, along with all the benefits of Serato.
---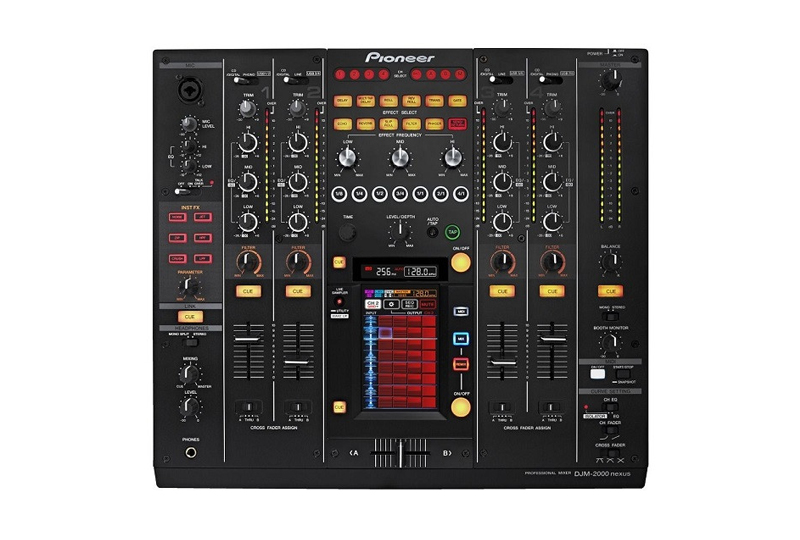 Pioneer DJM2000 Nexus
Price: £1,943
As far as live remixing and effects processing goes, few mixers reach the same height as Pioneer's DJM2000 Nexus. At its core is a four-channel mixer with the EQ and filtering options we now know well. The touch screen interface is one source of its creativity and originality, offering a range of cutting-edge live sampling, beat slicing, and frequency mixing features. Over the course of a one- or two-hour set, you can easily avoid repeating the same transition twice.
Each channel has six tonal FX — noise, jet, zip, crush, high-pass, and low-pass—that can be interesting when used at the right time. But they are nowhere near as useful or expressive as the thirteen quantised beat FX, the most unique of the bunch being slip roll, which records small track snippets you can play like a drum sampler. To top it off, using a Pro-Link LAN connection, you can connect up to two laptops and four CDJs for additional control and composition. This is an expensive, but limitless mixer for career DJs.
---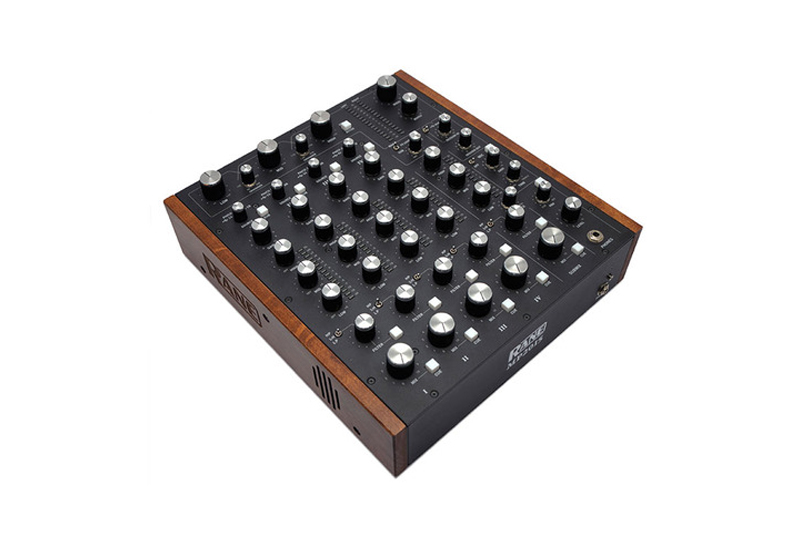 Rane MP2015 Rotary
Price: £2,255
With a growing interest in vinyl over the last ten years, and a collective shy away from fully digital mixers in certain underground dance music scenes, 1970s-style rotary mixers have come back into vogue. The retro look of the MP2015 is the first thing you notice. Decked out with wood side panels, shiny chrome knobs, and a black matte surface, it looks like something that belongs under glass in a museum. Conversely, the mixer encourages a decidedly hands-on approach. With four knobs to control volume, and nearly a dozen more split between EQ and filtering duties, the MP2015 is associated with the frenetic frequency adjusting of Theo Parrish and Floating Points. Tucked into the mixer are two USB ports for digital DJs, send and return circuits for effects processing, and a sub-mix channel for group EQing. A high-quality, superb-sounding mixer.