Published on
May 3, 2016
Category
Features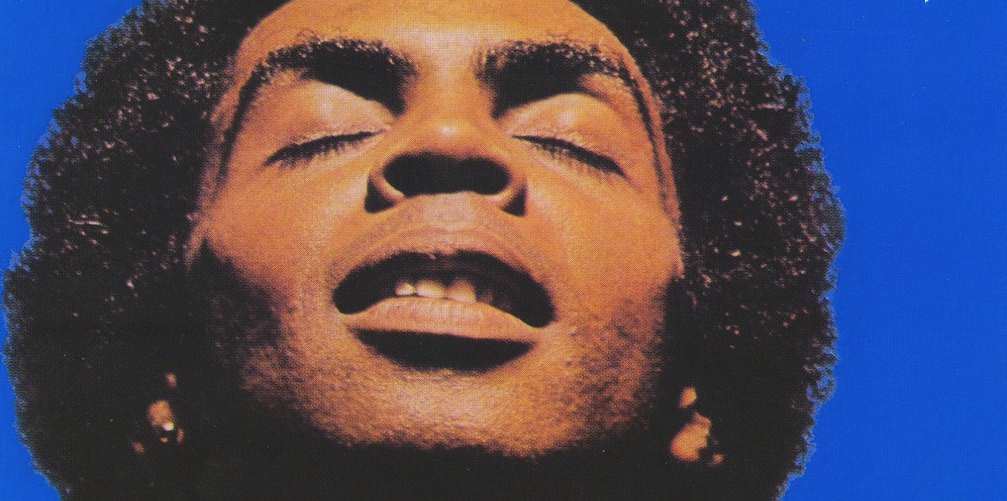 From bossa and tropicália to flat out boogie, Gilberto Gil is up there with Brazil's most prolific, profound and popular artists. Chris May picks out ten seminal recordings from a career that spans fifty years and more borders, governments and styles than most.
---
Words: Chris May
---
Received wisdom in the music business cautions against an artist spreading his output over too wide a diversity of styles: people will get confused and the music will fall through the cracks. It is advice the singer, guitarist and songwriter Gilberto Gil has ignored. Instead, he has followed his muse wherever it took him, be it to bossa nova, samba, tropicália, axé, reggae, West African highlife, jazz fusion or flat-out disco boogie. And he has recorded masterpieces in all of them.
Gil has also bucked the norm by maintaining a productive parallel-career as a professional politician. After a decade representing the Green party in local and regional assemblies, he was appointed Brazil's Minister of Culture in 2003. Remarkably, in a country where less than half of the population is of European descent, he was then only the second black person to be appointed to the national cabinet. He resigned in 2008, to return full-time to music. Among Gil's achievements while in post was increasing state expenditure on the arts by almost 40%.
Gil's relationship with Brazil's governing establishment has not always been so sunny. In 1969 he was arrested as a "threat to good order" under repressive legislation introduced by the military junta which ruled Brazil from 1964 – 1985. Gil spent the best part of a year in prison and under house arrest before being sent into exile. He lived in Europe, much of the time in London, until he was allowed to return home in 1972. Gil was relatively fortunate: other musicians were tortured in jail, a few were "disappeared."
Gil had aroused the enmity of the junta because of his prominent role in tropicália – a kind of acid-punk which emerged in 1968 as part of wider artistic movement which declared its opposition to military rule and its solidarity with the psychedelic counterculture in the US and Europe. Like bossa nova before it, tropicália grew out of the work of a group of like-minded musicians who knew each other well and collaborated often. But whereas bossa nova celebrated sun, sea and romance in the years immediately before the 1964 coup, tropicália reflected the darker realities of life which followed it.
Gil began recording in 1962 and released his first LP in 1967. His breakthrough came a year later with the fully-fledged tropicália album Gilberto Gil (Fevo Rasgado).
---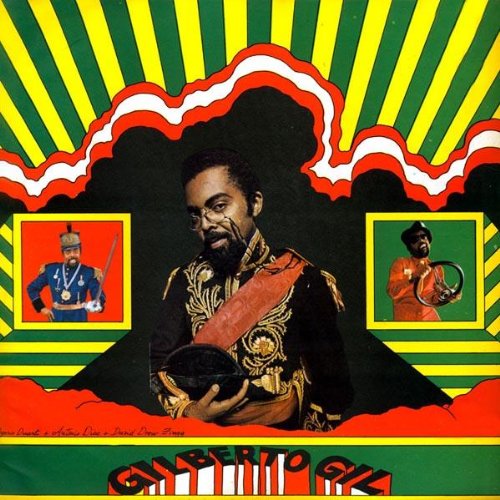 Gilberto Gil
Gilberto Gil (Fevo Rasgado)
(Philips LP, 1968)
With a well-scrambled DNA combining brassy carnival music, recalibrated samba and electric acid-rock, Gilberto Gil (Fevo Rasgado) is a strong contender for the First Tropicália Album award. It came out shortly before three other game-changing 1968 albums – Caetano Veloso's Caetano Veloso (Tropicália), the Gil, Veloso and Gal Costa collaboration Tropicália Ou Panis Et Circensis, and the self-titled debut by the band Os Mutantes.
Like the others, Gil's album was triggered by the Beatles' Sgt. Pepper's Lonely Hearts Band a year earlier; it is hard to think of a better example of the way revolutionary ideas can sweep through a group of artists simultaneously. Tropicália's space-bending, multi-cultural mix would soon become more complex, including musique concrete and electronica, but Gil's album endures as a founding manifesto.
Its bracketed subtitle, which alludes to someone who is both "fiery" and "ripped," is the name of the opening track on the album, a necessary contrivance given the number of self-titled Gil releases.
---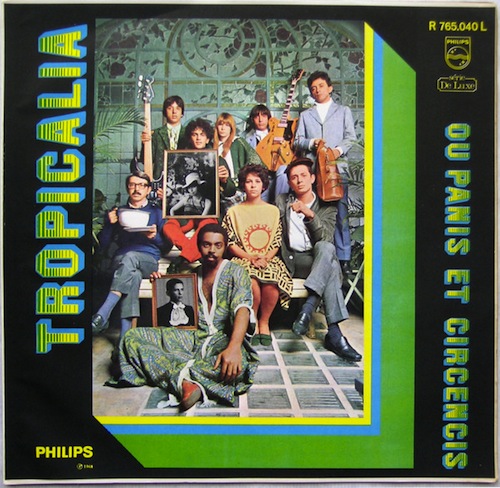 Gilberto Gil, Caetano Veloso & Gal Costa
Tropicália Ou Panis Et Circensis
(Philips LP, 1968)
Another irresistible set of first-flush tropicália. Most of the tracks are collaborations between Gil, Veloso and Costa, with backing from Os Mutantes. Gil is heard on half of them and with Veloso co-wrote the title track and the soon-to-be standard 'Bat Macumba' (macumba is a Brazilian cousin of voodoo).
Another participant is Nara Leão, a muse-like figure in the emergence of bossa nova at the start of 1960s, and one of the bossa nova artists who successfully made the transition to tropicália. Veloso holds her photograph on the front cover.
---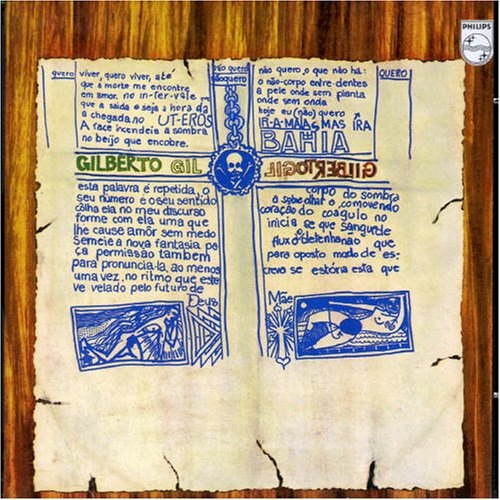 Gilberto Gil
Gilberto Gil (Cérebro Eletrónico)
(Philips LP, 1969)
In early 1969, Brazil's military junta stepped up its harassment of pro-democracy campaigners and their supporters. Many writers, painters and musicians were arrested, among them Gil and Veloso. The pair spent three months in prison, and another four under house arrest, before being freed on the condition that they left the country. Gil recorded the vocal and guitar tracks for Gilberto Gil (Cérebro Eletrónico) during his house arrest, and producer Rogério Duprat added the band and, on some tracks, extensive electronic psychedelic-effects, in Brazil after Gil had left for Europe.
The album includes Gil's first recording of the samba 'Aquele Abraço' ('That Embrace'), in which he sings about the places and people he will miss during his exile. The track became a huge hit in Brazil when it was released as a single later in 1969, and the song is still revered: Marisa Monte and Seu Jorge sang it during the closing ceremony of the London 2012 Summer Olympics, as part of the preview for this summer's event in Rio de Janeiro.
---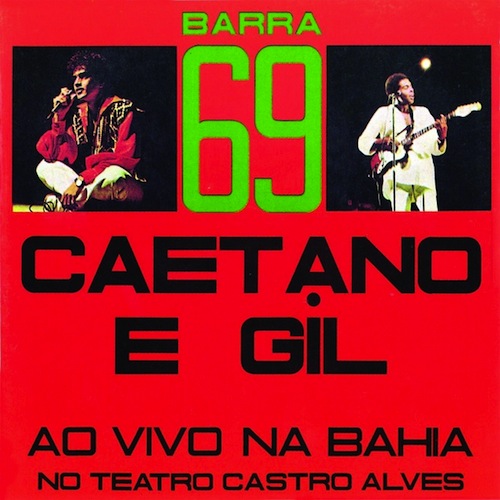 Gilberto Gil & Caetano Veloso
Barra 69: Caetano e Gil Ao Vivo Na Bahia
(Pirata LP, 1972)
Barra 69 was recorded in concert with a small but full-throttle tropicália band in July 1969, shortly before Gil and Veloso began their exiles. It is a stirring artefact, testifying to the performers' courage in appearing on stage and to the audience's courage in attending the event. Audio quality is not great, but the spirit of the occasion is powerfully transmitted. After Gil returned to Brazil, the album was released on the Philips subsidiary Pirata.
---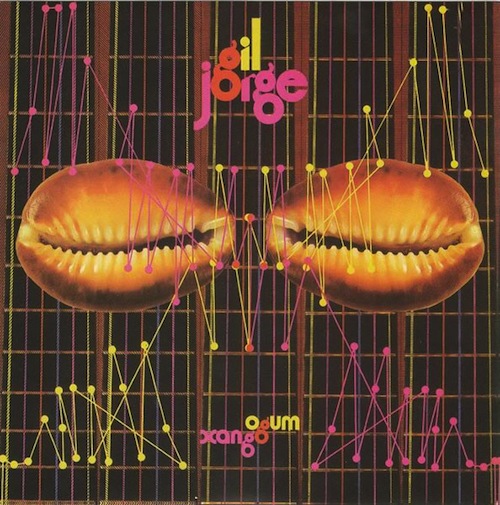 Gilberto Gil & Jorge Ben
Gil e Jorge
(Philips 2 x LP, 1975)
On Gil e Jorge, Gil stretches out on a long-form, acoustic guitars and vocals jam with Jorge Ben, accompanied only by percussionist Djalma. Nine tracks are included, including an 11-minute version of Gil's evergreen love-song 'Nega' and a 14-minute version of Ben's 'Taj Mahal' (one of the melodic inspirations of Rod Stewart's 'Da Ya Think I'm Sexy?' two years later).
Until the CD era, reissues of Gil e Jorge were released as abridged single-LPs. Many recordings could be improved by editing, but not this beauty. The original, 79-minute double-LP is the one to look for.
---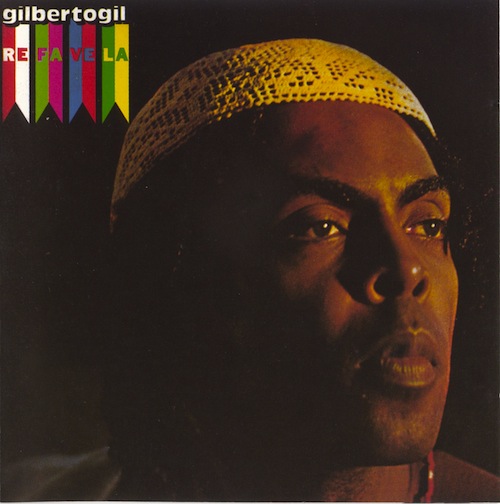 Gilberto Gil
Refavela
(Philips LP, 1977)
As a Brazilian of African heritage, Gil grew up surrounded by music shot through with African retentions. His interest in root African music was stimulated following his invitation to perform at the Second World Black & African Festival of Arts and Culture (aka Festac) in Nigeria in January/February 1977, during which he attended several all-night performances at Fela Kuti's club, The Shrine. The two men got on famously – not least because, like the late Kuti, Gil has never made a secret of being a weed smoker.
Gil recorded the percussion rich, West African-centric Refavela on his return to Brazil – the title refers to the shanty-towns growing around Brazil's and Nigeria's cities. Most of the songs are Gil originals but, delightfully, he also covers Antonio Carlos Jobim's bossa nova standard 'Samba do Avião'. Gil explored African retentions in Brazilian music again in 1991, on the Warner Bros. LP Parabolicamará.
---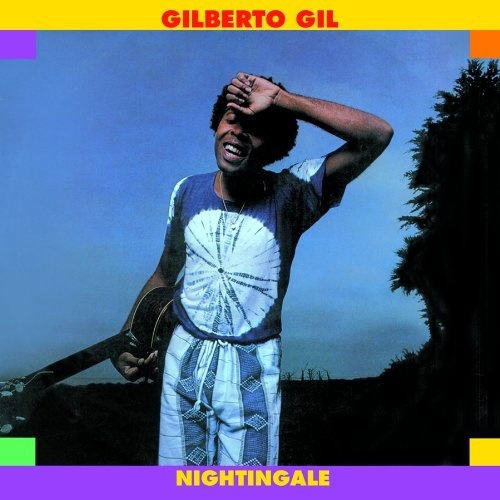 Gilberto Gil
Nightingale
(Elektra LP, 1979)
Gil's signing to the Warner Brothers group of labels in 1977 marked a new phase in his music, in which he mixed samba with hefty doses of jazz-fusion and floorfilling boogie. Nightingale was recorded in Los Angeles with producer Sergio Mendes.
The line-up, mainly composed of US-based Brazilian musicians, also included such American crossover luminaries as keyboardist Don Grusin and bassist Nathan Watts. Break-out tracks included 'Maracatu Atomico' – a big hit in New York discos, and at late-period Wigan Casino – which Gil had previously recorded with a lighter feel for a 1974 single.
---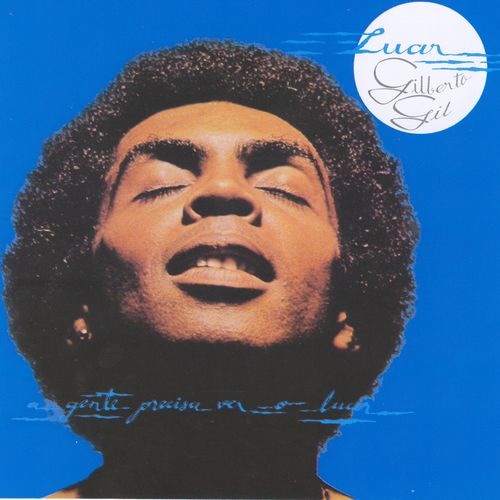 Gilberto Gil
Luar
(Warner Bros. LP, 1981)
Many Brazilian-music purists among Gil's international audience dismissed his Warner Brothers' albums as mindless disco. Unfazed, Gil cemented his new approach by guesting on stage with Earth, Wind & Fire in Rio during the band's 1980 tour of South America.
Decades on, the response of the purists seems ridiculous. Samba remains the bedrock of the music and you would need feet of stone not to respond to such uplifting productions. Luar included another international dancefloor hit with 'Palco', as did the 1983 Warner Brothers' album Extra with 'Funk-se Quem Puder'.
---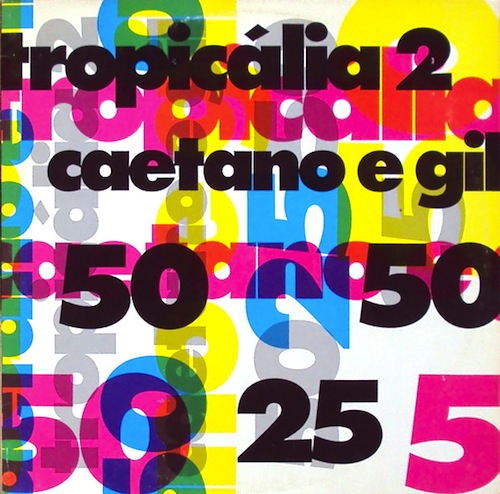 Caetano Veloso e Gilberto Gil
Tropicália 2
(Philips LP, 1993)
Two decades after tropicália had morphed into other Brazilian styles, Gil and Veloso reunited to fly their countercultural flag high once more, this time on an album which combines electronica with Bahian axé music, a blend of folk styles with reggae and calypso.
It's a synthesis which more than justifies the resurrection of "tropicália" for the album title. Most of the songs are Gil and Veloso originals. An exception is Jimi Hendrix's 'Wait Until Tomorrow', which is given a memorable, percussion-heavy arrangement.
---
Gilberto Gil
Gilbertos Samba
(Geléia Geral LP, 2014)
Gil's tribute to João Gilberto features ten songs closely associated with the bossa nova pioneer and two Gil originals dedicated to him. The arrangements, played by an acoustic-electric collective personnel that includes three generations of Brazil's most singular musicians, are in the main more reverential than radical, but Gil and guest electric-guitarist Pedro Sá bring a sharp, novel edge to Antonio Carlos Jobim and Newton Mendonca's 'Desafinado'.
Gil wisely avoids inhabiting João Gilberto's trademark melancholic-vibe or mimicking his idiosyncratic guitar style. Two years on, Gilbertos Samba still seems to be off most people's radar, but its day deserves to come.