Published on
November 2, 2016
Category
Features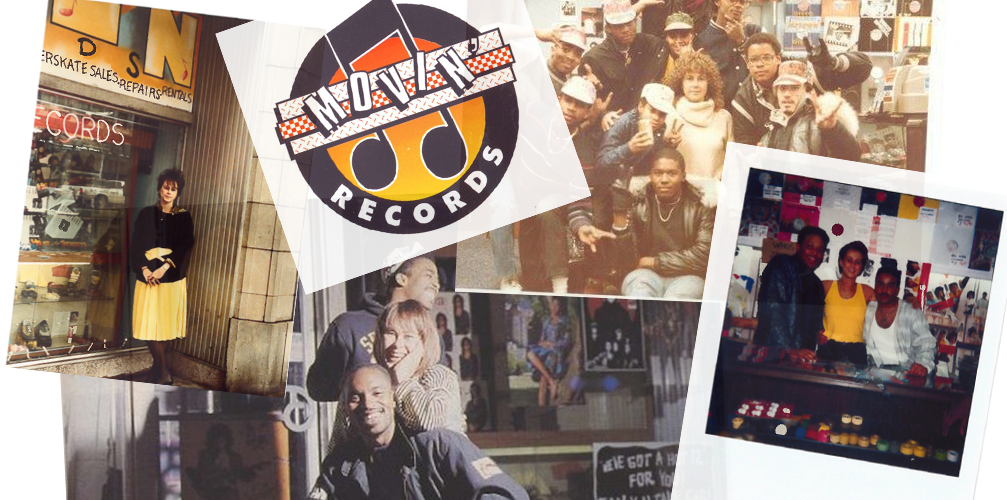 From Roxy roller disco regular to genre-defining record shop and New Jersey house label owner, Abigail Adams helped define the New Jersey scene more than anyone else.
Right back to the mid '80s New Jersey had a unique, vibrant house music scene that gave rise to such globally recognised greats as Kerri Chandler and Blaze. Newark club Zanzibar was notorious as a nexus point for early house music, while its resident DJ Tony Humphries was himself instrumental in breaking the sound to a wider audience both in the club and on the airwaves via his show on Kiss FM. As with all seminal music scenes, there had to be a record shop playing its part in this momentous time, and in the case of New Jersey that shop was called Movin'. Abigail Adams' store played a vital role in supplying Humphries and others with the newest imports, while her record label carried some of the eras most quintessential 'Jersey Jams'.
"I still make the pilgrimage back up to New York frequently, mostly because of my love of house music," claims a breezy Adams when we catch up on a Sunday afternoon. It may be some 25 years since she was fully immersed in the club scene, but she's still prepared to drive four hours from her home in Washington DC to get a fix. "I went to Coney Island last night. They have free parties on the Boardwalk all summer long. The line-up was Ray Vasquez, Jellybean Benitez and Tony Touch, and it was a lot of fun."
It's not hard to understand why Adams has a lasting dedication to house music when you consider her roots. In the late '70s and early '80s she was a regular at the iconic Roxy roller-disco in New York, and the resident DJ was her long time friend Danny Krivit. "Danny really schooled me on soul and R&B and disco," Adams enthuses. "I was in my early 20s and five nights a week I would be on eight wheels zipping around the roller rink."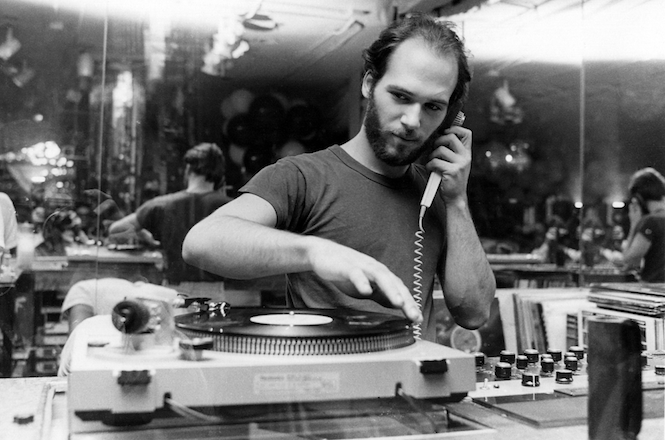 Danny Krivit
While she plays down her own skills on quads, in an interview with Red Bull Music Academy Kerri Chandler was quick to state otherwise. "Abigail Adams… was one of the baddest skaters on the fucking planet," he said.
With skating at its recreational peak, Adams and her partner at the time noticed a gap in the market and opened Movin' in East Orange in 1980, stocking a range of custom plates, wheels and boots for the more discerning skater. Soon after, as The Roxy was changing hands, Adams approached the new owners and offered to set up a skate shop in the club. By 1983 the scene at The Roxy was moving away from velvet ropes and celebrity patrons. When Friday nights turned to hip hop, the breakdancers would move in with Afrika Bambatta on the decks, and Adams swapped her skate stock for graffiti t-shirts. Before long the surge of interest in hip hop reached as far as East Orange.
"All the local kids in the skate shop were all the soon to be very famous hip hoppers," Adams explains. "Naughty By Nature, Redman, Queen Latifah, Lauryn Hill, they all grew up in my skate shop. My partner was a DJ and he had turntables in the back of the shop. He would get records in New York at places like Vinylmania and Downtown, so all the b-boys started coming in and putting cardboard on the floor and breakdancing, and I began managing some breakdancers. We competed in the big Swatch Record breakdance competition at the Roxy."
Customers would frequently enquire about the music being played in the store, and Adams saw an opportunity to provide a service by heading into New York and picking up the items. "Before you knew it we were onto something that nobody else in New Jersey was doing," says Adams, "and the store just made this natural transition from skate shop to record store."
In a similar fashion to Vinylmania, Movin' became known as a hotspot for the emergent dance music culture taking the wider New York area by storm. They became a Billboard-reporting store, and labels such as RCA and Atlantic would bring their newest signings through for in-store appearances. Imagination, Sylvester, James Ingram and many more came through on their promotional tours – LL Cool J appeared at the tender age of 17 after his first record was released.
"I loved everything about running the shop," Adams reveals. "The rush of a Friday, having all the right records in the store, finding boxes of in-demand records."
Around this time, Adams was going out more and more, becoming close friends with Paradise Garage regulars Manny Lehmann and Judy Russell, and eventually Larry Levan (who bestowed one of the hallowed Garage gold membership cards on her). One night skating at The Roxy, she had a chance encounter that would prove influential in the development of the Movin' label.
"A few of us went out on the back fire escape at The Roxy to smoke a cigarette, and I heard this incredible bass sound," Adams recalls. "Somebody said, 'Oh that's Timmy Regisford playing at Club 1018,' which was on 18th street. We all took off our skates and ran around the block and went in there, and Boyd Jarvis was playing live with a synthesiser over Timmy in the club that night. I climbed up this ladder to the DJ booth and asked Timmy to play Brenda & The Tabulations "Let's Go All The Way (Down)", and he gave me this look like, 'who is this white girl asking me to play this obscure dance record?' I became really good friends with both Boyd and Timmy from that night."
Jarvis was already a prolific musician, most notably forming part of Visual who released the classic proto house record 'The Music Got Me' in 1982 on Prelude. Being sat on reams of unreleased material, as he and Adams struck up a close friendship they decided to put something out. Jarvis' 'I've Got The Music', produced under the name Before The Storm, became the first release on Movin' Records in 1987, featuring mixes from Tony Humphries and Blaze's Kevin Hedge.
"I didn't have any intentions on what was next," Adams reveals. "Smack Productions' Mike Cameron came to me with the Park Avenue record and I said, 'wow, this is great,' and I put it out, and then Phase II is really what put me on the map."
Phase II was a group comprised of the three original members of Blaze, Kevin Hedge, Josh Milan and Chris Herbert, with Herbert's little brother Vincent on vocals. 'Reachin'' was a hugely popular track that perfectly encapsulates the gospel-infused house sound of New Jersey.
"Abigail became sort of like everyone's fairy godmother of house music," Milan recalls. "She was always so pleasant, and extremely patient, not to mention beautiful. She gave a home to the sound that we were developing as artists in NJ."
As Movin' Records grew as a label in the late '80s, Paradise Garage was shutting down and Zanzibar in Newark was rising in prominence as the spot to hear the most upfront developments in house music.
"I spent many, many a night at Zanzibar, and Tony [Humphries] and I had a great relationship," Adams explains. "Very similar to Larry [Levan] and Vinylmania, Joe Smith that managed my store for me would hand select things that he thought Tony might like and take a stack of records over to his house. If he played them, then we knew right away what was working and we'd make sure we had it at the record store."
"Movin' was the glue," Humphries explained when asked about the influence the shop had. "It was the quickest source to have whatever I played at the club or on the radio the night before."
Recognising that they were at the centre of a musical movement and feeling frustrated at the lack of attention music from their community was getting, Adams and other local luminaries such as Ace Mungin from Ace Beat Records and Derek Jenkins from Backroom Productions grouped together to form The New Jersey coalition. The intention was to avoid clashing events and present a united front to the rest of the world.
"We came up with this New Jersey sound because we felt like what we were doing was very unique," Adams muses. "We had Smack Productions and Adeva, Kerri Chandler, Ce Ce Rogers, Kenny Bobien, Blaze. What we were doing was far more melodic, spiritual and song driven rather than beat driven."
At the time the New Music Seminar in New York was one of the key events on the global music industry calendar. Adams, Humphries and Shelton Hayes (then manager of Zanzibar) came up with the concept of Jersey Jams, a showcase to be held at Zanzibar showcasing the local artists whose music they were supporting and releasing.
"Jersey Jams worked," Adams enthuses. "It was great. I couldn't believe the amount of people that were wanting interviews or wanting to talk to us."
"We produced several jams that contributed to the developing 'Jersey Sound'," Milan explains. "As we grew as artist and producers, Movin' Records grew as a label. Abigail started to license her releases. So now the sound started to gain international appeal. In a way, you can say that Abigail was a catalyst to a lot of us travelling abroad."
The British in particular took a shine to the sound; so much so they took a portion of the Movin' roster across the Atlantic to Brixton Academy for a showcase event. Adams remembers getting goosebumps watching the response of the crowd when 'Reachin'' played out.
However within a few years the climate had changed. East Orange had taken a turn for the worse due to the prevalence of crack in the area. While the gold shop next door got held up at gunpoint, Adams thinks that her favourable position amongst the kids in the area protected her from any trouble.
"I closed my store around '94," says Adams. "The neighbourhood was just crazy and vinyl was getting less and less. I turned my focus on my daughter and just thought it was the right time to stop selling records. Every time I see Charlie from Vinylmania he says, 'Abigail, you got out at the right time!'"
After closing the store, Adams was invited to join the Flavor Unit management company run by Queen Latifah and her partner Shakim Compere. For a couple of years she was on the road managing Naughty By Nature and Rotten Rascals, until she finally stepped out of the industry. It's fair to say that she achieved a lot in her ten years of peak activity, not least in the amount of different roles she assumed, largely single-handedly. She herself recognises that this was done in spite of an industry that was, and in some ways sadly still is, less sympathetic to women.
"I am one of a handful of women that were in the industry," Adams points out. "A lot of people used to come into my record store and they would look at everybody but me to find out about a song. I was so fortunate to have entered the industry in the way that I did, by first knowing Danny [Krivit] and then becoming friends with Manny Lehmann and Judy Russell, and Charlie Grappone and Tony [Humphries]. I jumped over what could have been a huge barrier."
Although she did dabble with artist management for the likes of Kenny Bobien and Jihad Muhammad in more recent years, Adams now works outside of the music industry in Washington DC. However, her passion for the music continues to drive her onto new projects, the latest being a documentary about vinyl. More than that, she now gets to take her daughter out to experience the music that drove her to do great things earlier in life. Whether on the boardwalk in Coney Island or at one of Danny Krivit's 718 parties, you can hear a whisper of pride when she describes taking her daughter into the booth to meet the DJ. The 718 parties in particular give Adams the feeling of the era she so loved throughout her twenties.
"Danny has a soft spot in my heart and he plays just such a delicious assortment of old and new," Adams enthuses. "The crowd at the 718 party is just a wonderful mix of gay, straight, old, young, black, white, you name it. I don't ever feel like I'm the old white lady on the dancefloor!"