Published on
April 18, 2014
Category
Features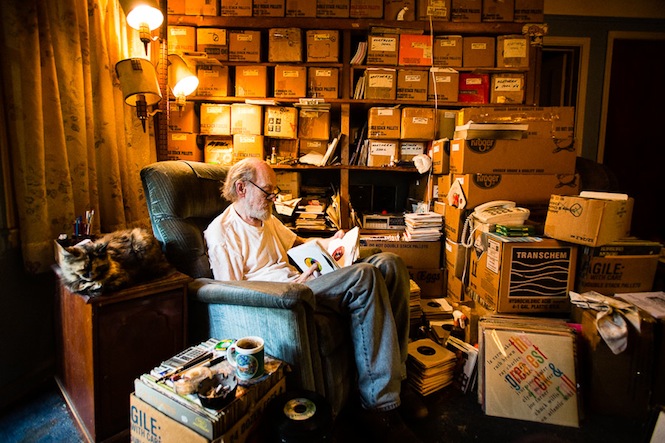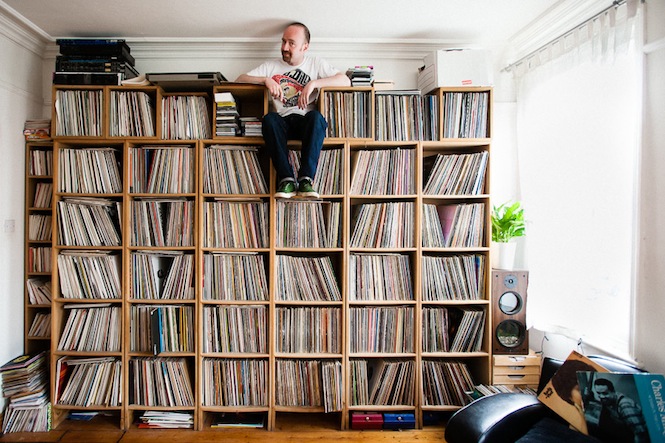 That man is Eilon Paz, the photographer behind stunning vinyl blog Dust & Grooves who speaks to The Vinyl Factory as he readies his first book, documenting the weirdest and most wonderful record collections around.
Eilon Paz may just have the best job around. A case study in turning your passion into a full time pursuit, the New York based photographer has dedicated years of his life to tracking down and photographing record collectors in the intimacy of their private record rooms.
Tapping into an audience of record collectors and vinyl nuts who go wild for pictures of other peoples records, Paz oversaw a hugely successful Kickstarter campaign to fund the book which now sits proudly wrapped in cellophane on the shelves of the world's record stores ahead of its launch on Record Store Day this Saturday.
Clocking it at over 400 pages and featuring interviews with the likes of Gilles Peterson, Kieran Hebden (Four Tet) and The Gaslamp Killer, as well as a foreword by Wu-Tang alumnus RZA, Dust And Grooves: Adventures in Record Collecting is about as essential for collectors as those unheard Sun Ra master tapes. We stole a few minutes of his time for a chat about the process behind the project and hear the stories behind 5 of his most iconic shots.
Check out more info about the book here.
---
How did the project get started, and how has it developed since then? Has your aim always been to publish a book?
Good question! I was always a record collector. I grew up with them back in Israel. Music was always important in my life; I was always that boy in school and people would ask me to find out what was good. And in the 80s, vinyl was the only format, until it slowly switched to CDs. But I remained a vinyl person and as time passed it started to become associated with nostalgia for me and with special attention paid to music. That's also the reason I keep collecting now — the fact that it makes music special. I'm not an audiophile or a purist.
So that's "why vinyl." As for the start of this project, I moved to NYC in 2008 at the beginning of the big recession and was jobless for a while. So instead of being busy with work I found myself spending a lot of time in record stores. In these periods in life when you have a lot of time, when you're in a new country, there's a strong drive to justify the sacrifice you made by leaving your family and friends and coming to a new place; I felt a real drive to do something worthwhile. And I was impressed by the abundance of records here and by the vinyl community: people talking about records, buying and selling — even in the streets.
So my interest in vinyl perked up when I came here. But what really ignited the flame was reading this article in the Village Voice about this German guy, Frank Gossner, who digs for records in Africa. It was a mind-blowing story. I found out he was living in Brooklyn and asked him if we could meet, and I told him about this new idea I had to document the vinyl community here. He was supportive, he liked the idea, so he took me to some record stores and I met Joel Olivera of Tropicalia in Furs, who was great. And that's where it all started.
I never thought this would be a website or a book. I only wanted to work on a personal photography project, and I found that my unemployment was a good opportunity to do something that I really cared about — to combine these elements of my life that I really loved: music, photography, and vinyl.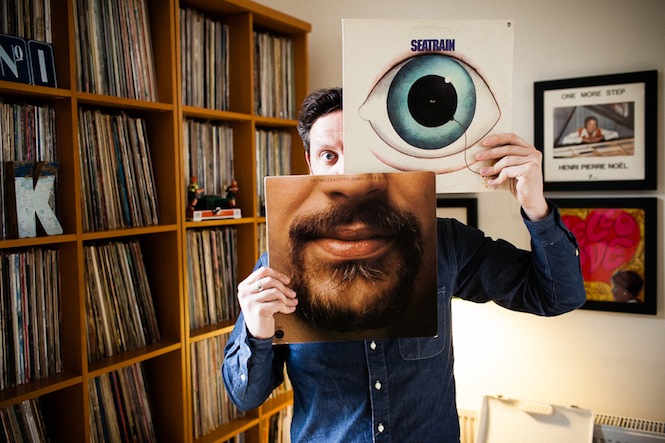 Dom Servini – London, UK

Seatrain – Watch
Michael Longo – 900 Shares of the Blues

"Doing a bit of vinyl surgery in my record room. Watch is a jazz-rock record. The track 'Flute Thing' was famously sampled by The Beastie Boys in 'Flute Loop.' It also has a mesmerizing cover. Michael Longo's 900 Shares of the Blues not only contains the fusion classic 'Like a Thief in the Night' but also a far better goatee than I've ever managed to pull off!"
How do you select your interviewees? Is there any criteria?
At the beginning, I was really drawn to massive collections, obviously: because when you just scratch the surface, the thing that impresses you is the size of a collection like that. But after a while, when you start going deeper and deeper, and especially for the visual aspect, you want to get away from that clichéd image of people posing in front of their huge wall of vinyl. And I think I did pretty well at articulating my passion for this subject matter by dealing with it creatively and dealing with the elements the vinyl has to give me: the cover art, the feel and texture of vinyl, candid photos of people reacting to their records and to the music, and being able to capture the intimacy that people have with their favourite records— sometimes it'll make them jump and shout, and sometimes it will bring them to tears. All I need is one good record and one good reason they have it.
But yeah, more than size of collection now, I'm looking for unique collections. Now I'm looking for collections that tell a story. It could be only a hundred records, as long as the person has something to say about it.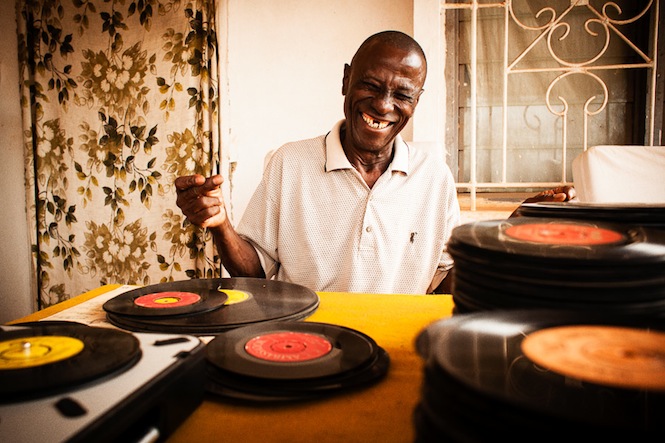 Philip Osey Kojo – Mampong, Ghana

In January 2011 I traveled to Ghana to document a diging trip with Frank Gossner of Voodoo Funk. We met Philip Osei Kojo, an 80 year old man from Mampong who offered us to come to his house and take a look at his records which he did not listen to for the past 30 years just because he could not fix his record player. The first time we palyed the record was an unexpected emotional surprise, for him and for us.
Any cool stories of particularly remote/hard to track down vinyl collectors?
Yeah. Some are success stories, some not. Maybe we should start with the unsuccessful: Questlove — what's up?? But for the successes: Gilles Peterson was my holy grail. I think I chased him for two years. And it's not that he wasn't interested, it was just hard to pin him down and find the right moment. But eventually I managed to get him, after approaching him through four different friends. Eventually, we nailed it with some examples of photos from other shoots that appealed to him.
Another collector I really want to interview and whose collection I really want to see is Quentin Tarantino. So if you're reading this Quentin, let's talk!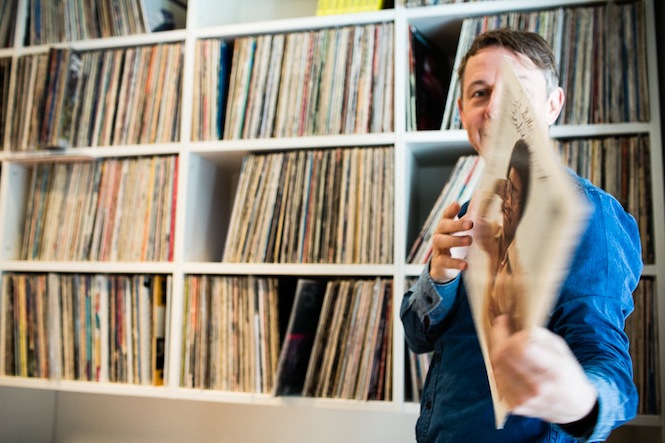 Gilles Peterson – London, UK

Herbie Hancock – Mr. Hands

"This was the album that introduced me to a more abstract type of jazz. It was a change from the standard disco of the time to an incredible shiftless shuffle which was, it could be said, a forerunner to the broken beat scene. I'll never forget the moment I first heard it. This copy is signed by Herbie who I got to interview 3 years ago after chasing him for a long time. He's my all-time favorite musician."
Records can be very personal… Was it hard to get people to open up about their collections?
Not really. It does depend on their attitude, but since this was always such a low-budget, personal project, I usually went on shoots myself — no writer, no lighting guy… And that one-on-one introduction in itself builds intimacy. It's always more difficult when I go with other people. But basically, people love to talk about their records because they love them. So it hasn't been that hard.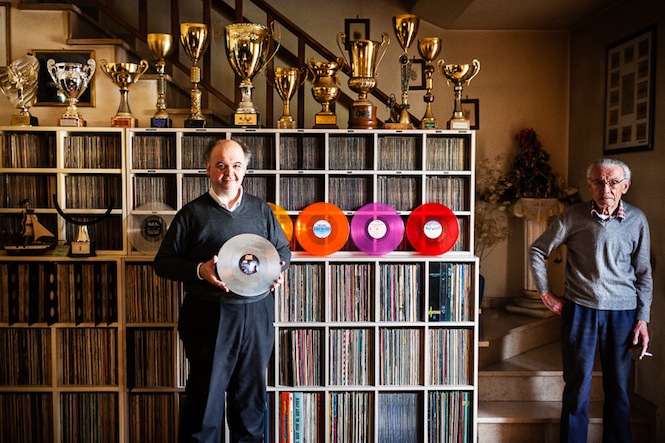 Alessandro Benedetti – Monsummano Terme, Italy

Alessandro holds the Guinness World Record for largest collection of colored vinyl records. Pictured here at home with his father Marinello, Alessandro is holding a mirrored vinyl copy of Ozzy Osbourne's Bark at the Moon. Above the duo are trophies that Alessandro won playing Subbuteo, a miniature football game.
What is it about a record collection that is so fascinating to document?
It's just a window into a person's entire life. That's it, I guess. You don't need words; it's just the music. Through the albums, you can see how a person developed, how they grew up. So I feel really lucky to be portraying people through their record collections because they're all these excellent, excellent people who pay so much attention to details, they're so smart… I've gotten to do portraits of all these people that I have so much to learn from. So it's really a gift.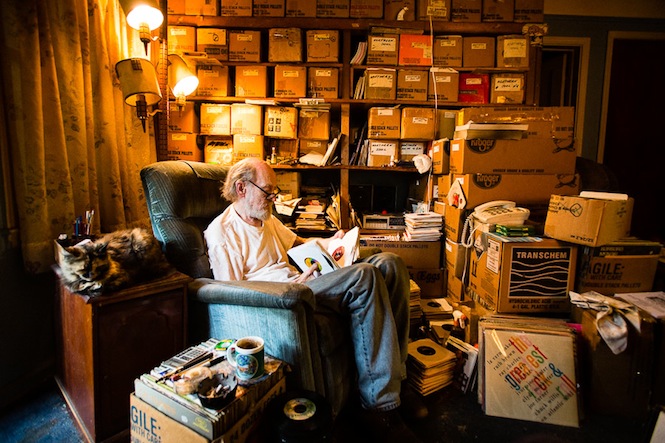 Bob Mays – Detroit, MI

The legendary record dealer at home rifling through his favorite hillbilly 7-inches.
How has this experience moulded you as a digger/collector?
It's changed the way I collect, for sure. It definitely made me more careful about what I bring into the house! I used to have a lighter trigger finger, you might say, but I don't want to get buried in records like some of these guys. But I have learned a lot from them: how to tell if it's a good pressing or not, if it will sound good or not… And I try to leave each photo session with one album to add to my list. It doesn't have to be rare, I'm not looking for rare, but some pinnacle record. I don't get into chasing them around, though. Just if I see one, I know what to look for.
---
The Dust & Grooves: Adventures in Record Collecting book launch will take place on Record Store Day (Saturday 19th April) at Powerhouse Arena in Brooklyn. Click here for more details.