Published on
June 20, 2014
Category
Features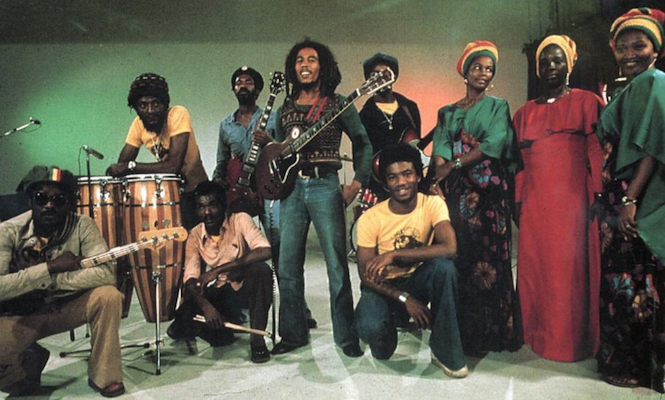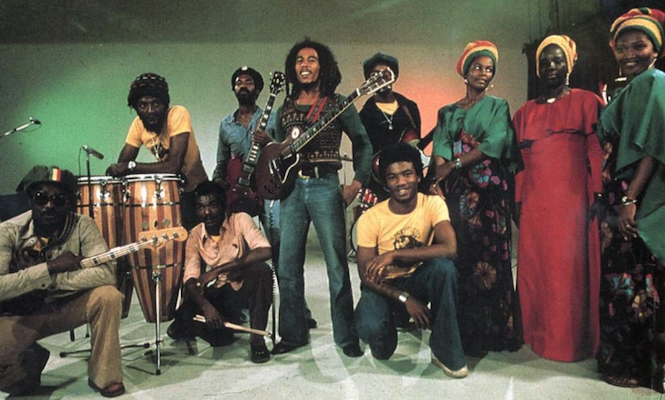 Originally published on FACT.
Following his essential Beginner's Guide to the early days of dub, David Katz – renowned reggae historian, photographer – presents his album-by-album guide to Bob Marley and the Wailers' studio output.
---
Words: David Katz
---
Bob Marley is undoubtedly one of the most iconic figures in the history of popular music. Born into poverty in a rural hamlet of colonial Jamaica, the product of a short-lived relationship between an aging white plantation overseer and a teenaged black peasant, Marley was abandoned by his father to grow wild in the ghettos of western Kingston, having been brought to the capital on the premise of getting an education. After a chance sighting by a former neighbour reunited him with his mother, against the odds, his superb skills as a singer-songwriter, and an astute marketing campaign by Island Records, turned him into the first 'Third World Superstar' and an international ambassador for the Rastafari movement. Although his career was cut tragically short when he succumbed to cancer in 1981 at the terribly young age of 36, he remains the world's best-known reggae performer and Jamaica's most famous son, the universality of his message and the overarching appeal of his music cutting across boundaries of race, class, creed and culture.
Most fans are familiar with the classic Island albums of the 1970s, but Marley's recording career stretches back to the early 1960s. Following two initial solo singles for Leslie Kong (one of which was mis-credited to Bobby Martell), there was the fertile ska phase at Studio One, where the Wailers slimmed from an unruly five-piece to yield the robust core of Marley, Peter Tosh and Bunny Wailer, Jamaica's premier harmony group. In the rock steady era, the Wailers issued a few curious discs on their own Wail'n Soul'm label, before signing a song-writing and management contract with Danny Sims' JAD organisation, for whom they began recording soul-influenced work, much of which was unfortunately shelved. In the early reggae phase, they cut somewhat overlooked material for Leslie Kong, followed by particularly wonderful work with Lee 'Scratch' Perry in 1970-71, as well as a handful of influential self-produced singles on the group's new label, Tuff Gong. The Island era has two distinctive phases, with the departure of Tosh and Bunny Wailer, and the subsequent addition of the I-Threes circa late 1974, yielding readily-identifiable differences.
Despite being truly voluminous, most of Bob Marley and the Wailers' catalogue is superb, though endless repackaging makes album navigation difficult. This guide seeks to relay every original studio album in the order in which they were recorded, with the exception of the Studio One and JAD material, which was issued on LP significantly later than when it was actually recorded.
When the Wailers were first brought to Studio One in 1963 by percussionist Alvin 'Seeco' Patterson, they were a chaotic five-piece harmony group led by Junior Braithwaite, with female backing singer Beverley Kelso alternating with Cherry Green. Studio One founder Clement 'Sir Coxsone' Dodd knew he was onto a good thing and went about cultivating the group, allowing Marley to live in a spare room, and acting as a surrogate father to him. The singles they recorded in 1963-66 yielded several significant hits, including the anti-rude boy 'Simmer Down,' plus broken-hearted ska ballads such as 'Lonesome Feeling' and 'I'm Still Waiting.'
Since the ska era was dominated by seven-inch singles, Dodd never issued a Wailers album until far later, collecting the double LP Birth Of A Legend set for Calla Records in 1976. This crucial release gathered 20 of the Wailers' best-known ska works at Studio One, nicely capturing the way that Marley swiftly emerged as group leader; there is also the first cut of Tosh's 'Maga Dog' and Bunny's 'Who Feels It Knows It', as well as the original ska version of 'One Love,' all of which deserve discovering if you don't know them already. Despite being remixed for foreign ears, Birth Of A Legend remains a prime introduction to the Wailers' beginnings (though later Sony reissues reduced the album to one disc). Dodd also released the confusingly-titled Best of Bob Marley & The Wailers, issued on Studio One via Buddah Records in 1976; its uncommon track listing includes the first cuts of 'Put It On' and 'Cry To Me,' along with the pro-rudie rock steady 'Jailhouse' (which appears on the album twice, with alternate titles), as well as a bizarre ska take of 'What's New Pussycat.' Hearbeat's 2CD compilation, One Love At Studio One, culls the best of the era: along with the original cuts of 'Mr Talkative' and 'There She Goes' are impossibly rare singles like 'Diamond Baby' and previously unreleased outtakes of 'It Hurts To Be Alone,' 'Wages Of Love,' and a wild ska recasting of the Beatles' 'And I Love Her.' Greatest Hits At Studio One, Destiny: Rare Ska Sides, Another Dance and Climb The Ladder are further Heartbeat variations on the same theme.
The Wailers had slowly matured during their Studio One phase, and by the time they moved on to form their own fledgling Wail'n Soul'm label (named in reference to the Wailers and the Soulettes, Rita Marley's harmony group), ska had been supplanted by rock steady, and the group no longer felt comfortable wearing the matching suits provided by Dodd, in which to deliver covers of the Moonglows and Tom Jones. Of course, financial disputes hastened their departure, but only scant singles surfaced on Wail'n Soul'm; nevertheless, some were true classics, the harmonic brilliance and stinging lyrics of 'Hypocrites' and 'Bus Dem Shut' showing how the group retained such an outstanding reputation. The best place to head if you're not familiar with the material is disc 1 of the retrospective Hip-O box set Fy-ah Fy-ah: The JAD Masters, 1967-1970.
The JAD period shows the group in flux, cut somewhat adrift by Marley's long period of absence in Delaware, but also struggling to find a sound that would hold greater appeal to international audiences. Songs like 'Hammer' showed a growing political awareness, but ballads such as 'Touch Me' were more indicative of the direction sought, and the JAD version of tracks such as 'Soul Rebel' and 'There She Goes' seem somewhat overproduced, compared with their definitive renditions. The most widely circulated version of this material came via the 1981 WEA album Chances Are, much of which was later included on a set called Black Progress (as well as disc 3 of Fy-ah Fy-ah), while earlier LP compilations such as Hammer thankfully missed out the heavily commercialised dross of 'Reggae On Broadway,' JAD's failed bid to break Marley mainstream.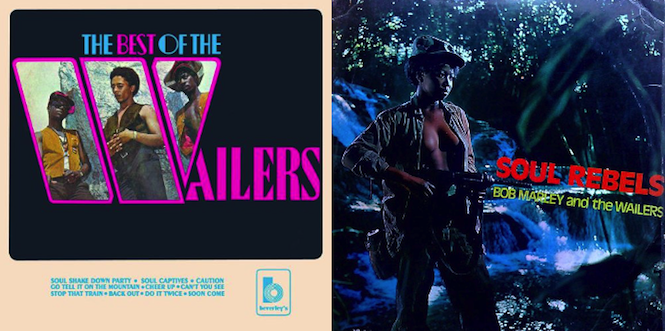 Another anomaly from this lost-sheep phase is the set of Leslie Kong-produced material, which Kong unfortunately titled Best of the Wailers. Of course, this was not actually a retrospective. In fact, when first issued in Jamaica on the Beverley's label circa May 1971, it was the very first album to ever bear the Wailers name. Because Kong had the island's most in-demand session players at his command (including bassist Jackie Jackson, drummer Hugh Malcolm, and guitarist Hux Brown), this material has a hard-edged professionalism that is missing from much of the JAD work. By now, Marley and company were fully enthralled by the soul styles of James Brown, the Impressions and Sly Stone, as heard on songs like the celebratory 'Soul Shakedown Party,' and the harmonically superb 'Soul Captives.' Similarly, 'Caution' and 'Cheer Up' are driving, soul-styled numbers that simultaneously evidence the increasing social and political content of Marley's poetry, though there's more than a nod to James Brown in the vocal styling of the former. Tosh's 'Soon Come,' 'Stop The Train' and a reggae adaptation of 'Go Tell It On The Mountain' evidence his growing vocal confidence too, and there is excellent musicianship throughout, which makes it hard to fathom why the material did not achieve the desired international breakthrough. Since reissued countless times in innumerable forms, this material is also available on disc two of Fy-ah Fy-ah.
Many commentators have stated that the incredible partnership forged between the Wailers and Lee 'Scratch' Perry during 1970-71 yielded the most impressive work of their respective careers. Instead of just aping the soul of black America, the Perry had the Wailers totally reconfigure their sound by stripping it back to the basics, encouraging the trio to express themselves in a more raw and distinctly Jamaican way, rather than simply shadowing their American heroes. And largely for financial reasons, Perry also paired them with the upcoming rhythm section of bassist Aston 'Family Man' Barrett and his drumming brother Carlton, which helped facilitate the dramatic change of direction. The relationship between Marley and Perry was an extra-special one as well, with Marley living in Perry's front room for an extended period, during a time when Perry became another surrogate father figure.
The two albums to result from the partnership, Soul Rebels and Soul Revolution, are both absolutely essential listening, with the latter retaining increased appeal through a somewhat harder edge. On Soul Rebels, 'My Cup' and 'Soul Almighty' are further slices of Jamaican reggae-funk, mutations of James Brown cut for a local audience, while 'No Water' and 'Try Me' employ playful innuendo; in contrast, 'Corner Stone' hints at the group's growing Rastafari consciousness, and the title track proclaims an overriding commitment to overthrowing the system through music. Soul Revolution utilises similar themes, but the songs make greater impact: the original cut of 'Duppy Conqueror' has Marley boasting of his indomitableness with great verve, while the original 'Kaya' and an adaptation of Ritchie Havens' 'Indian Ropeman' as 'African Herbman' are the first Wailers tracks to celebrate the wisdom weed; 'Keep On Moving' is a likeable adaptation of another Impressions classic, while the original 'Sun Is Shining,' 'Don't Rock My Boat,' and a languorous re-cut of 'Put It On' sound far more powerful than the later versions Marley recorded for Island. The Wailers' harmony simply sounds tighter than ever, while the Barrett brothers' minimal backing, assisted by invigorating organ stabs from Glen Adams and minimal guitar from Alva 'Reggie' Lewis, also helps give this material its outstanding hallmarks; to further comprehend the contribution of the musicians, seek out Soul Revolution II, the instrumental companion disc issued by Perry.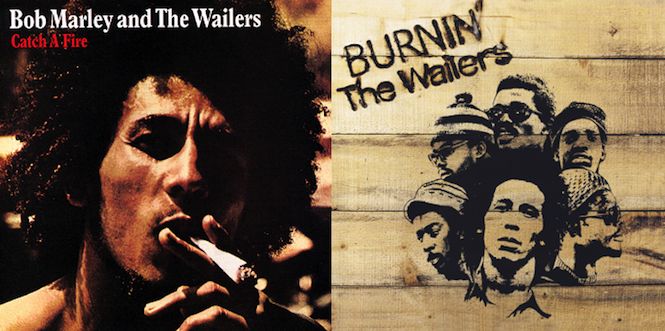 In late 1971, the Wailers broke away from Perry—again largely due to financial disappointments—to launch their own Tuff Gong imprint. 'Trench Town Rock' was the major hit that heralded their independence, but a lack of ready finance meant the group was still unable to finance an actual LP. Further chaotic near-misses happened when JAD brought Marley to Sweden to assist with the soundtrack of a film that flopped, and CBS' issue of the terribly overproduced strings-and-horn-laden 'Reggae On Broadway' also missed the boat. Broke and stranded in London, the unexpected way forward came once Trinidadian producer/promoter Brent Clarke introduced the group to Chris Blackwell, who had distributed their Studio One material in England, paving the way for them to sign to Island Records in late 1972.
Catch A Fire, the first album to result from the partnership, is a veritable landmark as the first LP to try to market a Jamaican reggae group as a rock act. Since it remains one of Marley's most compelling efforts, and is easily the best Wailers album to feature the classic male harmony trio's line-up, it is difficult in retrospect to understand why its initial sales were so modest, especially since Island pulled out all the stops with the press campaign, issuing the album in a sleeve famously shaped like a Zippo lighter. But perhaps the rest of the world was still not quite ready to take the music of Jamaica seriously. An alternate reading could be that the presence of white rock musicians such as guitarist Wayne Perkins and keyboardist John 'Rabbit' Bundrick watered down the material, though their playing is certainly tasteful. In any case, the opening 'Concrete Jungle' is a blistering statement from Marley about the harshness of Kingston ghetto life, and the terrible realities of Jamaica's post-colonial condition. 'Slave Driver' and '400 Years' are equally hard-hitting, though the Perry-produced version of the latter still comes up trumps. If sensual numbers like 'Stir It Up', 'Baby We've Got A Date' and 'Kinky Reggae' seem a bit out of place after such enraged numbers, it still all hangs together nicely. But to truly appreciate the brilliance of this work, it is best to check the 2001 Deluxe Edition, which included the original Jamaican mixes of the album, sans overdubs.
After the gains of Catch A Fire, Burnin' feels a bit disoriented, with plenty of strengths, though let down by lacklustre re-cuts. Opener 'Get Up, Stand Up' is a moment of militant bliss, with Marley and Tosh trading firebrand lines. Bunny's 'Hallelujah Time' and 'Pass It On' are also strong statements of his spiritual ethos, and 'I Shot The Sheriff' was the one to take Eric Clapton's fancy. 'Burnin' And Lootin' is another ghetto anthem, and both Tosh's 'One Foundation' and the closing 'Rasta Man Chant' are statements of Ratafari faith. The only unfortunate thing is that 'Put It On,' 'Small Axe' and 'Duppy Conqueror' pale in comparison to the versions they cut with Lee Perry, making the set drag in the middle.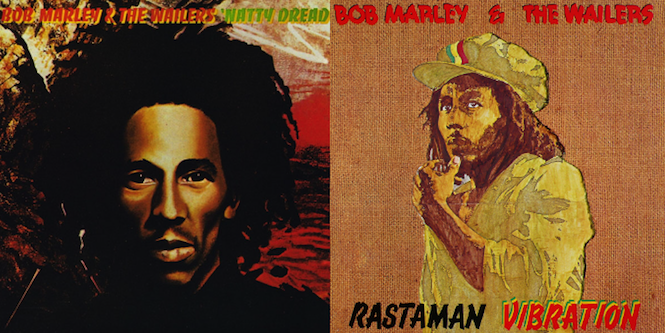 Following the acrimonious departure of Peter and Bunny, and the subsequent adoption of the I-Three, the female harmony trio composed of Marley's wife Rita, Judy Mowatt and Marcia Griffiths, Bob Marley made himself comfortable at Harry J's studio for Natty Dread, which can rightly be hailed as the first of a trio of masterworks, issued between 1975-77. Outstanding songs of social commentary such as 'So Jah Seh,' 'Them Belly Full' and the title track (which hides the tension of a divided Kingston in its optimism), playful numbers such as 'Lively Up Yourself,' 'Rebel Music' and 'No Woman No Cry' hold an understated defiance beneath their upbeat cadences, speaking of the everyday hardships facing ordinary Jamaicans during a time of political instability. The Barrett Brothers are in full control, and the melody lines of keyboardist Touter Harvey aid the proceedings, with American guitarist Al Anderson adding a touch of blues rock.
Rastaman Vibration has the added bonus of awesome guitarist Earl 'Chinna' Smith and superb keyboardist Tyrone Downie in the line-up, balancing out the rock lead lines of Donald Kinsey in a fuller, three-dimensional sound; Seeco Patterson's percussion adds some nice touches too. There is plenty of solid material on this one, for sure, from the optimism of 'Positive Vibration' and 'Roots, Rock, Reggae' to the criticism of 'Want More' and 'Johnny Was,' the latter memorably covered by Stiff Little Fingers. 'War' is another Rasta anthem, this time taking its lyrics from Haile Selassie's UN address, and 'Crazy Baldhead' is another thoroughly enjoyable tongue-in-cheek rant.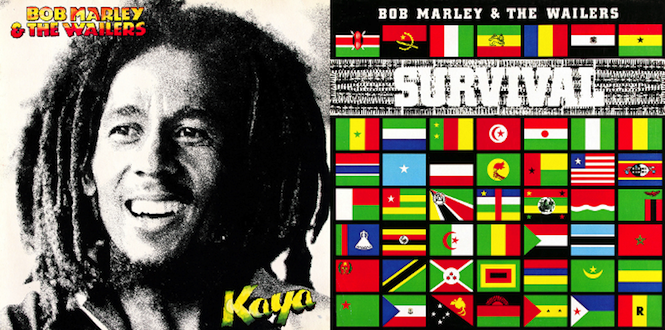 Exodus is probably the most exceptional album of all. Rated 'Album of the Century' by Time magazine, it is a faultless disc that has some of Marley's most personal numbers. From the creeping introduction of 'Natural Mystic' to the bright reworking of 'One Love/People Get Ready' at the end, the album unfolds as a work of eminent importance, with 'So Much Things To Say' summing up the entirety. 'Guiltiness' and 'The Heathen' both hold plenty of power, and 'Waiting In Vain' and 'Turn Your Lights Down Low' remind of Marley's humanity, inspired as they were by his affair with Cindy Brakespear; in contrast, the extended title track, with its unusual 4-4 disco drumbeat, is simply a fantastic call to arms.
Kaya has often been derided as a lightweight follow-up, cut when Marley was in exile in England, following an assassination attempt. It turns out to have been recorded at the same time as Exodus, and even if it has more love songs that protest numbers, it is still an enjoyable set. Guitarist Junior Marvin adds another element pointing towards an international sound, perhaps the best of the bunch when all is considered. Again, the Perry-era recuts sound weakest, though the title track holds a certain appeal; 'Easy Skanking' and 'Misty Morning' are certainly stronger. Though the theme is dominated by 'Is This Love' and 'Satisfy My Soul,' hidden away at the end of the disc are three exceptional numbers: 'Crisis' and 'Time Will Tell' are direct expressions of Rasta belief in the better that will come, and 'Running Away' is an autobiographical exploration of the man's own failures.
The 1979 release Survival is another masterpiece that should definitely be in everyone's collection. Recorded at his own Tuff Gong studio, and probably the most cohesive LP ever produced by Marley, it contains nothing but numbers of political and social relevance, from the opening 'So Much Trouble In The World,' and on to 'Zimbabwe' and 'Africa Unite.' The personal numbers retain this level of quality and worth as well, as heard on 'Ambush In The Night' and 'Top Rankin', which both alluded to the assassination attempt. 'Babylon System,' the title track, 'Ride Natty Ride' and 'Wake Up And Live' are all delivered from within the Rastafari worldview, but done in such a way so that their universality is totally intact. Alex Sadkin's sterling engineering work lifts the sound to another level, while an intricate horn section adds to the tension. Thus, it's a stunning work that probably tops Exodus.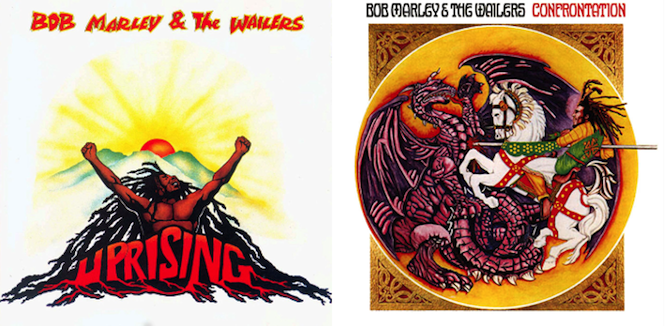 Uprising is another worthy LP that holds the unfortunate distinction of being Marley's swansong. Social commentary remains high on the agenda, with 'Real Situation' and 'Pimper's Paradise' setting the tone. There are more personal numbers, such as 'Bad Card' and 'We And Dem', more hangovers from the assassination attempt. 'Could You Be Loved' is a great love ballad, with unusual vocal harmony from the I-Three and what sounds like a cuica in the percussion section; 'Zion Train' and 'Forever Loving Jah' are great devotional tracks. Apparently, the opening and closing numbers were afterthoughts, demanded by Chris Blackwell when a rough cut of the album was supplied; 'Coming In From The Cold' has bubbling optimism, and 'Redemption Song' is the most fitting closer, a profound statement on Marely's life and work, delivered simply with an acoustic guitar.
Although Confrontation was an odds-n-sods compilation, put together after Marley's passing, it is still worth seeking out, since it is largely composed of the kind of work that made it onto Survival and Uprising. The only regrettable inclusion is 'I Know,' a desultory attempt at resurrecting a number left unfinished at Lee Perry's Black Ark ('I Know A Place'), but here ruined by a terrible string synthesizer. More crucially, 'Blackman Redemption' is a moving anthem to black pride, put together with Perry; 'Mix Up, Mix Up,' 'Stiff Necked Fools' and 'Give Thanks & Praises' are mightily compelling, and 'Trench Town' a raw autobiographical opus. Of course, the radio-friendly 'Buffalo Soldier' is hard to resist, even if it feels a bit out of place here.
Since then, all manner of material has been issued in Marley's name, typically with rehashes of the above, or occasionally in remix mutations like Bill Laswell's Dreams Of Freedom, which the man himself probably would have baulked at. For the uninitiated, the best place to start is the Legend best of, which remains one of the planet's best-selling records, while the best all-round compilation is the 4-CD Songs of Freedom, a delightfully executed retrospective that showcase every significant era, honing in on the most outstanding works.