Published on
October 28, 2015
Category
Features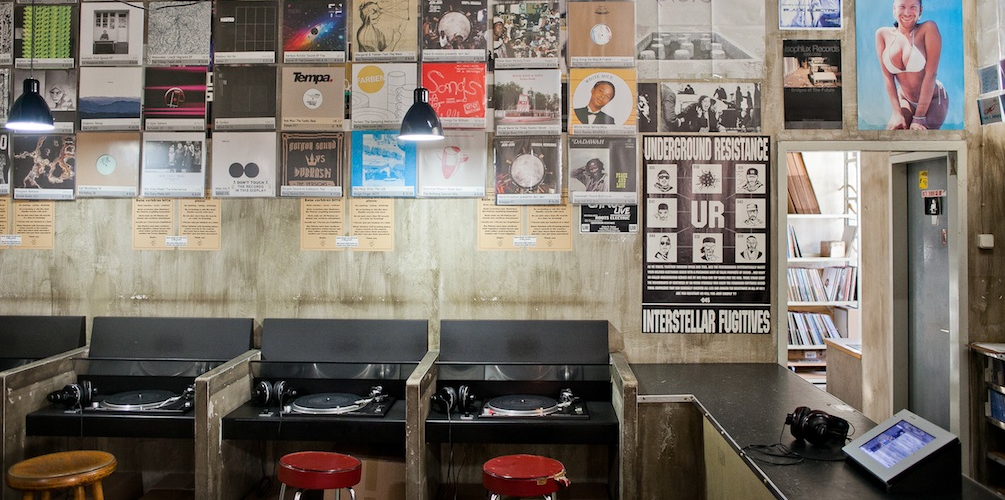 We profile the German capital's ten best record shops.
If there's one European city that knows how to do record shops it's Berlin. A city ravaged by a century of division and tyranny, the new Berlin that just recently celebrated its 25th anniversary has been revitalised in no small part by music.
The city's modern musical re-incarnation began in the late '60s and '70s. With West Germany's left-leaning youth given exemption from military service if they consented to move to the stranded democratic enclave of Wet Berlin, the bedsits of '70s Kreuzberg – a then-deprived landing ground for Turkish immigrants and artists in the arm-pit of the Berlin Wall – became the incubators for the city's radical new cultural identity. Underground Kosmische jam sessions spilled over into Hans-Joachim Roedelius and Conrad Schnitzler's Zodiak Free Arts Lab. Tangerine Dream's Phaedra, released in 1974, formalised the emerging strand of sequencer-driven melodic Krautrock that would become known as the Berlin School. Lou Reed and David Bowie stoked the fire, bringing the city's vibrant, hedonistic sub-cultures to international attention.
In the decade that followed, bands like Einstürzende Neubauten would take the city's sound in a more industrial direction, tapping into Berlin's natural anarchist tendencies to lay the foundations for a punk and hardcore scene that would congregate around Core Tex Records in Kreuzberg. Contrary to what David Hasselhoff will tell you, this was the soundtrack that tore down the Berlin Wall in 1989.
Although the roots of dance music were already well established, the fall of the Berlin Wall saw illegal raves mushroom across the former Soviet sector, cavernous warehouses and abandoned apartment blocks a breeding ground for a new German form of techno that now brings dancers from across the world to the city.
This is a musical evolution charted in the city's record shops, which are among the best in Europe. It is city where records are always in good health, and although shops open and close more regularly than the shutters at Berghain, there remains a huge choice when record shopping in the city.
Given how many "plattenläden" there are in Berlin, we've picked out a large selection of the best in the map above, and then whittled it down to a top ten which we've profiled in a list below.
While the ten we've singled out represent the cream of the shops in Berlin, there's so much variety and personality to discover out there that you shouldn't feel limited to just these. Galactic Supermarket, Da Capo and Wowsville all have their own unique flavour, our London neighbours Phonica Records have just opened their own outpost, and the Sunday flea markets at Mauerpark and Boxhagener Platz, although more expensive than they were, are still fun for a browse.
Post your favourite Berlin record shops and record shopping experiences in the comments below and we'll add them to our map.
---
Hard Wax
Location: Paul-Lincke-Ufer 44A, 10999 Berlin, Germany
Type: Dance music mecca
What's the story? The cherry on top of a big year for Berlin, Hard Wax was founded in 1989 by Basic Channel duo Mark Ernestus and Moritz Von Oswald and quickly established itself at the nexus of the Berlin-Detroit axis. Located in an old factory building behind the canal in Kreuzberg, DJs of all stripes can be found on both sides of the austere metal counter, DJ Hell, Modeselektor and Marcel Dettmann all honing their trade as employees over the last two decades. Meticulously curated, like most of the city's infamous dance music outposts, a reputation for suffering no fools has only enhanced Hard Wax's appeal. Long-time customer Keith Fullerton Whitman calls it "the warmest, most inclusive record shop on earth", so who are we to argue?
---
The Record Loft
Location: Adalbertstraße 9, 10999 Berlin, Germany
Type: The second-hand emporium
What's the story? Opened by Christian Pannenborg just two years ago, Record Loft has quickly established itself as the go-to for second-hand dance music in the city. With enough records to go for a proper dig and enough nuggets to reward your efforts, the large backyard emporium will suck hours out of your day and challenge your most resolute financial convictions (that said, everything in store is priced to a Discogs average so you won't find yourself being ripped off). With a stellar sound system on board, they've been known to throw parties out front and are big on building a community as a local hang-out as much as just a record retailer. As Pannenborg told FACT in 2014, they're playing the long game: "I don't want to be confronted with hordes of people tomorrow, I want to keep the vibe and stay natural and not to have the pressure to all of a sudden have to professionalise, and get anonymous – I want to have a relationship with every customer." Get involved.
---
Oye Records
Location: Oderberger Str. 4, 10435 Berlin and Friedelstraße 49, 12047 Berlin, Germany
Type: New dance music from jazz to techno
What's the story? Run by Delfonic, Berlin's hardest working DJ, and disco head Tinko, this gleaming basement nestled in the heart of Prenzlauerberg has become central to the city's new analogue house scene; an HQ for upstart producers like Max Graef and Glenn Astro and first port for imports from the US and UK underground. Stocking 'dance music' from across the spectrum (jazz to disco to house) and a fine selection of hip hop and beats, Oye's focus on new vinyl doesn't compromise a keen eye for second hand bits. With a new shop open now in Kreuzkölln and a full programme of lively in-stores, Oye is one of the city's most active record shops.
---
Melting Point
Location: Kastanienallee 55, 10119 Berlin
Type: Established house and disco retailer
What's the story? Spacious and well organised, Melting Point may not have the international reputation of Oye or Hardwax, but after over twenty years in the business, it's held its own as a quality outpost for house, disco and boogie diggers. A keen focus on contemporary European and American labels alongside second hand vinyl often sourced locally at the city's flea markets, Melting Point makes for a serene record shopping experience.
---
33rpm Store
Location: Wrangelstraße 95, 10997 Berlin
Type: Bespoke vinyl tailoring
What's the story? Spend any time in Berlin and you'll quickly learn that while the city is split into boroughs, it's the Kiez which really defines each community. Short-hand for a collection of streets in a local area served by a number of local bars, grocers and restaurants, this kiez has its own record shop, run by the affable Adem aka Jeff Özdemir. Small, friendly and deeply eclectic it's one of the most pleasant places to buy records in the city, akin to getting a fine wool suit fitted by your tailor. There's even a little café next door.
---
Satori Records
Location: Wrangelstraße 64, 10997 Berlin
Type: Vinyl and wine
What's the story? Part vintner, part jazz specialist, Satori has everything you need for the perfect night in. The city's best jazz record shop covering mainstream styles from swing through to fusion as well as independent labels, niche artists and some seriously rare vinyl, record shopping in Satori feels like you've just stumbled into owner Werner Holtkamp's living room. And the good news? His neighbour has a killer cellar. A hidden gem for collectors and enthusiasts, even if you think you know your jazz, you'll leave Satori all the wiser.
---
Platten Pedro
Location: Tegeler Weg 102, 10589
Type: 100,000-record treasure trove
What's the story: Forty-six years ago, Peter Patzek aka Platten Pedro and his wife decided they would open a record store. Six years later they found a spot on Tegler Weg in the west of the city and he's been there ever since. Building a business in what was then West Berlin wasn't easy but having survived flogging 78s in the early days, Pedro was able to expand the collection rapidly with singles and LPs across all genres to the point now where he has more records than he knows what to do with.
Organised alphabetically and measured by the metre, Pedro estimates he has over 100,000 second hand records in total (or 112,436 exactly according to his site).
Nestled on the banks of the Spree between Jungfernheide and the western ring road, it's not surprising he's managed to keep a low profile. Check out the visitor hours online and you might think he was being wilfully eccentric, as Platten Pedro is open for business between 10.07 and 16.53 on week days or between 09.59 and 13.07 on Saturdays.
---
Bass Cadet
Location: Weserstraße 189, 12045
Type: Astral bass music specialist
What's the story: Since relocating to Berlin at the turn of the decade, French natives Arcarsenal set up the Bass Cadet Records label with their french-turkish friends Tolga & Atilla Fidan in 2012. In 2013 the duo put down brick and mortar and a lot of wood in the heart of Berlin's Neukolln neighbourhood.
In just two years, the shop has nurtured a tight music community, attracting diggers and DJs on the hunt for underground, rare and collectible records. Dance 12"s are the name of the name here, with an impressive and well curated stock spanning Scandinavia to Japan, Berlin to Detroit.
With regular in-stores, comfy window seats and racks of vintage clothes, this is a great hangout to while away the hours.
---
Space Hall
Location: Zossener Str. 33, 10961
Type: Kaleidoscopic cavern of vinyl
What's the story: Prepare to be overwhelmed – Space Hall is basically three record shops rolled into one. On arrival you'll find deep racks of records on the soul, jazz spectrum. Venture into the next room for rock, post-punk, industrial and new wave. Keep going for the back room, a spot reserved for electronic fiends of all stripes. Unfolding into the depths of the building, it'll take you the best part of the day to rifle through everything in here, leaving you dazed and blinking madly as you return out into the light.
---
HHV
Location: Grünberger Straße 54, 10245 Berlin
Type: Slick urban stockists
What's the story? The centre of its own little urban universe, HHV records began life as a small shop in Friedrichshain but has since expanded to claim a much larger space online, selling new and used records alongside a huge selection of trainers, street wear and accessories. Selecting from the 70,000 records stocked online, the shop carries a great line in hip hop, sample-friendly funk, soul and disco and new electronic music.
---
Photos (excluding HHV) by Graeme Vaughan for The Vinyl Factory. See more of his work here.