Published on
August 28, 2013
Category
Features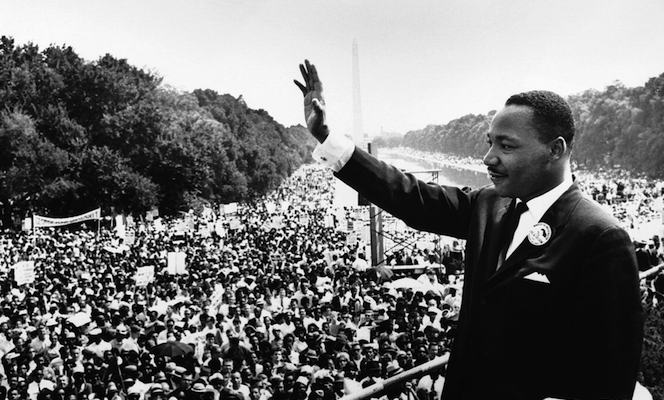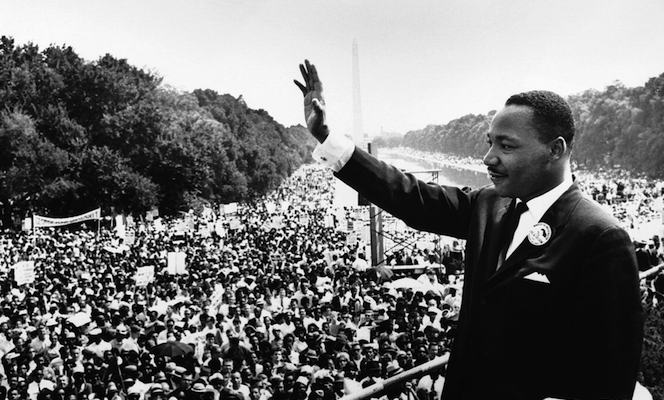 Five important records in the story of jazz and the Civil Rights movement between 1960 and 1965.
50 years ago today Martin Luther King Jr. stood on the steps of the Lincoln Memorial and delivered what has become the most iconic speech in America's chequered social history. It was a moment which galvanised both the Civil Rights movement and its concurrent expression in jazz. From spirituals and work songs, through gospel, blues and swing, to be-bop and the appropriation of jazz no longer as art rather than entertainment, via hard bop, free jazz and the avant-garde, it's a genre that has at every point been inextricably linked with its social and political context. Alongside Civil Rights anthems "We Shall Overcome", "How I Got Over" and "He's Got The Whole World In His Hands" performed at the March on Washington for Jobs and Freedom from which Dr. King made his speech, is a powerful tradition of protest songs, whether thinly veiled as on Louis Armstrong's "Black and Blue" or fervently outspoken, as on Billie Holiday's seminal "Strange Fruit".
In this introduction we're focussing on the five year period that embraced "I Have A Dream", and have chosen five moments in the story of Civil Rights jazz between 1960 and 1965 that capture the build in tension ahead of and the reaction following the landmark occasion. Later that decade, African-American arts groups would go on to define themselves further by grounding independent record labels in local communities that would allow complete freedom of expression, whether through the avant-garde experimentations of the Art Ensemble of Chicago and Don Cherry or Sun Ra's Alter Destiny afro-futurism. By and large however, the five records featured here come from the mainstream industry, released by the jazz establishment on labels like Columbia, Impulse! and Philips; a context which only serves to heighten their power.
---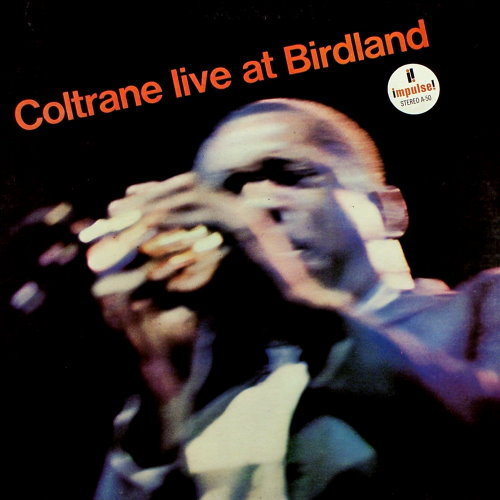 John Coltrane
Live at Birdland
Impulse!, 1964
18 days after Martin Luther King's speech, the 16th Street Baptist Church in Birmingham, Alabama was bombed by the KKK during a Sunday service, killing four young girls. Although not an outspoken political campaigner, Coltrane's music was imbued with a powerful and irrepressible spirituality that translated the urgency of Civil Rights activism into a universal call for equality. Moved by Dr. King's speech, Coltrane embarked on a series of benefit concerts for which he penned several tunes, among which was the moody and explosive "Alabama", recorded on Coltrane's Live at Birdland set in 1964. Mirroring the intonations of King's speech at the memorial service for the murdered girls, "Alabama" exhibits the poise, control and deep seated triplet swing spirituality that would define the saxophonist's opus A Love Supreme and its under-rated precursor Crescent that same year. Moving from McCoy Tyner's devastating opening chord through rolling and contemplative moods, "Alabama" is both a meditation on a tragedy and a call to arms, as Coltrane soars towards the track's strained crescendo.
---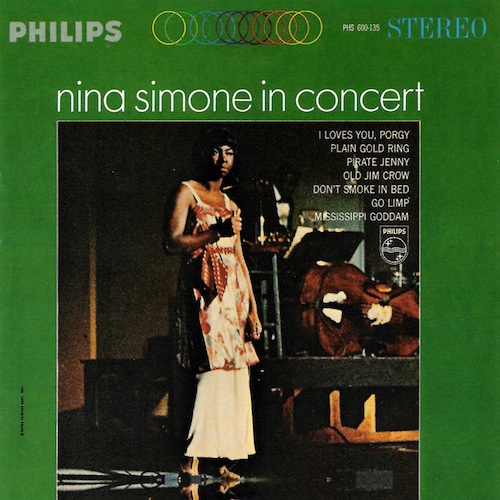 Nina Simone
In Concert
Philips, 1964
In 1964, Nina Simone took the stage at New York's prestigious Carnegie Hall to deliver "Mississippi Goddam"; a damning indictment of latent racism in the entertainment industry and a future Civil Rights anthem, to be performed by Simone in front of 40,000 people at the Selma to Montgomery Marches in 1965. In front of a largely white, affluent New York audience, the track opens as a jovial show tune – a reference to the tradition of subjugated black entertainers – to hoots of laughter from the crowd, amused by the irreverence of Simone's spunky and cynical introduction – "a show tune, but the show hasn't been written for it yet". Referencing the murder of activist Medger Evers in Mississippi and the bombing of the 16th Street Baptist Church in Birmingham, Alabama, Simone cranks up the pressure on the audience. Initially tickled by the tune's jaunty piano vamp, the unease in their subsequent reactions becomes palpable as "Mississippi Goddam" descends into an damning attack on the inequality of the Southern States. The next time Simone addresses the crowd with a wry "I bet you thought I was kidding, didn't you?" she's greeted with a deafening, guilty silence. "Mississippi Goddam" was first released on the live album Nina Simone In Concert in 1964.
---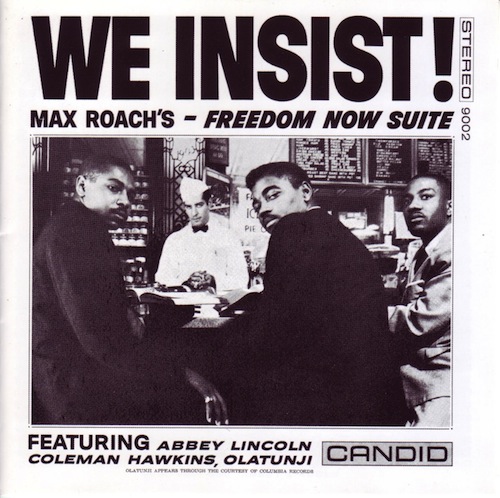 Max Roach
We Insist! Freedom Now Suite
Candid, 1960
So much about Max Roach's We Insist! Freedom Now Suite speaks of the independent releases by the black musicians and artists groups that defined the Civil Rights Movement post-1965. A monochrome cover, that in mimicking newsprint hints at the DIY sleeves of Detroit's Tribe and Strata imprints, Sun Ra and the AACM's back-to-Africa aesthetic and California's Black Jazz records. The music, like the title is more overtly political, insistent and confrontational than many of its contemporary releases (Charles Mingus aside, perhaps) with Roach's then wife Abbey Lincoln's vocals combining with the Roach and Olantunji's raw percussive drive and Coleman Hawkins' sax for a suite that connects traditional African themes with urban East Coast hard bop. Written with a view to being performed for the centennial of the Emancipation Proclamation in 1963, We Insist! changed the conversation, and politically speaking finds a greater kindred spirit in the Black Power movement of the late 60's than in pacifism of Dr. King. Unsurprisingly, it received mixed reviews at the time but has since be reappraised as a landmark album.
---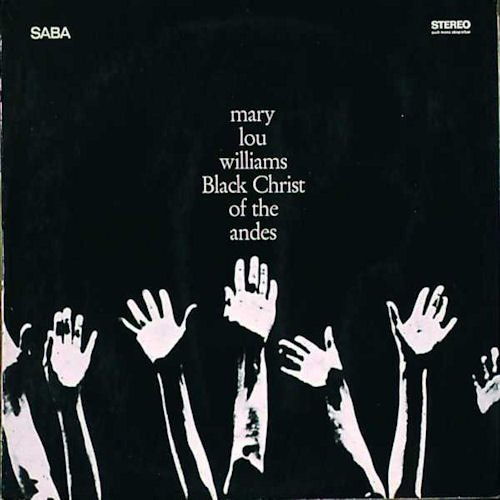 Mary Lou Williams
Black Christ Of The Andes
Saba, 1963
Sometimes the quietest statements can be the most powerful. Taking her lead from a tradition of spirituals that extends way back to the pre-gospel and blues work songs of the slave plantations, Mary Lou Williams' Black Christ of the Andes was released in 1963, an astonishing forty years after she first appeared with Duke Ellington's Washingtonians. A record that touches base with all the major junctures of jazz history from gospel to avant-garde, Black Christ of the Andes was a quiet and deeply personal reflection on the power of spirituality to overcome inequality. Opening with a haunting dedication to the "Black Christ" St. Martin de Porres, the then newly canonised Peruvian Patron Saint of interracial justice, the record veers between modernist, secular hard bop and more overtly religious themes, with the devastating acknowledgement of the post-lapsarian condition, "The Devil" sitting alongside classic trio recordings like "It Ain't Necessarily So" and the wry "Miss D.D.", a quiet comment on black American service culture in the vain of Ella Fitzgerald's poignant "Miss Otis Regrets".
---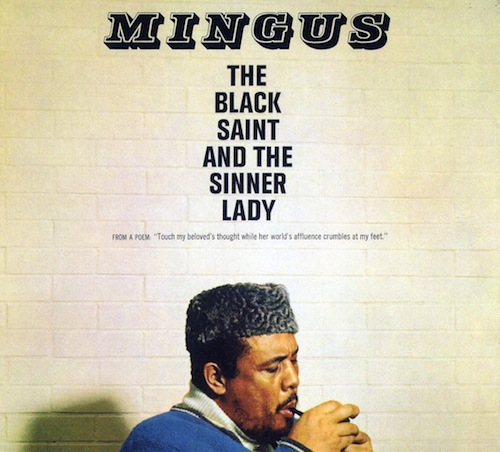 Charles Mingus
Mingus Ah Um / Black Saint and the Sinner Lady / Mingus Mingus Mingus Mingus Mingus
Columbia / Impulse, 1959 / 1963
There is not one individual Mingus record that can adequately represent the breadth of either his compositional prowess or his political engagement. On his 1959 classic Mingus Ah Um you have "Fables of Faubus", a sneering and cynical rebuke of Arkansas Governor Orval Faubus' employment of the National Guard to prevent black students from entering a newly desegregated public high school in Little Rock in 1957. While Columbia refused to allow Mingus to record the lyrics he'd penned on the grounds that they were too incendiary, Mingus did find a place for the full version on Charles Mingus Presents Charles Mingus via Candid Records, the same label to release Max Roach's Freedom Now Suite. Likewise, Mingus's chain-gang hymn "Freedom" only appeared as a bonus track on Mingus Mingus Mingus Mingus Mingus after its initial 1963 release. Then there's Black Saint and the Sinner Lady, Mingus' extraordinary 1963 orchestral suite, regularly included in lists of the greatest jazz records of all time, where the subtitles to each movement speak of the freedom, revolution and release in the surging, climactic arrangements and chaotic exclamations that Mingus made his own.
---