Published on
November 6, 2023
Category
Features
Travel across two decades of the iconic record store.
In celebration of its 20th birthday, Soho-based record store Phonica Records has announced a special compilation.
Available across four limited 12" inch samplers, a triple CD package and digital formats, 20 Years Of Phonica is an 18-track journey through the favourite producers and friends of the Phonica team.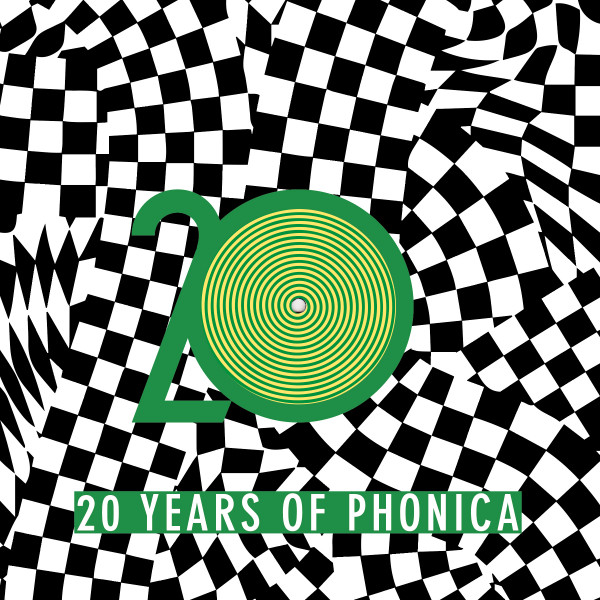 "There are 18 exclusive tracks from people we respect and people who support the shop," says Simon Rigg, who founded the store alongside the late Tom Relleen and Heidi Van Den Amstel back in 2003. "As well as a retrospective of the last 10 ten years across the different Phonica labels–Phonica White, Phonica Records Special Editions, Karakul and Phonica AM".
The exclusives section of the compilation includes cuts from heady electronic producer Daniel Avery, NTS Radio host Shy One and jungle king Tim Reaper. The Phonica label sampler features heavy hitters from Peggy Gou, Midland and Shanti Celeste, as well as Phonica staff members Luther Vine and Kieran Jandu.
In an interview with VF earlier this year, Phonica explained the importance of the store's wider community: "I see these chance encounters; customers giving a record to another customer and striking up a conversation or people bumping into a friend that they had no idea would be there."
"People start talking about gear because they're both producers or they discuss the releases coming up on the labels they run. The shop is a place for developing an eco-system between the club and labels and artists and audiences and it's nice to see these conversations happen".
View this post on Instagram
Coinciding with the launch of 20 Years Of Phonica, the full line-up for Phonica's 20th birthday party at fabric has been announced. With sets from TSHA, Elkka, Danielle, Yazzus, Violet, Grace Sands, Chinese Daughter, the Phonica DJs and extra surprise guests, it's set to be a major night blending a variety of genres and styles.
"This party in fabric is the culmination of a whole summer of festivals and events," Rigg explains. "We've got lots of new and exciting talent and the Phonica DJs as well." Tickets for the party on November 17 are on sale now.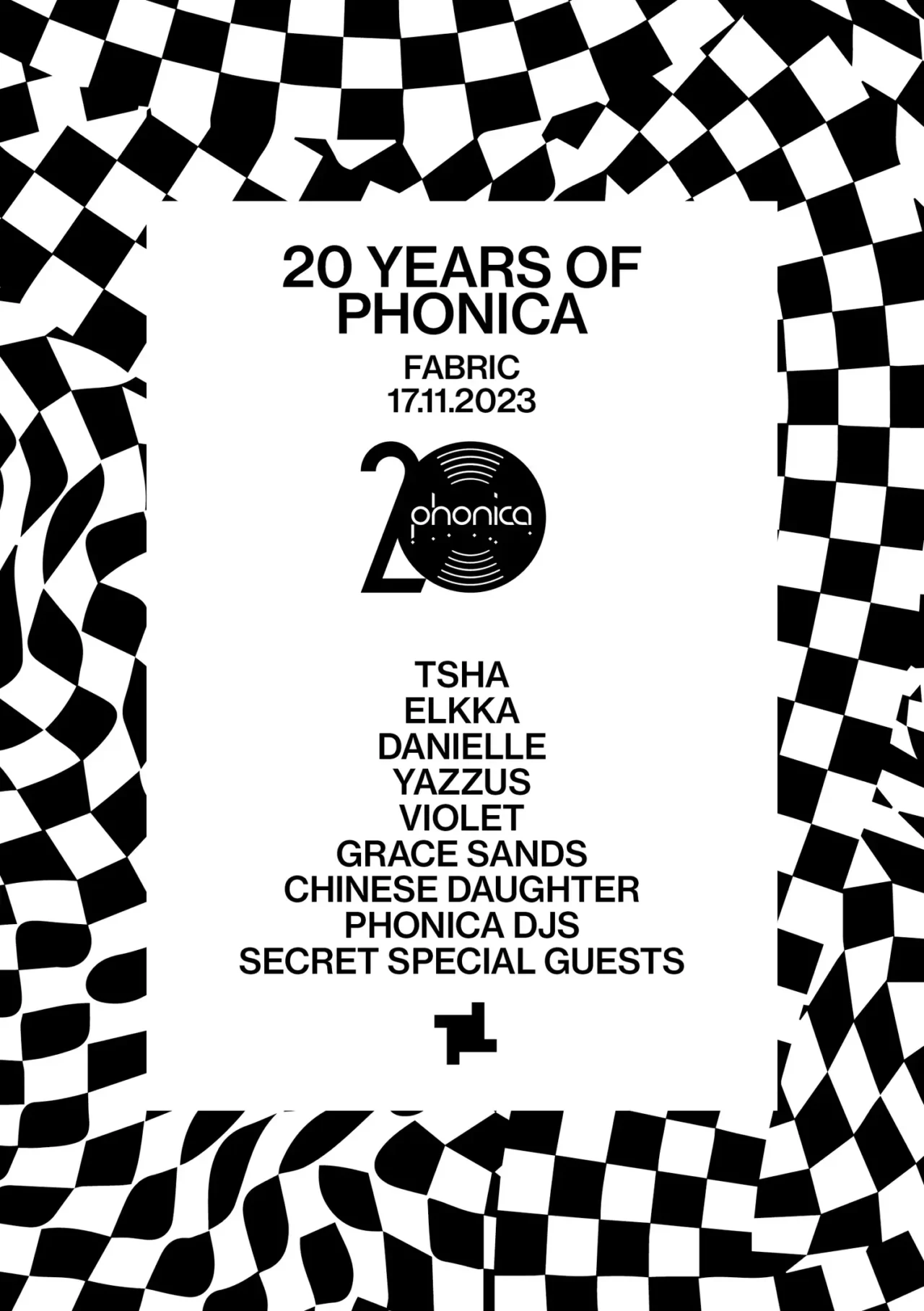 20 Years Of Phonica is available to pre-order now ahead of its November 17 release. See the full tracklist below.
Tracklist:
20 Years Of Phonica (CD + Digital)
CD 1 (Exclusives)
1. Daniel Avery – Bell
2. Paramida & E-Talking – Read My Lips
3. Nyra – Broken Needs
4. Gene on Earth – Club Jacket
5. Dam Swindle – Allright (Just A Tribute)
6. Huerta – Hit The Bit
7. Dauwd – Slam
8. System Olympia – A Mezzonotte
9. Tim Reaper & Comfort Zone – Subterranean
10. Shy One – Uncle G
11. Toby Tobias – On My Mind (Freak Mix)
12. Willow – Willbush
13. Dorisburg – Midi Trail
14. Keisuke – Ride It Out
CD 2 (Best of Phonica labels 2013 – 2023)
1. Peggy Gou – Six O Six
2. Midland – Before We Leave (Gerd Janson Remix)
3. Felipe Gordon & Bob The Egoist – Get Your Body Movin'
4. Harrison BDP – Easy Tiger
5. Eli Escobar – FindAWay2Day
6. Kassian – Faux Polynesia
7. Will Saul – For Joanie
8. Austin Ato – Song for Mr Lewis (Edit)
9. Secretsundaze – Still Hope (Waajeed's Detroit Hardcore Dub)
10. Ron Basejam – The Hurt Inside
11. Harry Wolfman – SMBC
12. Pional – XME
13. Subb-an & Luther Vine – Sunday Roll Through
14. Kieran Jandu – From My Soul
CD 3 (Best of Phonica labels 2013 – 2023)
1. Roman Flugel – Black Acid
2. Yak – Zip
3. Niños Indigo – Luna (Shanti Celeste Remix)
4. Escape Artist – Energy Breakthrough (Adam Pits' Lightspeed Mix)
5. Nuage – Pink Television
6. Justin Cudmore – Train Dance
7. Al Zanders – Song About A Dream
8. Earth Trax – Truth (Main Street mix)
9. Voodoos & Taboos – Witch House
10. Lea Lisa – Love To The End (Sunset Short Edit)
11. Art Crime – Obsession
12. Asyncronous – Shinkansen
13. Sad City – Baixa Saxophone
20 Years Of Phonica (Sampler 1) 12"
A1. Nyra – Broken Needs
A2. Niños Indigo – Luna (Shanti Celeste Remix)
B1. Dam Swindle – Allright (Just A Tribute)
B2. System Olympia – A Mezzonotte
20 Years Of Phonica (Sampler 2) 12"
A1. Gene On Earth – Club Jacket
A2. Huerta – Hit The Bit
B1. Subb-an & Luther Vine – Sunday Roll Through
B2. Keisuke – Ride It Out
20 Years Of Phonica (Sampler 3) 12"
A1. Paramida & E-Talking – Read My Lips
A2. Dauwd – Slam
B1. Daniel Avery – Bell
B2. Willow – Willbush
20 Years Of Phonica (Sampler 4) 12"
A1. Tim Reaper & Comfort Zone – Subterranean
A2. Toby Tobias – On My Mind (Freak Mix)
B1. Shy One – Uncle G
B2. Kieran Jandu – From My Soul
Read more: Phonica Records is London's spiritual home for electronic and dance