Published on
April 1, 2016
Category
Features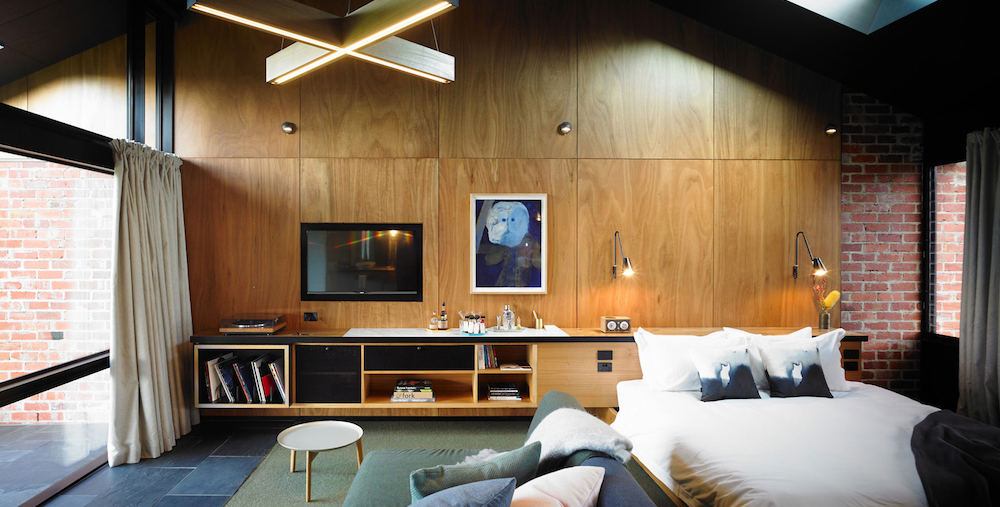 Boltholes that hit the right note.
There's nothing quite like the sound of vinyl but let's face it, taking your collection on holiday is probably a step too far. Thankfully a growing club of hotels across the world are responding to audiophile needs, offering up carefully curated libraries of records to satisfy every music whim.
Whether it's disco in the lobby, rocking room service or even an entire floor dedicated to Sub Pop, we teamed up with The Spaces to uncover 12 hotels that sound as good as they look.
---
The Ludlow, New York, USA
Hotelier Sean McPherson opened The Ludlow in Manhattan in 2014, crowning it with a new penthouse suite last year. Apart from the vast roof terrace overlooking the Lower East Side, its biggest perk is its audio system, which includes a classic Technics 1200 turntable (the same used at Studio 54), an Arnold Wolf for JBL floor speaker and a vinyl collection curated by McPherson himself.
His NYC-inspired selection includes classics by Frank Sinatra and Bob Dylan, as well as albums from the post-punk 'No Wave' scene and early hip-hop, all the way up to the early 2000s rock revival.
Furnishings inside the two-bedroom penthouse are equally eclectic. You'll find butt-shaped stools by Novello Finotti, Moroccan chandeliers and elegant Indo-Portuguese style beds.
180 Ludlow Street, NY 10002
---
Autor, Warsaw, Poland
Design agency Mamastudio and architect Mateusz Baumiller turned a historic, 19th century Warsaw residence into a boutique concept hotel that showcases furniture and artwork by Polish designers.
'Autor Rooms is meant to attract people looking for beauty, for unpretentious atmosphere and for an opportunity to connect with people with similar interests,' says Mamastudio.
One of these interests is of course vinyl: guests are able to sample the hotel's library of Polish records – curated by Michał Pawlik – spanning from classics to hidden gems, internationally renowned jazz musicians to new electronic rising stars. Art and furniture by the likes of Maria Jeglińska, Comforty, Segiet Oniszh and Ultralight, Paged Meble, Purpura and BISK are also for sale.
Lwowska 17/7, 00-667 Warszawa
---
Ace Hotel Downtown Los Angeles, USA
The Ace group's Downtown LA outpost occupies the former United Artists Theatre, a Spanish-Gothic structure built in 1927. Each of the 16 of suites in the building – which has been restored to all its theatrical glory – comes equipped with its own Ace x Rega RP1 turntable and a vinyl records. Some also have Martin acoustic guitars and spotlights for impromptu 'living room gigs'.
Next door to the hotel is the United Artists' Art Deco-style Marquis Theatre, a 1,600-seat performance space which the Ace group has revived.
While Ace's late founder Alex Calderwood wanted the Downtown LA hotel to be a bolthole for music lovers, the company's love of vinyl runs across all its hotels. Ace Hotel Shoreditch has its own Sister Ray record store, while New York's Room 212 is curated monthly by Vinyl Me, Please.
929 Broadway, Los Angeles, CA 90015
---
Soho House Berlin, Germany
Guests staying in the loft apartments atop Soho House Berlin's Bauhaus building get to enjoy libraries of over 100 vinyl records curated by The Vinyl Factory. While lounging on vintage furniture and looking out over the Mitte neighbourhood, they can listen to releases by the VF's own stable of artists. including Massive Attack, Jeremy Deller and Roisin Murphy.
Like what they hear? They can buy the records in The Store on ground floor of the building. From June, visitors can also catch a gig at The Store Studio, equipped with an 8-speaker Vinyl Factory Sound System handcrafted by Funktion One. Residents and guest commissions have been lined up 'to push the parameters of sound within the space'.
Torstraße 1, 10119 Berlin
---
The W London, UK
The W brand arrived in London back in 2011, taking over what used to be the Swiss Centre in Leicester Square. Swathed in glass, glitter balls and black fabric panelling, the W London recently took its nightclub-styled opulence to new heights with the launch of the 'world's first' vinyl room service.
Guests can dial the Whatever/Whenever service (the concierge to you and me) and request up to five records from the hotel's two collections. Curated by Annie Mac, the hotel's main collection spans classic and contemporary sounds from pop and rock to hip-hop and soul. There's also a dedicated Britpop collection, hand-picked by Lauren Laverne, for all your Oasis and Blur needs.
Texas' W Hotel Austin also deserves a mention for the massive wall of vinyl collection in its Living Room.
10 Leicester Square, London W1D 6QF
---
Hotel Max, Seattle, USA
Seattle's tired Vance Hotel was transformed into Hotel Max in 2005. Despite the upgrade, its original Beaux-Arts Classical Eclecticism architecture, dating back to the 1920s, remains untouched. With over 350 original art pieces decorating the lobby and each floor showcasing the work of local photographers, the hotel is a home away from home for creative types.
The 5th floor is dedicated entirely to Seattle institute Sub Pop; the rooms include turntables and an ever-evolving vinyl collection, charting the label's development from its punk roots to the grunge days with Nirvana. The homage extends with photographs by Charles Peterson, the man who defined the imprint's early visual aesthetic. There's also a Sub Pop television channel, playing music videos of past and present. After a night fully immersed in the world of Sub Pop, you can head downstairs to buy records in the lobby.
The hotel also makes space for pets, with bowls, toys and beds included, plus a 'pet spiritual menu' to zen your whippet while you unwind to Wolf Parade and Fleet Floxes.
620 Stewart St, Seattle, WA 98101
---
The Goodland, Santa Barbara, USA
Two years ago, The Kimpton group purchased and remodelled an old Holiday Inn in Goletta to open The Goodland. The hotel is within spitting distance of the Pacific Coast, a stone's throw from the Sideways wine trail and close to downtown Santa Barbara, aka the American Riviera.
With a breezy beach-chic aesthetic that matches earthy textures and driftwood, each of its 158 rooms are equipped with a backgammon set, drawer-handle bottle openers and a turntable. Guests are invited to borrow records from the vinyl library in the lobby.
Further activities include yoga in the morning, billiards on the patio and coastal cuisine in the indoor-outdoor restaurant.
5650 Calle Real, Goleta, CA 93117
---
The Redbury South Beach, Miami, USA
The Redbury South Beach is the vision of photographer-turned-creative-director Matthew Rolston. Situated in a carefully restored building, its 69 rooms and suites feature interiors inspired by South Beach's Art Deco heritage.
Drawing as much from the golden age of Hollywood as hippy-era interior design, The Redbury is intended to feel whimsical and theatrical. Rolston – who has worked with Madonna – sought to create an experience as close to actually being in his photographs as possible.
There's a soundtrack to match, curated by Capitol Records, whose iconic building is directly across the street. Each room comes complete with its own record player and vinyl collection.
1776 Collins Ave, Miami Beach, FL 33139
---
The Gritti Palace, Venice, Italy
Dating back to the 15th century, Gritti Palace emerged from an epic 15-month long, $50m revamp under the curation of American designer Chuck Chewning in February 2013.
Chewning – the creative director of fabric and furnishings company Donghia – looked close to home for inspiration, opting for classic Venetian opulence. He also named one of the suites after his predecessor, designer Angelo Donghia, who embodied the excesses of the 1970s when he found fame designing for the likes of Ralph Lauren, Diana Ross and Liza Minnelli.
Inside the silver and grey seventies-esque suite is a record player and cabinet of vinyls curated by Chewning from the Angelo's heyday, from disco to glam rock, Bowie to the Bee Gees.
Campo Santa Maria del Giglio 2467, Venice
---
Brae accommodation, Victoria, Australia
Those in need of some nurturing should head to the bucolic surrounds of Brae farm in Victoria. Owners Dan Hunter and Julianne Bagnato opened a restaurant there in 2013 to great acclaim – scooping a place on The World's 50 Best Restaurants list last year – and now they've added six guest suites so that diners can linger a little longer in the peaceful Otway hinterland.
Brae restaurant designers Six Degrees Architects built the eco-friendly lodges from recycled bricks and Australian blackout timber. These come styled by Studio Round, with handcrafted ceramics, bespoke textiles and brass fittings.
Lodges are equipped with Thorens turntables and records by everyone from Björk and Bowie to Caribou and Nick Cave. 'It's our hope that guests choose to spend time in the rooms, rather than just using them as a place to lay their heads – play a few records, mix a cocktail, sit back on the sofa, enjoy the rural views and disconnect for a while,' says Bagnato. Don't mind if we do…
4285 Cape Otway Road, Birregurra, Vic 3242
---
The Dean, Dublin, Ireland
Music is something of a theme inside Dublin hotel, The Dean, where rooms are dubbed Hi-Fi, Mod Pod and Punk Bunks. Each is kitted with a Rega RP1 turntable, Marshall Amp and selection of vinyl, picked out by local indie store Tower Records Dublin.
Records range from soul and blues to hip hop, with a special emphasis on Irish artists like Little Green Cars, villagers, Jape and James Vincent McMorrow.
But vinyl shouldn't just be enjoyed alone – live DJs play every week in The Dean's ground floor lobby bar, and on the rooftop at weekends.
33 Harcourt Street, Dublin 2
---
Hotel Saint Cecilia, Austin, USA
Named after the patron saint of music and poetry, Hotel Saint Cecilia is inspired by good old fashioned American rock 'n' roll.
Owner and designer Liz Lambert turned the Victorian house into a hotel, filling its interiors with red, white and blue colour schemes, offset by antique furniture and contemporary fixtures such as Droog chandeliers.
Saint Cecilia's vinyl collection is nothing to be sniffed at either. Guests can borrow records from the front desk – which has a sizable library of 1960s and 70s classic rock from Neil Young, The Beatles and Rolling Stones, as well as Americana from Band of Horses, Wilco etc – to play in their rooms, kitted out with Whetstone Audio Rega RP1 and RP3 turnstiles and Geneva speakers.
112 Academy Dr, Austin, TX 78704