Published on
October 4, 2013
Category
Features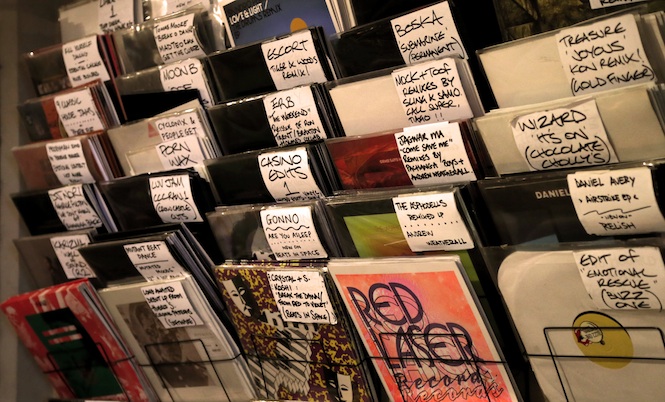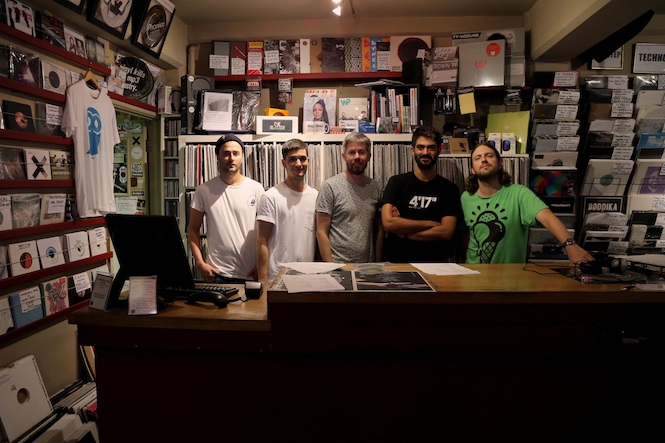 Phonica Records reflect on ten years supplying London's dance music community.
Located in the heart of London's Soho, it's no exaggeration to say Phonica Records have been central to the evolution of dance music in the capital since they opened in 2003. With regular customers that include Four Tet, Floating Points and Erol Alkan, Phonica have stood firm as other independent record shops tumbled around them.
Opening an independent record shop specialising in vinyl in 2003 may have seemed like a somewhat contrary move. Rallying against the doomsday-ers prophesying the end of an era for the record industry, the narrative should read like one of a plucky independent surviving against all the odds, struggling every day to draw breath from beneath a sea of invoices and receipts.
That of Phonica Records is anything but. A broad church defined by the impeccable selection of its staff, the shop has built a reputation as one of the most influential and forward thinking retailers in the business, bucking every trend (including the so-called 'vinyl revival' – sales have been consistently good) on the way to a fast decade at the top of the game. The secret? "Fads come and go but we still always sell good dance music, that's basically it." Simple.
Ahead of their 10th birthday celebration which will bring together friends and family of the store alongside the likes of Levon Vincent and A Guy Called Gerald at Fabric on 5th October, we caught up with Phonica's Simon Rigg and Vangelis Bellonias to look back and choose 12 records that have defined the shop over the first decade.
---
For the sake of a bit of nostalgia, let's start at the beginning. How did Phonica first come about?
Simon: Well, first of all Mark and Tim [The Vinyl Factory] were looking to open a record shop. They had the pressing plant and FACT magazine and that was the other part that they wanted to fill. I was running another record shop at the time called Koobla with Heidi and Tom who were working for me, and all of us came over and planned the shop. We were given a blank page, they let us do what we wanted, and so in September 2003 we opened with me and Tom and Heidi and ten years later we're still here.
Being given a blank page to work from, was there a clear vision from the very beginning?
Simon: There was a clear vision from a music point of view and what we wanted to sell. Record shops round here have changed a little bit, but at the time, most shops were genre-based, so it was like you went to a hip hop shop or you went to a house shop or a techno shop, and round here there were so many shops that's what people did. And I wanted one that was dance music based, but one that covered many genres, so we would sell funk and soul and disco and hip hop and reggae and also have techno and electro and electronica…
Vangelis: Micro-house…
Simon: Yeah, I'd say it was more a one-stop-shop. And also, although we're famous for our wall of vinyl, at the time most shops were like that and there weren't really any flick through sections. You had one or the other, whereas here you can go and get sorted out by the assistant working or you can just serve yourself, just go up and choose what you want to listen to.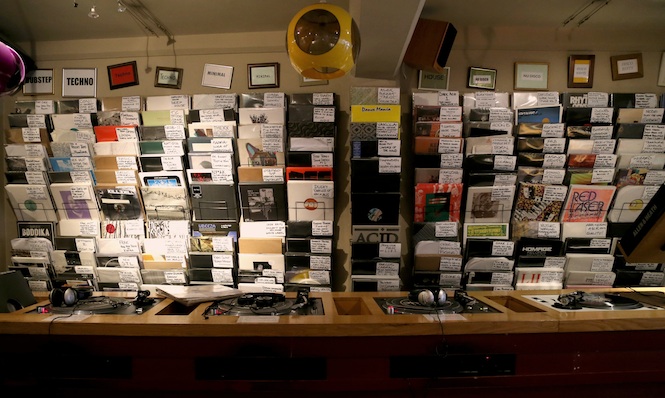 A lot of shops would put people off, they were quite intimidating and we tried to be less intimidating. I mean people always think record shops are intimidating anyway…
Vangelis: Heidi wasn't the uh… (laughs) I think she'd taken a liking to me when I was a customer. Jonny was the one that always sorted me out.
Simon: Well to some people Heidi was intimidating, but I think Heidi was also integral in why Phonica became popular because she was quite a character behind the counter. She was opinionated, she was loud and boisterous, but she knew her stuff more than anyone.
Being a shop that caters for dance music have you found that customers have changed from DJs to collectors over the last ten years as fewer choose to DJ with vinyl?
No, the DJs have been consistent and the collectors have always been there as well, it's what everyone calls "the £50 man", they've gone to downloads. Ten years ago we would get lots of people who would go out on a Saturday night and they'd hear a tune and they'd come in and want to buy it. But now you don't need to, you just Shazam it and download it, or Spotify it, or whatever.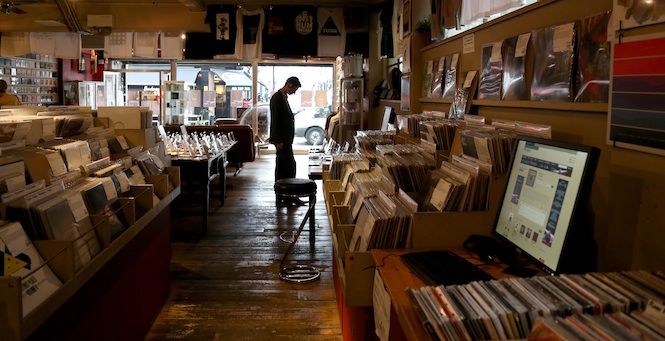 So you wouldn't say that sales have fluctuated over that time necessarily?
Our sales have been consistent over the last ten years I'd say. Maybe there was a dip 2008/09 with the recession and then this year I'd say is better than last year, but roughly speaking it's the same, it hasn't changed at all.
Could you put names to a few of the better known DJs, producers and musicians who have come to rely on Phonica over the last decade?
Simon: How long have you got? We just had Four Tet in…
Vangelis: Erol Alkan.
Simon: Funkineven.
Vangelis: Floating Points.
Simon: Caribou. Who else? Sigha.
Vangelis: Yeah all the Black Market guys, they buy their records here. Who else? Gerd Janson, Henrik Schwarz, Dixon, Deetron, you know all that. Ripperton buys loads of records. Eric Duncan. Derrick Carter comes to the shop whenever he's in town. Vakula. Midland. Twitch buys loads of records online.
Simon: Everyone basically.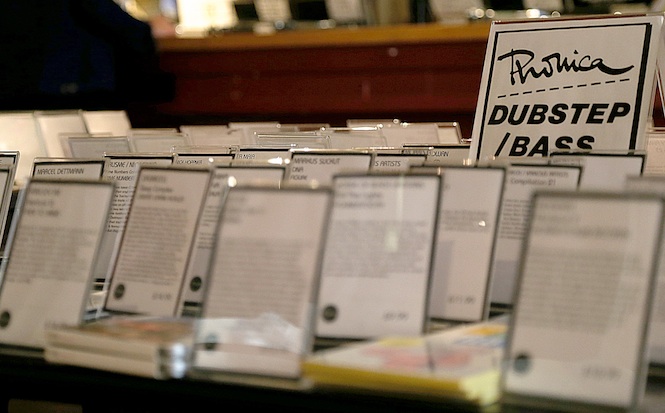 What has been the highlight of the last ten years?
Simon: Well for me it was probably the 7th birthday. We had Virgo 4 who hadn't played ever in the UK and it was their first gig in 20 years. John Talabot, we had Four Tet and Henrik Schwarz and Midland, so that was a big night.
Have there been any lowlights?
Simon: I don't have any lowlights.
Vangelis: Our site crashing and loosing a year and a half's worth of data. That was a low point. And having to work on a Monday with a hangover…
Could you put your finger on a few records that did well over the years?
Simon: The big sellers have been ones that have captured a particular sound before it became popular, so like…
Together: Depeche Mode Ricardo Villalobos remix.
Simon: It was the biggest minimal record of all. And then Booka Shade, which no-one plays any more but at the time we sold like 700 copies in the one shop and now any record would struggle to sell that amount in one shop. But then we have all these bizarre ones, like one of our bestselling records is a reggae version of The Beatles; a reggae mash-up of "Eleanor Rigby".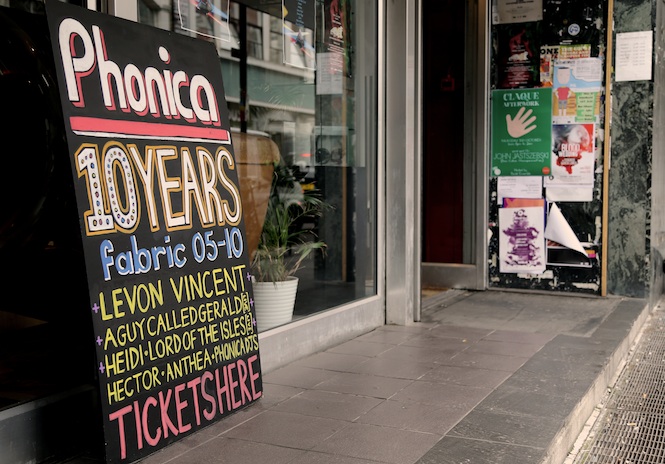 You've picked a line-up for the 10th birthday party which seems to reflect what the ten years at Phonica have been all about, and having witnessed music change so much over the last ten years it's interesting that someone like A Guy Called Gerald is back in the frame…
Simon: Well, there's two things. First of all it's kind of like you can't beat hearing 'Voodoo Ray' at a Phonica 10th birthday party, but he's also still making great records. Like his last record on Bosconi was really good and we sold loads.
Vangelis: I think the fact that he plays live. It's not just some old washed-up dude playing the same records that he played, it's a bit more special, you know.
What else can we can expect?
Simon: So we're only doing Room 1 and Room 3 at Fabric. In Room 1 we've got Anthea & Soho, Anthea used to work here, Soho works here now, so they're starting the night off and then Heidi, she's one of the headliners in Room 1. She's a Radio 1 DJ now, she is very successful and goes all around the world DJing and this is the first time she's playing for Fabric for two or three years, so we wanted to bring her back. She's an integral part of the shop so it's good to have her back, and then A Guy Called Gerald who we spoke about before and then the highlight for me is Levon Vincent, because he's always consistently good. He probably makes some of the best records of the last few years and also the bestsellers in here.
Vangelis: We were the first people to book him in London, at Fabric again.
Simon: And then in Room 3 is more the party with the family, so all the family and friends are together, and so we've got Hector, Anthea & Soho as well, Vangelis will play, Brian, Nick, me, Jonny Rock and Lord of the Isles, who is on our label, but all the staff will be there. It's the ten years, it only happens once.
Absolutely. All that's left is to say congratulations and ask, what is the secret to longevity in this business?
Vangelis: I think one of the secrets is being able to adapt to the new.
Simon: Fads come and go but we still always sell good dance music, that's basically it.
---
Phonica Records' top 12 records of the last 10 years.
Chosen by Simon Rigg and Vangelis Bellonias, in no particular order. These records have been some of our biggest sellers and some which have been important and seminal to the shop staff.
Depeche Mode
'Sinner In Me' (Villalobos remix)
The simple percussion, the minimal production, and Dave Gahan's voice.
---
Gabriel Ananda
'Doppelwhipper'
One of the biggest selling records of Phonica's early years.
---
Four Tet & Burial / Four Tet & Daphni
'Moth' and 'Pinnacles' / 'Ye Ye'
We just couldn't get enough copies for the demand….
---
Mark E
'R&B Drunkie'
Janet Jackson in long drawn out dub disco anthem.
---
Bob Holroyd
'African Drug' (Four Tet remix)
Our best selling Phonica release…and what a remix from Four Tet. It all started with Bob visiting the shop…
---
Booka Shade
'Mandarine Girl'
Still officially the bestseller at Phonica. It many not have aged well but at the time, it was huge.
---
Lindstrom
'I Feel Space'
The original Nordic disco anthem – and never bettered!
---
Martin Buttrich
'Full clip'
Timeless piano anthem and over 500 copies sold!
---
Nora Dean
'Angie La La'
The timeless, undefinable reggae not reggae 7inch has sold continually for a decade!
---
Levon Vincent
'Six Figures'
The record that introduced Levon to the world – our most consistently selling producer.
---
Matthew Jonson
'Decompression'
The techno blueprint as MJ meets Minus.
---
D5
'Neutrino EP' (Delsin)
Nothing is better than this lush, melodic techno classic.
---
Dennis Ferrer
'Son of Raw'
New York house at its finest.
---
Phonica will be celebrating their 10th birthday at Fabric on October 5th. Check out the Facebook page for more info and book tickets HERE.