Published on
September 15, 2015
Category
Features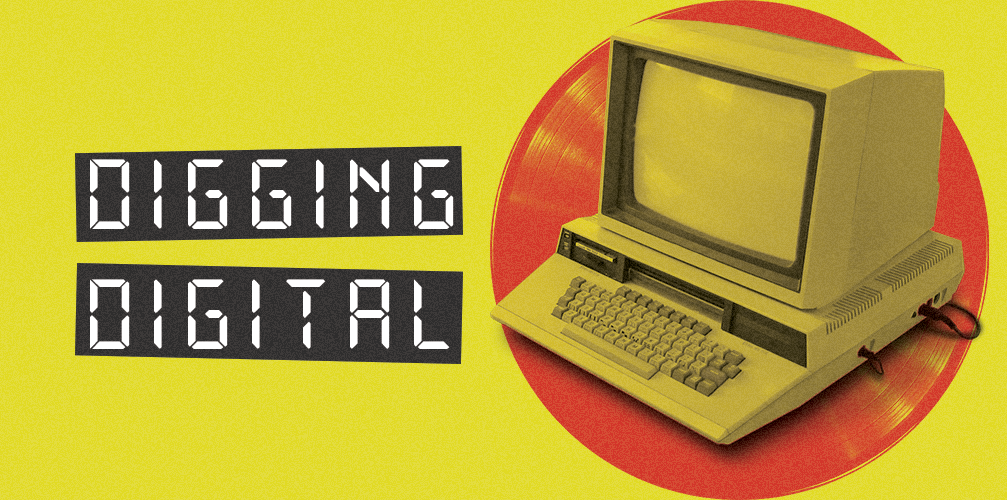 A selection of the best URLs for picking up gems.
As we uncovered in our very first podcast, the internet has forever changed the way we discover, share and trade records. Undoubtedly there are negative externalities – take eBay flippers on Record Store Day – and perhaps we're less likely to engage in physical encounters and real-life adventures. But as record collecting has become an increasingly niche pursuit, the net has linked like-minded people across the world and encouraged a generation of young music lovers to engage with the format.
Back in the day if you wanted to buy Indian records, your best bet was probably to make the trip to Delhi. Of course, we'd jump at the opportunity to go digging in a dusty Indian bazaar but it also suits us that we can explore and purchase the complete history of Bollywood with the click of a mouse. The effect is democratising – anyone can be a record dealer and everyone has access to every record ever.
All that choice can be overwhelming – where do you even begin? With that question in mind, we've scoured the web for the best online shops for second hand vinyl. Before we proceed, here's a few rules to ensure we're on the same page.
Discogs, as a near-comprehensive database and marketplace, is a fantastic source for used (and new) vinyl but, like the internet, it's a vast beast. What we're interested in here is some level of curation, matching the physical experience of a record shop. For that reason, online marketplaces are out.
Online emporiums stocking new vinyl, the Boomkats, Normans and Junos of this world, don't qualify either. Don't get us wrong, we love a new release like the next guy but we're focusing here on digging culture and second hand records. We've also counted out physical record shops with an online presence so as to shine the spotlight exclusively on online-only vendors. That means the likes of Sounds of The Universe and Dusty Groove don't make the cut, despite enviable stocks of second hand.
What follows is a cross-section of online record shops from boutiques for connoisseurs to bargain bins for beat biters. Some shops pass you the spade while in other cases, a selector has done the dusty work for you. We've tried to cover a broad range of genres and also enterprises operating across the world – with Europe, North America and Japan all covered. Treat this list as an invitation to explore the world of online record shops; we're confident that there are plenty more out there of this calibre – please post your own favourites in the comment section below.
Get digging-digital.
---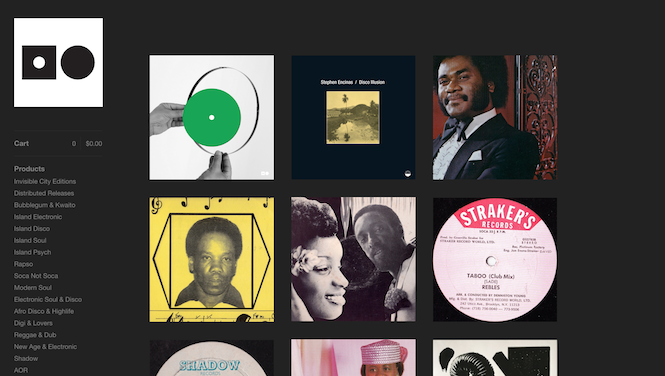 Invisible City Editions Shop
Expect: Obscure island disco, soul and psych, soca-not-soca, rapso, weird reggae, modern soul, new age, electronic, and loads of leftfield beauties
Brandon Hocura and Gary Abugan have become established resurrectors of forgotten masterpieces with their Invisible City Editions imprint. Known for scouring warehouses in Trinidad for island disco and tracking down reggae artists in Libya, this duo like to get down and sweaty to find their music. Although the search is often physical, they run a beautifully curated online shop displaying treasures from their adventures.
---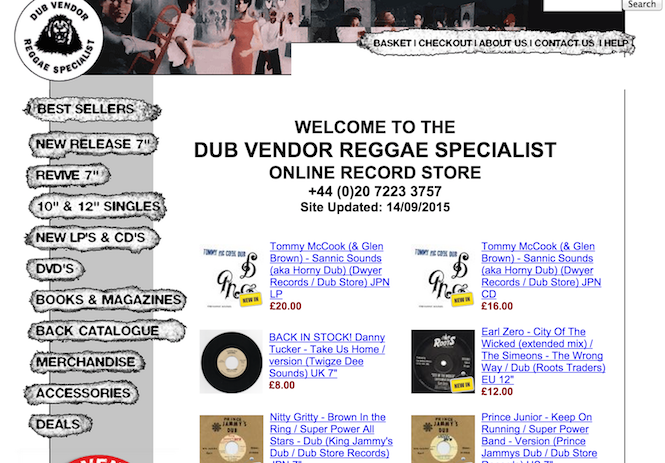 Dub Vendor

Expect: Roots, ska, lovers rock, dancehall, reggae, dub, all kinds of Jamaican music
Dub Vendor began life as a marketstall in 1976 before expanding into brick-and-mortars in Clapham and Ladbroke Grove. In their heyday, the shops had the energy of a dance with crowds spilling out on to the streets. It was as about as close as you could get to Jamaica without jumping on a plane. Beset by shrinking local demand for reggae as well as reduced output from Jamaican artists, owner John McGillivray decided to move all business online in 2011. Dub Vendor remains one of the best shops for secondhand reggae sounds.
---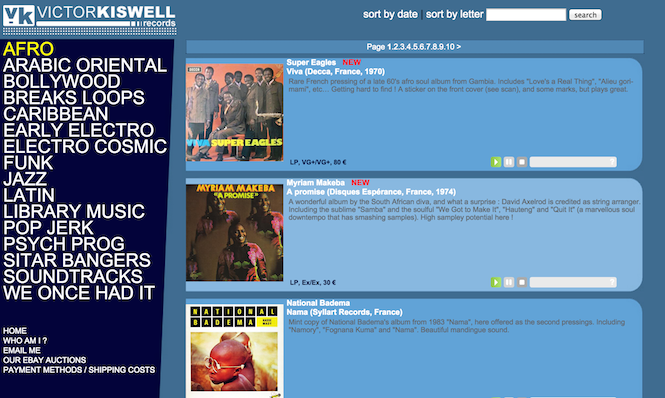 Victor Kiswell
Expect: Arabic, Oriental, Bollywood, Latin, Caribbean, breaks and loops, early electro, funk, jazz, cosmic, pysch, prog, library and soundtracks
Who else has an entire section dedicated to "sitar bangers"? Trading exclusively in jaw-dropping rarities, Victor Kiswell is passionate about all kinds of styles with a jazz or funk tinge. Whether it's hip-hop producers looking for breaks or movie makers scoring pictures, Kiswell has a cult customer base. All records are sold clean and in VG+ condition, and you can rely on Kiswell to grade things properly. If you're in Paris, be sure to stop via his office for the personal shopping experience.
---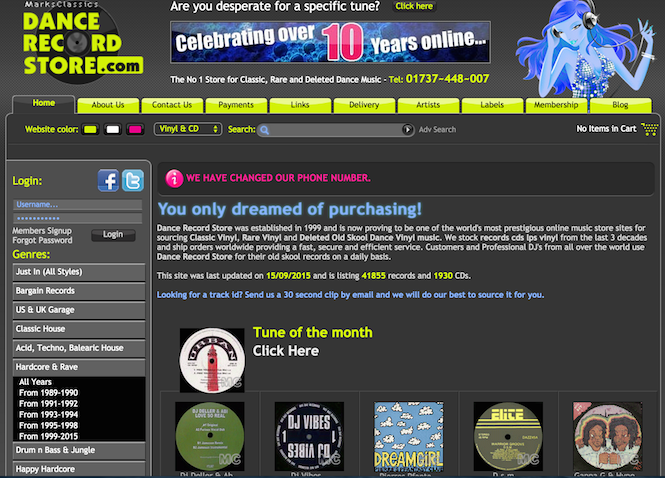 MarksClassics

Expect: All kinds of classic and rare dance – UK garage, acid, techno, Balearic, hardcore, rave, D&B, house, disco, the list goes on and on
Established in 1999 as an online-only venture, Marks Classics sources classic, rare and deleted dance records for all your DJ cravings. Run by Mark J, who's been collecting records since c. 1985, the stock is helpfully arranged by genre and then by years within that. 1991 to 1992 hardcore, anyone?
---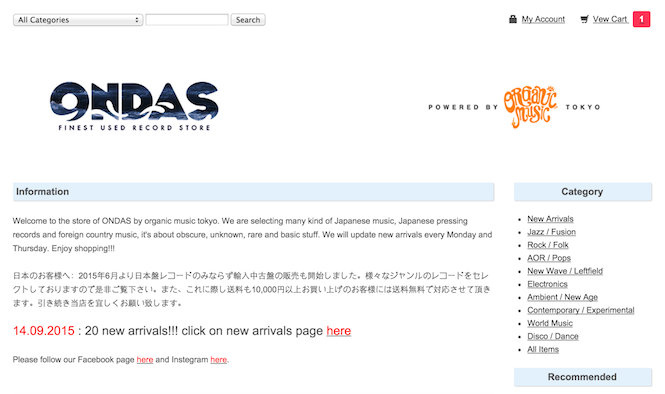 Organic Music ONDAS
Expect: Rare Japanese music of all flavours – jazz, fusion, rock, folk, pop, new wave, ambient, disco and dance
Buyer for Japan's legendary Cisco Records for 10 years, Toshihito Maeyama aka Dubby opened his own shop online last year. Organic Music ONDAS is a mecca for obscure Japanese music from the '70s, '80s and early '90s, as well as Japanese pressings of foreign records. As of this year, worldwide shipping is available so you can dig in Japan without trawling the streets of Toyko and Osaka – although if that does appeal, read this guide.
---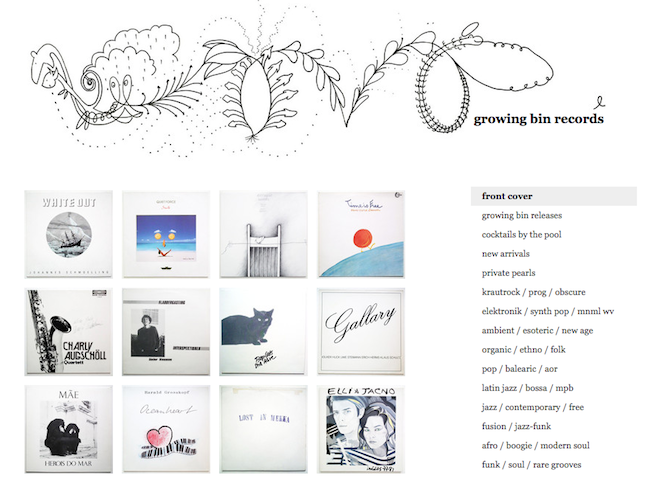 Growing Bin Records
Expect: Precise new age, Balearic, ambient, jazz, krautrock, and electronica
Based on Hamburg, Growing Bin started life as a blog in 2007 – an online refuge for the overlooked oddities unearthed by its author Basso. Garnering a cult following among heads across Europe, Growing Bin has since blossomed into a record label (last year's Overworld by A.R.T Wilson making our best of 2014 list) and a used record shop with sections like 'cocktails by the pool' and 'private pearls' alongside hand-selected rarities from across the Balearic across the spectrum.
---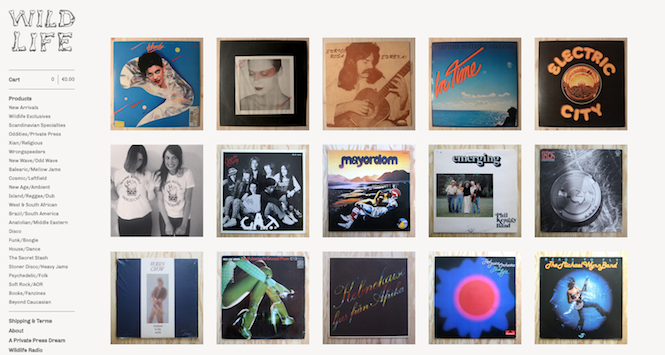 Wildlife
Expect: Private press oddities, new and old wave, cosmic jams, Scandinavian specialties and stoner disco
Surely the only shop with "Wrongspeeders" as a section, Sweden's Wildlife Records is a sanctuary for adventurous collectors and DJs, with a finely curated selection that spans global scenes and obscure sub-genres. Based in Malmö, every record is presented with Scandinavian clarity that makes even the most clean-cut Christian Caucasian funk 12″ appear utterly essential.
---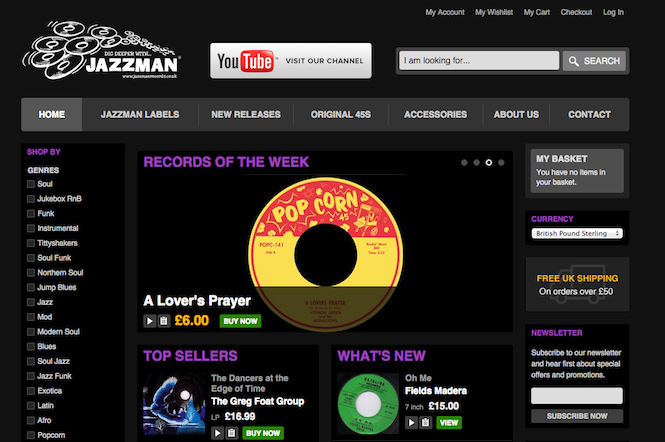 Jazzman
Expect: Dancefloor-ready jazz, RnB, northern soul, tittyshakers, music hall oddities and rare funk
Not content with being one of the finest reissue labels in the country, Jazzman have also built an online store in their own image. A curated selection of original 45s is the jewel in the crown, spanning straight up jazz, to RnB, tittyshakers, and afro-funk. With descriptions like "Wacky pop noodler that's tasty and fun", you can't go wrong.
---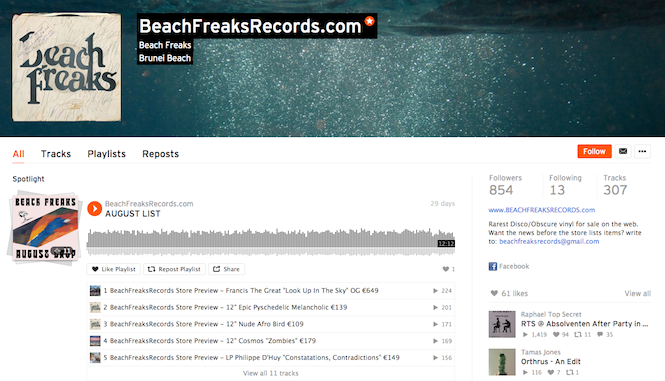 Beach Freaks Records
Expect: Hellish rare disco, funk, soul, boogie, afro and psychedelic
Run by the guys behind Psychemagik, Beach Freaks not only boasts the "rarest disco" available on the web, but also a stringent door policy that keeps the selection tight and the quality undiluted. While their website is currently down ("Gone fishing" or something to that effect), they run an active Facebook page and put together monthly Soundcloud playlists with prices attached. Beach Freaks is as close as you'll get to a bespoke record service – day trippers need not apply.
---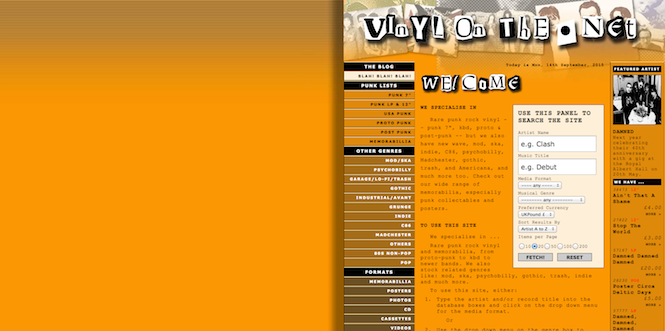 vinylonthe.net
Expect: Punk of all stripes, hardcore, indie, industrial, grunge, mod, ska and all things DIY
If vinylonthe.net were a real shop, it would be chaotic as fuck, and while they may be no good at web design (see above), but you'd be hard pressed to find a more comprehensive selection of punk records online. With other genres charting gothic, industrial, grunge, indie, Madchester, psychobilly, mod, ska and every sub-culture besides, it's updated regularly with hundreds of new arrivals, not to mention VHS, cassettes, memorabilia and an online bargain bin. The true spirit of no frills digging as realized on the internet.
---
Artwork by Hector Plimmer. See more of his work here.