Published on
May 30, 2015
Category
Features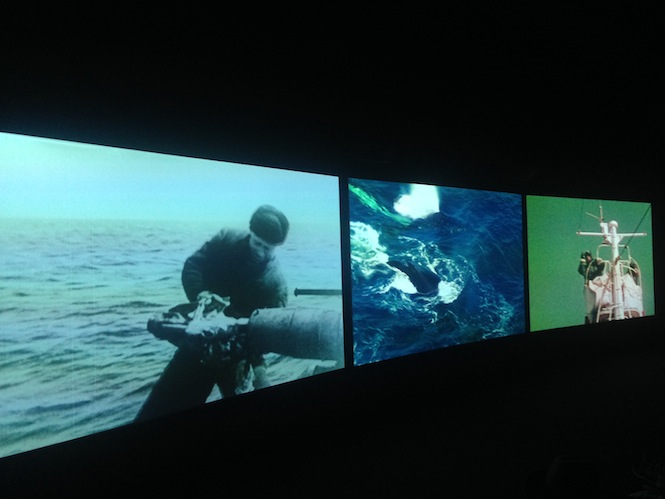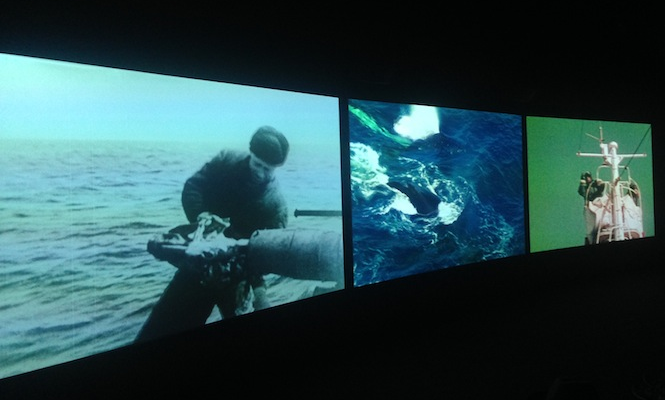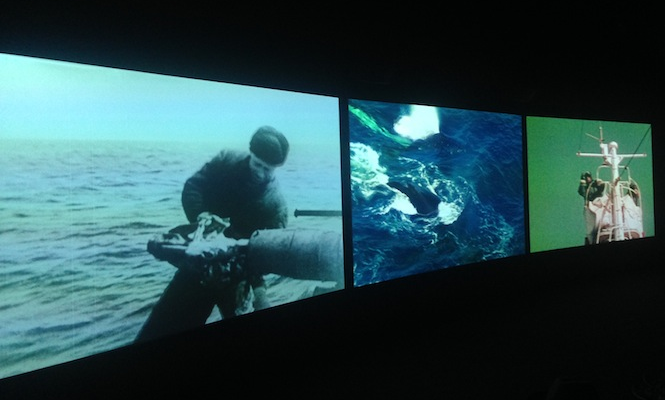 This year's Venice Biennale put music centre stage, re-drawing the lines between sound, art and performance. With The Vinyl Factory lathe installed in the Arena recording the first week of performances direct-to-disc, Dorothy Feaver went further afield to uncover the pick of this year's sound work.
---
Words: Dorothy Feaver
---
Selfie sticks are now the yardsticks by which to measure Venice. They operate in a swarm that crawls and pokes over its bridges and piazzas, gluing gurning faces to their iPhone images and away from the magnificent sights. By means of antidote, the 56th Venice Biennale offers a cautionary dose of things to be heard and not seen.
The beating heart of curator Okwui Enwezor's exhibition, 'All the World's Futures', is the Arena, a red-cushioned auditorium in the Central Pavilion, designed by David Adjaye. It's the place for an 'epic display of orality', Enwezor promises, and gets the tub thumping with a daily excerpt from Karl Marx's Das Kapital. This is read to the letter by a pair of poker-faced actors – editorial amendments, footnotes, and all – but segues into a programme of performances running until 22 November: into furious finger work on four pianos in Evil Nigger (1979), Gay Guerrilla (1980) or Crazy Nigger (1980) by Julius Eastman (Arthur Russell's great collaborator); or into new music by Charles Gaines, to be played every month, based on his pencil drawings of musical scores for songs such as 'Deep River: An American Negro Melody'; or into whizzbang performances of contemporary work songs by jazz star Jason Moran and his wife Alicia Moran-Hall. These are the carrots to Enwezor's stick: radiating out from the Central Pavilion, the Arsenale, national pavilions and sites beyond the Giardini march to the beat of themes of exploitation, colonialism and the throes of capitalism. Selected here are some outstanding moments in which to pause and syncopate.
---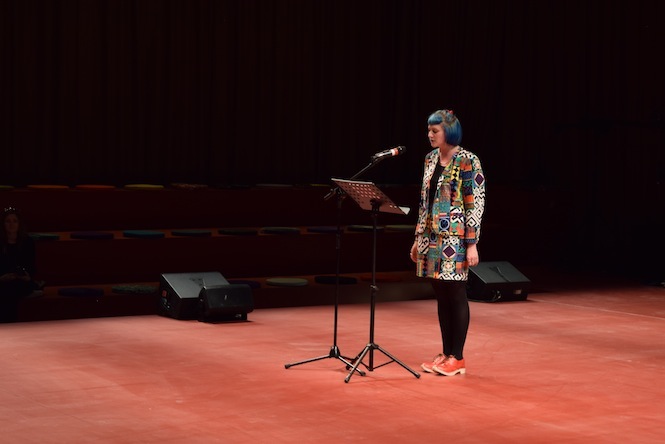 Jeremy Deller, Broadsides and Ballads of the Industrial Revolution, 2015; Performance by Jennifer Reid
Arena, Giardini
"Everyone will be rich, there will be no need to beg/Nor stump up and down, with an old wooden leg… And children, then they will hatch them by steam/And feed them with nutmegs, blacklead or cream…" So go the lyrics to 'A Prophecy for 1973', a jocose but depressing satire on inequality, occupational injuries, infant mortality and progress. It's one of a raft of 19th-century ballads selected by Jeremy Deller from Chetham's Library in Manchester – not only the oldest public reference library in the English-speaking world, but one graced by Marx himself during the 1840s. Pop songs of their time, they were printed on single sheets of paper and often present a sentimental ditty alongside the caustic chronicles of working life, a salve to a razor cut.

Blue-haired Lancashire songstress Jennifer Reid took to the Arena to perform a medley ranging from piston-pumping eroticism to biting critique of the industrial age. Her rendition of a thirteen-year-old worker's plea that she isn't worth saving – ashamed of her bald patch and unsightly muscled legs – had the audience, even herself, in tears. Jennifer puts the ballads to a tune by working intuitively from some dozen song patterns that have been passed down by word of mouth; and in turn she has trained four girls and three boys to perform as couples for the remainder of the Biennale. As a postscript, she performed a stonking clog dance, working the rhythms of factory machines into something joyful.
---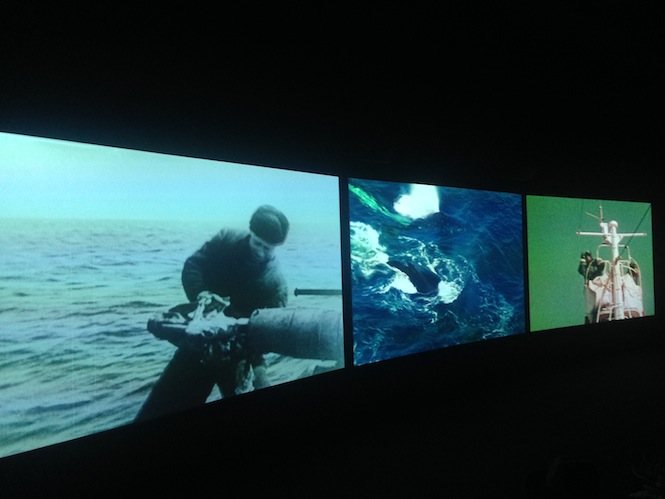 John Akomfrah, Vertigo Sea, three-channel video installation, surround sound, 48'30", 2015; Score composed by Tandis Jenhudson
Arena, Giardini
Anger holds sway in this extraordinary film by John Akomfroh – founding member of the Black Audio Film Collective, whose work spans television, cinema and the gallery. Vertigo Sea uses a wealth of footage from the BBC natural history unit archive, and while playing on the seductive, high-definition aesthetic of David Attenborough documentaries, there is nothing comforting here. Whaling, slavery, political murders, climate change: the sea is an unmarked grave and a thermometer for acts of human terrorism.

Split across three screens, the imagery is glued together by young London-based composer Tandis Jenhudson, who previously collaborated with Akomfrah on the Martin Luther King documentary 'The March'; the soundtrack incorporates readings from those classic texts of the sea, Herman Melville's Moby Dick (1851) and Heathcote Williams's Whale Nation (1988), with vertiginous strains of the violin and the heaving and sighing of wind and waves. Voices describe the Argentinean 'disappeared' being pushed out of planes into the Atlantic; clips linger lasciviously on slaves, sweating, locked below deck or washed up on the beach; a starving polar bear reels across the disappearing ice; men slice through the tough skin of a whale and scoop out the blubber; the whale's red eye watches. In its directness and sense of argument, Vertigo Sea is a riposte to everything that is decadent and self-regarding in Matthew Barney's whale-fest Drawing Restraint 9 (2005).
---
Vincent Meessen, One.Two.Three, film, 2015
Belgian Pavilion, Giardini
The group exhibition 'Personne et les autres' squares up to its setting in the Belgian Pavilion – built during the reign of despotic King Leopold II, who ran Belgium's Congolese colonies as his own personal piggy bank, plundering rubber and enslaving people. This is a history lesson, but Vincent Meessen's film One.Two.Three, in its surround-sound padded enclosure, does it with swagger.

His film takes its cue from the lyrics of a Situationist protest song, written by student Joseph M'Belolo Ya M'Piku in the Kikongo language in May 1968. Meessen breathes air into the song by putting it to music in the building of the legendary Kinshasa nightclub, Un, Deux, Trois. The documentary format unfolds from a formal interview with M'Belolo to an exploration of the now neglected building, with female musicians wandering through empty corridors as they play the guitar, going up and down stairs, skittering drumsticks along rooftop railings or on the floor, and building up to a final performance which amplifies and salutes the political rumblings of 1968.
---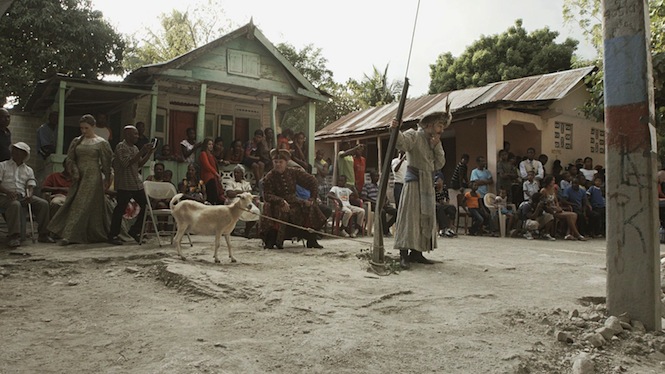 C.T. Jasper and Joanna Malinowska, Halka/Haiti 18°48'05"N 72°23'01"W, 2015, multichannel video projection
Polish Pavilion, Giardini
Stanislaw Moniuszlo's 1858 opera Halka tells the story of doomed love between a nobleman and a village girl – a schmaltzy storyline that could appear on the wrong side of Jeremy Deller's broadsheets, it's a Polish national treasure. This film documents its export to Haiti: opera singers strut and warble in Romantic garb, but instead of the gilt and velvet of the opera house, here it's sandy underfoot, there's a restless goat tied to a tree, and the audience watches from plastic chairs, chins in hands – equal and opposite to the toted and booted Biennale audience in the Polish Pavilion.

Artists C.T. Jasper and Joanna Malinowska are mining the setting, the Haitian village of Cazale, for its historical Polish connection, since it is inhabited by the descendants of Polish soldiers who fought for Haitian independence 200 years ago. They had the opera performed by local dancers from the village, with musicians from both Poznan Opera House and Port-au-Prince, and yet the project wears its wit rather than its heart on its sleeve: it realises the harebrained ambition of Werner Herzog's Fitzcarraldo (1982), whose protagonist, a would-be rubber-baron wanted to build an opera house in the tropics. But the 'participatory' nature of the project also recalls a less canonical flick: in shockumentary Addio Zio Tom (1974), hundreds of Haitian extras were used in scenes showing barbaric treatment of slaves. Its directors had been the pampered guests of Haiti's then dictator, Papa Doc Duvalier, whereas Jasper and Malinowska came with the support of Poland's Ministry of Culture. But is the staging of Halka no less an act of cultural colonialism? In the Polish Pavilion the film is projected on a curved screen, leaving this question to be eyed with an astigmatism.
---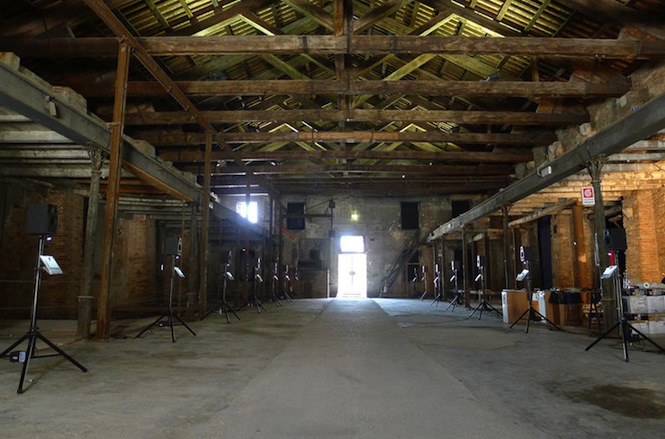 'Voces Indegenas', sound installation
Instituto Italo-Latino Americano, Latin American Pavilion, Arsenale
There's nothing to see in the cavernous Latin American Pavilion, but below the burr of visitors' chatter and ringtones is a mumble of other voices. The presiding spirit of this group exhibition is the 18th-century naturalist, Alexander von Humboldt, whose adventures through Latin America – some steps ahead of Fitzcarraldo – resulted in the purchase of a parrot on the banks of the Orinoco. That parrot could recite Maipure, the language of a recently extinct ethnic group. Here, seventeen loudspeakers make a pretty lacklustre substitute for the parrot, yet as you slow down to read the accompanying translations, the sense of what's missing is entirely the point: each plays a poem, parable, song, greeting, teaching or history from some of the 400 Latin American languages facing imminent extinction.

An exception is the reading of a Latin text in contemporary Haitian creole from the work of Catalan missionary Fra' Ramón Pané. He had sailed with Columbus in 1493 and got down the tales of an extinct Haitian people from the last person who could speak Marcorix. 'They recognise that there is an Immortal Being in the skies that no one can see,' the voice says, as you read the fourth layer of translation, 'that there is a mother, and that there is no beginning to things…'
---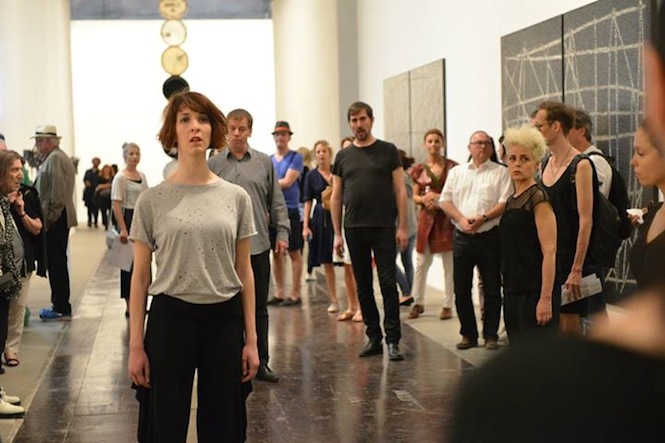 Allora & Calzadilla, In the Midst of Things, 2015, performance
Arsenale
Puerto Rico-based artists Allora & Calzadilla eschew beginnings in their new choral work, In the Midst of Things. Composed by Gene Coleman, it is based on Haydn's oratorio The Creation (1796–98), which drew on descriptions of the origins of humankind from the Book of Psalms, the Book of Genesis and Milton's Paradise Lost (1667). Milton starts not at the beginning but at the most exciting bit, the fall of man and Allora & Calzadilla pick up on the in medias res (mid-action) tradition for a series of interruptions on Haydn's score. In taking liberties, Allora & Calzadilla are also playing on the translation history of the libretto: originally written in rather awkward English, it's said to have been improved by the subsequent German translation. The Voxnova Italia choir's physical movement through the Arsenale mimics their voices: they shift positions, facing each other, turning away, roaming through the space in low-key cotton clothes, epic but casual. They reach out to the Arena, where Das Kapital is being read in English: Marx claimed at the end of his life that he wrote the four volumes – of which three were published posthumously – in reverse, having begun with the fourth.
---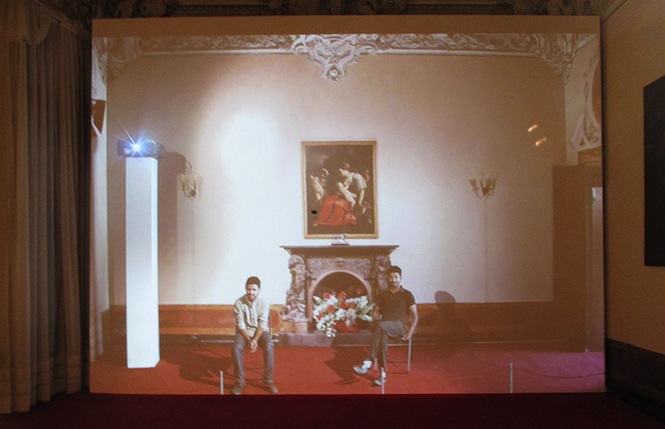 Rashid Rana, Asl-e-Shuhuud-o-shaahid-masshhuud (Viewing, Viewer and Viewed), 2015, live video installation
'My East is Your West', Palazzo Benzon, collateral exhibition
Neither India not Pakistan has a permanent pavilion in the Biennale, and the stakes were high for the exhibition 'My East is Your West', presenting Shilpa Gupta (India) and Rashid Rana (Pakistan). In one of the plush salons of Palazzo Benzon, Rana's live, interactive installation Asl-e-Shuhuud-o-shaahid-masshhuud reaches out and holds you. The entire facing wall is a screen, showing an exact replica of the room we are in, from cornices to marble mantelpiece, oil painting and red carpet.

On this occasion, one by one across the screen walks a teenager in sunglasses, then a younger boy and a toddler. They stare at us; we do the same; then the usual hush of an exhibition is broken. 'We're in Venice!' someone shouts, 'Where are you?' There is a slight delay as we ask and repeat questions, an awkward Skype call magnified in public; Rana is asking how remote we can be if only we imagine we're in the same room. 'This is Lahore!' says the oldest boy (they are in Liberty Market apparently). 'I am an A class student,' he adds. 'I am your friend.' A man on our side butts in and asks what our opposites think about international cultural collaborations – and the ensuing silence is not a technical fault, they are blanking him, and we share the joke.
---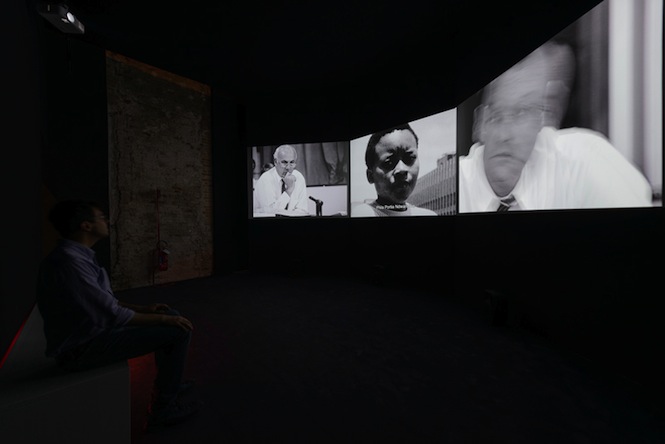 Angus Gibson, Telling the Truth?, three-channel video, 2015
South African Pavilion, Arsenale
Angus Gibson, anti-apartheid campaigner and one of South Africa's best-known documentary filmmakers, draws on the recordings of Truth and Reconciliation Commission, whose hearings gave amnesty to political crimes. Across three screens, the process itself is put under scrutiny: the person giving evidence is put into contrast with freeze frames of victims' families, documents and photographic evidence. Although the visuals chop and change, the oral testimony is unstoppable. Political crimes are aired in a relentless flow of words, which, despite the orderly to and fro of court procedure, can seem monstrous; Winnie Mandela responds to involvement in the case of teenager Strumpie Seipei's abduction and murder: Desmond Tutu says, 'Say sorry, things went wrong.' Winnie Mandela replies, 'Thank you for your wise and wonderful words.' By contrast, don headphones for Warwick Sony's doomy musical soundtrack to Marikana Viewpoints, also in the South African Pavilion. Two screens show low res, secretly obtained footage of the Marikana massacre of 2012, where 34 striking mineworkers were shot and over 70 wounded – the most deadly attack by South African security forces since 1960 and which was subject to a scandalous police cover-up. You're in on something that no one was meant to witness.
---
Sarkis, Respiro, 2015, installation
Soundtrack composed by Jacopo Baboni-Schillingi
Turkish Pavilion, Arsenale
This year, the centenary of Turkey's genocide of the Armenians looms large, something that the Turkish Pavilion addresses head on by inviting in the Armenian-origin artist Sarkis. With Respiro (breath), he has created an alternative, mirrored cathedral, bathed in the colours of two giant neon rainbows. The installation reaches back to the 'first-ever rainbow', Sarkis says, referring to the biblical phenomenon over Mount Ararat in the far east of Turkey, the province now bordering Armenia; it is flanked by thirty-six panes of stained glass, studded with raw memories, among them, murdered journalist Hrant Dink, known for speaking out against Turkey's denial of the Armenian Genocide, is pictured smiling against a background of pomegranates.

Jacopo Baboni-Schillingi, artistic director of the Ensemble de Musique Interactive in France, unites the 500-square-metre space with a surround-sound composition. In Respiro della voce he has translated the seven colours of the rainbow into music for seven violins with seven pitches and seven variations. A choir of sorts, as you move through the room, the music is randomly generated across 16 speakers, like a changing breeze, and plays day and night for the duration of the exhibition.
---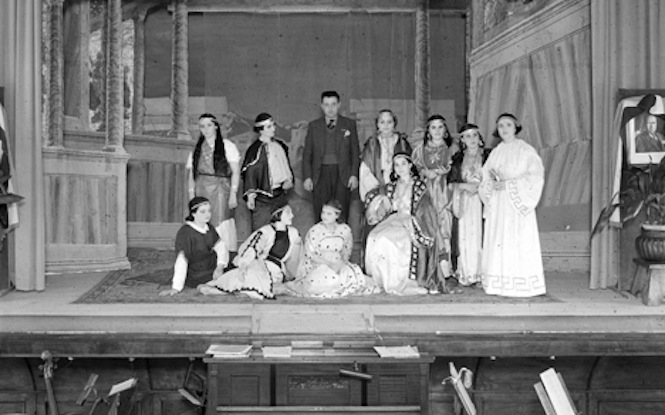 'Pane per Poveri', various artists
Teatro Marinoni, Lido
Running non-stop for 72 hours over the duration of the opening, the Biennale's alternative stage was to be found at the quiet end of the Lido. If you were to follow the suburban villas along the waterfront, all very decayed Hollywood, and pick your way across the sand, you'd arrive at a turn-of-the-century hospital for tuberculosis convalescents. As part of the recovery programme, patients would not only sun themselves but perk up at the hospital's in-house theatre. Now abandoned, Teatro Marinoni retains gilt details, red curtains and on the ceiling, a painting of angels rising out of the Mediterranean, alighting on puffs of cloud in the sky.

The stage was the setting for an unpublished line-up of performances and music: you could wander in off the beach and find works by Douglas Gordon, music by Discodromo or Massimiliano Pagliara. It was a counterpoint to Theaster Gates's funereal work in the Arsenale, Martyr Construction (2015), full of crashing sounds from footage of young men upturning debris in an empty Chicago church, with a tabletop of disused organ pipes sitting alongside. Gates wags a finger at the decay of church parishes in African American and Hispanic neighbourhoods in the United States, whereas 'Pane per Poveri' provided a community service for the waifs and strays of the art flock, who wanted to show, dance or rest on the grass.