Published on
August 21, 2015
Category
Features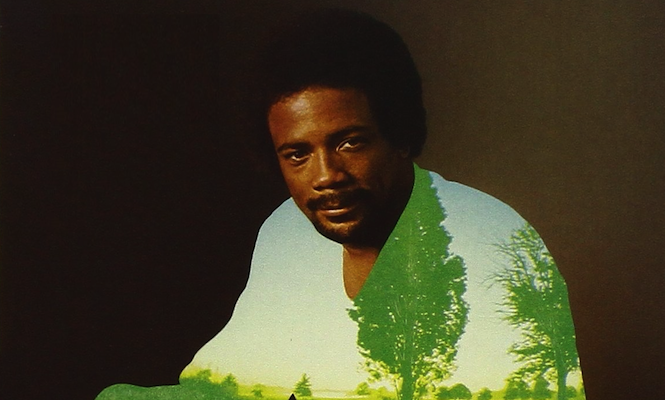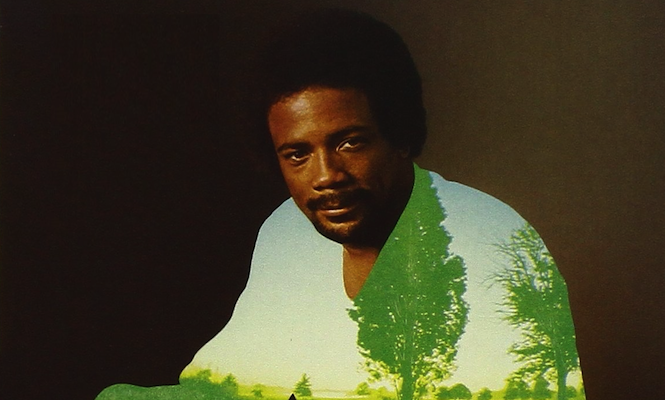 A quick fire introduction to the soundtracks of ubiquitous bandleader and super star pop producer Quincy Jones from six incredibly productive years between 1966 and 1972.
---
Words: Eliot Wilder
---
From big band to bossa nova, from bebop to hip-hop, Qunicy Jones has done it all – not just on his own, but also with some of the biggest names in music, including Frank Sinatra, Count Basie, Ray Charles, and Miles Davis. Jones began his career in the early 1950s as an arranger, working with the likes of Tommy Dorsey and Cannonball Adderly. Soon, as a trumpeter, he was performing with Lionel Hampton and Dizzy Gillespie, before releasing his first album in 1956, This Is How I Feel About Jazz.
From that time on, Jones released dozens of records, such as 1961's The Quintessence, a succinct collection of swinging tracks featuring trumpeter Freddie Hubbard and pianist Bobby Scott. He finished off the decade with the joyful strut of Walking in Space. In the 1970s, Jones turned to pop with Smackwater Jack and funk/soul on Body Heat. But his best-known (and selling) work was his collaboration in the 1980s with Michael Jackson, with whom Jones produced Off the Wall, Thriller and Bad, as well as gathering together the superstar super-session that was 'We Are the World'. All in all, his personal shelf of Grammy awards holds 27 of those trophies, the second most of any artist.
But for me, my favourite are Quincy's soundtracks. He's released more than a dozen of them, many from the late '60s and early '70s (although he was still doing quite well with them into the 1980s, including the score to The Color Purple, a movie that he also co-produced. What follows are my 10 picks.
---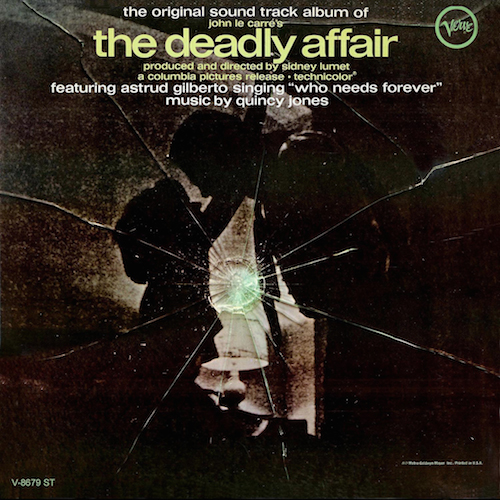 Quincy Jones
The Deadly Affair
(Verve, 1966)
This soundtrack to the Sidney Lumet thriller starts off with Astrud Gilberto drizzling her best desultory vocal over 'Who Needs Forever', which creates a moody atmosphere that is sustained throughout the entire album. With its languid orchestrations, breezy strings, and airy samba rhythms, this is a perfect Sunday morning record.
---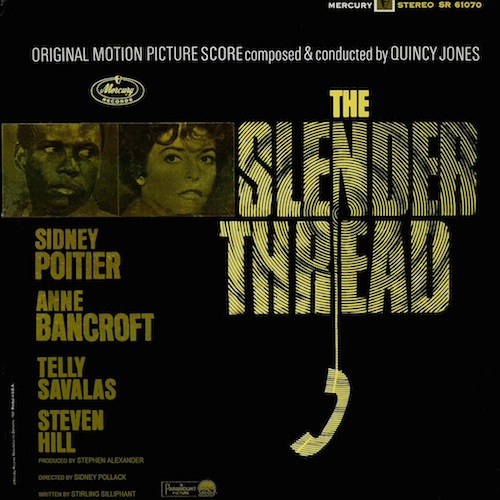 Quincy Jones
The Slender Thread
(Mercury, 1966)
From the same year as The Deadly Affair, at only 26 minutes this soundtrack may be short on time but not quality. All smooth jazz grooves and rollicking vibes and gorgeous orchestrations, it's a nice summation of the talents Jones acquired as a jazz music student in Paris in the late 1950s.
---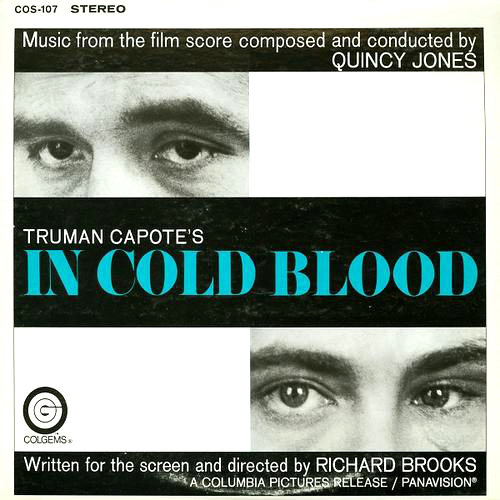 Quincy Jones
In Cold Blood
(Colgems, 1967)
The movie – based on the Truman Capote book about the gruesome murder of the Clutter family in rural Holcomb, Kansas, by two ex-convicts – is as unrelentingly menacing and dark as the story itself. The opening title track, with its galloping drums and corrosive strings, lets you know you are entering a bleak musical terrain.
'Perry's Theme', which begins with a beatific Spanish guitar, mutates into something terrifying, as strings rise and fall ominously. With its harrowing organ blasts, 'Murder Scene' is a haunting aural crime photo. At the time, this menacing soundtrack was considered a convention breaker not only for Jones, but also for black composers in Hollywood.
---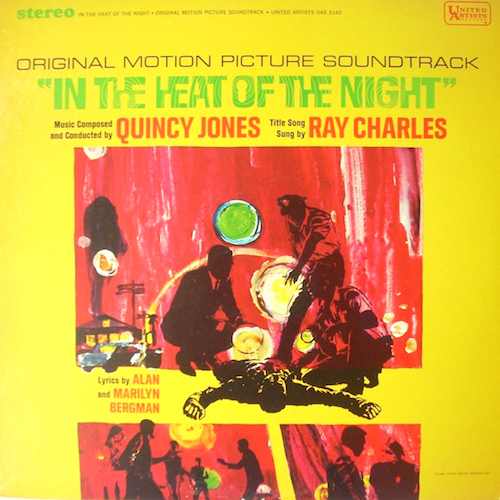 Quincy Jones
In the Heat of the Night
(United Artists records, 1967)
Released in the same year as In Cold Blood and featuring a title track sung by Ray Charles (with whom Jones worked on the classic Genius + Soul = Jazz), this soundtrack to a film about racism in the South has a cool, decidedly Southern-fried sound with funk-bottomed bluesy touches, like on the strutting 'Cotton Curtain', the down 'n' dirty 'Whipping Boy' or the fat 'n' sassy 'Chief's Drive to Mayor'.
---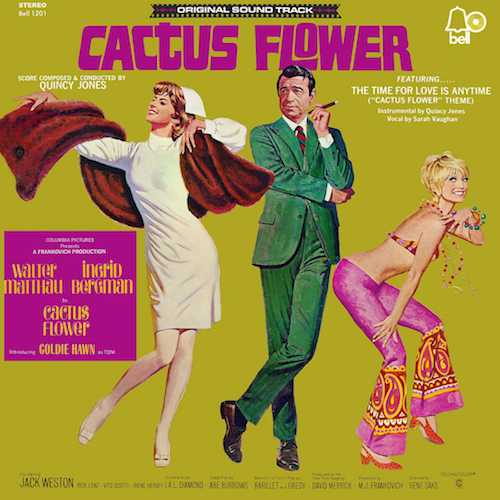 Quincy Jones
Cactus Flower
(Bell records, 1969)
The music Jones supplied for this trippy film is Quincy's nod to psychedelia and sunshine pop – covering the Monkees' 'I'm a Believer', and 'I Wonder What She's Doin' Tonight', which was penned by Boyce and Hart, also of Monkees fame. Sarah Vaughan adds some gravity with 'The Time for Love Is Anytime', and there's even a groovy version of 'To Sir, With Love'. A sweet cocktail.
---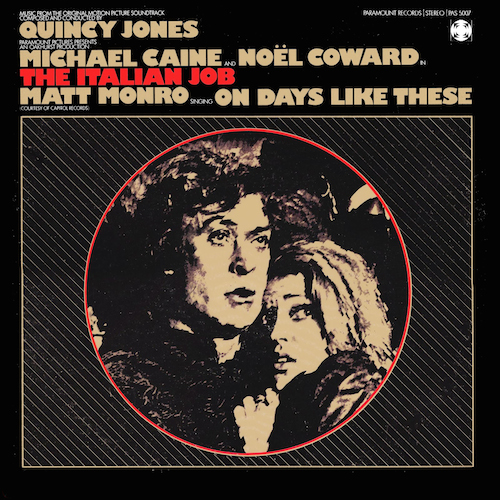 Quincy Jones
The Italian Job
(Paramount, 1969)
It may seem like a hodgepodge of quirky film cues, baroque harpsichord bits and lounge (Matt Monro's silky turn 'On Days Like These'), but this album is really a brilliant mash-up of styles. 'Something's Cookin'' sets up an organ-driven dream groove, a cool trumpet blows all over 'Hello Mrs. Beckerman!', and a distorted bass thrums through 'Trouble for Charlie'. There is samba, there is country, there is harpsichord, there are a bunch of blokes shouting in cockney; it's the sounds of the Swinging '60s in a 29-minute nutshell.
---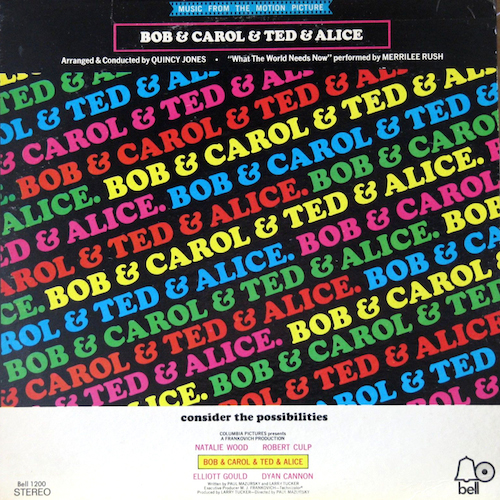 Quincy Jones
Bob & Carol & Ted & Alice
(Bell, 1969)
Again in 1969 (a busy year for the man), Jones produced this sparkling score, with its lavish string arrangements and jazzy interludes. There's also Jackie DeShannon singing a mournful 'What the World Needs Now' and, once more, Sarah Vaughan delivering a glorious knockout with 'Sun Dance', a rewrite of a portion of Handel's Messiah. What sounds like a lot work went into an unconventional soundtrack for an unconventional movie about sexual experimentation.
---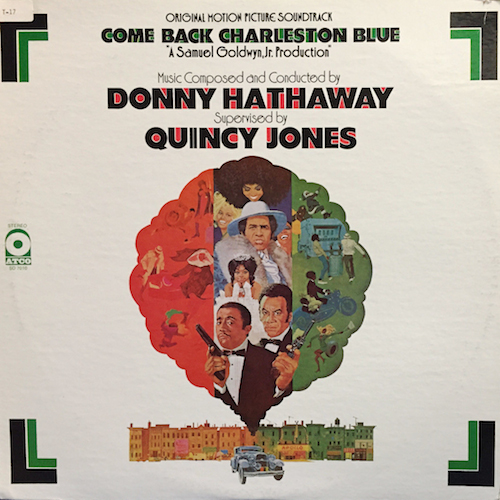 Quincy Jones
Come Back Charleston Blue
(ATCO, 1972)
Though this is mostly Donny Hathaway's show, Jones produced and arranged it. It's a crazy quilt of styles, from the Bourbon Street vibe of 'Main Theme' to the Basie-referencing 'Basie' to the spacey funk of 'Hearse to the Graveyard' to the bongo fury of 'Drag Queen Chase'. But the core of this record – the reason to get it – is Hathaway's heart-wrenching reading of his 'Little Ghetto Boy', which Dr. Dre sampled for The Chronic.
---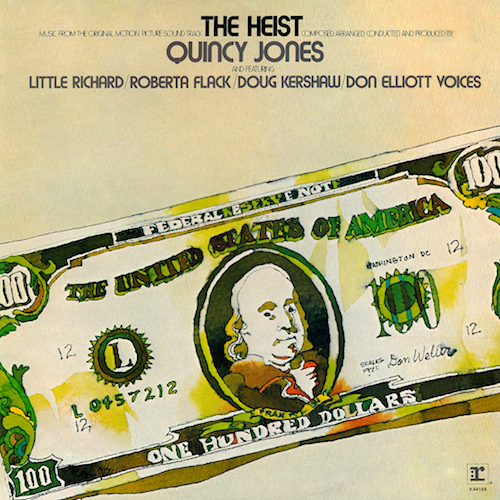 Quincy Jones
The Heist a.k.a. $
(Reprise, 1972)
With Little Richard ripping through 'Money Is' and Doug Kershaw fiddling around in 'Redeye Runnin' Train', The Heist is a slightly ramshackle record, rich with sudden soulful moods ('Shady Lady') and slam-dunk funk ('Money Runner'). With its Rhodes pianos and wacka-wacka guitars, the album oozes smooth '70s.
---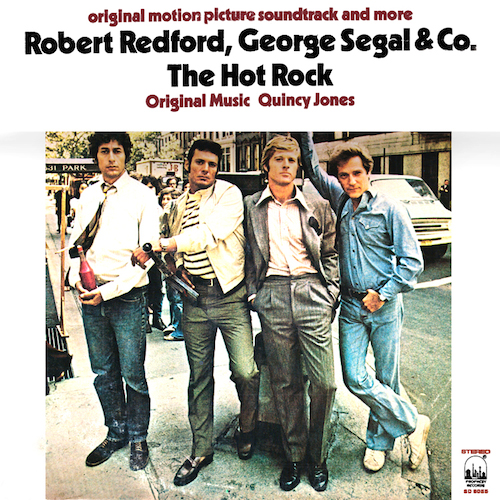 Quincy Jones
The Hot Rock a.k.a. How to Steal a Diamond in Four Uneasy Lessons
(Atlantic, 1972)
Quincy concocts some snazzy caper music for this peak-period Redford caper flick, which features primo instrumentation from Grady Tate, Clark Terry and Gerry Mulligan, as well as members of L.A.'s famed Wrecking Crew. They lay down some great beats and breaks throughout – no wonder it's been sampled by the likes of Eminem.
---
Eliot is also a musician, and his albums can be downloaded/streamed here.