Published on
May 9, 2018
Category
Features
Sound in motion.
Colombian musician Lucrecia Dalt is no stranger to creating sonicscapes that are anything but ordinary. As Dalt releases her ethereal sixth album Anticlines via RVNG, which fuses traditional instrumentals with experimental, geologically-inspired electronics, she collects ten of her favourite genre-defying film soundtracks.
"Has the contemporary movie score forgotten about contrast? Who needs to hear "sad" piano music during an emotive scene? Who needs to hear a formulaic classical march during an action scene? Disrupt my emotions, and my intimacy. Don't render the generic!"
---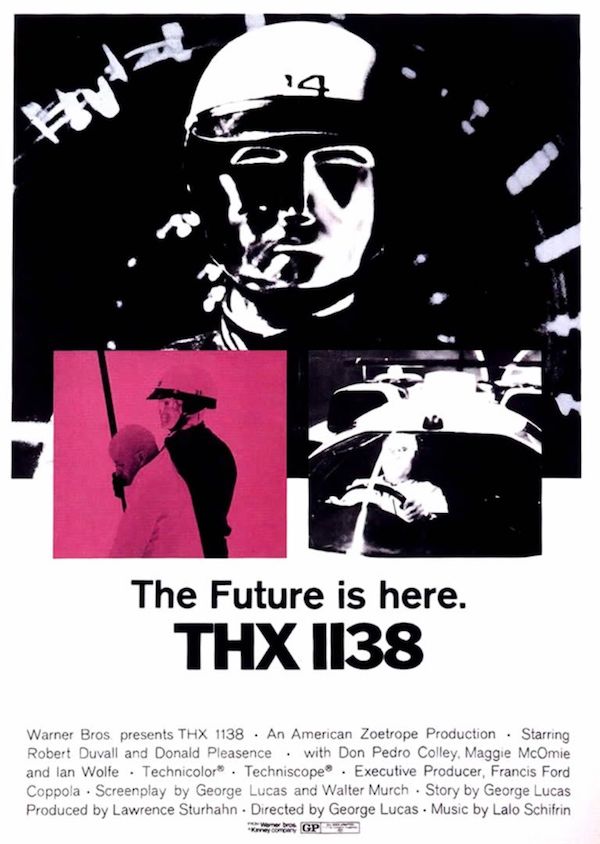 THX 1138
Directed by George Lucas
Score by Lalo Schifrin
(1971)
A Promethean future in which we function only on mind-altering drugs and functional approaches to entelechies, belief, work, masturbation, etc. In THX 1138, there is a constant background noise of ham radio voices. If the frequencies of all our surrounding devices were amplified, we'd have a similar ambience. Something we would only experience on daily cycles of speed/sleeping pills. Lalo Schifrin grasped all of these feelings explored in the film, and came up with a brilliant and bizarre soundtrack. The killing scene is one of my favourite moments, staged in a white edgeless space, mixed with that ceremonial cryptic music. Just perfect.
---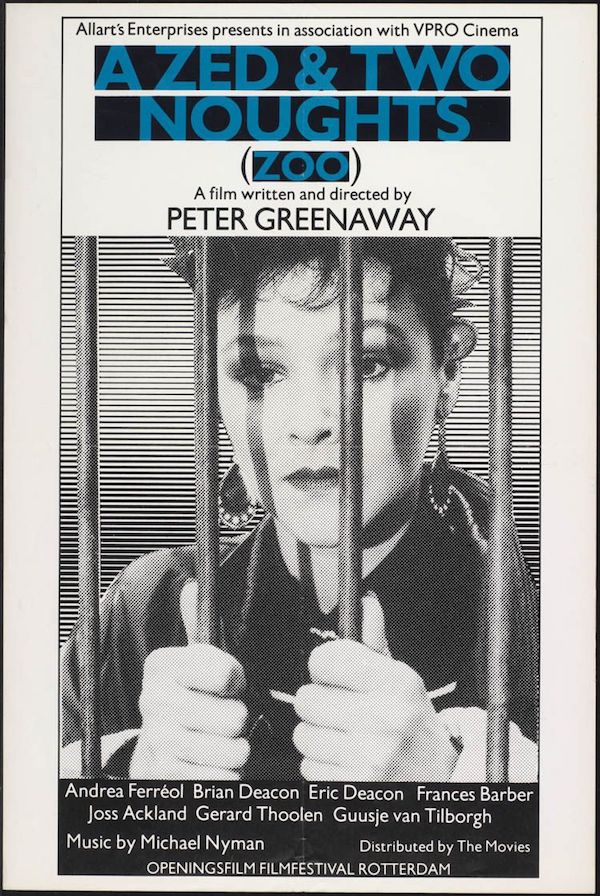 A Zed & Two Noughts
Directed by Peter Greenaway
Score by Michael Nyman
(1985)
Twin zoologists lose their wives and become obsessed with documenting decomposition and decay by using time-lapse technique. Their obsession becomes so overwhelming that they stage their deaths to document their own decomposition. A Zed & Two Noughts is a visual delight, a black comedy obsessed with light, animals, eroticism. and symmetry. All exquisitely captured by the horror-vacui – sometimes hysterical, sometimes cabaret-esque – score composed by Michael Nyman.
---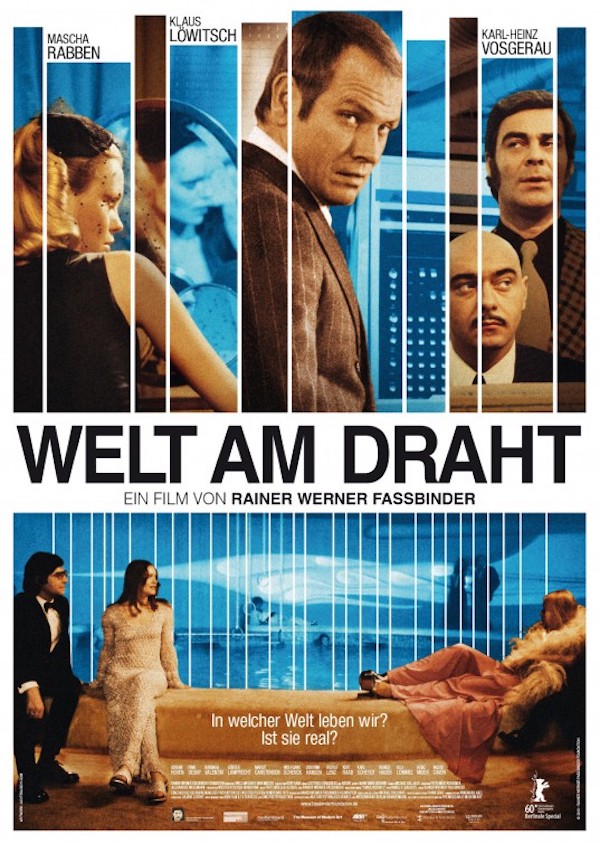 Welt am Draht
Directed by Rainer Werner Fassbinder
Score by Gottfried Hüngsberg
(1973)
This is one of my favourite movies exploring the simulation hypothesis. The main character, Fred Stiller, is hired to be the leader of a computer project that is able to simulate a full-featured reality. In that process, we slowly enter into a psychological and philosophical state of delirium with him, as his reality slowly shows inexplicable and incongruous phenomena. I particularly like how music adds to these moments of confusion with very powerful compositions of non-melodic, abstract synthesizers made by Gottfried Hüngsberg. I also really like the contrast generated at the end of the film when the titles appear with Fleetwood Mac's gorgeous composition 'Albatross'.
---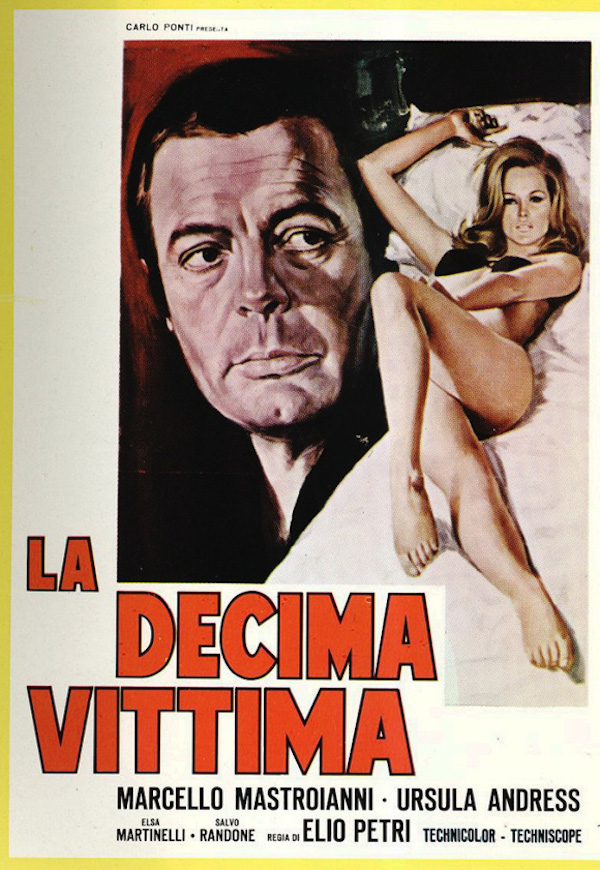 La Deccima Vittima
Directed by Elio Petri
Score by Piero Piccioni
(1965)
Picture this, there will be no more wars in the future but you may still feel violently anxious from human instinct. You can join a club in which human hunting is legal and controlled, one in which you are either the hunter or the hunted. By surviving ten rounds you will be proclaimed a "decathlete," ultimately rewarded fame and wealth. Death is a spectacle here — sponsors offer money to document this tenth killing. Petri's post-apocalyptic world is staged in New York, with all the pompousness and iconic glamour of '60s Italian pop art filmmaking. I really like how Piero Piccioni has decided to go about this score, diametrically opposed to any classic sci-fi aesthetics. With this hilarious and manic music, Piccioni accurately illustrates the life and ethical ideals of these elites and their moral codes; "behave dangerously, but within the rules," or "one enemy a day keeps the doctor away." I also particularly like the second take of the leitmotif.
---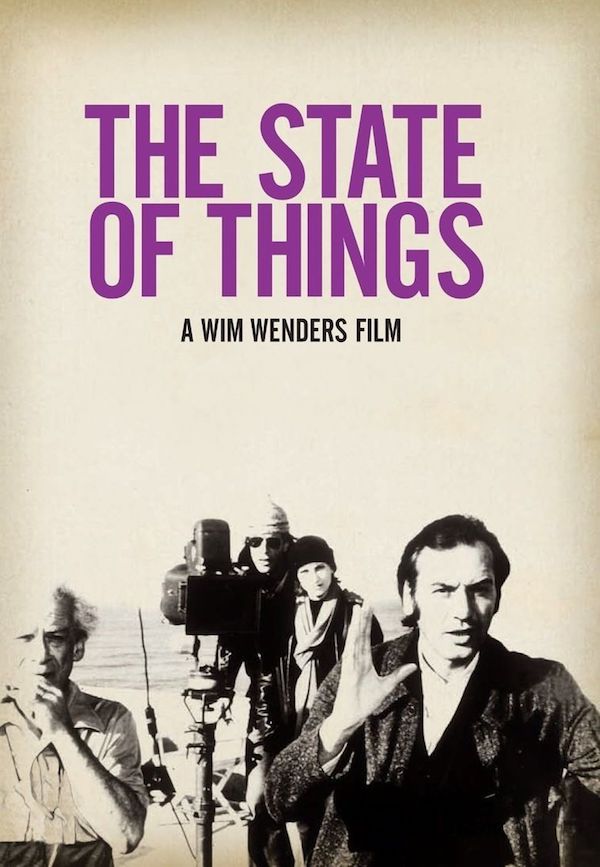 The State of Things
Directed by Wim Wenders
Score by Jürgen Knieper
(1982)
The State of Things is a movie that transitions from three states: beginning as sci-fi, turning into a contemplative-realist film, before ending as a sort of mafia film noir. The score, by Jürgen Knieper, consists mainly of a beautifully composed and perfect piano leitmotif of a six-note sequence, that has the power to bring about these three states presented in the film by adding and subtracting elements while adjusting its speed up and down. Just great.
---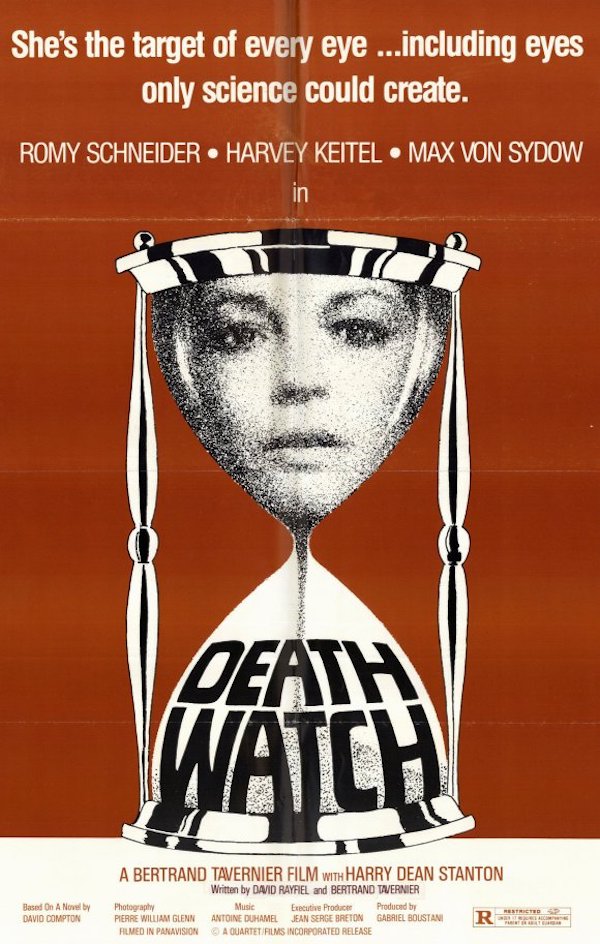 Death Watch
Directed by Bernard Tavernier
Score by Antoine Duhamel
(1980)
Another sci-fi film treating death as spectacle. Death Watch was made a few years after Christine Chubbuck committed suicide on a live television broadcast, 30 years before Black Mirror. A man gets a camera installed in his eyes for a live TV show that follows a woman who is in a terminal state and being manipulated by the media to participate in the show. The touching main musical piece has a male voice singing in a theatrical manner, "Katherine Mortenhoe, she will die for the love of the golden city," on top of very evocative music performed by the London Symphony Orchestra. I particularly like how music plays a role in the last scene. At the moment of her death, the protagonist demands to have loud music played inside the house so she doesn't hear when the producers arrive by helicopter. This is such an emotive scene, accompanied by a monumental opera piece.
---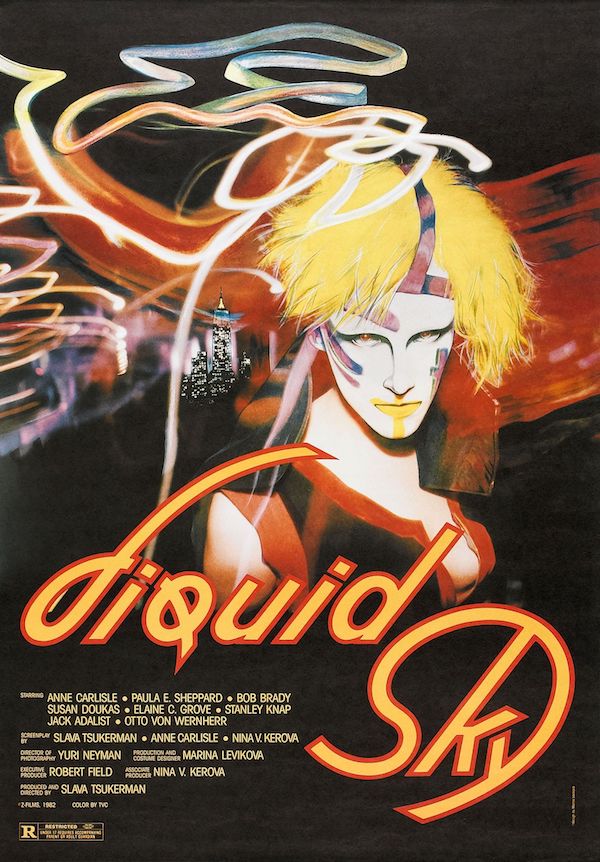 Liquid Sky
Directed by Slava Tsukerman
Score by Slava Tsukerman, Clive Smith, and Brenda Hutchinson
(1982)
A UFO lands in a building where a drug dealer lives because aliens want to get heroin. Only they discover a more powerful drug, endorphins, produced by the brain during orgasms. This movie is staged in New York within a highly stylized New Wave scene. Its soundtrack has been so inspiring and influential for me; it's so free, honest, bizarre and contrasted. Instead of using classic New Wave songs the score focuses on highlighting how weird this film is, making it feel more like a dark comedy than a sci-fi. The music was composed by Slava Tsukerman, Clive Smith and Brenda Hutchinson using a Fairlight CMI.
---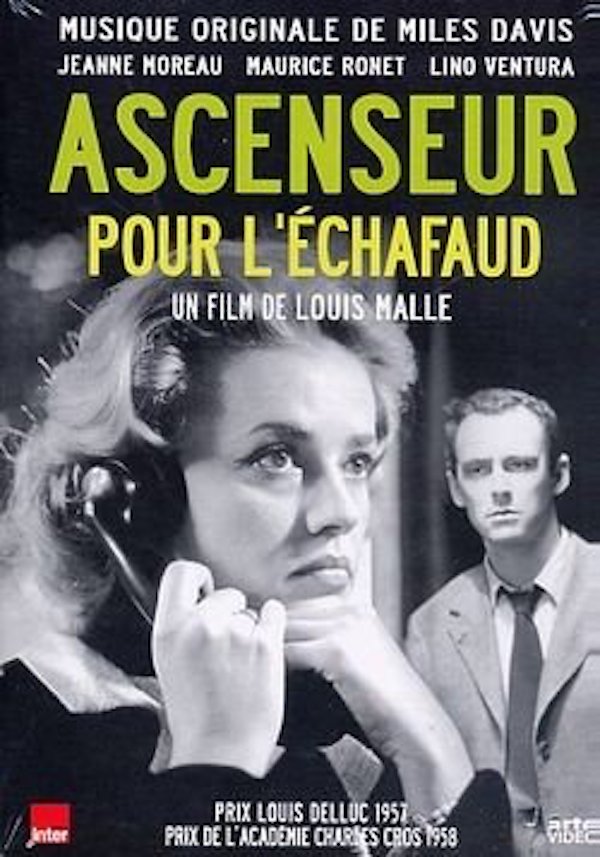 Elevator to the Gallows
Directed by Louis Malle
Score by Miles Davis
This film's score is exceptional. The music carries the scenes, and the scenes are nurtured and emotionally charged by the music. The score was made in one session that lasted just a few hours. All it takes is a director with good intuition, a genius improviser, and a chance-based encounter. Hear it and weep! Or hear it and find yourself hoping to get lost in dark streets with the chance of disappearing around the corner.
---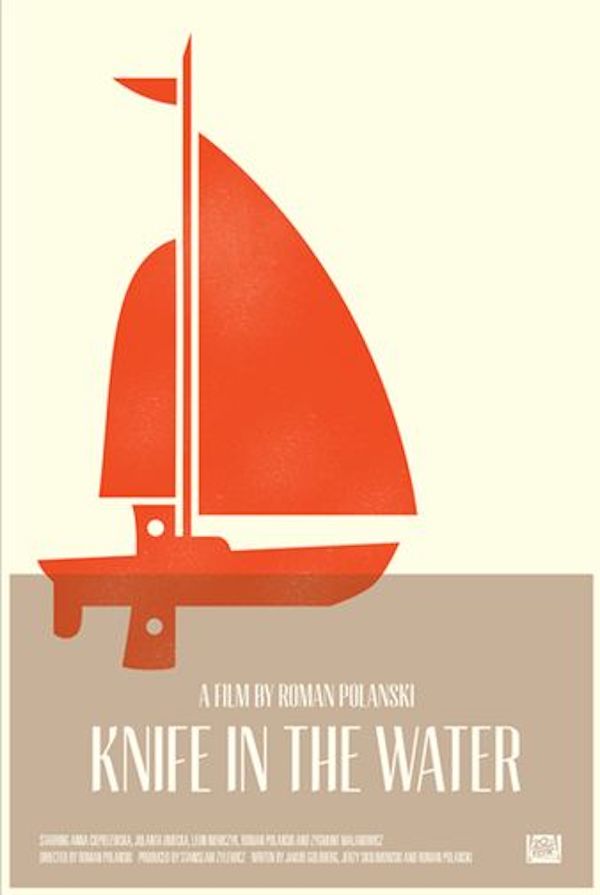 Knife in the Water
Directed by Roman Polanski
Score by Krzysztof Komeda
(1962)
And then there's Komeda, one of my all-time favourite soundtrack composers. He's so versatile, but especially capable of creating pieces that stick in your brain forever. All it takes is seeing a boat, yacht, or water, to set the main piece from the score looping in my mind for the rest of the day. The movie is outstanding thanks to, if not definitively because of, the soundtrack.
---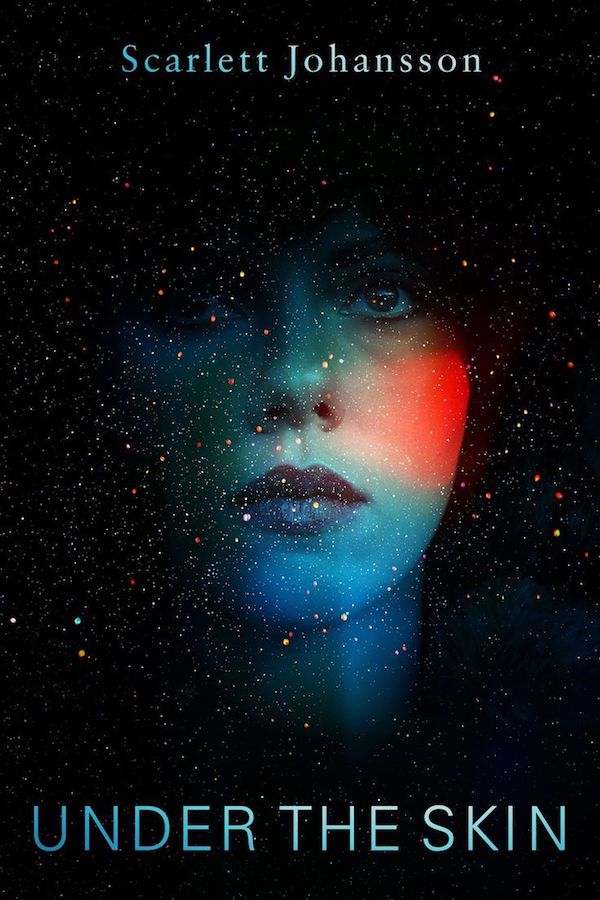 Under The Skin
Directed by Jonathan Glazer
Score by Mica Levi
This film, along with its score, is just perfect. I wish it was more celebrated. What Mica Levi did is genius – so elegantly alienating, erotic, gnawing, with a perfect balance of tempo, orchestration and frequency arrangement. It gives contrast to the film as it evokes and amplifies the weird sense of void and bewilderment presented throughout.
---
Anticlines is out now on RVNG.